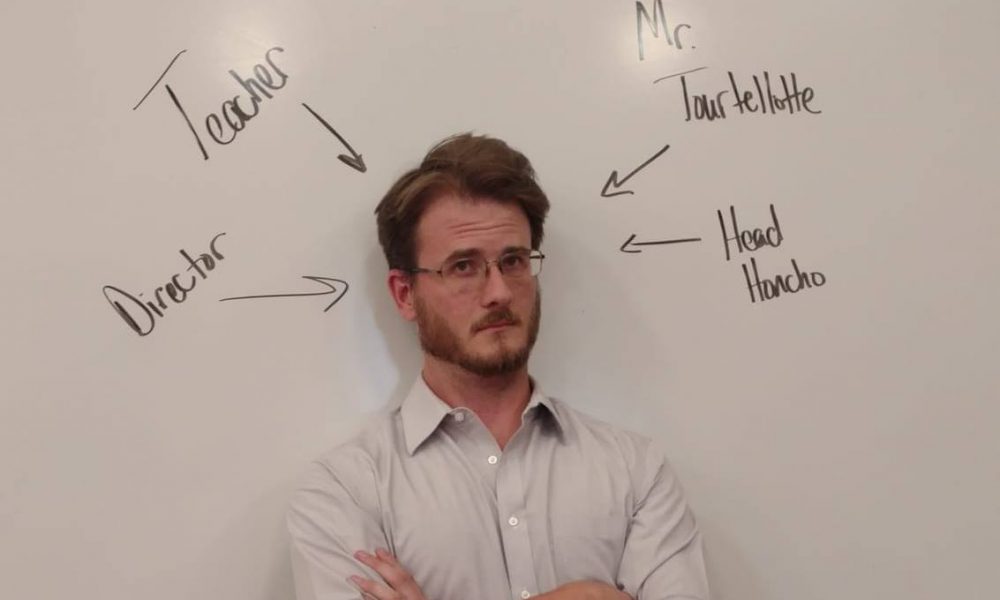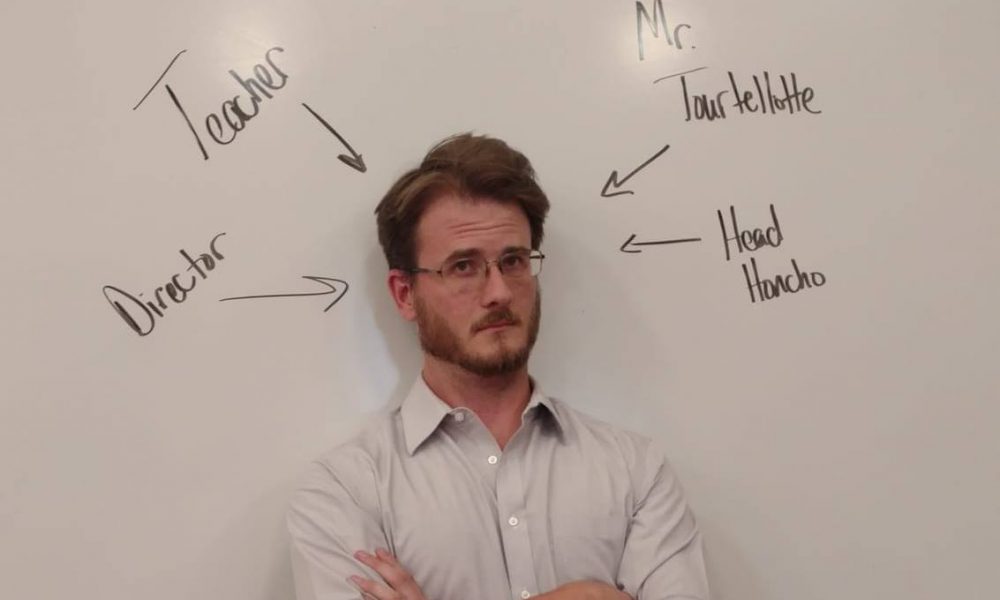 Today we'd like to introduce you to John Tourtellotte.
John, can you briefly walk us through your story – how you started and how you got to where you are today.
I grew up originally in Birmingham, Alabama. I attended Auburn University, where I got my BFA in Theatre Performance. After I graduated, I was very fortunate to work professionally at theatres up and down the west coast and became a certified Associate Instructor with Dueling Arts International, a stage combat training organization for actors for stage and screen. After a couple of years, I moved to New York City, where I met my fabulously talented wife.
Over the course of my acting career, I was also fortunate to be getting opportunities to teach and direct, and I slowly realized that I was finding more joy in the teaching than I was in performing for myself. This was a huge realization in the way that I saw myself and how I wanted to live my life in the arts.
I've firmly believed for a long time that people should choose to live lives that make the world a better place, and since I found a theatre in high school (or maybe it found me), I've always wanted to make the theatre the primary driving work of my life. The freelance artist life takes a tremendous level of drive and dedication to the hustle and grind, and it was becoming clear to me that as much as I loved the work, I was not as good at the aspects of freelance life as I needed to be to make a sustainable life.
So, I decided that the best way that I could use my love of theatre and language in a way that would both make me happy and hopefully make the world a little bit of a better place would be to teach. Becoming a part of my high school's theatre department filled me with joy and gave me a home (at school) at a time in my life when I really needed it. I want to be able to provide that to the next generations of students. There's a saying in education, "Be the teacher that you needed when you were younger." That's what I strive to do every day.
Overall, has it been relatively smooth? If not, what were some of the struggles along the way?
Transitioning from freelance life to the life a career educator in the public schools has been a difficult change. There were massive shifts that my wife and I had to make in our lives to make this possible, and I am so fortunate and so grateful to her because without her support and tremendous efforts, I would not be where I am in my career today.
One of those challenges was that I needed to go back to school to get some supplemental education, not in theatre, but in pedagogy, and best practices in education today. It was strange to go back, and while I've always loved school, there's no denying that getting used to doing homework again was a strange experience. However, I had an obvious vested interest in learning and excelling in those courses, because I was (and am) to always be the best possible educator that I can be.
I now hold my Masters in Education from Alliant International University, which I completed while working and teaching. It meant juggling lots of different work responsibilities, and it meant not getting to spend time with my friends, or my family, as much as I would like, but I wouldn't trade it, because every little bit of challenge and difficulty has prepared me to face whatever comes next.
The biggest challenge for any teacher is learning to take your ego out of the equation, and to meet the students where they are; not just intellectually or academically, but socially and emotionally. It's easy as a teacher when you encounter defiance from a student or apathy or both, to take it personally, but doing so only compromises your own ability to be objective and see the situation holistically. Once I learned how to recognize that almost never did any misbehaving student, have a personal issue with me, but that it was always coming from someplace else, then I was able to use those moments as teachable moments and build connections with my students that let them know they could trust me, and I could help them develop strategies to regulate their own feelings and behaviors.
This can be very difficult at times because teachers are only human after all, and God knows I'm not perfect, but I try very hard to remember that my first responsibility to my students is to make sure that they can trust me, and trust can only be built when you are honest with your students, and encourage them to be honest with you, not just with successes, but also with failures. Once I learned that lesson, my experience as a teacher and my relationships with my students in the classroom and in the rehearsal hall are even stronger than before.
Please tell us more about your work. What do you guys do? What do you specialize in? What sets you apart from competition?
Hollywood High School is an institution, one of the most famous high schools in the history of America. We've graduated a preposterous number of award-winning performers in the school's one-hundred-plus year history, as well as a staggering number of working professionals across all sectors of the entertainment industry.
I teach as part of the Performing Arts Magnet, where I am the Theatre Performance teacher and director. The theatre department produces three after-school productions (which are open to all students to audition for, including freshmen), and three one-act play productions which are produced by my most advanced theatre class.
I have developed a three-course sequence that is designed to prepare our theatre students in with skills and knowledge that will prepare them to deepen their studies and skills after studying at the college level or to enter the industry directly after high school (if they choose).
To any parent who has a child interested in the performing arts, what sets us apart are the opportunities that are there to be seized by the students: we have extensive performance and training opportunities in Theatre, as well as Dance, and Choir, as well as Technical Theatre and Design classes during and after school.
The Performing Arts Magnet is also an Arts Integration program, which means that all of our teachers across content areas find ways to integrate the performance and visual arts into their subjects in a variety of ways. As a public magnet program, students from across Los Angeles can apply to attend, and we welcome all students, regardless of experience level. All performers and artists start somewhere, and Hollywood High School can be that place for any young person who is interested!
Any shoutouts? Who else deserves credit in this story – who has played a meaningful role?
Holy cow, the list is really long, and I can't possibly shout out everyone, but I'll try to hit the most crucial. My wife, obviously, as I mentioned earlier, is the single biggest factor for how I've managed to land my dream job and get to come to work every day. She's tremendously insightful, an educator herself and has been teaching in various capacities for most of her adult life.
My family, who have always been some of my biggest cheerleaders, whom I love dearly.
Every teacher I've ever had has influenced me in some way, but two of my most influential teachers, whose instructional styles I have modeled my own after, are two of my college professors Dan and Joey. Dan taught me how to teach with fearless, joyful abandon, and Joey taught me how to listen to students as people first and students second, and then help them see themselves in their own best light; not to mention the importance of communicating your own ideas clearly. I still regularly use a phrase of his when I'm speaking to my students that he would regularly ask his students: "Does that make sense?"
Finally, I am fortunate to have some truly great colleagues and collaborators at Hollywood High School who have been essential to the school, who go above and beyond for the students, and who keep me sane on the days that I need to be kept sane. We are also so blessed to have a team of administrators who do a marvelous job keeping the focus on the students and provide a great support for the arts at Hollywood High School. We're thrilled to have been looking to the future, to working together to help our students grow, and enter the next thrilling chapter of the legacy of Hollywood High School.
Pricing:
Tickets for our shows (like the upcoming Once Upon a Mattress) are $7-10 for adults! Come and see a show!
Contact Info:
Address: 1521 N Highland Avenue
Los Angeles, CA 90028
Phone: 3239931700
Email: j.tourtellotte@lausd.net
Image Credit:
Photos by Rashan Briggs of rbriggsimages, featuring the students of Hollywood High School.
Suggest a story: VoyageLA is built on recommendations from the community; it's how we uncover hidden gems, so if you or someone you know deserves recognition please let us know here.
Sponsor Shoutout: Check out @dafreckledpoet on Instagram or some of her work below: