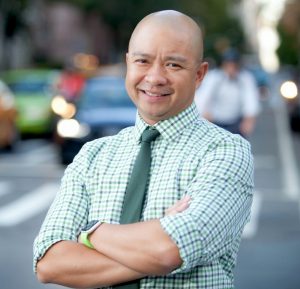 Today we'd like to introduce you to John McCartney.
Hi John, so excited to have you with us today. What can you tell us about your story?
Here's a story about an underdog. I was someone who wasn't always the smartest, the tallest, the best looking, or from a family that didn't have a hard time making ends meet.
I was born in San Diego on May 4th, 1973, to Johnny and Gloria. Both my parents emigrated to the US from the Philippines. My dad was in the US Marine Corps, and my mom was a housewife. We would live in San Diego until I turned three, and then we moved up the coast to Oceanside when my dad got transferred to Camp Pendleton. In 1976, I became a big brother to my sister Mary, and then three years later, another sister arrived, Margaret. Unfortunately, in 1979, my parents went through a nasty breakup and eventual divorce soon after Margaret was born.
My mom would eventually get custody of my two sisters and me, and we would move in 1981 to New York, where I would spend the next 32 years off and on. While I missed living in California, New York would shape me into the person I am today. Someone who is very outgoing, yearn to surround me with a very diverse group of friends and colleagues, the arts, the culture, the hustler, the go-getter, being gritty, speaking your mind, the feeling of if you can make it in New York you can make it anywhere.
I spent my first years in the Bronx, elementary school at PS 106, middle school at Junior High School 127, and then Herbert Lehman High School.
Before I began to attend high school, I made a deal with my mom. You see, my mom, by 1986, had married her second husband, Chip, who at the time was in the US Navy. As a result, the thought of me moving around the country didn't appeal to me. So I asked my mom if I can live with grandma in the Bronx for the entirety of my high school experience. As I was getting straight A's and the potential to go to a good school, my mom permitted me, and thus I would live with my grandma and not with either my mom or dad.
We didn't have a lot of money to begin with, so my grandma told me to get a job when I turned 15, which I did. My first part-time job was at a deli. I was taught early on that if I ever wanted anything in life, I would have to work for it for myself. Something that still sticks with me to this day.
High school life was fascinating. First, I remember having a lot of friends from different groups. Then, the senior year, I became the school newspaper's sports editor, and for the prom, I became Prom King, which was a massive shock to me, besting other classmates who I thought were more deserving of the honor.
My senior year, I applied to primarily east coast schools like Buffalo and Binghamton, but eventually, I landed at City College of New York. I was first going for a Mechanical Engineering degree. But in my first semester as an undergrad, I also chose to pledge a fraternity, Tau Epsilon Phi. I would make new friends. Some to this day still keep in touch with a few of the guys in the chapter. I also joined the school newspaper and was tapped to be the sports editor. Fall semester, I earned a 4.0 GPA with all the activities I had going on. Spring semester 1992, nope. Let's say that my GPA dropped. I eventually changed majors and then landed on journalism.
During my senior year in 1997, I became co-editor in chief of the CCNY school newspaper, The Campus. A pleasant surprise happened in April 1997. The school produced a gala to celebrate its 150th anniversary at the Sheraton in midtown Manhattan, with 60 Minutes' Mike Wallace serving as emcee. The table I sat at happened to be the table with the nine Nobel Prize winners from CCNY!
While I attended the graduating ceremonies of 1997, my one regret is that I technically didn't graduate. Due to an incomplete project in one of my classes, a professor informed me that I needed to graduate officially. So I put it off, and still, the project has not been completed to this day.
Soon after City College, I moved up to Connecticut to live with my mom and sisters and her husband and my younger brother and started to work at a newspaper, the Shore Line Times. I was the town reporter for Madison and would have to attend city meetings and meet the locals to find out about stories to write. But after six months of working for 17,000 a year, I decided to move to New York and pursue a career in PR, where I can make more money. So I reached out to a former boss, Stephanie Azzarone, who I worked for part-time when I was a senior at City College. By 1998 Stephanie has gone on to a bigger agency and allowed me to work with her on consumer accounts like Gund. I would work at this agency until March 1999, when I began to work at Middleberg & Associates, one of the hottest tech PR agencies in New York.
To this day, Middleberg will always be where I cut my teeth in PR and began to come into my own with media relations, having this knack for getting media coverage for clients with ease. But also, more importantly, the connections I made at Middleberg still stand the test of time. I like to say that the Middleberg alumni group is strong. Proud of where we have all gone to in our careers.
I would bounce around agencies, including a year and a half stint at Wenner Media, where I worked on Mens' Journal and Us Weekly as a PR Manager. In 2012, I worked at Wise PR, a small boutique shop working on AdTech clients for the most part. In 2013 I was allowed to open up the Wise PR office in San Francisco. I finally got my chance to move back to California! It was all surreal. In October 2013, I packed up my belongings in Forest Hills and then made the week-long drive to San Francisco.
I would live in SF from Oct 2013 to Dec 2019. During my time in SF, I began to push my thought leadership, began teaching PR 101 at General Assembly, joining Women Who Code as a PR advisor, and joining the PRSA SF chapter in 2015. In 2019 I served as President of the chapter and, along the way, made more essential connections.
In January 2020, I made a move to Los Angeles. Around the time Covid started in March 2020, I left Wise PR and began my PR consultancy Jmac PR. This was something that I was thinking about doing for quite some time. I had the confidence that I could do the job and know that I've built a good network. At first, I didn't have any signed clients to start with. But then I would slowly hear about freelance projects. I would go out and make connections with startups who were looking for PR support. I continued to build my network.
As for September 2021, I am happy to say that business has been great. As a result, I'm now actively looking to hire my first full-time staffer.
I'm also now a board member with the PRSA LA chapter, and to note the only one from an AAPI background.
If I had to look back at my life and career, I would say that nothing came easy for me. At the very least, I stayed true to my values and beliefs, recognized what I was good at, continued to make new conniptions, and made sure that the people I surrounded myself with are diverse and inclusive.
I'm sure you wouldn't say it's been obstacle free, but so far would you say the journey have been a fairly smooth road?
I don't think so. The 2001 post 9/11 economy was tough. Seeing friends getting laid off. I knew I had to get a new job or else I would have the same situation happen to me. I eventually worked at Wenner Media in Nov 2002.
I was laid off/let go of my positions in May 2004, October 2007, January 2012, and then in March 2020. Early on in my career, I didn't have the emotional intelligence to grasp the bigger picture. But by the time 2020 came around, I knew exactly what I was going to do, and that was to start my own PR consultancy, Jmac PR.
I also will say that I don't think I could have started my own business earlier on in my career. I just wasn't ready.
And during my beginning phase of Jmac PR, I didn't have any signed clients so I had to do the work and go out and find business.
Appreciate you sharing that. What else should we know about what you do?
I like to say that media relations is my wheelhouse. I have this ability to identify the right stories and narratives to pitch to media and then to get the results. It's something that I discovered early on in my career in 1999.
I've said that media relations is something that I still want to do as I grow Jmac PR.
What would you say have been one of the most important lessons you've learned?
A few things:
1. Always be honest with yourself and with others.
2. The world is small, you never know who you will meet who also knows people you worked with or met.
3. All you have in business is your word and how you make people feel so always try to do the right thing.
4. Always look to help others, whether it's an introduction, advice.
5. Ask yourself daily what am I doing to make a better version of myself, what am I doing to make others around me better.
Contact Info:
Email: hello@jmacpr.com
Website: www.jmacpr.com
Twitter: @johnny_mac and @RealJmacPR

Image Credits:
Paul Sakuma Photography.
Suggest a Story:
 VoyageLA is built on recommendations from the community; it's how we uncover hidden gems, so if you or someone you know deserves recognition please let us know 
here.