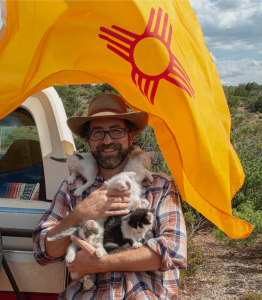 Today we'd like to introduce you to John Graham.
John, can you briefly walk us through your story – how you started and how you got to where you are today.
My story probably began with telling stories. As a kid, I made some excruciatingly complex storylines with action figures and dictated lines to my mom for her to have her characters say. I was directing from a young age.
I dabbled in occasional video projects throughout school, but I never was a filmmaker in earnest until I went to college at the Savannah College of Art and Design in Savannah, Georgia. There I discovered that film making was something I could do when I acted (badly) in my roommate's intro to video music video project.
So I learned film making in art school. I'm one of those. I know what you are thinking.
After school, I was released into the world with absolutely no clear direction. Luckily my birth state of New Mexico had a strong film incentive, so I went there and joined IATSE Local 480, where I began to work as a set electrician as well as some other jobs.
Eventually, I had pulled together a strong group of filmmakers and we decided it was time to make our own feature. My producing partner, Alexandra Boylan and I managed to get our first film, 'Home Sweet Home' shot. We emptied our bank account and talked our friends into working for free for about a month. It was one of our favorite moments in life. About eight talented filmmakers and actors landed on my parent's desert property and took over.
Filmmakers are like friendly pirates. We sail in, take over and leave, ideally with nothing destroyed.
Making our first feature is a story of its own, and undoubtedly you can find it out there on the internet in podcast form.
We made it to SHOW that we could make a feature. A calling card of sorts. But it turned out we made a movie that was good enough to sell to distribution! Turned out, we had ACTUALLY made a movie!
From there we had an opportunity to make another film which became known as 'Catching Faith'. This film is in some ways our first film. It had a budget (micro) that was not my own bank account, so that was unique. The reality is that this feature we shot for about $70k so it was a lot of sacrifice on set once again. Alexandra and I gave up apts and went mobile to make it affordable for us.
That is the kind of action one must take for their dream! I don't regret it for a moment. I remember making the film, not where I lived or what I gave up to do it.
We have gone on to make (after this next one) a total of seven feature films since 2011. It is all because we have chosen to make them. In 2016 we went from shooting our film 'Wish for Christmas' with a budget and about 40 crew to filming 'At Your Own Risk' with our bank accounts (again) and two crew and two actors.
For me and my team, making a movie can look many different ways and it is always art and we are always living our best life. I say that grandiosely, but the reality is that we stress and worry and have heated moments. But all of us adore what we do and each other, that's why it keeps happening!
This is just once side of my world. There is another side in which I get to travel the US and world shooting doc-seris. This is another side of me that started as a money maker. Just shooting video for people. But my jack of all trades style and abilities as a shooter and editor lead me down a road of getting travel jobs. Since I love travel and almost nothing ever bothers me, I became a favorite to bring on a trip.
The ultimate truth is that I am where I am today because I wanted to be here, didn't take 'no' for an answer and I had accumulated all the skills needed to overcome any problem.
I love learning and end up learning without even trying!
My most recent film making occurred while I was quarantining in New Mexico with my mom. Her cat gives birth, basically in my Ford Escape. The kittens became dubbed the Ford Five (there were five of them). This project began with me filming a cat giving birth to amaze Instagram and it turned into a roller coaster documentary about the life and death struggles of this cat family. Many people told me it was their favorite show of quarantine! Haha.
You can see it all unfold if you go to my Instagram and look at my highlights, starting with Ford Five:1.
Great, so let's dig a little deeper into the story – has it been an easy path overall and if not, what were the challenges you've had to overcome?
Struggles can take any form. Probably the biggest struggle has been lack of budget. A big box movie has hundreds of millions to spend on a film. They can dump all their money into any issue.
We have had to think creatively to solve problems. Line up favors, make trades and sometimes go without something we need or wanted. This can be limiting to a vision, but I'll tell you a secret. For me, it is what makes my vision.
You give me a blank slate and say, 'whatever you want, we will do no matter what' and I will give you the most boring movie I have ever made. It is the limitations that push me to reach further, rethink a scene or edit. This is where art comes from.
Sometimes you DON'T have time for all the shots you want. So you have to make it work. Knowing how to complete a thing is an art of its own.
Mustard Seed Entertainment – what should we know? What do you do best? What sets you apart from the competition?
Our brand is Mustard Seed Entertainment. This particular company makes faith and family-friendly content. Our goal is to bring positive messages into the entertainment industry. These films come from a Judaeo / Christian viewpoint and the lessons are illustrated in the story.
Probably what I'm most proud of with these films are the messages that people have managed to send to us directly. A woman living in a farming village in Africa contacted us and said how Catching Faith had positively affected her and given her hope. That's an incredibly affirming message to receive and it out weights sloughs of negative online remarks, haha.
Alexandra and I's personal company that we use as business partners is called Mirrortree Productions. This is the root of all our projects and I'm most proud of it because the concept of its name reflects the business. From the outside, a tree is a trunk and branches, but under the ground is a root system equal as impressive. A tree is twice as big as you can see. That's how Alexandra and I see our company. What you see on the surface is mirrored.
I hope that makes sense! Haha.
What moment in your career do you look back most fondly on?
Wow, what is my proudest moment. There are many things I can say but I'll go with my most recent film, 'Switched'. This movie comes out sometime this year. It's about two girls in high-school, The social media star bully and the quite musician she bullies. The girls switch bodies and have to learn grace and compassion for each other, literally walking in each other's shoes.
I'm proud of this film because it is a message that our country needs to hear right now. More than ever we must stop being divisive, angry and intolerant. It's time for all of us to practice gentleness and grace. That's actually what strength looks like. Not meanness and anger.
Contact Info:
Image Credit:
Cameron Gay, CMRN Visual Arts
Suggest a story: VoyageLA is built on recommendations from the community; it's how we uncover hidden gems, so if you or someone you know deserves recognition please let us know here.