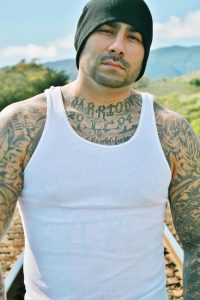 Today we'd like to introduce you to Joe Guerrero.
Joe, can you briefly walk us through your story – how you started and how you got to where you are today.
As a Mexican-American who grew up in a household full of Chicano's, my life was destined to be another statistic. As my own parents got caught up with drugs and alcohol, me witnessing my dad being dragged away from the police and spending years of his life in prison, it was a given that I was going to be the next generation to repeat my father's footsteps. However, I was a kid who had perfect attendance, who did amazing from K-1 to 6th grade. But all that changed when I turned twelve years old. I remember rehearsing for our school play after school and I saw my mother walked in those double doors. My instructor called for me and told me to get my belongings because I was going home due to an emergency. So I did what I was told and when I was in front of my mother, I asked her, "What's wrong mom?" She took off her glasses and as I saw tears running down her face, she responded by telling me, "Your dad's dead."
All I can remember was feeling this rage within my body and that scared me because I didn't know how to control it. But one thing I do remember is the day of the viewing, I stood over my dad's dead body, gave him a goodbye hug and told him I love him and before walking away, I stared at him one last time and that was the moment that keeps replaying in my head over and over trying to make sense on how was it possible for a dead man to shed a tear? I always thought to myself, maybe it was guilt or regret and because of that, he knew it was too late to start over. The cause of my dad's death was he overdosed on heroin. Losing my father changed who I was and for a long time, I was lost. I numbed myself by hanging out with the wrong crowd, doing a lot of stupid stuff as a kid, even getting expelled from high school. However, one thing I never got into was drugs or alcohol. I realized as I was getting older, being affiliated with gang members wasn't going to take me anywhere in life. Plus getting caught up in a system that's been broken for a long time already wasn't my idea of freedom.
By the time I was seventeen, I joined a party crew with two of my brothers. Going to house parties and hanging out with friends was way safer than hanging out with gang members. Until one day coming home from a family reunion, my brothers decided to go out with friends while I stood home. Close to midnight, I get a phone call saying that not one, but two of your brothers were stabbed. They were both airlifted to General Hospital and I remembered kneeling down to my knees crying and questioning why? But due to one of my brothers being a minor at the time, I had to wake up my mother and tell her the bad news. Hearing my mother scream and cries that night still haunts me till this day. My brothers both flatlined during surgery, however, the doctors were able to revive them both. After surgery, the doctors put both of my brothers together in the same room and when I walked into that room, my heart broke and I just broke down in tears. At that moment, that's when I told myself, gangs, party crews, biker crews, any type of crew, it was all the same. I left the party crew so I can be focused on me and my immediate family.
A few years later, still with the same chip on my shoulder; being angry and selfish, not caring what happened to me or how it affected the people who loved me most. I blamed everyone for everything, hated myself, hated the world; I just had no care in the world. Until March 10th, 2008, where I became a father. Witnessing the birth of my son Davian M. Guerrero is where everything changed. I saw through fresh eyes and those eyes gave me a whole different perspective in life. It wasn't about me anymore; it was about this innocent life that needed me. As scare as I was, it was the best thing that has ever happened to me. A month later, I earned my GED, thirteen months after that; I was blessed with my second son, Makaio J. Guerrero. Fast forward to six years later, I was blessed with my youngest son, Rizer J. Guerrero. I'm now a father of three handsome sons and my fiancé and I have been with each other going on twelve years.
There is so much to still say and throughout the years, I've experienced so much and realized that those experiences will always be our greatest teacher. "When God wants us to grow, he makes life uncomfortable" – Unknown. Working different jobs, I got tired of being in the same boat and showing nothing for it. One day I was driving home, listening to a motivational speech on my phone and hearing that speech made me burst in tears. Listening to that speech made sense and I wanted positive change. The following day, I asked my youngest brother if he can go with me to a community college so I can enroll. My brother is a very hard man to impress and that day, he told me, "I'm very proud of you Joe."
Going back to school was one of the best decisions I've ever made in my life and even though it took me twenty-plus years to go back, I knew it was never too late. Now a little over two years in college, I should be graduating this coming year in 2020 with my Associates of Science and a certificate in photography. If all goes well, I want to open up my own business as a photographer and I would like to focus more on headshots in the near future. The reason why I want to focus on headshots is that I'm also with the Screen Actors Guild. So being an actor, I also understand it's hard to pursue an acting career with a regular 9-5 job. So this is why I want to open up my own business, so I'm able to have that open availability and pursue my acting career. I want people to believe in themselves and know that no matter what we go through in life, it's up to us to make that change. The odds were against me since the day I was born and even though I may look like the bad guy, I'm not. I will be 39 years old in December and till this day; I still haven't tried alcohol or drugs. I am 100% drug and alcohol-free. I've experienced a little jail time in LA County and some substations due to some misdemeanors, however, I don't have any felonies nor have I ever been in a prison, or in a gang. I know I made minor mistakes in the past as we all do, but considering everything I've seen and been through, I am the perfect example of never judge a book by its cover.
Overall, has it been relatively smooth? If not, what were some of the struggles along the way?
Life is never a smooth road and if someone says different, then they're just full of s***. Life will always give us challenges no matter what age we are, especially nowadays. Me growing up, I faced challenges such as growing up in a hostile environment, surrounded by drugs and alcohol, witnessing my dad physically beat my mother, abused her mentally and emotionally. With everything I've seen, I had every right to hate a man who treated my mother like a monster but to be honest, it's not in my heart to hate and no matter what he put us through, I still love him because he's my father. Some may have a different opinion, however, letting my anger for my fathers' actions consume me will only make me into and I quote, "A Sober Drunk" – Gloria Salcedo. Growing up without a father took a big effect on my life. After my dad passed, I struggled and when I found out my mom was gay, I struggled even more. Everything that was happening to me wasn't making sense at the time and because of that, I didn't know how to react to most situations.
For a long time, I wasn't happy with myself or life. However, one thing I never did was think about suicide. I'm not sure why it never crossed my mind but I just faced whatever I was going through head-on. I figured the following day was a new day to start over and I've had that mentality ever since. So whatever struggle I was going through in life, I just figured someone out there always had it worse than me.
We'd love to hear more about your work and what you are currently focused on. What else should we know?
I'm currently in school and majoring in photography and once I know enough about still-shots, I want to open up my own business. Later on, I might look into videography and cinematography just so I can have more options when it comes to my business. I also want to learn as much as I can because it's just a matter of time before I start writing, directing, and producing my own skits, cameos, and feature films. What sets me apart from the others, is I have passion for this business and as much we all know money makes the world go in circles, I know I'm this business for the right reasons and not for power, control, or greed. Word of mouth is everything and I know that I can make people's dreams come true.
What is "success" or "successful" for you?
Defining success is not losing yourself when you're on top. Always remember where you came from and never forget who you are. I understand it's easy to lose yourself because of money or fame, but having those two things shouldn't define who you are. How you treat people and carry yourself should define who you are and if you have those two qualities including respect and mannerism, then you will definitely go far in life. As for my criteria, I want people to react positively to when they see or hear about me or my work. Leaving something behind for my sons that can literally teach them that hard work is earned and not given will probably be one of my biggest accomplishments in life. What I project for my sons and future generations to come is very important to me. 
Before I go, I want to say thank you to God for giving me the ability to love and forgive the way I do. To my beautiful queen for being the strongest woman I know, I love you mother as much as heart can love. To my brothers Abraham, Mark, and Michael, you guys are the three extra leafs to my four-leaf clover. To my sons who I love more than life itself, thank you for giving me a purpose to work harder than ever. My beautiful fiancé who keeps this family together, you are my backbone and I love you for that. To all my nieces, nephews, and family, each of you made me a better person by you being in my life.  To my friends, Joshua Parham, and Melissa Santos, you two are amazing people and I thank you for inspiring me to be great. To my kinship brother Carlos Lopez Jr who lost his battle to PTSD, you will forever be missed. Thank you for being a mentor and true friend; as much as I wish you were here, I know you're in a better place brother (Go Army). To the fans that support me throughout my career, thank you guys so much and last but not least, special thanks to Agnessa Kirakosian and Voyage LA Magazine for giving me a chance to tell my story.
Contact Info:
Suggest a story: VoyageLA is built on recommendations from the community; it's how we uncover hidden gems, so if you or someone you know deserves recognition please let us know here.