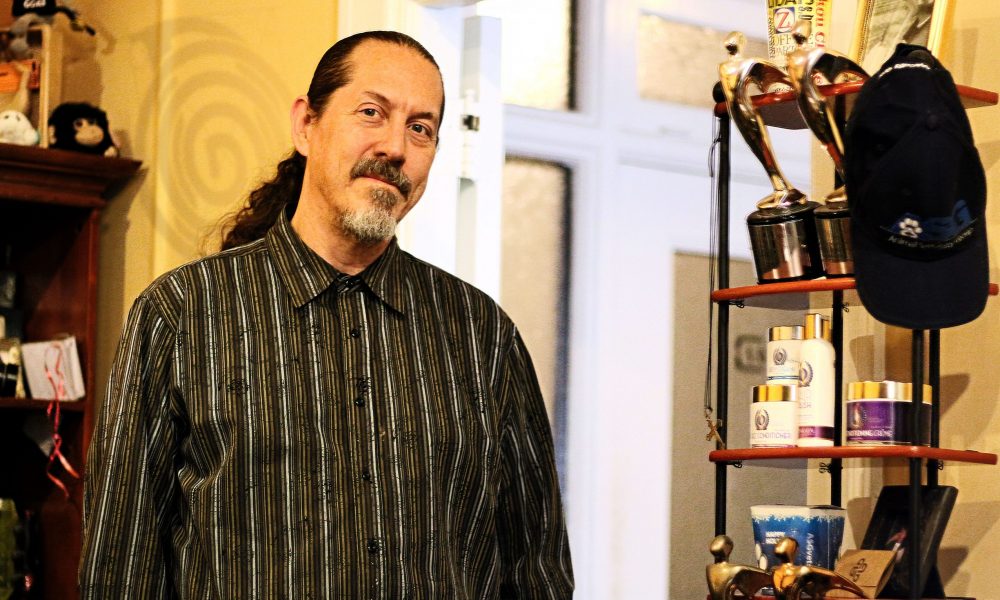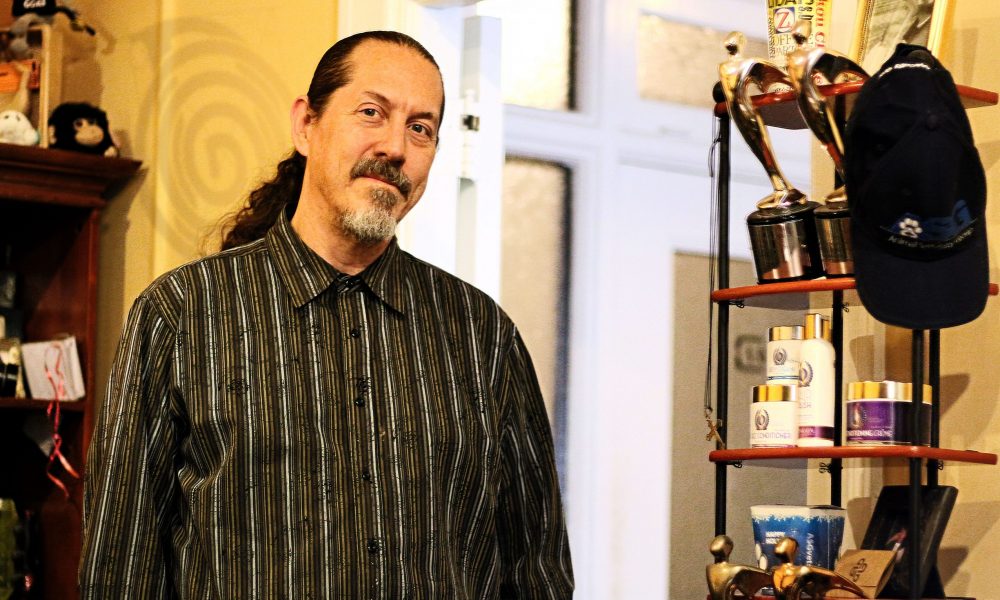 Today we'd like to introduce you to Jim Olen.
The very foundation upon which all of Dreamentia is based was birthed straight from this Boston-bred walking- contradiction's creative-yet-logically bleeding heart.
The son of a left-brained MIT Electrical Engineer and a right-brained Wheaton liberal artist, Jim has been molded by 15 years of surviving and thriving in the advertising trenches of New York City; from personally introducing, installing and implementing the very first Macintosh Plus into his then mid-town-ad-agency's graphics studio to spearheading hundreds of national campaigns for well-known brands, including Häagen-Dazs, Major League Baseball, NatWest Bank, Space.com, Arbor Mist Wines, Mead, Sega-Channel, Scotts Lawn Care, Miracle-Gro, AAMCO, Apex Athletic, the Red Cross, and Partnership for a Drug Free America. He also led or contributed to many high profile new-business pitches for brands such as Mercedes-Benz, Subway, Maxell, Sheraton, New York Lotto, and Jockey, just to name a few.
Today, this equally left + right-brained self-proclaimed "Defender of the Brand" continues to strive to thrive in this ever-changing world of marketing (while refusing to relinquish the title of Dreamentia's IT guy) by cultivating both horizontal as well as vertical growth in all those around him – endeavoring to study, discover, create and illuminate both creative and logical solutions for the clients that entrust their brands unto his ward.
Born and raised in Belmont, a small upper-middle class suburb just outside of Boston, I was always fascinated by the anatomy of living creatures. And so it was no surprise that I went through High School with the intention of becoming a medical illustrator. You know, the Grey's Anatomy kind of illustrator (the book, not the show). Eventually, that morphed into the pursuit of a veterinary degree. Which evolved into a Computer Science major. Which died a flaming hairball of death after coming face to face with Assembly Language during my freshman year of college. By the end of my second year in college, it had become painfully clear that I needed to rethink my career path, big time.
And so it was that I graduated UMass Amherst in 1985 with a BS in Advertising, and then migrated to New York City and into a tiny studio apartment with a loft in the shadow of the Empire State Building on 9 E 32nd Street to pursue my Masters of Communications at Pratt Institute in Lower Manhattan. Since classes were in the evening, my first line of business was to find a day job, and, armed with a red marker and the New York Times classified section, I hunkered down in a neighborhood diner and began my search. The first job interview I went on (after having it canceled 5 times previously) was for a position as one of 5 Studio Artists in a mid-sized midtown advertising agency, Calvillo, Shevack & Partners. They were very very busy that day. And I was hired and put to work, on the spot. And I stayed there for 15 years.
In those days – the mid-80's, the agency business was crazy. Crazy in a good way, that is. It was right at the tail end of the ad biz's heyday, when Creatives were still considered kings and could literally get away with anything. The senior Old Ad Dog creatives would walk around like they owned the place (and for all intents and purposes, they did), taking 3-hour martini lunches, running up huge expense accounts, and partaking in a wide array of, shall we say, indulgent activities, right from the comfort of their plushly decorated corner offices. Doors open. No hiding anything. That, of course, would have defeated the purpose. If it was taboo or against the rules, they were doing it. On their desks, in the conference rooms, and yes, in the elevators. No surprise, it was all incredibly seductive and exciting, and I wanted in.
In 1987, I was promoted out of the studio and became an Art Director. My first job was creating a pop-up B2B sales folder for Mead Paper featuring Neil Armstrong's "Man on the Moon" photo with a Trapper Keeper tucked under one arm. "One small step for…." you get the idea. Nothing genius, but I was pretty darned proud of it. Those were the days when retouching was done by hand. With a brush. On the photo. And I distinctly remember watching over the artist's shoulder as he worked the photo into a final piece of art. Ironically it wouldn't be long before I carried the agency's first Mac Plus into the studio, and the world changed for everyone – in particular, the typesetters, stat machine operators, retouchers and paste up artists.
As the agency morphed over time through acquisitions and mergers, becoming Partners & Shevack, and then The Wolf Group, I rose through the ranks, until in the late 90's I become one of its three Co-Creative Directors that together helmed the agency's creative department.
I won't lie, it was pretty awesome. Commercial shoots with Jimmy Johnson, Jerry Jones and the Dallas Cowboys in the middle of the North Texas desert, supermodel photo shoots with Matthew Rolston and Sheila Metzner with ever-flowing dirty martinis in sprawling and majestic Soho lofts, crafting and spearheading creative projects and shoots for brands like Major League Baseball, Häagen-Dazs and Sega Channel (yeah, I'm dating myself, I know), and spending often months at a time on commercial productions in LA – staying in the cabanas at the Chateau Marmont and dining at only the best restaurants in town. And while the industry wasn't quite as "crazy" as it was when I'd first come into it, there was no doubt in my mind that it was an awesome business to be in.
Eventually, though, it all became very hollow for me. I felt I was more responsible to my agency and its parent company than to the clients' brands that were entrusted to my care. I'd stopped growing, stopped learning, and spent more time managing others than doing the work myself. The job became more about the experience I was having – always trying to top the last one – rather than the work we were creating. And by the turn of the millennium, I'd realized I was done.
After some soul-searching, I decided it was time to make a change. So, I gave away almost everything I owned, including my rent-stabilized 2-bedroom top-floor doorman apartment on W 96th Street overlooking Central Park (yeah, I know), threw my clothes, boxes of CDs, and a Power Mac 7200 into the back of my Isuzu Rodeo, and just drove. I had no real plan except that I suspected I'd end up in Los Angeles, as that seemed like as good a place as any to reboot my career and figure out what I wanted to be when I grew up.
Over the next few months, I drove everywhere. If I recall I put about 70,000 miles on that truck, over every type of terrain you can imagine. I hit every national park in America. And many in Canada. I zigzagged across the 48 lower states, went south into Mexico, and all the way north to a town called Inuvik, 200km above the Arctic Circle (home to the famous Igloo Church) via a 13-hour dirt-covered, mud-filled, tundra-beaten, pot-holed road. I had no plan. Just a map and a palm pilot (dating myself again). I slept in my truck, often pulling off the side of the road in remote places to catch a few winks or parked in-between two big rigs in a truck stop (they shield the parking lot lights very nicely). I trekked the Mohave Desert, climbed Pikes Peak in the Rockies, canoed the waters of Lake Louise in Banff, 4-wheeled through Alaska's amazing Denali, and fished the waters on the Spit, in Homer, Alaska.
Ironically, while the journey was a thoroughly cleansing experience on every level, it didn't answer any questions for me as far as what I was going to do next, or what I wanted to do with my life once I returned to the real world.
I did eventually end my road trip in LA, as expected. And for the next year, I went back to basics, teaching or re-teaching myself all the latest and greatest tools of the trade, from After Effects to Maya to Quark (yup, dating myself again) to Photoshop to Final Cut. And after a few odd jobs and a smattering of freelance gigs, in 2003 I became co-partner of a small creative production company called Anatomy Entertainment. Anatomy conceived and produced small budget commercials, all in-house, primarily for Scripps Network clients. And over the next three years, we shot scores of commercials for clients like EK Success, Horizon Hobby, Sparkle Paper Towels, and Calculated Industries. Over time our services grew and we began developing websites, logos and positioning lines, print ads, billboards, collateral, trade show materials… you name it, if our clients' needed it, we handled it for them.
After 3 years, Anatomy began pulling itself in two directions – my business partner wanted us to focus our efforts on film production, and I wanted to help build brands. So we split it down the middle – he took the production jobs, and I took the marketing clients.
Dreamentia was born on November 1, 2006. I moved our office into the Spring Arts Tower in DTLA, and we've been here ever since.
Great, so let's dig a little deeper into the story – has it been an easy path overall and if not, what were the challenges you've had to overcome?
No road is ever smooth, nor should it be. I've found the bumps along the way to be the most rewarding, as they've forced us to bob and weave, adapting and modifying who we are and how we do things. This business changes on a daily basis. From a tech point of view alone, what was only imagined a few years ago is now front and center, adding new avenues for our clients' messaging, and challenging us to be more accountable than ever with every dollar we spend for our clients. No more of this "trust us" ad agency talk – today we have to test it, track it, and prove its working. And that's a good thing.
When Dreamentia first opened its doors, we were roughly 90% traditional and 10% digital in terms of integrated tactics. Today we're somewhere around 65% digital and 35% traditional, depending, of course, on the client. That change happened because of a dramatic shift in how consumers consume information, and our clients' needs required us to follow suit. The success of our adaptability at Dreamentia is something I'm incredibly proud of – and I have no doubt its something our clients are pleased with as well.
With that being said, I suspect "adapt or perish" is our largest challenge – trying to keep up with the ever-changing awesome newness of platforms, software, and tools that are routinely forcing us to adjust how we do things. Some of this comes in the form of just plain-old better apps and stronger platforms that are being developed with smarter features and more intuitive interfaces. Others, however, we have to keep a watchful eye on, like Google and their updated algorithms, Facebook and their evolving ad platform, new emerging social spaces, and the astronomically rapid technological advances of desktops, laptops, mobile phones, and tablets. 20 years ago this kind of uncertainty was seen as very destabilizing and something to be fearful of, as Old Ad Dogs never appreciate having to learn new ad tricks. We, however, find it exciting and an important part of our people's – and our agency's – ongoing growth. There's always a first time for everything, and as new technological developments are being rapidly developed and unleashed upon us every day, we're having a lot more "first times" than ever before.
But solving a client's problem is nothing new – its the tools that we have available to us and the methodology we apply that are evolving. Finding ways to harness and exploit this awesome newness is the challenge, and it keeps us on our toes and at our best, 24-hours a day.
Please tell us about Dreamentia.
Dreamentia Creative Laboratories is a boutique DTLA-based agency that specializes in branding, marketing and strategic advertising for small- to mid-sized companies. I am a firm believer that any company, product, or service can have a 5-star brand without requiring a Madison Avenue budget. And I've spent the past 14 years here in Los Angeles helping an incredibly wide variety of clients build some pretty amazing brands.
We've helped Los Angeles-based companies including WallyPark, Zankou Chicken, Animals Specialty Group, LA Center Studios and DTLA's Joe's Auto Parks, refresh their images while maintaining the brand equity they've spent decades building – developing new marketing strategies, updating websites, launching email marketing programs, building out social media channels, and reaching out and into new and exciting growth opportunities in both B2B as well as B2C markets..
We've also helped bring visions to life, taking nothing more than one person's big idea and turning it into something tangible – and terrific. One of the success stories we're most proud of is The DEN Meditation (denmeditation.com). 2 years ago we were enlisted to help launch their flagship studio on La Brea. Working hand in hand with its founder, Tal Rabinowitz, we crafted and created her vision from nothing more than a pile of tear sheets and a roughed-out business plan. From developing the logo mark to establishing the color palette to building out multiple websites to designing branded merchandise to rolling out social platforms and email campaigns, Dreamentia worked tirelessly with The DEN's team to create something pretty special.
Today, The DEN has opened new locations in Silverlake and Studio City, and was just recently voted best Meditation facility in Los Angeles. We're pretty proud of having been a part of that.
A few of the clients Dreamentia currently has in its project pipeline include the branding, packaging and launch of Shinkafa Hair & Body Care (shinkafa.com), ongoing web work for 1st Pet Vets (1stpetvet.com) and Conejo Valley Vets (conejovet.com), social media and direct mail marketing for Joe's Auto Parks (joesautoparks.com), in-store digital menu design and installation for all Zankou Chicken locations… just to name a few.
Dreamentia.com is the best place to see what we've done and what we're currently up to.
Dreamentia is home to a small group of advermarketeers that operates more as a laboratory as opposed to a typical marketing machine. We are thinkers, tinkerers, and testers. And we love bringing things to life. Everyone is encouraged to use both sides of their brains (that means the Account Team is encouraged to be Creative, and vice versa). And the doors to every office have been plucked from the walls and used to fuel the fire that burned the rules of how an agency should operate. Seriously. We have no office doors. No joke.
We've found that our strength lies in our horizontal structure, our "everyone's voice is equal" philosophy, and that we're at our best when working alongside small- to medium-sized clients who have big plans but not-so-big budgets. Often our clients come to us with little marketing experience – or better yet, little big agency experience. I've been there. Done that. And I know how to get things done quickly and efficiently, without all the layers that come with your typical agency experience.
We pride ourselves on our ability to embrace and empower a brand from the inside out, tapping into a brand's equity, capitalizing on business's strengths, identifying hidden opportunities, and solving problems in ways that can stimulate or revitalize brands in competitive and challenging industries. We are passionate about what we do as well as the relationships we cultivate, and the work we create plants seeds for both near and long-term growth. Our portfolio spans industries, cultures, and scope, and we consider every client on our roster both partners and friends.
How do you, personally, define success? What's your criteria, the markers you're looking out for, etc?
Growth, passion, and compassion are the things I try to cultivate around here – for our clients, for the people who work here, as well as for myself. I left the hallowed corridors of Manhattan's Ad Industry just for that reason – I stopped growing. I stopped learning. And I stopped caring. Once I was able to acknowledge that, it was an easy decision to hit the reset button and change my life around. We spend so much of our lives working – I am committed to doing everything I can to make sure Dreamentia is a nurturing, warm, and accepting environment that provides a wide range of opportunities and reminds people why we do what we do, and why we love doing it so much.
When it comes to Dreamentia's internal workings, those who aspire to be better, to expand their horizons and skill set, and to never sit still, those are the ones who I believe are our best success stories. We give our people as much rope as possible to take flying leaps of faith, to test their ideas even if they fall flat. We encourage proactive thinking and contribution from everyone, from the intern to the Account Director – everyone has a say. I also encourage people to take the blinders off, and stop worrying about their job title. For me, I don't care who comes up with the idea – whether its a visual for a print ad, an ingenious strategy to reach an untapped market, or a new platform to handle project management. In the old days, there was always a wall between the Creative and Account Team – and neither was allowed to cross into the other's realm. We don't build walls here (heck, we don't have doors).
We have creatives who are exceptional media planners, account executives who can craft compelling copy, and assistants who spearhead grassroots campaigns. If you have a passion for doing something, we'll try to find a way to let you do it. Or if you have a desire to try something new, we'll try to give you the opportunity to dip your toe in that pond as well. And if you stumble and fall, we'll pick you up and encourage you to try again, or try something new. We learn more from our failures than from our successes, so failure is actually an option here. So long as you don't break anything.
All of this leads to continuous, tangible growth, in anyone who genuinely wants it. And when our people are growing, they're usually doing their best work. Which is good for them, good for the client, and good for us. Which is why I do everything in my power to make sure the next chapter in their careers is something exceptional – whether that's with us or somewhere else. There's nothing more gratifying to me than watching our people absorb, grow, and evolve in ways that they may never have imagined possible.
So that's what we do here at Dreamentia. We grow marketing and brandvertising thingies with a passion. And will continue to do for as long as our clients allow us to do so.
Do you feel like our city is a good place for businesses like yours? If someone was just starting out, would you recommend them starting out here? If not, what can our city do to improve?
The incredible diversity of people, businesses, and cultures make this one of if not the most vibrant part of Los Angeles you can find. Add in its central location as well as the monthly Art Walk and you've got a match made in heaven for a small creative shop like ours.
DTLA has provided a perfect place for us to plant our roots and grow over the past 14 years. The Spring Arts Tower itself is home to a diverse group of businesses, both large and small, including the Last Bookstore, Unitas Global, and a host of creative photographers, designers and artists. Coming from NYC, this was a no-brainer place to set up shop, as it is in many ways a microcosm of Manhattan. I also found the revitalization and growth DTLA has been going through since we first got here back in 2003 was something I could relate directly to, as its such an important part of what Dreamentia was born out of. And as the years have gone by we've been able to both witness as well as be a part of the transformation and evolution of the downtown area, from the loft conversion boom to the groundbreaking of LA Live to the incredibly exciting Bringing Back Broadway initiative. Its been a great ride, and I feel fortunate to be apart of such a thriving, inspirational, and ever-changing community.
Contact Info:

Shinkafa Hair & Body Care: Dreamentia.com/ShinkafaAnimal Specialty Group: Dreamentia.com/Animal-Specialty-Group
The DEN Meditation: Dreamentia.com/The-DEN-Meditation

WallyPark Premier Airport Parking: Dreamentia.com/WallyParkZANKOU CHICKEN Dreamentia.com/Zankou-Chicken
Art Director: Partners & Shevack (New York, NY – 1991)

Associate Creative Director: Apex Athletic Footwear & Apparel "Road to the SuperBowl" TV Spot (New York, NY – 1994)

Lake Louise (Alberta, Canada – 2000)
Great Sand Dunes National Park (Colorado – 2000)

Partner: Anatomy Entertainment (Downtown Los Angeles – 2004)

Chief Creative Officer: Dreamentia, Inc. (Downtown Los Angeles – 2017)
Image Credit:
Dreamentia
Getting in touch: VoyageLA is built on recommendations from the community; it's how we uncover hidden gems, so if you know someone who deserves recognition please let us know here.