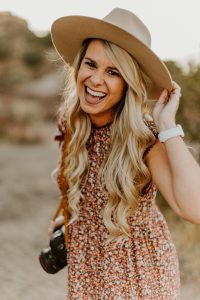 Today we'd like to introduce you to Jessica Woodard.
Hi Jessica, we'd love for you to start by introducing yourself.
I have always had an interest in photos. It started at a young age with a polaroid in hand and printed photos all over the walls of my room. I got my first point and shoot digital camera when I was about ten years old and my interest grew from there. I would carry my camera everywhere I went, documenting everyday life, from pretty landscapes to sunsets to making silly faces with my friends.
In high school, I was in Yearbook and I was in charge of snapping photos of the sporting events at my school, everything from wrestling tournaments to track and field races to football games. I truly had a growing and evolving passion for photography and as I got older, that desire grew even more. I went to college at San Diego State University and majored in Hospitality and Tourism Management with an emphasis in events. My high school ASB days really influenced my decision for what I thought was going to be my long term career. Of course when I got to college, I filled my entire dorm room with photos pasted on my wall, floor to ceiling. Transitioning to college is a scary time for everyone but having my memories at my bedside gave me the comfort I needed. When graduation came around four years later, my parents gifted me my first DSLR camera, a Canon Rebel T3i. They knew how much I loved photography as a hobby and boy, was that the best present I ever received! I was able to take my photos to that next level. At this point, though, photography was very much still something I did for fun. Once I graduated college, I went onto work for a corporate event planning company that was based in San Diego. I worked with a wonderful team to plan and execute some of the largest corporate events in the city. It was a great job out of college and I ended up working at that same company for a little over six years. BUT it didn't ignite a passion in me like I thought it would. It had stressers (like every job does) but I was tired of going to work everyday not feeling super excited! Don't get me wrong, it was the people there who made me excited, but the actual job itself I knew wasn't going to be my forever career.
One day, my husband asked me when I came home from work "if money was no object, what would your job of choice be, it can be anything you want?" And after thinking about it, I realized that my dream job was my underlying hobby the whole time. I told him I think I would want to do photography. At the time, I really didn't think of this answer as a practical one, one that could sustain an income or be something any more than just a "side gig." So I did a lot of research and found out yes, photography IS a job and you CAN make money! So I started my business on the side to build my portfolio and take it much more seriously than taking photos at a friend's birthday party or those sunset photos. I started an Instagram business page and slowly started to take more and more photos. I would come home from my corporate job and work on a website and take photos of strangers for free! Slowly but surely, people would start to reach out to me wanting family photos or pictures of them and their spouse! I built this up for almost a year! I even did my first wedding by myself! I upgraded my gear (said goodbye to my Canon Rebel) and slowly started to add multiple lenses and additional items that I would need to be successful. I gained confidence and really felt like I had found my niche. So after much discussion and lots of prayers, my husband and I both decided to take a HUGE leap of faith. We BOTH wanted to make career changes and we decided why not take a chance? We had nothing to lose, no house, no kids, and lots of freedom to make it happen.

So we decided to quit our jobs and move out of San Diego and in with my in laws to save money and allow myself to have much more time to devote to building my photography business while my husband pursues firefighting. We have been here for a little over a year now and I can honestly say taking that huge leap of faith was the best decision I made! I have been a full-time couple and wedding photographer ever since we moved and even despite Covid, I have had my busiest year yet. I have photographed about 12 weddings between second shooting, my own weddings I've booked, and elopements, plus over 30 other shoots as well. I have attended multiple educational workshops and continue to keep learning everyday how to be the best photographer I can and how to best serve my clients. Being a business owner is definitely not easy, it has come with a lot of trial and error but being able to do something I once thought of as a passionate hobby as a full-time job is worth every single challenge. The biggest thing is overcoming fear. The fear of failing, the fear of the unknown, and the fear of making the wrong decision, but I have definitely learned that facing that very own fear of mine in my photography journey head on has led me to where I am today and for that, I couldn't be more grateful.
Would you say it's been a smooth road, and if not what are some of the biggest challenges you've faced along the way?
Starting your own business is definitely a definition of a challenge. There is no clear roadmap of how things should exactly be done, and everyone does it differently. When I first started all I knew was I wanted to photograph people and document their memories, I didn't think much past that until I really started to dive in and research what was needed to become a legitimate business. Not only do you have to make sure you have your ducks in a row with your specific county and city, but you also have to take into account the financial part of it as well. Have you heard the old saying "you have to spend money to make money?" Well I am here to tell you that is very true! You have to fork out quite a bit of money when you first start so that was definitely a challenge, especially since you aren't making much. Also, the overcoming of fear itself is a challenge just to even get started. The idea of doing photography as a job really sparked something in me, but then when reality sets in of how am I going to stand out when there's so many photographers already, or is this just a silly dream that's going to fail, and other thoughts like that, you truly have to push those aside, set goals, and begin to conquer them.

It, of course helped to have the people around me support me and become my biggest advocates, but it's in no way easy to keep trekking along, knowing where you want to go. Not to mention, my husband and I had to make the difficult decision to put aside our independence a bit when we moved in with my in laws. Of course, we are so grateful for them allowing us to infringe on their space, but it definitely was not an easy decision to give up our apartment, leave our friends, and start all over in a new city. Granted, my husband grew up here in the LA/Ventura area but I didn't so for me, that was an adjustment. We had to put all of our stuff in storage and confine our belongings to a single room so it was a lot of change at once. That was something we had to overcome and just hope and pray we were making the right decision for the long haul. This is a temporary situation of course, so I just had to remind myself that we are doing this for our future and for us. So it definitely hasn't been a smooth road, but needless to say we can already see how the good outweigh the bad.
Appreciate you sharing that. What else should we know about what you do?
My business is Jessica Woodard Photography and I am a Southern CA based couples and wedding photographer. After photographing everything under the sun, trying to figure out what I wanted my niche to be, I realized my heart and passion lies with couples and documenting their love stories. Even Though I still do family sessions, newborns, portraits, boudoir, and all of that, I mainly focus and want to pursue couples. There's something about being a part of their story and documenting how they interact, how they love each other, and what makes them work just reminds me of why I chose to do photography full time in the first place. I was told when I first started that you are not for everyone and everyone is not for you. I didn't truly knew what that meant until now. The best part of owning your own business is not only the flexibility but getting to chose who you work with and who you think would be a better fit for someone else. Since I came from corporate event planning, I was forced to work with the best of the best but also the worst of the worst. I love to love on people and when that's not reciprocated, I take it to heart so with photography I jive with those couples who want to be friends over being my clients, those who take a genuine interest in developing a relationship that goes beyond their 2 hour shoot or their 8 hour wedding.
I am there for them in every way I can be and love being their biggest cheerleader in life with job promotions, when they are expecting their first child, or when they simply understand and share my love for the show The Office or enjoy adventuring through the mountains. I think those are just a few of the things that set me apart from others. I was also told when I first started that there is not another YOU out there. And for me, that really hit home. I can only give my clients the best of ME and I am unique in my own way – the way I photograph, the relationship I build, and the genuine care for others that I have and I've learned that that is more than enough to be successful in this industry. My editing style alone also speaks to who I am and how I am set apart. Just like my warm tones that I give to my images, I want people to FEEL that warmth when they book with me. And based on the number of clients I have had the opportunity to document speaks to that and for that, I am so proud. I am proud that I am a self-taught photographer, that even though I didn't always know this is what I wanted to do or that I didn't go to college and get a degree in photography, I am still out here serving my couples with the best photography experience they could have while also capturing their special memories and being able to be a part of all of that is exactly why I decided to embark on this journey.
Are there any important lessons you've learned that you can share with us?
I think the most important lesson I have learned along the way is to trust your gut and follow your heart. I know that may sound cheesy but it really does come down to that very truth as to how I got to where I am today. If I hadn't pushed myself to pursue my passion and what I felt like was my path I wouldn't know what was on the other side. And also to also realize that the biggest fear is fear itself. Sure, my journey was not the easiest and I had to make some big sacrifices but if I had let fear stop me, I wouldn't have the opportunities I do now. Each and every person has their own way of doing things and just because your journey doesn't look like someone else's doesn't mean you won't be successful. I have been told to not compare your page 1 in your book to someone else's page 50 in their book and that is something I am constantly having to remind myself. Photography can definitely be a comparison game especially with social media these days but if you continue to stay in your lane and keep your goals and your accomplishments in mind, you can't go wrong. Also, making connections and friendships with others in your same industry I think is so important. Owning your own business and doing your own thing can get lonely, but choose people to be on your team that help encourage you and motivate you to be the best you can be. Having people in your corner can make the biggest difference.
Pricing:
Lifestyle Sessions start at $350
Wedding Packages start at $2,000
Contact Info:

Image Credits:
myself (Jessica Woodard Photography)
Suggest a Story:
 VoyageLA is built on recommendations from the community; it's how we uncover hidden gems, so if you or someone you know deserves recognition please let us know 
here.