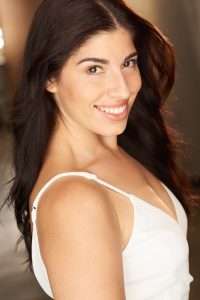 Today we'd like to introduce you to Jessica Orcsik.
So, before we jump into specific questions, why don't you give us some details about you and your story.
I was born to two famous actors in Australia (Paula Duncan & John Orcsik) and literally have spent my life in the business. When I was one day old, I was photographed on the front cover of magazines with "A Star Is Born" and "Showbiz Baby of the Year" so let's just say that being in the arts was thrust upon me in a huge way. I had my first acting job at four years old and worked throughout my school years. I knew that this industry was always going to be apart of me, I guess the only difference was I didn't expect that it wasn't going to be in Australia. Although deep in my heart the US always felt like home.
I moved to Los Angeles when I was 20 years old. At that time, Australian's moving to LA was no way near as common and so to say it was hard is an understatement. My aunt had made a name for herself here as an actress and I looked up to her immensely. When I visited her at 12 years old, I knew that this was where I wanted to be. After shooting a film in Australia and obtaining my O1 Visa, I ventured over here knowing no one and planned to follow my dreams of being an actor and a dancer. I had never anticipated the journey ahead of me or the obstacles that I would encounter. I had a lot of pride coming from my successful family, and so I always put on a happy face telling my mum how well I was doing. In actual fact, this was one of the hardest years of my life. Still, I am forever grateful for I would not be where I am today without this journey.
The day I arrived, my manager let me go from the company making auditions and understanding the industry very hard. I didn't know the system, and so was attending dodgy casting calls on Craigslist with no pay and plenty of experiences of #metoo I would rather forget. The small amounts of cash I made was off promo jobs. I didn't know people in the industry here and to be honest, I was so embarrassed on my experiences that I rarely reached out for help. I got really sick with cellulitis, had no medical insurance, and got landed with $10K bills that I couldn't pay. I was living in overcrowded shared houses and parting all the time. I was just miserable but I still didn't even admit that to myself. When I finally packed up and went home, after a dear friend of mine told me that it was time to go, I had no idea how damaged I had become. When I returned to Australia, I had made the decision that LA was not for me and I was not made to be an actor.
From that point on, I started to venture into my skills as a businesswoman and entrepreneur. I opened a dance company that I ran for eight years. I developed international courses and competitions, educating dancers about the industry in NY and LA. I also began a heavy involvement in philanthropy and event management working alongside Special Olympics and LifeForce: Suicide Prevention. Through this period, I still traveled in and out of the states, both training and for business. I learnt lots of incredible skills in talent development, event management, arts education and about the industry as a whole. If I am honest, I still hadn't let go of my dream to be an actor or storyteller. So I continued to work on projects wherever I could. Training extensively to extend my skills to become an acting teacher, and be able to work alongside my father within his acting school TAFTA.
In 2014, after a rather horrific experience in Australia I decided that I wanted to move back to LA. In hindsight, this still wasn't the right time and I learnt a lot of valid lessons about myself and about running a business in LA. When I returned to LA, my father asked me to take over his Los Angeles course he was running here at the time for Australian actors. The LA Experience program was an acting program designed to offer opportunities for Australians to come to LA and train. I quickly realized that this program had the potential to be more than that. This was a way I could give back to my community and help artists just like me. Providing more than just excellent training, I shaped the program to provide honest advice on all areas of relocation to LA, safe spaces to explore creativity and who they were as artists, fun experiences that they could use to help understand what living in LA was truly like and helping artists have the best opportunities to start their careers on an international level. Ultimately providing experiences and opportunities I didn't have when I moved here. Through this, I learnt that being a creative and curator for arts education was most certainly one of my purposes in life. Building incredible relationships with friends I still have today and created a life for myself here in LA. Although I still wasn't able to call LA my home.
When I was finally granted my Greencard in late 2017 (3 visas later) I finally made the move over here. I decided that it was time to part ways from my father's company and begin my own venture in building one of my biggest dreams and that was to establish an acting conservatory that educated and mentored international and local talent with a heavy focus on authentic voices and empowerment. Thus my company American Arts Film & Television Academy was born. Its been all systems go since. This has also led me into establishing my production company Diversity Pictures and producing several projects in Australia and LA. With plenty more in the works. I recently just also launched my first and new podcast #artartistbiz. This is designed to continue this mission of helping artists reach their true potential, not only within their creativity, but across their self development and business and entrepreneurial skills.
Great, so let's dig a little deeper into the story – has it been an easy path overall and if not, what were the challenges you've had to overcome?
As mentioned earlier, it's been far from a smooth road. It's hard to build a foundation in another country from the ground up. You are away from friends, family and you are required to start your life again. There are constant battles in finance, adjusting to a new culture and building strong relationships. To create a name for yourself in business and as an artist is never easy however the rewards can be great when you truly realise your own strengths and power. Even though the business was established, I found and still find myself having to fight for respect amongst peers (especially in Australia). Constantly demonstrating my passion and purpose, and the value and intentions behind the business. I understand there are always going to be skeptics in this business, as we all know LA is synonymous for people creating "programs" that charge artists a lot of money and deliver a product that sells false ideals or the promise of making someone a star overnight. Whilst I understand this, sadly this has created judgment and fear amongst many peers in the industry. So sometimes people do not see the truth behind honest intentions and there-for do not take a chance on new, young and ambitious women like myself. Its taken some time for many to see that what I had created was, is, and will always be an artist's first initiative. For no-one loves this business more than me. More importantly no-one loves artists more than me. They are my family, my friends, and most of all me.
Through my experience as an artist, with a family in the industry and a business dedicated to it, I can honestly say there is no such thing as an overnight success. I have to work extremely hard. Constantly on a quest t improve myself and my knowledge, building trust and strong relationships with people in the industry (both in US and Australia); and most importantly building trust and respect from the artists that are drawn to our programs. For when they succeed we succeed. Its nonstop hard work, dedication, vulnerability and sacrifice. The simple fact you are away from people you love, and often alone in decisions is very hard. Knowing you may not always have the finances or time to be able to be with family when you want to be. You will be giving up holidays and personal ventures due to the work involved. Sometimes even sacrificing your own self care. Although, I am learning to balance this much more at the moment. Be prepared for the late nights, early mornings, long hours at the computer (especially with COVID) and no guarantees. You do what you must to keep your business alive, often questioning your decisions and actions, whether they are right or wrong. You feel torn as if you miss out on so much living in two worlds. Not to mention the unpredictable obstacles that come up relentlessly. All this is true. But, and it is a big but…You must always stay true to who you are and why you do what you. AAFTA looks at artists as individuals. Taking time to ensure they know their journey is unique and should be treated as such. We spend time working with each one very personally to make sure they feel seen, heard and have the best opportunities that we can provide. Often artist compare themselves to others, this is very true for myself. This comparison only leads to more self doubt and fear. Aiding artists to accept where they are is a very hard and as times taxing task, with the most incredible rewards. Ultimately I see struggles as opportunities for growth and whilst I can be tested and I have been, I am truly grateful for each one.
Please tell us about American Arts Film & Television Academy.
American Arts, Film & TV Academy (AAFTA) is curator of ARTS education in the US and across the world, dedicated to offer artists elite education, mentorships and development for emerging talent and content collaborators across the Performing Arts and Film and Television Industry.
We focus on the ART, the ARTIST and the BUSINESS. Providing Actors, Writers, Directors, Producers and Performing Artists opportunities for their talents to be crafted, showcased and recognized across both stage and media platforms around the world. Further, AAFTA's mentorships provide artists and creatives with safe, inclusive and productive tools to better support them on their journey in finding their own AUTHENTIC and ARTISTIC voices. Building up self-esteem and confidence to discover your greatness and achieve longevity in unpredictable and taxing industry.
AAFTA currently runs Intensive Full-Time Programs and Short Term Programs that focus on The Business; The Art; Self Care & Motivation; Goal Setting & Intentions: Career Development, Marketing and Life Skills; History & Theory; Truth in Performance: development of screen acting skills, performance & choreographic skills; Create Your Own Content and Showcases. AAFTA provides a range of services that also cover Dialect Coaching; Voice work; Movement and Body Awareness; Improvisation; Genre specific training – Sitcom, Acting for film, Primetime TV, Soap Opera, Sci-Fi/Horror, and Commercial; Audition Technique; Business training – Social Media, PR, Marketing and Branding; US VISA's/Immigration; Management Seminars; Talent Agent Seminars; US Headshot's & Showreels; The Art of Casting; Self Tapes and more.
We let you do what you love with the freedom and courage to be AUTHENTICALLY YOU!
AAFTA it's artists who create the programs and help create our education curriculum. As artists, we come from a vulnerable and honest place, and we know what artists need and want because it's our very own experience. We mentor and develop creativity and talent, but more importantly we develop life skills and personal development. Create safe, inclusive and diverse platforms for all artists to find out who they are and steer their own courses of entrepreneurship and business. Finding their purpose in why they do what they do, and letting them find courage and bravery to follow their passion and dreams. Understanding who you are and being able to trust them, is sometimes harder than the exploration and understanding the craft. Essentially being successful is a combination of Art, Artist and Business.
Is there a characteristic or quality that you feel is essential to success?
Vulnerability and Truth.
As the great Brene Brown said "Vulnerability is the birthplace of innovation, creativity and change" and I couldn't agree more. Many artists find it harder to succeed because they are fearful of so many things in their lives. Fear of failure, success, imposter syndrome, Judgement or rejection the list goes on. Many find it hard to even admit that these fears are huge blockages in pursuing their careers and dreams.
For artists to truly find their success, they need to know who they are and not be afraid of that. They need to want to be seen and heard, and surrender to what is out of their control and what is in their control. They need to have courage and bravery to showcase their art regardless of its outcomes. They need to pursue this business as entrepreneurs without fear or complacency. Most importantly, they must have a community that supports them in their discovery. A creative and supportive community is so important. It's vital to any human beings sense of belonging, and it's artist's fuel and motivation. Its here artists can express themselves freely, with vulnerability and truth.
Pricing:
Empowering The Artist Online $350.00
Online Coaching $60.00
Truth In Performance Online $250.00
An Actors Conservatory (In-person 6 month course 2021) $8500
LA Experience (In-person 3 month course 2021) $6500
Dance International (In-person 3 month course 2021) $6500
Contact Info:
Website: www.aafta.us
Phone: 7472030177
Email: assistant@aafta.us
Instagram: @aaftala
Facebook: @aaftala
Twitter: @aaftala
Other: @artartistbiz
Image Credit:
@rydeentertainment
Suggest a story: VoyageLA is built on recommendations from the community; it's how we uncover hidden gems, so if you or someone you know deserves recognition please let us know here.