Today we'd like to introduce you to Jesse Fregozo.
Hi Jesse, so excited to have you on the platform. So before we get into questions about your work-life, maybe you can bring our readers up to speed on your story and how you got to where you are today?
I was born in East Los Angeles, a first-generation Mexican-American raised in Boyle Heights, just East of the LA River. I began my education through the public school district of Los Angeles, LAUSD, before attending California State University, Dominguez Hills, and receiving a double major Bachelors Degree in Art&Design and Studio Art.
My early education began at Euclid Elementary school, then as years progressed attended Hollenbeck Jr. High and finally my good old Roosevelt high school before heading out to college in pursuit of my artist degree. Being part of these institutions and my community of Boyle Heights, embraced the love for the arts and inspired me to begin my early art practices at the age of only 8 years old.
Whether it was walking to school or my boxing lessons at the Oscar de la Hoya Boxing gym, during the early 2000s, I witnessed many parts of my community being on the scene of criminal activity and vandalism. Even though this was the case, I saw other parts, specifically walls, glorified with beautiful imagery and colors that reflected my community, Identity, and culture. This completely transformed a blank small business wall into a portal for a young kid's imagination to access and transport into a whole different world. Public art, "Muralismo" was what sparked the desire in me to be an artist.
Even though I began my art practices at an early age. I was never part of any art program or institution due to the lack of resources and contacts that would get me involved. But this never stopped me, the lack of resources transformed me into a self-taught artist that many classmates and members of my community began to recognize due to my dedication and intentional stories behind my art that were reflected in the executions of my work.
I took my first art class at Roosevelt high school and completely fell in love with it. Being exposed to art materials and putting to use my first set of drawing pencils instead of my traditional HB pencil, really lifted the quality of my artwork. The quality of my artwork was very noticeable that my art teacher encourage me to apply to the 2010's Congressional Art Competition, which was taking place in Washington DC.
At first, I was intimidated by the whole idea of me competing against other artists around the US but members in my community motivated me to submit my artwork and be part of it. My artwork was selected amongst other talented artists to be displayed in the US House of Representatives for over 3 weeks and seen as "An Artistic Discovery". When receiving the newsletter and certificate about my artwork being displayed in Washington DC, this caused all types of emotions in me and fueled me to fully pursue my artist career taking into consideration applying for college was just around the corner.
When attending California State University, Dominguez Hills I meet artist friends that then introduced me to different forms of art and eventually became part of the Dominguez Hills Arts Collective, which was composed of a group of undergrad student artists in college that carried artist goals similar to mine. I also came in contact with professors like Devon Tsuno, Gilah Hirsch, and Bonnie Tanaka that drove me into the life of what a professional artist's life and work are like, as well as introduced me to the fundamentals of integrating design into my studio artwork and practices which I use till this day in the development of all my artwork.
After college and working in the field as a Graphic Designer, I remember driving back to my community one day and stopping by a local small business market. I noticed an artist working on a mural. I introduced myself and told him I loved his work and he asked me if I also made artwork, I immediately responded, "Yes, I am also an artist" and showed him a couple of my artworks on social media. He then invited me to his studio gallery. Little did I know I had just met artist and community leader Fabian Debora, Executive director and founder of the Homeboy art academy, located in Boyle heights.
After meeting Fabian Debora we became very close friends and he eventually turned into my mentor. I then became a teaching artist at the Homeboy Art Academy and conduct art workshops for formerly incarcerated youth as well as other participants in and out of my community. I also began to teach at juvenile facilities, parks, and recreations as well as conducted art lectures for the youth from homeboy industries at the Homeboy Art Academy. Fabian Debora was part of the East Los Street Scrapes and eventually taught me the knowledge of what had sparked my desire to be an artist in the first place, the studies and overall process of Muralism and their importance. Which know I have successfully executed in and out of my community in various scales and styles. I am currently doing an Artist in Residency at the Homeboy Art Academy which has allowed me to escalate the technical qualities and intentions in my work.
Taking this path in my artist career has led to the interest of various artists, curators, and organizations in and out of Los Angeles in various forms like networking and collaborating. I was able to close 2021 exhibiting my artwork at Artshare LA, located in downtown Los Angeles this past year, and received this current 2022 exhibiting artwork at The DA center for the Arts located in Pomona, CA.
Would you say it's been a smooth road, and if not what are some of the biggest challenges you've faced along the way?
It has not been a smooth road for me at all. What deeply wounded my life in general, was when my art studio got caught on fire at the Little Tokyo Art Complex (LTAC) building in downtown LA, this past May 2021. Besides the destruction of all my artwork in the building as well as art material and equipment, my whole career as an artist went into the darkest most horrifying paths I never thought, in my life, it was going to take. As an artist, we make work for a specific reason and make sure every brush stroke matters because of the representation that comes with it. This creates a voice, the voice of my community along with mine which allows the artwork to stand and speak on its own. The day my studio caught on fire was the day that voice was shattered and decimated by the fire. But out of the fire, ashes of it allowed for a new chapter in my life to begin and resurrect the artist I am today, where I no longer consider being "an artist" my career but instead my life and achieve everything that comes into it, which then contributes to the development of future artwork. Artwork that blooms, like a Phoenix bird in an uplifting way carrying with it the message that at the darkest times and places is where a shine of light is most admired.
As you know, we're big fans of you and your work. For our readers who might not be as familiar what can you tell them about what you do?
Thank you, I would like to say that Jesse Fregozo is a native Angeleno who primarily works as a painter. He vocalizes the struggles of marginalized communities through the representation of identity and culture as a primary focus. Fregozo uses locations around his community as symbols of identity and a cultural lifestyle that has been carried down generation after generation. Fregozo straddles the line between design and pop culture to the development of his work. His intensely works on canvas, paper, photography, and design are mediums to the development of his artwork. He has been part of "My Life", an exhibition at Kobe University, Japan. "Kidooo out of order"-Virtual art exhibition at Maryland Art Place (MAP) Baltimore Maryland. "Selection from Los Angeles Artists", an art exhibition at Art Share LA, "Peoples choice awards" art exhibition at the DA Center for the Arts, Pomona, CA, as well as "Barrio Los Angeles" art exhibition at City Terrace Art walk, Los Angeles, CA. "Emerging Dimensions", Mural exhibition at California State University, Dominguez Hills Gallery. "LTAC"- Art exhibition at Duren and Ray Gallery, Downtown Los Angeles. Currently, Fregozo completed a mural titled "Resurrection in LA" located in his hometown of East LA as a representation of this culture signifying the rebirth of brave warriors who died in battle. Fregozo is currently doing an Artist in Residency at the Homeboy Art Academy located in Boyle Heights. His painting studio is located at "The Hive Gallery & Studios" in downtown Los Angeles where he also lives and works as a teaching artist at the Homeboy Art Academy (Somos LA Arte) based in Boyle Heights, CA.
The artwork that I feel most proud of is my Jackie Robinson and Kobe mural located at 213 E 3rd st downtown LA. This mural involves a lot of mixed emotions because as an artist and Angelino we want our voice to be heard. This 168×300 mural of Jackie Robinson and Kobe Bryant represents leadership and talent made in our city of LA. Both, the Dodgers and Lakers won championships the same year but were unable to celebrate due to COVID-19, which made it nearly impossible for us to express our love for our LA teams. Therefore, I decided to blow up my feelings in this wall located in downtown LA, just outside my previous art studio, and painted both of these respected athletes and team leaders. This mural then became part of a documentary film titled, "Sincerely Los Angeles" and was categorized as the only surviving artwork by many community members and artists as well as the Los Angeles Times and Downtown News after our LTAC building got caught on fire this past may of 2021 where my art studio was located.
Boyle Heights is full of amazing artists, but what sets me apart is my unique life story being captured in every one of my artworks. This makes me special because every single body of work represents a moment in time I was living and invites the viewer to see and feel it.
The crisis has affected us all in different ways. How has it affected you and any important lessons or epiphanies you can share with us?
I've learned the important lesson that life changes occur when we least expect them and it is up to humanity to adapt and keep moving forward. During Covid-19, specifically working on the field as a teaching artist, I had to adapt to various platforms to successfully get our art lectures across and generate an impact on our youth similar to one if we were teaching in person. During Covid-19 we did 95% of our work more digital and used platforms like Zoom, Youtube, Instagram Live, Microsoft teams, in between others, to deliver our message to our participants.
Art exhibitions, shows, and gigs were canceled due to quarantine. Therefore as an artist, I had to find ways to show my artwork to the public. This is when I began to make public art, murals in and out of my community, and safely engage throughout the process of my artwork. During the process, relationships were made with members of my community that despite the idea of being in quarantine, they would enjoy whenever I was working on my mural and would come to salute me and ended up commissioning me in the future. Besides public art, I also had multiple virtual art exhibitions which of course were different.
Contact Info: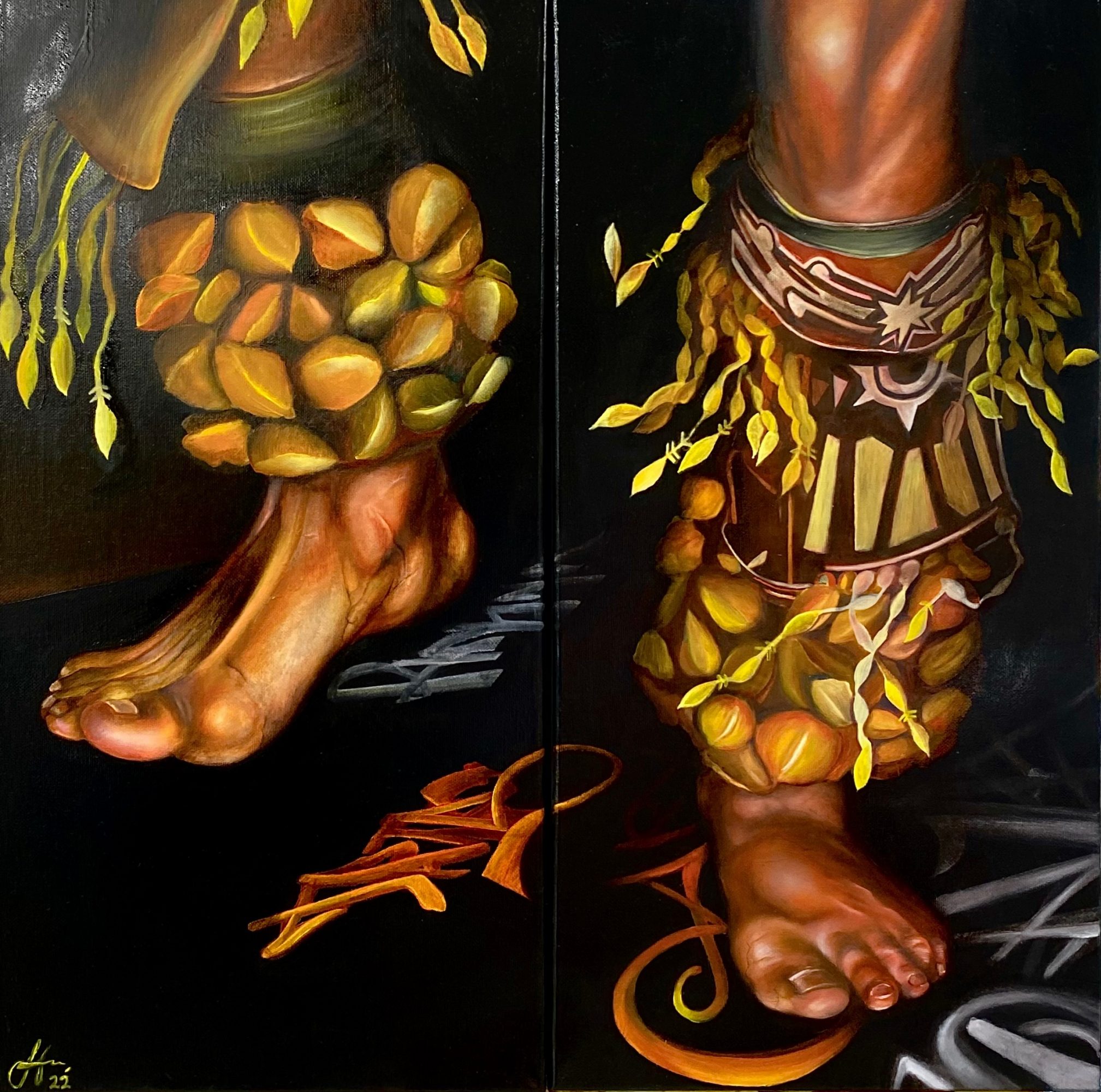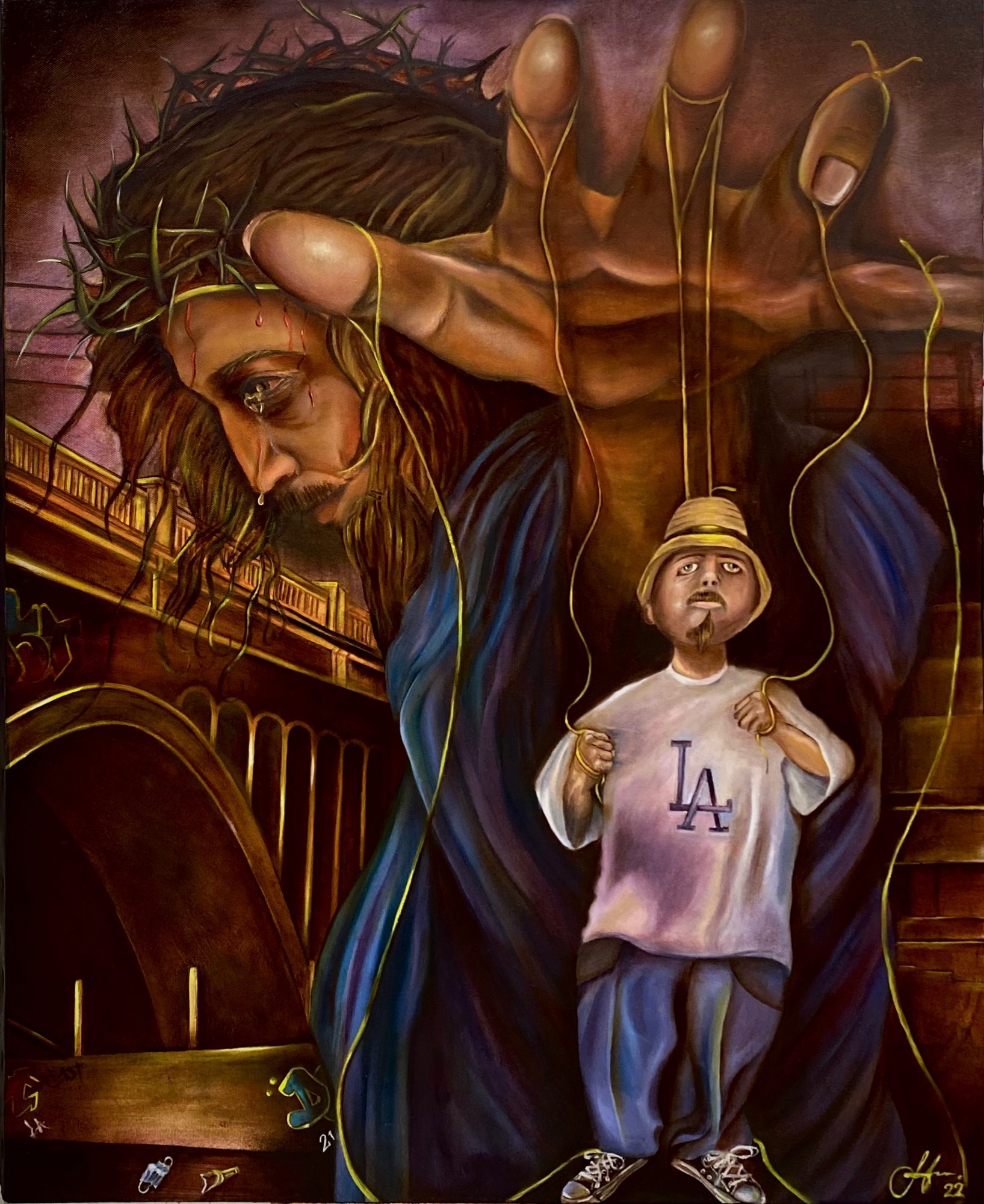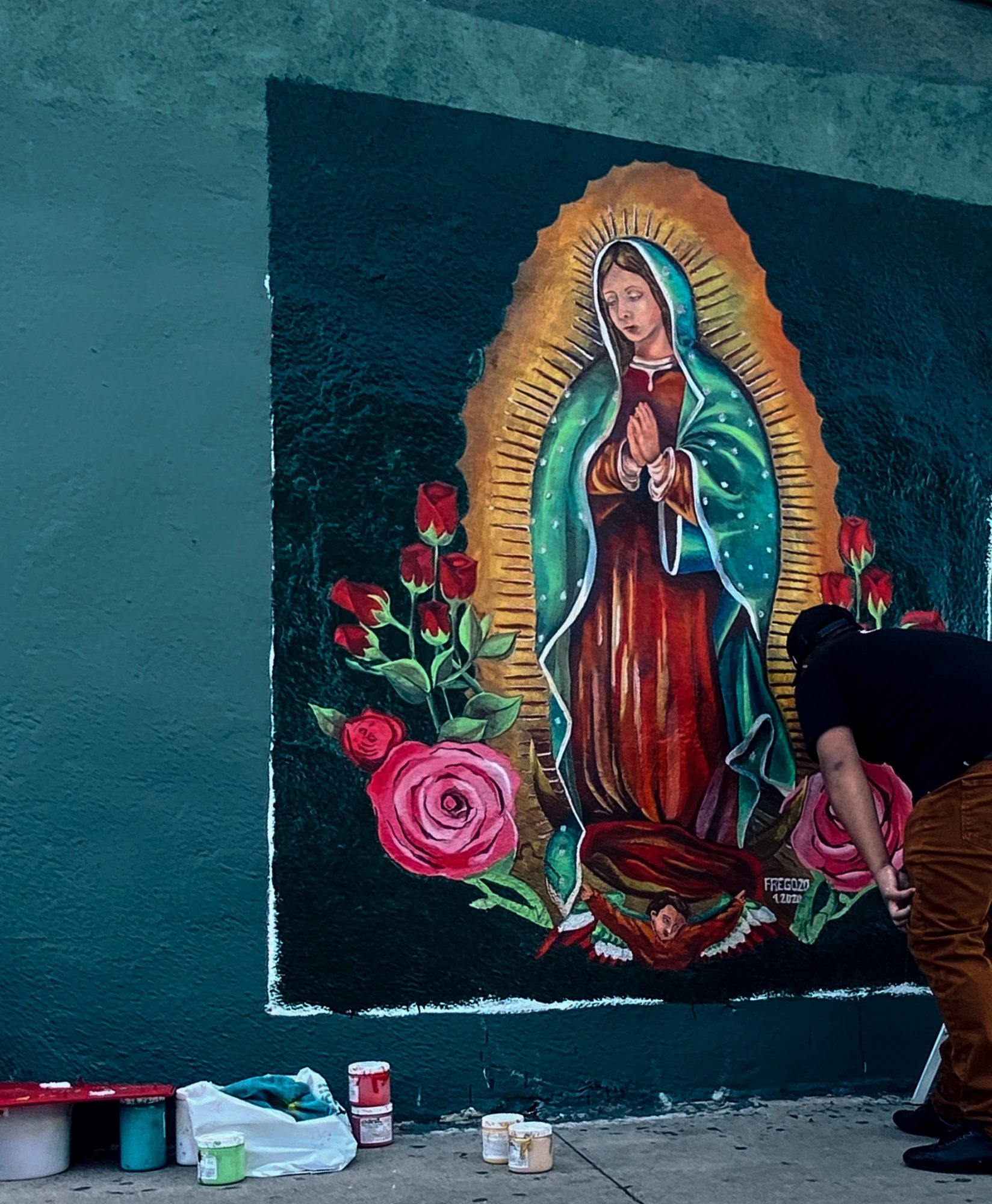 Image Credits
Vanessa Fregoso, Maribel Fregozo, Obed Silva
Suggest a Story:
 VoyageLA is built on recommendations from the community; it's how we uncover hidden gems, so if you or someone you know deserves recognition please let us know 
here.