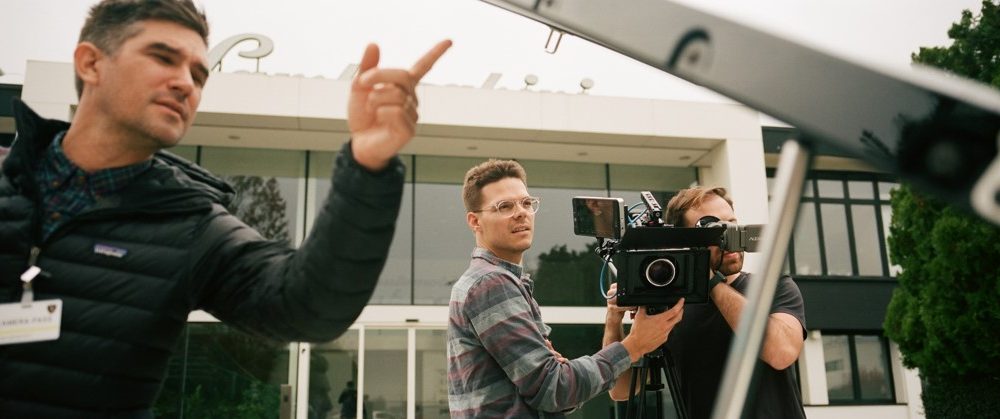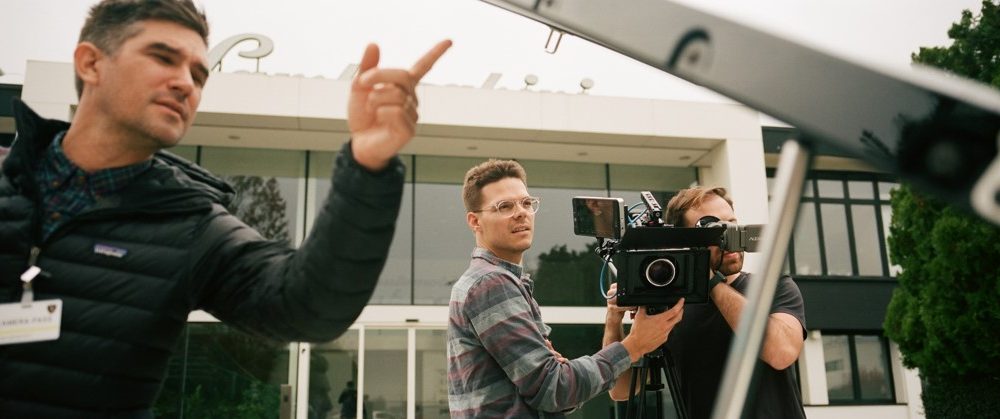 Today we'd like to introduce you to Jeremy Heslup.
Jeremy, can you briefly walk us through your story – how you started and how you got to where you are today.
Growing up in a small town in Ohio, I was always a very visual kid. There were only so many bike rides I could take and ball games I could play before my imagination needed more.
I discovered a whole new world in VHS.  As an only child, my parents would spoil me with fresh copies of  semi-age appropriate 80s and 90s films that I'd have on repeat for weeks on end. Films like Jurassic Park, Star Wars, Independence Day helped create a whole new world of visualization for me.
Throughout High School and College, with whatever camera I had at the time, I started to recreate those fantasy worlds utilizing my own vision.
I didn't take the typical route by going to film school but attended an Electronic Media program at the University of Cincinnati.   The one major truth that I walked away with is that only I could create my own destiny and happiness by crafting stories.
Armed with that realization, I went to Atlanta for an internship at CNN and then on to Munich to study abroad.  It was there that I discovered my strength as a storyteller and started creating short form documentaries.
After college, I was really into Electronic music so I thought, why not start with something I love.  I spent the next three years seeing most of the country, shooting artist promotional and music videos that landed on MTV and even spent a month in Mexico, crafting films for this growing niche audience.    After three years, I decided to make a change and move on to focus on another passion, automotive.
This creative change was also coupled with a physical change… of address.  I always wanted to move to LA and was looking for an opportunity to make it happen.  In early 2014, that window opened and I jumped in.  I took only what I could carry in the back of my car and left everything else behind (so rapidly because I feared something would keep me there, as it had done so many times before). And, of course, documented the journey.
I was without a residence for a month, slept on couches, stayed with friends, luckily didn't have to get any hotels as people were very generous with letting me stay for a few nights. Eventually, I ran into an old Ohio friend and we found a place together. Laying down on a new mattress after a month of stress and uncertainty was one of the most comforting feelings I've ever had to this day.
From there I started to chip away at the beast that is LA.  I started out first with what I knew, music, but realized that I needed to expand my reach to an older, growing demographic– and what do they like to watch more than anything else? Vintage cars.
I began to work with an automotive channel called Petrolicious, creating profile films of vintage cars of everything from a Delorean to a $100M Mercedes Benz featuring the racing driver who won with it in 1955. After 60 of these films, it was time to move on and with such a robust portfolio, advertising work was within reach.
In 2016, I began to work with commercial agencies on broadcast TV spots for Wahl Clippers and a handful of Land Rover digital campaigns.  I realized I was still in love with the mini-doc format I'd come to love from Petrolicious, so I developed my own channel, Praemio, centered around people, not cars. 30+ episodes of RISK & REWARD and nearly 2M views later, I've met more incredible people than I can count, traveled the world and told their stories. I see them regularly when I visit their respective parts of the world.
The last couple years, I've been shifting gears again, this time to more scripted and international work. In 2017/2018 I happily spent more time on the road than at home.  I shot in Hong Kong, South Africa, Costa Rica, Mexico, Europe dozens of times which suits me very well.  I've just jammed camera gear in a backpack and shot films that no one else will.
In 2019, I've done my best to sit still and focus on work and networking here in LA. People tend to forget you exist when they think you're always out of town and out of reach. So with a couple of shorts in the bag and my first feature script currently in the works, this year has already been another wonderful gigantic shift from all the others.
Has it been a smooth road?
Is anything that's worth it smooth? If you get somewhere without a struggle, then it's likely you didn't earn it.
I am very guilty of having little patience when it comes to what's next. I try to play it off well, but on the inside my foot is always on the gas.
Sometimes you can get derailed if you listen to the wrong people. With time and experience, you learn who to hold on to and who to let go, where to invest your time and energy and how to make it all work in your favor. Everything is a learning experience. I've found that each time you go through a bad experience and learn from it, the returns get slightly bigger.
The key is to know what you want. To envision where you want to be and not get distracted from that path.  It's really playing the long-haul game and getting there that will make the struggle worth it.
So let's switch gears a bit and go into the Valkyr story. Tell us more about the business.
Valkyr, my production company, was started in 2011. It was just me,  a DIY'er.  I did it all – Shoot, Edit, Color, Sound Mix, Distribute, etc. etc. For the first few years, it was much more videography than filmmaking. Capture this event, do this interview, promote this company. I really liked fulfilling those requests and always found a way to add some new element to each project, whether it was requested or not.
After a while it became apparent that to grow I needed to delegate. Who better to hire than your friends? I've worked with most of my friends in some capacity or another, and it makes our jobs and shoot days very familiar and fun. We've done everything from pro-bono spec shoots to TV commercials.
The specialization we have is definitely grounded in keeping things authentic and honest. After hundreds of mini-docs and now moving into the scripted  world, everything has to feel like it could actually happen in real life.  If it doesn't, it has to at least be honest to the viewer. I have a huge respect for the viewer's intelligence.  Watching something we make should be special, engaging, you need to unwrap it like a present.
I see myself as a director, but I've also developed subconsciously into the EP of my own company over the years and if I've learned one thing about how to produce a commercial production, it's to be a good host.
I believe it's our attention to detail in problem-solving and overwhelming desire to host our clients and their wants/needs, no matter what part of the world we are in that sets us apart – or at least I hope!
How do you think the industry will change over the next decade?
The pendulum swings in the opposite direction. Five years ago there was a massive wave building of how to tap into the resources of everyday people and their stories.
This led to profile films and eventually influencers, now the new norm. The problem is that it's become a very crowded space, with a lot of mouths to feed.
Seeing audiences roll their eyes at another creator trying to mix their story with brand goals and have it not be cliche is very telling The solution to overcoming this is easy – you just have to dig deeper and create something that ticks all the boxes while earning the attention and admiration of the intended audience.
There's really no substitute for hard work and creativity.
Contact Info:
Getting in touch: VoyageLA is built on recommendations from the community; it's how we uncover hidden gems, so if you know someone who deserves recognition please let us know here.