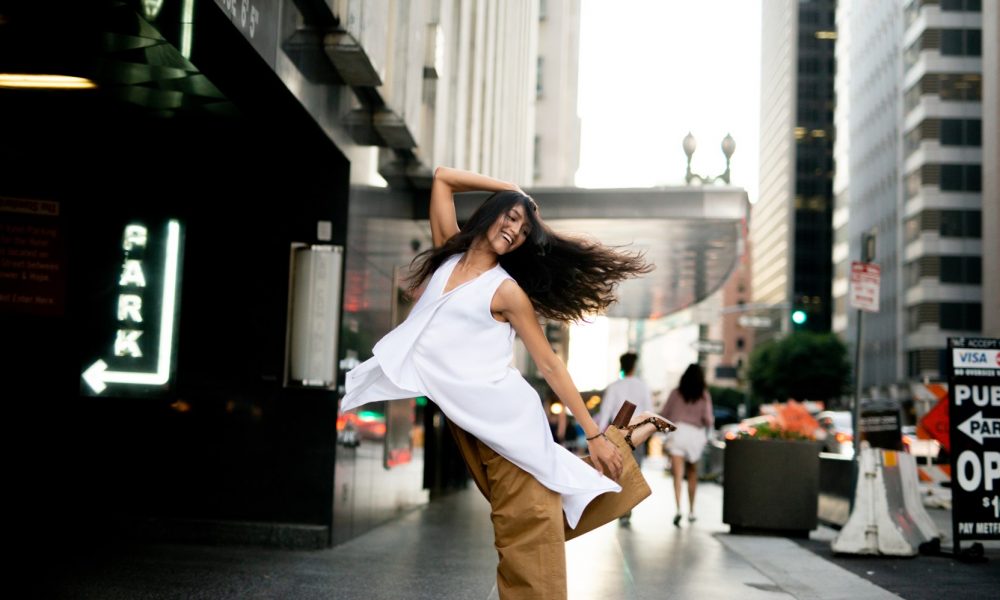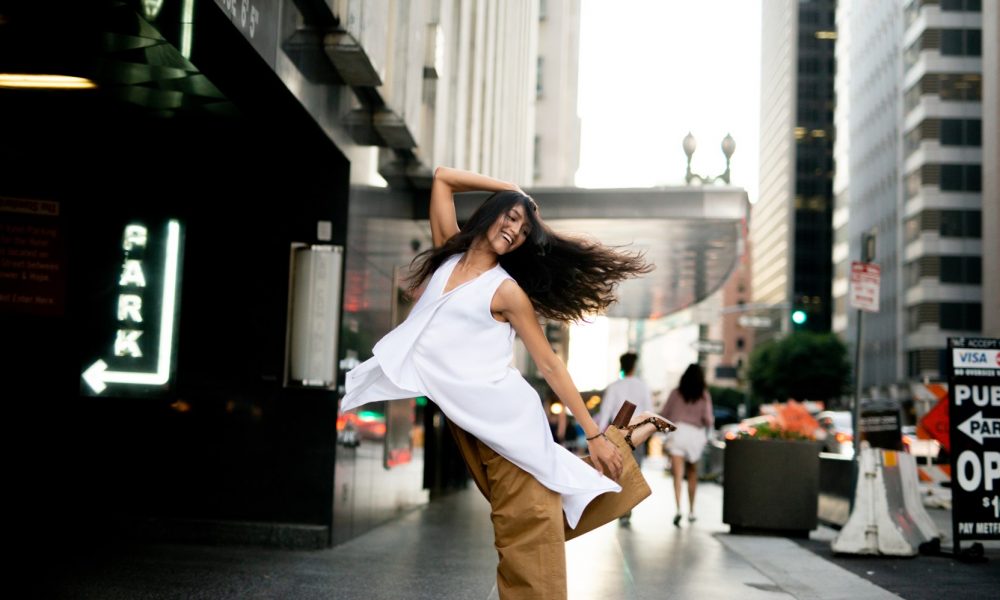 Today we'd like to introduce you to Jennifer Mariela Bermeo.
Thanks for sharing your story with us Jennifer. So, let's start at the beginning and we can move on from there.
How I got my start… well for me it all began with dance. 26 years ago I set foot in a dance studio and my life would never be the same. A rare experience for a three-year-old, to barely understand how the world works but to feel a love bigger than yourself for something most kids treat as a hobby at that age.
I don't remember how it happened exactly, but I know I can't imagine my life without it. I've been so lucky to walk through life with this unshakable passion for what I do, for dance. But that is the exact reason why I have fought my whole life for it. Most people spend their lives searching for that "thing," I stumbled upon it at my family friend's kid's birthday party. And my life would never be the same.
I credit my parents for my start but where I respect them immensely is how they encouraged me to see my dream through. Especially as immigrants, they came to the states from Ecuador, leaving behind a life so different from the one I was raised in. I will always have the deepest appreciation for how open-minded they are. With what little knowledge they had about dance, they helped keep my dream alive over and over again through many teary nights, bloody feet, and broken bones.
You see, like most immigrant families, ours was a humble beginning. My parents made sacrifices that still bring tears to my eyes as I write this. Sacrifices to give their kids a better life. They gave me the freedom to be me, but they also gave me an example to look up to. They had big dreams and so did I.
I grew up with tunnel vision, I had a plan for my life and I had to see it through, even within the confines of growing up in suburban New Jersey. At school, when they'd ask us what we wanted to be when we grew up, I knew in my heart what I wanted but still I had some "back up" plans to fit the mold of the rest of my classmates. They all just felt wrong, resisting the little voice inside me that simply knew what I wanted. I had one dream, to make something of myself and become the best dancer I could be. A lofty goal I somehow was already working on while we were still playing with Barbies.
Of my childhood career, my mom has it on her record that there was only once I asked to stay home from dance class. It was prime summer and my friends and I were playing with the sprinkler in the backyard. When I heard the sliding door open and my mother's voice calling out for me to get ready for dance class, I felt myself in panic. Do I go? Or do I stay and play with my friends? I decided to discuss it with my mother by asking her the infamous "do I have to go?" My mom, the ever-brilliant woman told me, "Jenny no one is making you go. If you don't want to go you don't have to." I ran inside and off to dance I went.
And that's how a lot of my childhood went, uttering the words "sorry I can't, I have dance." I used to tell my mom that dance was my boyfriend, she still loves to use that one. But that was that I learned my priorities early on and knew that if I wanted it to happen, I would have to make it happen. I began dancing at three but soon moved up to two classes a week because my teacher saw potential when I sat in a perfect split on my first try. I began competing the next year.
I'm often dumbfounded by the work ethic I had as a kid, sometimes I even think back on these stories to refuel my fire. From the time I began competing, my second home was my dance studio. Every day after school I would eat my early dinner and off to the studio I went. However, there was a time in my life when all this could've come to an end. Dance is not cheap. The lessons, the costumes, competition fees, travel… it adds up. And there came a time when my parents simply couldn't afford it.
I struck a deal with my parents long ago when I was probably still getting "S"'s on my report cards. They made it simple, keep good grades: stay in dance. So when my parents sat me down to tell me the news that they couldn't afford to keep me in dance, you can imagine what any child would do.— Well, then there's what I did. I didn't shed a single tear. I just walked up to the refrigerator, pulled my report card from under the magnet, and placed it on the table as I said to my parents, "I did my part, now you do yours."
My dad would take the train to work for the next year, but my parents did everything they could to keep my dream alive, even without me knowing all the ways they pushed forward to make it work. By the time I was a teenager, I would be in the studio every day after school until 9 pm, then home for dinner and homework until the early hours of the morning. An honor roll student spending her weekends competing and working on her craft at dance conventions. But the work didn't stop there. I was always looking for any way I could improve, I used to sleep with my feet tucked into the edge of my bed frame hoping that while I slept it would improve the arches of my feet (I was always yelled at for not pointing my feet). At sleepovers, my friends from dance and I would do ab exercises and learn the "older girl" routines off of our dance performance tapes. We were always working towards something, working towards the days I'm living now.
I had absolutely no idea what "being a dancer" would mean. For most girls, it's becoming a ballerina or a Rockette. Well when I had been rejected from major ballet schools at the age of 12, I decided it wasn't for me. Though some of my greatest training has come from ballet, it wasn't exactly a world I wanted or was bred, to be in. I grew up spending my weekends performing on stages at dance competitions and furthering my dance training at dance conventions. I credit those dance conventions for exposing me to dance in ways I never knew. I soon began taking more and more trips into New York attending studios like Broadway Dance Center and Steps on Broadway, where the real professionals trained. I was also taking lessons in acting, modeling, and vocal training. Around the same time, I began to take hip hop classes at my home studio and soon they were quickly adding more classes to the conventions I attended on the weekends.
If you wanna know what did it for me, what made me believe that I too can do this crazy thing, it was Missy Elliot. The first time I saw "Work It" and Alyson Stoner danced across my screen, I stopped breathing. In my head, somehow it clicked for me that there could be a place for me too. It didn't matter how old you were, you could be a professional. From then on every music video or performance I saw with dancers only further fueled my desire to be a part of it. I had this little TV in my room where I would watch music videos up until I had to leave for school. (and would frequently miss my bus).
From then on out, I began to treat my work the way I do now. I was signed to an agency at 16 and eventually, I was scouted to study internationally at the Liverpool Institute for the Performing Arts. However as enrollment grew closer, I decided against it and would continue to establish myself in New York, where I was accepted into Marymount Manhattan's dance program. At MMC I studied ballet and modern five days a week for the next four years, integrated with other dance styles and a liberal arts education. I graduated Cum Laude with a BA in Dance & Media Studies. By the time I graduated, I had a job waiting for me and was signed with my agency I'm still with to this day, Bloc Talent Agency. I credit my experience in NY to so much of my success in LA. It's shaped me not only as an artist but as a person. By the time I arrived in LA in the summer of 2014, I hit the ground running.
While dance has been the driving force of my life, it's been an exciting time for me as I've developed some of my other passions over the last few years. That's what I love about LA, so many of us wear different hats, and successfully, I might add. While I've lived out some of my biggest dreams as a dancer, my work as an artist is never complete. While being a dancer is a huge part of my identity, it's not all that I am. If I had to narrow it down to describe myself, I'd narrow it down to artist, performer, creator, and above all, storyteller.
In addition to my performing career, I've recently I've been working more on the creative end, which certainly gives these skills room to grow. I'm always creating, whether its movement, a visual, capturing a moment; it's really awesome to see how your skills as an artist can blossom and develop into others. My other passions that have developed through dance include acting, writing, editing, and photography, but I'm sure as I grow older I'll keep adding to that list. That what I love about being an artist, we're never really just one thing. Like art, we're ever-changing.
Overall, has it been relatively smooth? If not, what were some of the struggles along the way?
I imagine it'd be very hard to find a dancer who described their road as "smooth." Like any artist, we all go through the pitfalls of self-doubt and struggle. But, I also believe these times to be our greatest teachers. I've learned more from my hard times than any of my successes.
Of course for dancers, we face physical obstacles daily, all the wear and tear on our bodies after a lifetime of training. That's what I feel is most overlooked by society, the lifetime of training required to make what we do look so effortless. People are quick to treat us as if what we do is a hobby, but this is our livelihood. Our office may be a studio with mirrors but we work those hours just the same. I think that's been one of my greatest struggles, witnessing the realities of being a dancer in this day and in this industry.
If you're a part of the dance community, you can't avoid hearing all the recent talks about the unfair wages we face and some of the treatment we receive. That's not even to complain, just to shed some light for anyone who may not know our stories, our struggles. But I don't believe this lives just within the dance community, I know plenty of artists in different fields struggling with these same basic rights. I think at the end of it, we all want the same thing, respect. As artists, for our craft, and our work. To be treated like anyone else working on the project at hand, contributing mutually to the work. And the financial payoff to be a reflection of that.
We'd love to hear more about your work.
I work for myself as a dancer, actor, creative, and more recently stepping into the role of consulting, hoping to help anyone trying to pursue a career in dance and the entertainment industry. As a dancer, one of my biggest strengths has been my versatility which comes from all the many styles of dance I've trained in. It's allowed me to attract work from various choreographers and diversify my income from dance.
In my dance career, I've lived out my biggest dreams. Most recently you can spot me dancing next to Selena Gomez in her new music video for "Look At Her Now" and at her comeback AMA's performance. Additionally, to name a few: I've performed at the VMAs, Emmys, GRAMMYS, BET Awards, appeared on TV in Legion, Dancing With The Stars, Lip Sync Battle, in the movie Ted 2, in commercials for Burger King, Jeep, and Target, I've danced for artists like Rosalia, Hailee Steinfeld, Iggy Azalea, & Diddy. My proudest accomplishment, most dear to my heart, was dancing with Justin Timberlake at the Super Bowl LII Halftime Show. As a dancer, Super Bowl is as big as it gets. My whole life Justin was the artist I, and so many, always dreamed of working for, his dance style is iconic. So those two joined together was the ultimate whammy of a bucket list goal off the list. It still feels surreal!
My work in front of the camera continues on as I've been studying and working as an actor. While I studied when I was younger, dance took the driver seat for most of my life. Now that I've lived out some of my big dance dreams, I'm refocusing my energies into this, and other passions, of mine. Again, my favorite thing about being an artist is we never are just one thing.
In the last few years, I've been developing my artistry as a creative. I've worked with a dear friend of mine Moxie Raia on her videos for "Walk Away" and "Shades of Blue" assisting with choreography as well as creatively. Me and Moxie both grew up dancing together so realizing both of our childhood dreams and working together has been magic upon magic, an absolute dream. Gotta love the way the Universe works. Creatively I've worked with other artists such as Gigi Rowe and had a hand in creating Girl Cool who appeared on Season 2 of NBC's World of Dance.
Aside from my work as a performer and creative, this year will include a new endeavor I'm extremely excited about, launching my consulting business. I'm on a mission to help other up and comers navigate their way into the industry and live out their dreams, the same way I have. When I was coming up, there was no manual on how to do this thing and live this life. Just trial and error. My goal is to help others avoid some of the hiccups I've had to experience and streamline their process. I've written about my experience in how I managed to manifest my dreams, now I hope to work with others to make theirs happen too. I'm a firm believer that there truly is no reason for anyone not to live the life of their dreams. If I can be of some service in making that happen, well then that's just the cherry on top.
I'm proud to be a Latina, female artist and entrepreneur. I think what sets me apart is my creative lens in how I see the world; to see the most mundane work creatively and be able to execute any project or assist a client the same way I do my dancing, with passion.
Any shoutouts? Who else deserves credit in this story – who has played a meaningful role?
I give all credit to my parents. They were my first-hand experience in seeing that anything is possible. They always encouraged me not only to dream but to dream bigger. And then to just go for it. The love and support I have from my family have made this life I live all possible. I give big credit to my first dance teacher who showed me the most patience when I first started.
Spanish was my first language so when I was in class I couldn't understand what was being said, but she would place my hands and feet right where they needed to be and showed me the way. There are so many teachers that propelled me forward. Even the ones that brought me down taught me something important. That's what experience is, it's learning. Our greatest struggles can become our greatest teachers if we choose to learn from them. In truth, I give a lot of credit to my mistakes and my struggles, I would not be this person without them.
Contact Info:
Image Credit:
Alexandra Nurthen, ALN Images
Suggest a story: VoyageLA is built on recommendations from the community; it's how we uncover hidden gems, so if you or someone you know deserves recognition please let us know here.