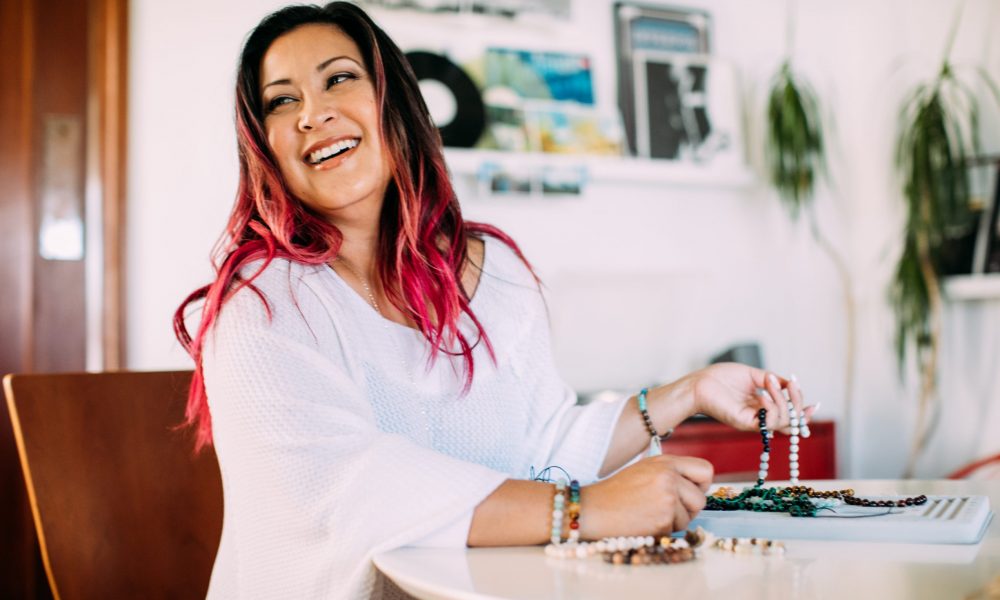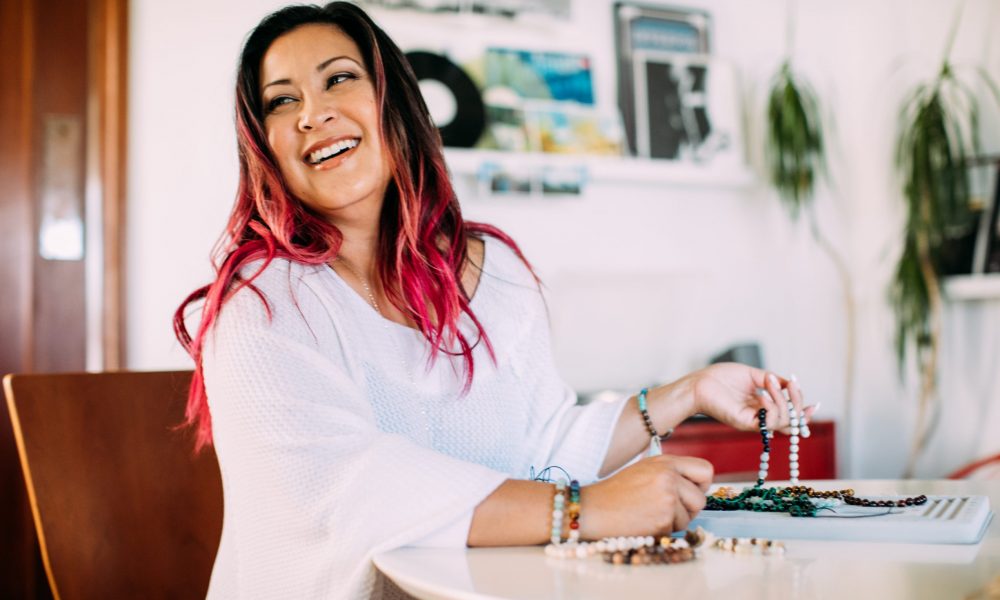 Today we'd like to introduce you to Jennifer Ebilane.
Thanks for sharing your story with us Jennifer. So, let's start at the beginning and we can move on from there.
We're definitely a company that was born out of a need.
I made my very first mala necklace because my very first one EVER – a gift from one of my mentors – had broken. I thought about having it re-strung, but then eventually decided I would try my hand at making my own. Being a mom of three, with the eldest at the time being a teenager, I wanted to tie my first mala and infuse it with the intention of connection. As with most typical teenagers, she didn't willingly volunteer information; most questions received one word answers, and of course I experienced the occasional eye roll or volume increase on the headphones. But I wanted to be close to her, to have a connection, for her to communicate with me. Not just her, but with everyone. I wanted to be able to communicate openly and easily, for people to hear and understand me, and vice versa. I wanted true communication to flow to allow for deeper connection.
Why was it so important to do it with intention? Because I knew how much of a difference it made then simply throwing knots in between pretty beads on a string. Malas are meant to be a tool used as part of a meditative practice, with the user using each bead as a means of counting the number of times a mantra is recited. I wanted that intention to be the top of mind at the forefront of my meditative practice.
So I began to tie my very first mala. I selected certain crystals known to aid in communication, connection, and understanding. I picked colors that inspired joy and love. I looked up the numerology numbers for inner peace and harmony. After creating the design layout, I began to tie. Low and behold, my teenage daughter entered the room and casually asked what I was doing. "Teaching myself how to string a mala. It's a meditational tool," I replied. She said, "Cool," and turned around and started walking toward the door. To my surprise, instead of leaving, she stopped and flopped on my bed, and began to tell me about her day. Completely flabbergasted, my eyes bugging out of my head in disbelief, jaw about to fall to the floor, I thought to myself, "It's working! It's working! Keep tying! KEEP TYING!"
And after that, I knew I was on to something real, something big. Once I had completed my own, I decided it would be great to share this with others and began making malas and gemstone bracelets for a few family members and friends. At the same time, I was in the process of growing my self-love and relationship coaching business, and I kept hearing from my clients that they needed a way to stay connected to their work and stay in the flow of their learning and development, so I started creating a few pieces for them as well. I quickly realized that this was growing into something significantly more: the more people got their hands on it, the more they shared with their family and friends, and more and more requests kept coming in! I was eventually doing quite few custom pieces at a time, and when the list got so long that people were waiting more than a month for their turn, people started asking if I had "standard" pieces that were ready to buy.
And so, I started to assemble a team of awesome people with super cool vibes to help me. I created the jewelry designs and told them the intention and meaning of each piece. As a team, we do a meditation and sage ourselves before we start our projects for the day, and once the projects are complete, we cleanse the pieces themselves with sage, then they wait to be charged in the next full moon before they are available for order.
It's a really cool thing to be able to make a ceremony, a celebration, for everything that we do- because it imbues the items with so much love and care, which is then felt by our customers. In that respect, we celebrate our customers even before we get the honor of meeting them! And I believe that they can feel that.
I get to do something I love and am extremely passionate about every single day. It's such a privilege to do what we do, to work with this team of people, and to be able to integrate the element of philanthropy – something of paramount importance to me. Because of all of this, the growth that we've seen happening in our company, in our team, in our customers, and with our support for our chosen charity, Thorn, it's evident that we really can have a significant impact. And that really REALLY feels good.
Great, so let's dig a little deeper into the story – has it been an easy path overall and if not, what were the challenges you've had to overcome?
I think any business has its' own share of challenges at the beginning stages, and we're no exception. It's really a matter of discovering what you don't know that you don't know. One of the biggest challenges I had was learning that I didn't need to "control" everything. I was so used to doing everything on my own that it made asking for help difficult. I also was so used to having things done "just so" that it was a serious light bulb moment when I realized how much more I could do if I just let people help me. I didn't have to be the one to design our product cards, I didn't have to be the one to create the website, I didn't have to be the one to do all of the research on our market and how to get our products to people. I could find the right people to run with me- and that's what has REALLY been amazing about the entire process.
I can proudly say that every single person that works beside me and with me is phenomenal, impactful, and good. They are each masters to their craft – it's really my dream team. Everyone in alignment for the cause, and the energy of with which SoulLoved was created- they all understand it, can feel it, and rock it in their life- not just when they come "to work." Because of this, it never feels like work. Vibe is everything, and we make sure that as a team, we are in a beautiful flow, fully present, and energetically "clean" when we create.
Hitting an obstacle and meeting a challenge has really allowed me to find the right person to help the entire company shine. The collective energy of every single person connected to this project works to raise the vibration. It affects how our company interacts with each other, how we are seen by our customers, how products are viewed and most importantly, felt – everything done to make sure that our intentions shine through.
The biggest challenge was to make sure that our VISION is evident in every single thing we do. Our vision is to live in a world where every single person knows how special, significant, and LOVED they are – this is how we start that ripple – and how it continues. It starts by truly seeing, honoring and loving every person involved.
Please tell us about SoulLoved.
I love that what I'm most proud of as a company is also what sets us apart: it was created out of a pure desire to let people know how much they're loved.
SoulLoved creates crystal jewelry and goods infused with specific intentions. Throughout the entire process, we are reflecting and meditating on the specific intention of each piece, whether it be love, worthiness, joy, or so on and so forth. The crystals and gemstones chosen have been researched for their qualities, placed in a specific order, and even the quantity of each stone can have a meaning.
The creative processed is a lot more involved than "hey, this would look pretty together" because while aesthetics are important to us- that's just one part of it. People have tons of depth and dimension – we can experience multiple feelings all at the same time, and so we wanted every piece to be reflective of that nature. For example, while it would be easy to make a piece with the intention of love, and just say "use all stones that work with the heart," there are many aspects involved when it comes to feeling and experiencing love – such as healing old emotional wounds, worthiness of being loved, acceptance of self, breaking old patterns, and much more.
I love that as a company, we have the ability to raise the vibration not only for our customers with our products but with the people we employ and with associates with whom we work. "As within, so without"- a great quote by the author Hermes Trismegistus definitely resonates with me. The way we feel inside will be reflected in the life happening around us and in everything we do. I make sure that our team and the people we work with are in a "feel good" state so that it is apparent in all we do.
It's important to me that things feel "good"- ever notice how hours can feel like minutes in the right company, and minutes can feel like hours with the wrong ones? It's because of energy- right vibes, right people. Wrong vibes- hard pass for me. There is no compromising when it comes to our mojo. Happy people make for a happy company. Happy companies make happy products. Happy products make for happy customers, and happy customers make for happy communities. See what I'm getting at? Some may see a mala or bracelet company, I see the potential to change the world, just a few people at a time. Making malas and bracelets is just one of the things that we "do."
Not only does SoulLoved create distinct, intentionally infused products, we also run a socially conscious business. We want to make an impact – not just from our reach, but to assist the reach of others. As a company, SoulLoved is a proud supporter of highly-effective and reputable non-profit agencies, such as Thorn, donating $1 for every item sold.
We believe that life and living are meant to be fun, exciting experiences. We can feel good and we can do good.
Do you look back particularly fondly on any memories from childhood?
You know, I'm not quite sure why this memory keeps popping back into my head, but now that it's being brought up at this point in time, it does make sense. I was maybe 11 or 12 years old, and we had traveled to the Philippines to visit my grandfather who wasn't in the best of health at that time. My family was having a party to celebrate our arrival, and I guess after a while, it had worn my grandfather out, so he quietly left. I remember looking for him, and my aunt or someone told me that he had gone to rest in his library for a bit, so I decided to go check in on him.
I knocked on the door, and he told me to come in. He was peacefully sitting in a wicker high back chair, the room fans gently blowing and the lights were soft. The room smelled of books, sandalwood, and the flowering fruit trees that were just outside the window. He was listening to classical music, and he asked me to sit with him and just enjoy the sound. Of course, at that age, I was thinking how silly he was: why would anyone want to listen to music with no words in this little room, instead of being downstairs at the party?
But I decided to humor him for a while, flopped onto the couch, and watched him "listen." He asked me to turn up the volume, so I got up to adjust it: the knob slowly kept turning and turning to the right, until he said, "That's good." A small smile drew across his face as he slowly closed his eyes, and at that point, the music was so loud, that I could feel it – its' vibration, its' energy, its' emotion; I could hear what the composer was saying, and there wasn't a single word.
So we sat there, not talking, simply enjoying each other's company, and the beautiful music. In that moment, without realizing, I learned so much about connection- it's so much deeper than superficial conversation: so much can be communicated without speaking any words. The music stirred my soul; I could hear how every single instrument played such an important role in the song. The beautiful melodies conveyed feelings and stories without ever having to say anything. I could sense the passion of the composer as he wrote and the musicians as they played. More importantly, I noticed how it made ME feel. How a piece of music that someone I never met or knew about or who even lived in my lifetime, could impact me in such a way. It was absolutely riveting – because of the INTENTION with which it was created.
It was the power of intention. That's what makes this memory, this moment, stand out.
Contact Info:
Image Credit:
Zoom Theory Photography; Janalyn Rose Photography
Suggest a story: VoyageLA is built on recommendations from the community; it's how we uncover hidden gems, so if you or someone you know deserves recognition please let us know here.