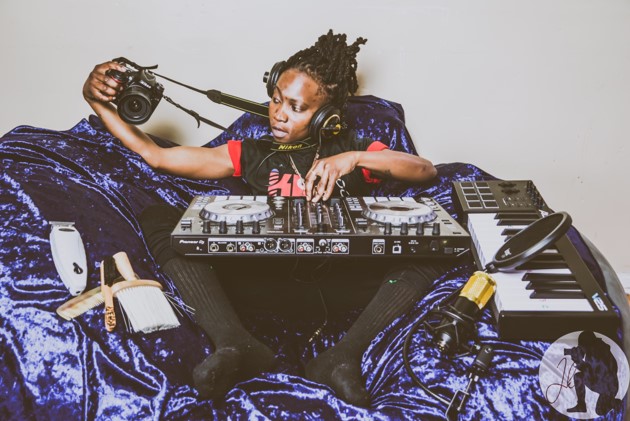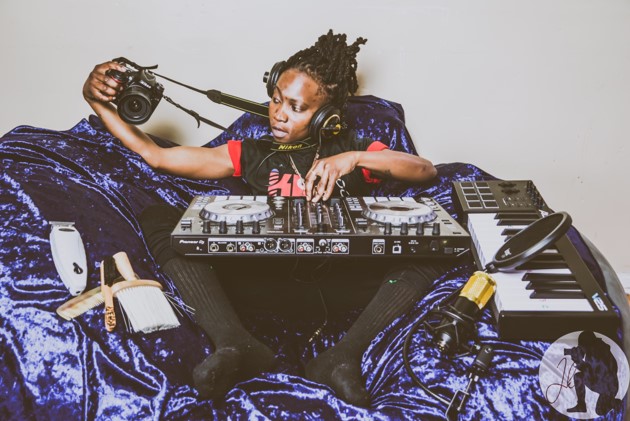 Today we'd like to introduce you to Jeli P. Duh.
Jeli, can you briefly walk us through your story – how you started and how you got to where you are today.
Hey, what's up, I go by Jeli P. (say it like Jelly). DJ Jeli P. Duh, Jeli P, Your Barber, jP STAxX D03…Jeli works though. Leimert Park is where I was born, raised and currently reside (Los Angeles, CA.). Currently, I am a professional barber licensed by the state of California, and Founder of KR38 THE STUDiO L. L. C- a community-driven production company involving the art of barbering, music, and visual production.
I love the arts; especially music and visual art production related to photography and videography, just to name a few. I graduated from college, CSU Channel Islands- which is in Camarillo…a very small town with not much for a city kid like me to do. Sounds fancy but it is kind of… remote, out of sight. The school was cool- I mean, I had fun. It just didn't have a whole lot going on around the campus, let alone the city. The school was fairly new and wasn't too lively compared to other campuses while I was there… So I joined damn near everything, visited pretty much every office and department… I was always at the lil campus activities yelling "it's JELI BAY_BAYYYY!" every chance I got. I don't know how relevant that is but I do know I made sure to have a good time and be social. Originally joined as a Biology major – I wanted to learn about the lions & tigers & bears, OH MY! but it was still a very broad and general Major- not many emphasis so…it was Boring. I only showed up for labs.
"Hey, Jel…Why a Barber tho?"
RIGHT!…So Anyway, after switching my major to Sociology, minor in Psych; and all the while the college career was being lived, I Suddenly had this genius idea to become a BARBER? Super random. Oh,WHY? Long Story Shorter- "… I got tired of seeing my BROTHAS with f****d up haircuts!…Being black, African American, colored, a person of color, a negro, nigga, negus, all of the above or whatever you identify as other than the color WHITE—then there's an understanding that it is somehow extremely difficult to "get right"… Being away at college helped me realize one of many things… Los Angeles is a particularly fast and liberal city! There is a place for everyone somewhere – whether found or created." – JELi P. BLOG "BURY ME WITH MY CLIPPERS" So I said, why not?
https://www.kr38thestudio.com/post/bury-me-with-my-clippers
On to the Music…i made it my responsibility to provide the good tunes for the parties and dorm room kickbacks. I wouldn't say I was DJ JELi P. DUH just yet…but I was def the best of the playlist shuffle. I found out the school was putting on some sorta event that had live music playing. The young lady in charge of putting it on was one of my regular random office visits. Inserted myself in what she was doing- felt like she was struggling on finding talent and needed assistance. I just knew I had someone better! The S.upreme K.ings of Y.esterday (The SKY). I thought they were so dope. Instant fan. OK, it's my cousin's group- so what. The music he and his buds make is phenomenal. After making that connect, that was when the A&R/Management feel of things kicked in. I knew that I had an ear for music, eye for talent. 2 out of three skills to make people look good.
Music was and is still a large part of my soul. After graduating from CSUCI and getting fired from the only job I held out of college, I definitely continued to seek work in barbering, music & video production.- Setting up a room into a semi barbershop; and Booking and documenting live shows of THE SKY at the Key Club in Hollywood, the Joint and at our very own World Stage theatre in Leimert Park.
Sooner than later, I started working out of my home and have been building since then.
Fast forward to KR38 THE STUDiO L. L. C. This is the best way to describe Jeli P., (that's me.) KR38 The STUDiO is a community induced production company; providing barbershop services, music production, and visual art production. KR38 spells CREATE, duh! This is the hub that is inclusive to all creatives, where connections are made. By this studio operating as a hub, all three studio services connect to one outlet. The MiX; where many artists with many different focuses can come together to showcase and provide their creations for the community.
It's the prime place to keep the creative juices flowing freely.
It's important to have a cultivated place where artists and the community members within can positively vibe and safely create locally. Leimert Park, for instance, is filled with artists of many backgrounds, yet have little to no outlets or resources to produce in the area. This causes community members to take their business elsewhere, wasting money and time, keeping our current community progressing slowly or stagnant.
Once again, I made it my responsibility – my purpose – my ultimate goal to provide KR38 THE STUDiO for my home.
We're always bombarded by how great it is to pursue your passion, etc – but we've spoken with enough people to know that it's not always easy. Overall, would you say things have been easy for you?
•The R0AD•
From finding and keeping a job after college, to personal development, personal relationships, getting my barber license to finding a shop to call home… easier said than done. Especially because there is no time constraints on personal development. I had to put that first in order to see my own potential and work ethic as an entrepreneur. The toughest challenge for me to see was support. When there's a seed planted, not everyone sees the beauty in the tree until it's grown. Same with people, relationships, and businesses. Now I'm not saying that there wasn't any support- people showed up to events, yea. Belief and encouragement at that time though was tougher to feel starting out. It was imperative to create this purpose, remember why I did it, and to see it through. There are stigmas about artists, entrepreneurs, independent contractors, people who work or do for themselves/by themselves, etc. POOR. ADDICT. WEIRD. LAZY. SELF CENTERED. STARVING.
"An Artist
What's that?
We don't eat?
We don't work?
What do we do?
What's out there for the unlike-minded people to do."
– Excerpt, J.O.B Rant. Jeli P.
https://www.kr38thestudio.com/post/j-0-b-rant
It was tough to be the only one NOT "working" out of my peers. Even my Mom couldn't understand it. "You just wanna hang out n smoke weed all day". I had no idea of the culture and opinions headed my way when I stepped into my career as a legal hustler-an entrepreneur. My mom, who's been a major supporter my whole life was not feeling this ingenious idea of being a barber. Or photographer. Nor music production. Lol. It was tough expressing my goals to her AFTER finishing my college career-which she funded and I'm honestly grateful for. I guess in her eyes it was like, I spent four (five) years in college-did I mention she paid for it? And I completed. Yet it wasn't enough. I was still hungry. It's not that the work opportunities couldn't be fulfilled, its that I would be left UN-fulfilled. So years later, after losing the job, depression, insecurities, unsuitable relationships, and other life-altering considerations- I literally buckled down. I spoke OUT LOUD to the Universe (The Moon, G0d, Allah, Jehovah, the most High, him, Grandaddy in the sky, etc.) & analyzed my situation. I counted my blessings. & I ASKED for honesty and progression. How LOST I was, and the amount of doubt and uncertainty was real. I wanted to give in, but it was vital I put out MORE than I gave in.
It was definitely a road… and a bumpy one at that. I'm proud of it, though because it's a road I paved myself. I admire it from time to time – every crack and crevice. I thank the journey so far and thank the journey up ahead.
We'd love to hear more about your business.
It Spells CREATE, duh!
KR38 THE STUDiO is a production company that's providing services that aren't available, attainable or affordable in a lot of Los Angeles County. KR38 is so about the community that all of The Studios events are based in or around Leimert Park, CA. Yet, it's so inclusive that anyone who is creative and has a positive work ethic can utilize the space and its features. The diversity of community members it reaches is astounding. I'm blown away by the many creatives that visit the Barber Studio alone! It brings a much-needed amount of awareness and I learn something new daily from all of The Studio's clientele.
KR38 THE STUDiO provides quality, affordable, available. I don't know of too many (if any)production companies that involve barbering-let alone are available as a community outlet. And, After doing research on average prices and locations, it was important to create a hub with affordable studio prices and with attainable hours for the KR38ives. KR38 The Studio has membership programs and more that can make an artists studio time efficient.
KR38 THE STUDiO preserves the Mane || MUSiC || MOMENTz
Look Good. Feel good. Sound Off!!
What were you like growing up?
Growing Up? I Don't Know… 🙄
ACTIVE! & athletic. Multiple sports, mainly basketball-Ball, is Life !!! Basketball is my first love. It was one of the 1st activities I started learning on my own. I just picked it up.
I did pretty well in school but if I wasn't interested then I made it interesting which got me in trouble sometimes…most times.
A fidget. Hardly ever still.
Tomboy. I needed to be comfortable, ready to go at any time.
Creative. Loved to draw, write, and shoot videos with my cousins.
Intuitive. It seems that there was always an ability to relate, to understand another viewpoint outside of my own.
Pleaser – I LOVE HAPPINESS. I love to encourage smiles, laughs, enjoyment. Love. I'm an only child so, I guess I always had time for folks.
I'm a quick learner, quick-witted (smart ass), quick thinker. An expert procrastinator.
I guess I'm pretty much that same kid.
Pricing:
The Barber Studio -(starts at) $30
The Soundz Studio- $75 1st two hours
The ViSUALz Studio- $55 1st two hours
Memberships AVAILABLE! Get 38% off all KR38 THE STUDIOs SERVICES
Contact Info:
Website: KR38THESTUDIO.COM
Phone: 3235741071
Email: themix@kr38thestudio.com
Instagram: Kr38thestu
Facebook: Kr38thestu
Twitter: Kr38thestu
Image Credit:
jPx: JeLiPiX, JKS:jKiillem Shots
Getting in touch: VoyageLA is built on recommendations from the community; it's how we uncover hidden gems, so if you know someone who deserves recognition please let us know here.