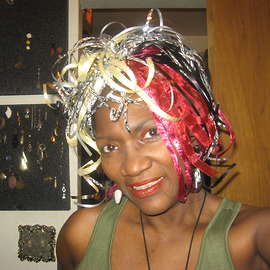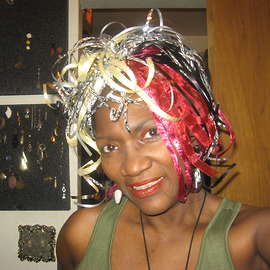 Today we'd like to introduce you to Denise Dailey.
Denise, please share your story with us. How did you get to where you are today?
"I would say I've always had somewhat of a creative flare, and a huge part of my inspiration came from styling hair. As a teenager, I would dream up wild hairstyles and then figure out how to bring them to life. In 2006, I began dabbling in portrait sculpture. I put my twist on my pieces by using silk and dried flowers for the hair.
In 2009, the unthinkable happened: I began to lose my hair due to a condition called Alopecia Areata. In a world where so much emphasis is placed on our appearance, it can be devastating to those who experience hair loss. Luckily, I had a great support network and an even greater vision.
When my hair first started falling out, my fella reassured me: "Don't sweat it, baby. Hair is overrated." This confidence inspired the creation of Prompt Flare Designs line- artful hair pieces I constructed from fabrics, ribbon, tulle and other textile materials. I felt the freedom to express my creativity with exaggerated, hyped-up, colorful, wearable hair art.
In 2011, I began my art business with the umbrella brand of Daily Impressions L (The "L" standing for my mission statement: Look. Love. Laugh.) In 2012, I was fortunate enough to work with Wendy Raquel Robinson's Amazing Grace Conservatory, a NAACP Award Winning, community-based, non-profit program that focuses on performing arts training in acting, voice, and dance for youth. I got the chance to see my PromptFlare pieces bouncing down the runway on the students for their celebrity hosted fashion show fundraiser, and then again in the AGC production of Wicked, where they were also a huge hit. Seeing the way in which people reacted, smiling and laughing- I fell even more passionately in love with my creations and I knew for certain this is what I wanted to do.
Today I remain in awe at the ideas and places we have gone and have yet to go with these statement-maker designs. My hope is to bring joy and reduce sorrow with every project, starting with a percentage of my sales going towards Alopecia Awareness and the development of a more comfortable, ventilated half-wig I've designed."
Has it been a smooth road?
"A current struggle I'm encountering is finding someone to help construct a special wig cap that I can use as a base to construct my designs. As my pieces become more elaborate, this is becoming even more important. I've also had to reconstruct a few pieces, after discovering that it's crucial for the tops of the designs to be open for ventilation. It gets amazingly hot on the stage and runway, so I want to maximize the comfort of the performer. I'd say perhaps the biggest struggle so far has just been getting the right exposure for my designs."
What are some of the influences that have played the biggest role in your journey so far?
"Of course! My family, friends and the many people who have assisted me throughout my creative endeavors. It hasn't hurt either that my fella of 16 years is a life coach!
My sister-in-law, Cheryl Harvey, is a comedian and a great artistic visionary. She's been one of my biggest fans and has inspired me time and time again. She was actually the one who reminded me of my love for wearing ribbons in my hair when I was younger and prompted my idea to incorporate them into my works as the hair of my sculptures. She told me of a lady that was making yarn wigs. Since the onset of my hair loss, I'd begun wearing wigs as well at this point. I went and got some supplies and made the ribbon hair that you see in my profile picture today.
Then there is Denise Dowse, a fantastic actress, and director. Upon meeting her, she had a vision of PromptFlare Designs being in the play Wicked with AGC. She gave me the confidence I needed to take this leap. She was also hugely instrumental in my learning about design for stage wear, helping me keep from having the design take over the performer's face and to rework designs to be considerate of the performers overheating on stage.
Wendy R Robinson, who complimented the talent she saw in the headpieces and communicated her desire to see them worn in her fundraising fashion show and the production of Wicked.
Had this not happened, I may not have seen the special effect the designs had on the runway and stage. From that point on, I never stopped creating."
What type of clients or projects do you look forward to most?
"I love the artful impact my pieces have on the runway and stage . The way the designs take command in a photo shoot, seeing the transformation of the model wearing my designs is rewarding. Working with other artists is such a creative bonus, especially singers and musicians. My favorite client is other artists, as well as models. My next big goal is to capture my designs on film and see the magical movement, perhaps on a dancer. Another special project is getting my creations involved in some retail displays, maybe partnering with a local shop and merchandising them in some boutique window displays, decorating the mannequins and adding some fun with artful hair."
If you had to go back in time and start over, would you have done anything differently?
"I would like to say I would have worked harder at getting my designs promoted, but it seems the timing is actually great. They are appreciated more now that colored hair has set the tone for more elaborate hairstyles (per my prediction). I guess I would have invested more time in getting great placement for my pieces earlier on."
Pricing:
The artful hair designs start at $365.
Contact Info:
Website: dailyimpressions@gmail.com
Phone: 720-226-3521
Email: dailyimpressions@gmail.com

Image Credit:
Jaclyn Blizard, Denise Dailey, Nina Hirten