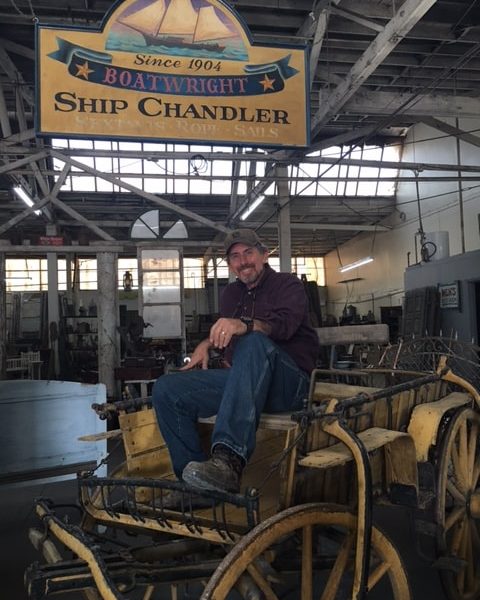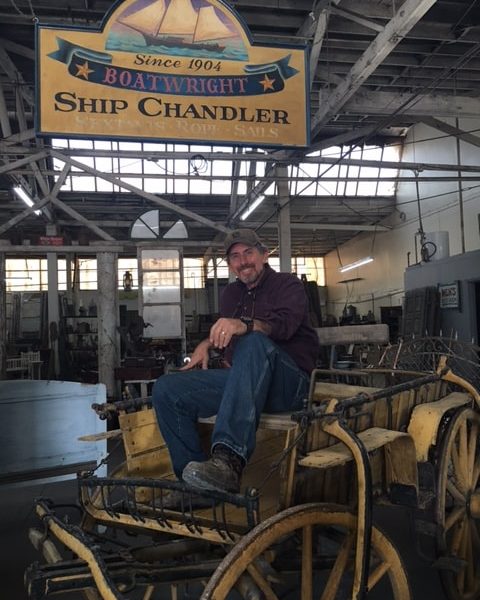 Today we'd like to introduce you to Jeff Mack.
Jeff, please share your story with us. How did you get to where you are today?
About 25 years ago, I dropped out of high-end retail (senior management positions with Neiman Marcus, Bonwit Teller, and Broadway Dept. stores) and embarked on an exciting journey to build a new type of design company that retails and repurposes salvaged wood, architecture, and antiques into the dream pieces of creative clients not easily satisfied by the typical wares of furniture showrooms!
After a long journey through several "starts and stops" of versions of this business, we packed many truckloads of hand-selected treasures and headed for our ideal home base – Los Angeles!
Here in Vernon (5 minutes from Downtown LA), we've created a wonderful menagerie of all the great ideas we have seen and directions we've wanted to go to our new 16,000 square foot 1920s warehouse.
During the ramp-up for the Saving Mr. Banks movie by Disney, one of the set directors paid us an extremely high compliment, saying our warehouse was like a "creative person's Disneyland!" The idea that creative people have a resource with inspiring components and pieces, backed by talented designers and a team of skilled carpenters and artisans, is our "business model" in a nutshell!
As repurposed design became the decor choice of so many Southern California clients, I added state-of-the-art equipment to be able to take on bigger and more intricate projects. Today, there is nothing in wood or steel that we cannot help our clients create!
When you visit our warehouse, you will find a superabundance of unique, one-of-a-kind creations to buy today and enjoy forever! Or if you have a project in mind, we have thousands of feet of salvaged wood from all over the United States. We'll help you choose the right materials for your project, or if you'd like us to do the construction for you, we'll conceptualize your idea with you, choose materials, and one of our carpenters will make your vision a reality. Our new warehouse is also home to treasures I have found all over the world, including two containers (to date) from Europe of amazing architectural finds, such as iron gates, handmade doors, and architectural accents. I regularly replenish our supply with frequent trips to Europe, the Midwest, and East Coast.
To make it easy for you to enjoy a visit to our creative persons "dream come true," we are open 7 days a week from 10-5.
Overall, has it been relatively smooth? If not, what were some of the struggles along the way?
Every small business is a testament to the vision, perseverance, and commitment of its founder. Silverado Salvage & Design is most certainly no exception.
Some of the obstacles that came our way include:
1. Six 100-year-old oak trees in our Temecula area outdoor salvage yard being ripped out by their roots during tornado-like conditions, and completely destroying over 60% of our salvage yard.
2. An ownership change in the Temecula location, causing us to move 26 truckloads of inventory to our first Vernon location.
3. Three recessions, the challenges of 9-11, and most recently the financial crash of 2008, which caused significant disruption for many small businesses, us included.
In the face of our struggles, I have always believed in the motto, "it is not how many times you get knocked down in life that counts…..IT'S HOW MANY TIMES YOU GET UP!"
We believe without exception that a business is like a brick wall and you build it by the mortar of one brick joined to another and row added to row. After 25 years we have a brick wall of great clients that we are privileged to continually make new versions of their design dreams, a 5-star yelp reputation that is the by-product of always "keeping our word" and delivering really quality products!
Please tell us about Silverado Salvage and Design.
We are an extremely unique design company in many ways, but particularly in the amazing selection of antiques, reclaimed wood, and architectural salvage we offer for sale in our warehouse, the creative skills of how to repurpose so many different types of materials into our clients design ideas, and the service and shopping experience of visiting our 1920s industrial building, which creates that old-warehouse-treasure-hunt vibe!
We specialize in reclaimed wood in large quantities, and the rebirth of this wood into amazing custom tables, bookshelves, furniture, mirrors and accessories of all sizes, styles, and designs.
I believe we are unique in the diversity of skills and capabilities our team of designers and carpenters can create!
Many people can build one or two "core products." In contrast, we have built over 700 totally custom projects in the last year, ranging from a bar in Hollywood to the corporate offices of Sendgrid, a major technology company in the Bay area, and the corporate offices of Movember in Culver City! Along the way, we have also worked on countless projects for homeowners, from kitchen remodels to outdoor gates to outdoor furniture, and many sliding barn doors, wine racks, and too many furnitures and accessory projects to recap in this space.
Knowing how to handle the wonderful imperfections of salvaged materials is a skill that not many companies can offer. WE WERE REPURPOSING BOTH BEFORE AND AFTER IT WAS COOL!
If you had to go back in time and start over, would you have done anything differently?
Hindsight is always 20/20, but if given a "do-over" I would have:
1. Moved to LA much sooner than 2012.
2. Traveled to Europe and started making the great finds I am now also at a much earlier stage of the business. The European merchandise is just so beautiful, and the artisanship is so amazing!
3. Got new trucks sooner and skipped quite a few "side-of-the-road" breakdowns as I traveled the entire country buying and selling the treasures I found along the way.
While I may have taken the long way around getting to Los Angeles, I AM SO HAPPY TO BE PART OF LA, which I think is the most exciting city in the United States. The development of downtown and all the energy throughout the city are unrivaled anywhere else I have visited!
Combine that with the amazing energy and creative level of our clients, and there is never a dull day!
Contact Info: