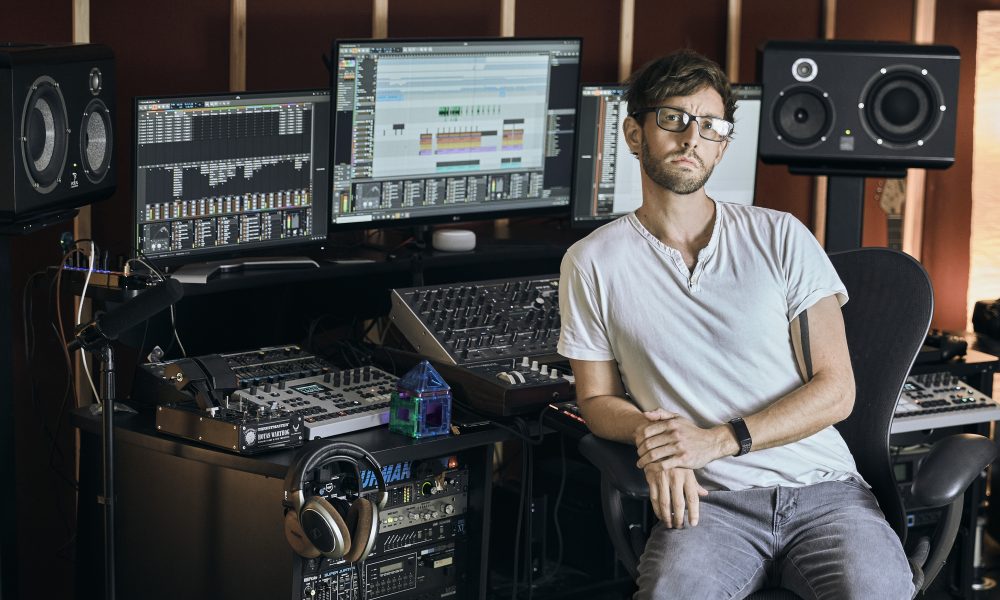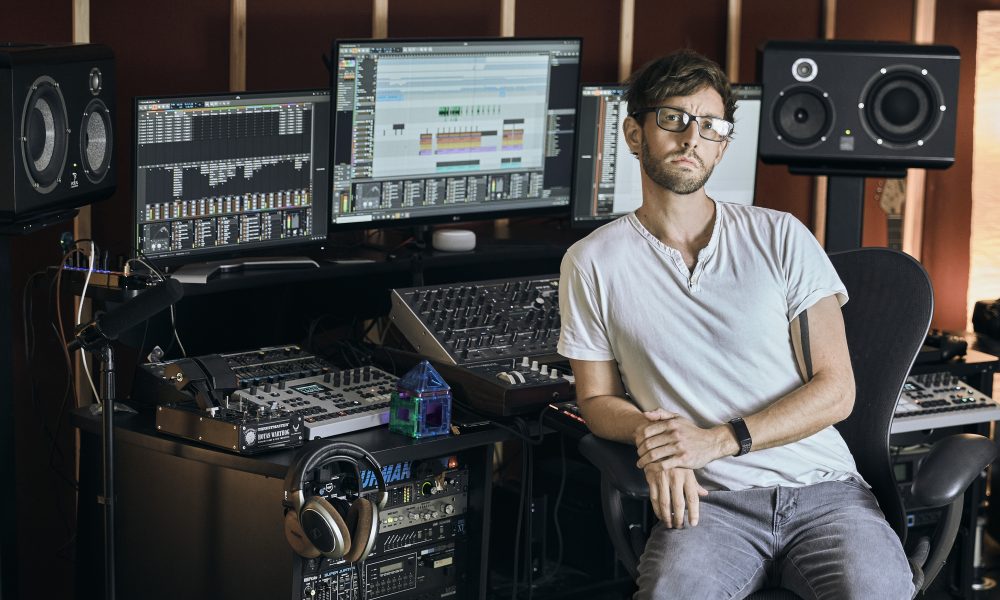 Today we'd like to introduce you to Jeff Dodson.
Jeff, let's start with your story. We'd love to hear how you got started and how the journey has been so far.
Things started for me when I began breathing and being alive in Ipswich, England. My dad was a fighter pilot and we were stationed overseas in a new country almost every few months to a few years. The Pro's of that we're seeing a number of amazing countries, Con's being mostly too young for it to matter and the difficulty of constantly moving without making solid roots or friends. Living in 6 countries in roughly the span of three years is a lot. Especially as a young kid. I became both unafraid to meet and connect with new groups but also became reclusive and sucked into my primary interests being computers, music and sometimes cats.
The early 90's found us back in the States, and I went to a private boarding school in Massachusetts. My Uncle who's been one of the most influential people in my life, opened that door, and the school had an opportunity to learn 3D animation. This was pretty unheard of in the 90's as high schools generally didn't have a clue what 3D animation was. So splitting my time between learning there, playing a significant amount of counter strike and making objectively poor electronic music in my room filled most of my time. I was trained Suzuki method playing classical piano growing up so making anything nonclassical was fine by me.
I was accepted to Pratt Institute in NYC. Realized the program for CGI was terrible. Smoked a bunch of weed, the objectively bad electronic music became much better. My friend and I formed 'Defrag' which was an outlet for our noise. It got some attention and we signed to a record label doing Industrial music. We played a number of pretty big shows, opening for Gravity Kills, Pigface, and a number of other industrial relics. It was a lot of fun and touring was always insane especially combined with going to college at the same time. One tour resulted in getting stuck with three ferrets after crashing our friend's car in Baton Rouge. (We played that show the same day with Matt in a hospital gown covered in tiny glass cuts). Lived in a fan's house for weeks (Thanks Brad!) who took care of us and helped put together a show so we could pay to get back home on a Greyhound bus with those three ferrets hiding under the seats. Brad and his crew gave us an absolutely unforgettable time in the French Quarters. I remember sleeping on the floor and waking up to someone falling a full story holding an air conditioner and then stumbling to the closet to pass out again. So clearly, these experiences helped prepare me for a very professional career in post-production.
Defrag was and is to a lesser degree a big part of my life. It's both a reminder to pick a better name when you form a project and also an outlet for me to produce music that doesn't need to be for the 'man'. I've played a handful of shows in LA at Das Bunker, LASH, Complex, and on Sub.FM at the Jim Hensons studio's among some, and I'm infinitely grateful for the people that have me jam from time to time since Defrag doesn't have the same priority as work these days.
Anyways back to NYC, We were selling street art in Astor Place for booze money and I connected with an owner of a small company doing animation for Times Square. There was a job for me in LA when I was done with Pratt, so I graduated and moved to LA the same week. That job was horrible. I was fired at least four times for standing up against an abusive boss yelling at myself or co-workers for no reason and then called back the same day each time with the producer asking me to please continue working. Honestly, it's probably a good thing since I went freelance shortly after and tried to motivate/liberate the other employees.
A small (at the time) Dutch design studio named Onesize asked to use one of our songs as their showreel soundtrack. This changed everything. Rogier and Kasper really opened the door for me to be involved in a number of very high profile ad jobs that got my foot in the door. I had the opportunity to rebrand 2 TV networks, G4TV and Showtime. The same music band in college caught the ears of Brad Derrick a veteran video game studio audio designer, and he and I connected. While in LA Brad connected me to a studio doing VO for tons of projects, and I worked with Rik Schaffer on a number of AAA video games ghostwriting scores and cutting VO in my off time.
Eventually, the amount of ad work I was doing took off and I founded a small studio called Runsilent to represent my audio work and met my current partners Sam and Jesse of which we officially formed into Rainfall Films, a boutique studio that combines our talents into a full-service post-production house. I continued to push the audio side of our company and had the fortune of meeting Jonathan Parks at bar trivia one night. He started a music licensing company called Alibi that has become a primary outlet for my creative audio en-devours, and I'm infinitely grateful as that partnership has found my music in almost all forms of media around the world.
Now I make objectively bad music, get paid for it and still play a bunch of video games.
We're always bombarded by how great it is to pursue your passion, etc – but we've spoken with enough people to know that it's not always easy. Overall, would you say things have been easy for you?
The entertainment industry and post-production specifically is filled with 'challenges'. One of the biggest lessons for us as a company was learning when a client requests need to be met and when they don't. Learning the word 'no' and being able to have the confidence to stand up to unreasonable requests is absolutely as important as saying 'yes' to a client.
Post has plenty of people that love to pressure and get everything they can, and for a company starting out (us many years ago) it's hard to learn when someone is bringing real future opportunity or just manipulating to get everything they can at no cost or worse at the cost of your sanity or stress. Learning how to identify toxic clients and removing them was an important learning experience.
Also, I got sucked into pinball when I moved out here, and it's slowly taken over my studio, my home and every other spot. I have A LOT of pinball machines, and it's becoming a problem. So yea, be strong with clients but professional and watch out for pinball.
Please tell us about Rainfall.
I work mostly in trailers now. I love it, I'm challenged daily with different genres of music that I get to explore composing. Trailers by nature are also very sound design influenced and my time making electronic music back in the day helped to combine both my classical training and affinity for making weird sounds. Trailer editors love weird sounds, and I love making them.
Rainfall is a boutique post-production house. We have a number of personal projects that have a ton of views on YouTube, as well as our professional work in television, ads, music videos and the trailer industry. Rainfall has produced content for Stranger Things, Emmy Awards, American Horror Story, Justice League, Lemony Snicket, Transformers, Mission Impossible: Fallout, Birdbox and many other Netflix series and shows.
I'm always proud to hear my audio work used in projects. It never gets old. Back when we could go to movie theaters hearing my cue in a trailer before the film was always smile inducing. Rebranding Showtime networks and G4TV when it was around were real high points for me personally. Thanks to editors all over the world my sounds are in tons and tons of trailers and TV spots. Everything from Star Wars, Marvel films, X-men, Transformers, Hellboy, Alita, all the way down to Dumbo and Jersey Shore.
Infinitely proud of Jersey Shore… life goal achieved.
Has luck played a meaningful role in your life and business?
I think luck is a combination of things. It's the ability to see an opportunity when other people may not. It's the confidence to act on a situation that might be an opportunity. I believe that many times luck is actually the culmination of hard work that's laid the groundwork for an opportunity to happen, but sometimes being in the right place at the right time doesn't hurt.
I'd say I'm happy to have had both play a role in who I am.
Contact Info:

Image Credit:
Moriah Zagaglia, Rogier Hendriks, Gabriel Pulecio
Suggest a story: VoyageLA is built on recommendations from the community; it's how we uncover hidden gems, so if you or someone you know deserves recognition please let us know here.