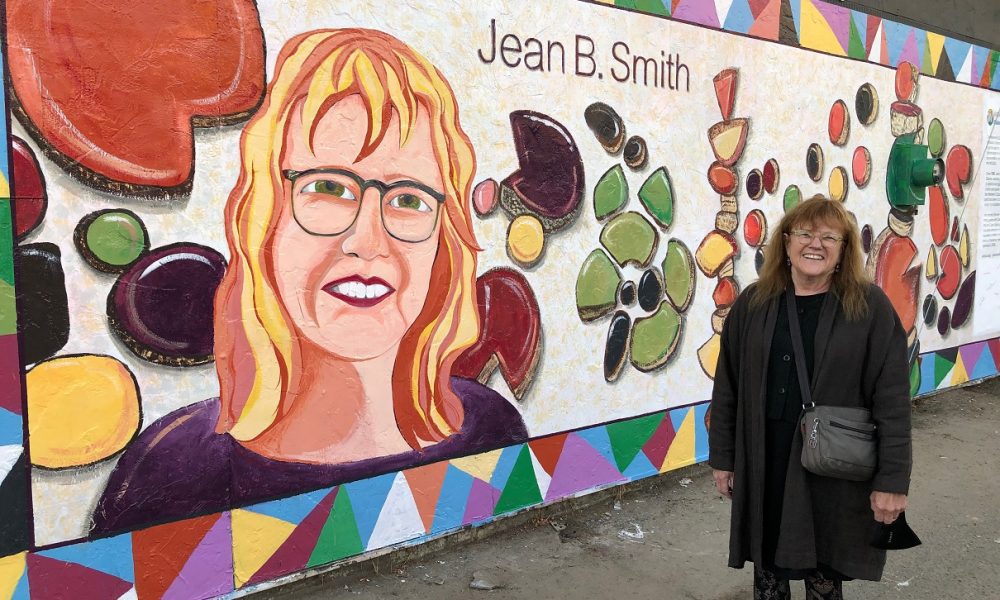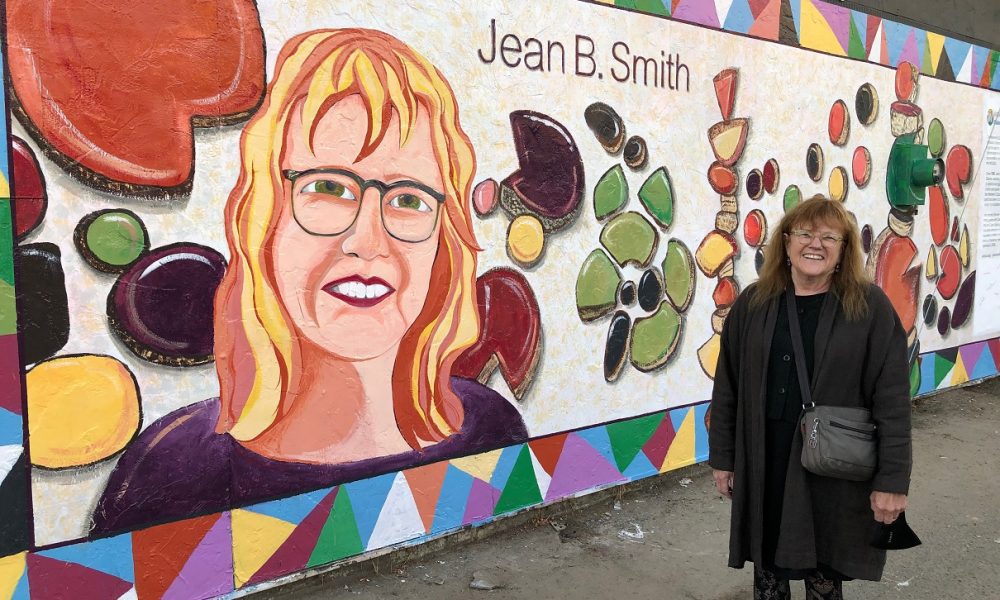 Today we'd like to introduce you to Jean Smith.
Hi Jean, thanks for joining us today. We'd love for you to start by introducing yourself.
I graduated from a small Liberal Arts College in WI with a BA in Art and Elementary Education, so my mission was to find a teaching job in an interesting place. That took me to the small town of Tupper Lake in the Adirondack Mountains of New York. Perhaps that was a little too small, but I did get my mountain mama personality fulfilled and did get to work on some woodblock prints, silkscreened material, and made home movies when I wasn't teaching art in the elementary school. A couple of years later, I headed to Denver, CO, where I have been ever since. I had various jobs including being a substitute and 5th grade teacher, and when I got married and had a daughter, I began integrating more of my artistic self into my life. I had weekly art classes teaching the neighborhood kids from my garage loft studio. I painted with oils, continued the silkscreen printing, and added photography; took some art classes at UCD, and in 1986, joined a co-op gallery. In the summers, I began meeting and hanging out with other artists in the co-op art scene. Every Friday night there were art openings to attend and gathering at the bar afterwards. I worked with Polaroid transfers, monotypes, and low-fire clay, depicting wonderful table settings with the delicious food we discovered on our trips to Europe and sold them through the co-op gallery or art fairs. Next, I turned my attention to floral arrangements based on the flowers pictured in garden magazines. 
There were endless ideas, so four years later, I joined another co-op gallery to have more opportunities to show and sell my work. This gave me two good-sized shows each year plus the fairs and some group shows. My interest with clay became my primary medium. I took a couple of ceramic workshops at Anderson Ranch, in Snowmass, CO; intensive art camp for two weeks gave me new skills and ideas to last for several years. I was getting restless, so I dropped out of the first co-op gallery after 22 years. As luck would have it, a new art studio building was just opening up. I got the first cubby in the ceramic studio and with a large space to work; my pieces grew in size and my direction changed to totems and wall plaques combining many pieces to make monumental stacked work larger than me. All of us in the building were given the opportunity to create a new co-op gallery. We wrote the by-laws and decided on our Mission Statement. We had the most beautiful artists-run gallery in town at the time. With 22 members, we showed with a partner each year and had a Juried and a Member's Show each year. This lasted for seven years before the area became the new 'in spot' and the building was repurposed, causing all of us to look elsewhere to continue our practice. About this time, an art friend of mine and her husband were fixing up a building they owned a block away from that one that was just closing and started up their own gallery, inviting various artists from closed co-op galleries to join their semi-commercial gallery. I join that group for about 1 and 1/2 years. Simultaneously, I was involved with the other co-op gallery in a different part of town.
With four galleries at the corner and a classic Italian restaurant next door, we all struggled to get people to support us by buying our art. An umbrella organization had been formed some years prior but it had fizzled out, so I gathered up representatives from each gallery and tried to get something going to bring people to the neighborhood. It was like herding cats, as they say. After about ten years of very little improvement in foot traffic, the owners of all of these galleries felt the sting of gentrification in the neighborhood and were forced to increase the rents. That sent the co-ops scattering to Lakewood to start a new Art Hub, and the gallery I was in just folded up. Through all of this, I have been a member of a National Women's Group, started by a handful of women, including me to create our own Colorado Chapter in 1990, which does not have an actual space, but rather rents gallery space from other galleries for shows. I have held all of the officer positions during the years and have led many Juried show teams. It is such a supportive group of women and I am so proud to be a part of their membership. By now, I was cleaning up my basement studio to work from home once again. News via the grapevine said the building had been sold which held two co-op galleries in the original Art District on Santa Fe Drive. One of those galleries was thinking of moving to the new Art Hub. The other one was going to stay. Would the new owner raise the rents? As it turned out, the one gallery left and a bunch of us artists started a new artists-run gallery in that location.
With 16 showing spots and 18 members, we created our By-Laws and Mission Statement and opened for business in August 2019. A year and a half later, the COVID-19 virus shut everything down. Undaunted, we came up with ideas for a window gallery to tide us over until businesses could re-open on a limited basis. Our patron list is growing and we have offered several stellar Juried Shows; our reputation is good and we are selling our art. Our future is not secure because the building is once again for sale, but we are making the best effort possible to keep our gallery alive and relevant in the Denver art scene. So all of these galleries and situations and mediums have been my story as an artist. I hope there is another chapter waiting to be told, but in the meantime, I feel thankful to belong to this artist-run gallery, showing my work with other artists who have been on their own journeys, and I am also working with some art consultants to get my artwork into public places for more people to enjoy. I recently was honored with a mural on the side of my current artist-run gallery in appreciation for many years of working with all of these galleries and this Women's Group. I say thank you to so many people I have learned from and have mentored and appreciate being part of the Denver art scene.
I'm sure you wouldn't say it's been obstacle free, but so far would you say the journey have been a fairly smooth road?
As the Beatles sing, it's been a long and winding road which has led me to my art career. At the same time, it has been fulfilling on many levels; friends for life, laughter and tears, knowledge on how to make things happen, highs and lows, colors, emotions, seeing new things, travel.
As you know, we're big fans of you and your work. For our readers who might not be as familiar what can you tell them about what you do?
My current body of work deals with composition, color, texture, construction, mood. I flatten the clay using a slab-roller, then cut out a form that will become the face of a container. To that, I cut out a strip and texture it to become the sides of the container and attach it. When that is leather-hard, I cut out another piece of clay that will become the back of the container and cut holes into it so it can be hung on nails on the wall. I turn over the partially completed container onto the new piece of clay and attach it using a knife to rub the clay parts together. When it is dry, it gets to be bisque fired to about 1915 degrees so it is hard. When it is cool, I take it out of the kiln and paint a liquid dark stain on the edges of the container, then rinse it off with a sponge. The color stays in the crevices of the texture. I paint glaze to the face of the container. It is fired to about 2000 degrees. Many pieces are created and then they are positioned to create a composition to go on the wall, or hanging on a wire from the ceiling or stacked on a rod on the floor.
We all have a different way of looking at and defining success. How do you define success?
Success is the happiness one feels from accomplishing a goal.
Pricing:
My prices run from $25 to $2000, depending on the piece
Contact Info:

Image Credits:
John Bonath, Photographer for the blue piece
Suggest a Story:
 VoyageLA is built on recommendations from the community; it's how we uncover hidden gems, so if you or someone you know deserves recognition please let us know 
here.