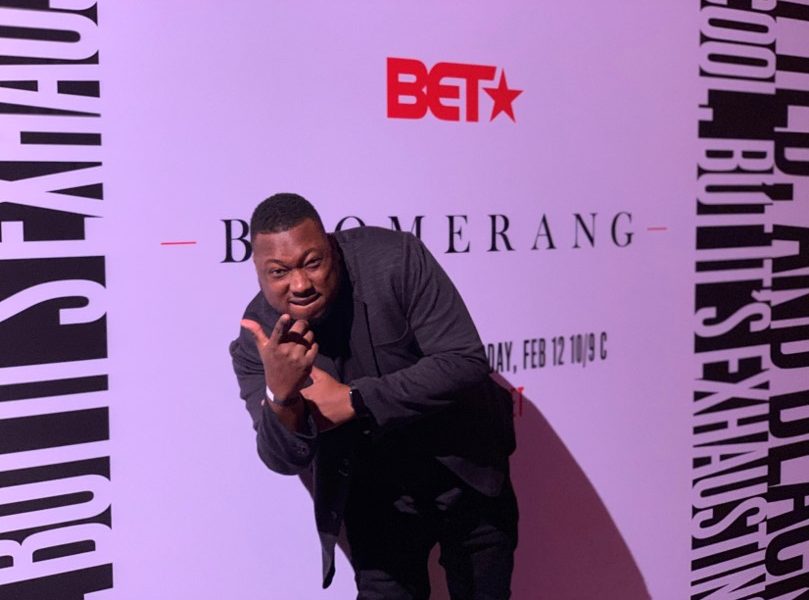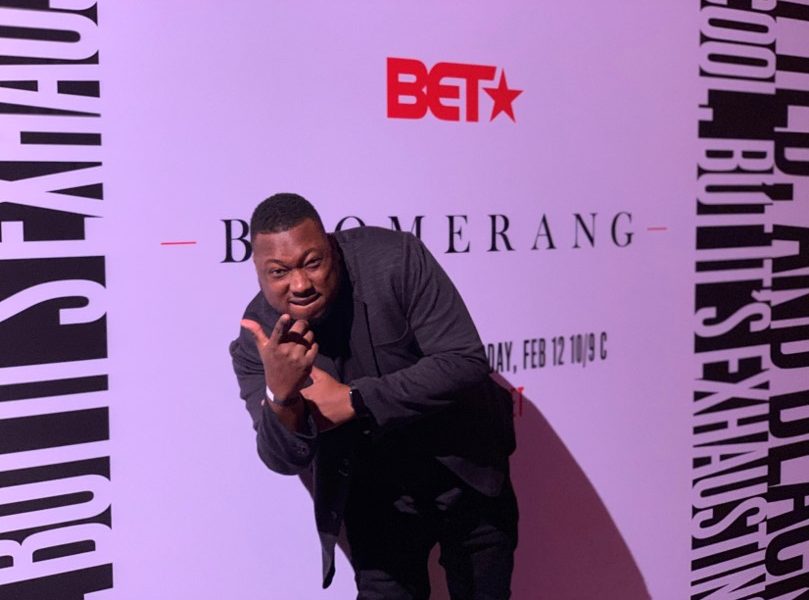 Today we'd like to introduce you to Jay Linzy.
Jay, can you briefly walk us through your story – how you started and how you got to where you are today.
I was born in Chicago. My mother Shirley Linzy (R.I.P.) was a nurse, and my father James Linzy Sr. was a police officer. Once my dad retired after 30 years of working on the force we moved to Las Vegas, NV. I grew up just like any other teen. I started working at 16. Ironically my first job ever was at the Movie Theater.
I always thought it would be so cool to be an actor in big movies & television shows but living in Las Vegas, I was taught that the only real way to make a true living was to work a regular job, work your way up, and retire. As a young teen, I was a larger kid, so I was often made fun of because of it. After getting fed up with always being the butt of the joke, I started to come up with my own jokes and comebacks for when people would say things to me. This is where I discovered that I was just naturally a funny guy. Any time I was anywhere I had people laughing.
After I graduated high school, I got into Krump dancing. It's a dance that originated from LA that was based around giving young inner-city kids an outlet of their frustrations in the form of dance instead of violence. I had amazing parents who only wanted the best for me. But my parents also spoiled me quite a bit. I had an amazing childhood. So amazing that I felt like I honestly didn't know how to survive on my own. You know…to move out and start a life. After a few dead-end retail jobs, I ended up joining the military at age 21.
The military is where I learned a lot of my people skills. I worked in an S1 Office which is like the Human Resources Department. After getting honorably discharged from the military, I went back to the Las Vegas workforce. This time with more skills under my belt so I was able to get better jobs. At age 26, I've got a 2-year-old son, and I'm working this corporate job that I loved, but for some reason, I was just not happy. I remember telling myself at a point that if this job didn't work out, I was finally going to try acting as my career.
I started taking a class at John Armond Actors Studio (R.I.P. John Armond). In John's theater based class, I learned the basics and the totality of acting. I came into that class not knowing a thing about acting, but one thing I did know is that I was a funny guy. My drama coach noticed that I did noticeably better with funny material, so he stopped giving them to me as often and challenged me with more serious drama based material. I studied with John for a little over two years before I finally moved to Los Angeles with my Fiancé and Son in 2015.
I've been acting professionally for over five years. I booked my first role in early 2017 on the hit show Lucifer that's now on Netflix. Since then I've made Co-Star appearances in shows such as Criminal Minds, It's Always Sunny in Philadelphia, The Cool Kids, Superstore, Splitting up together. I will also be appearing in Marvel Agents of Shield this year (2019) as well as a new movie I recently did with Charlie Day. I have amazing reps with Entertainment Lab (Sean Dubravac), LB Talent (Jackie Lewis), Artistic Talent (Marci Polzin), Del Corral Talent (Terry McNeal) who have constantly worked hard to help push me forward in my career.
Has it been a smooth road?
Honestly, LA is an amazing place, but it came with a lot of obstacles for me. For instance in Las Vegas having good credit was not a necessity to enjoy a certain quality of life.
Renting an apartment out there is not only dirt cheap but its also based on your income and not your credit on whether you get approved. When I was planning my move to Los Angeles, I quickly noticed that things are different here. No one would approve me because of my credit score. My fiancé got a job the 1st day she came out to find one.  It took me about two weeks to find one. Crazy thing is my fiancé and I both started on February 23rd. It was February 20th, and we still hadn't found an apartment.
After a couple of weeks in LA looking for a job and then a place to stay I came back home to Las Vegas to reunite with my family. I ended up applying for this studio apartment in Hollywood that I found on craigslist. The manager wanted me to come see the place, but I told him that I was home in Las Vegas and did not want to lose out on the place so I'd rather just apply. I sent in all the necessary info, and we got approved on the 21st around 5:00 pm.
On the 22nd we packed our entire apartment (as much as we could fit in a U-Haul) and we arrived in LA on the 23rd at about 1 am and unpacked everything just in time for work the next morning. I still don't know how we did it. One of my biggest concerns moving to LA was actually making progress enough to make my mother proud. She was totally against me moving to LA to be an actor. She believed I was making a mistake by not getting a regular job and just retiring.
I started working at T-Mobile, and in late 2016 I ended up meeting Exie Booker. I believe that sometimes people come into your life to show you what you need to know to move forward. Exie was that person for me. He's a great actor with a long list of credits, and he slowly became a big brother and a huge influence of mine. He told me how to package myself as an actor and what I needed to do to land a decent set of reps in LA. After a few months, I finally signed to Aqua Talent and Caviar Ent.
It was them who got me the audition for Lucifer. They only wanted SAG actors to audition, but I think for some reason my agent wasn't aware that I wasn't eligible for SAG and submitted me anyway. I ended up booking the role but later on in the day received a call from my agent letting me know that I might get released from the role because I am not a union actor. By the grace of God I ended up getting Taft Hartley'd so that I could work on the show. I went to a table read where I saw the script with my name on it. I couldn't believe it.
Around this time my mother was diagnosed with cancer. My mother never frowned in the face of anything, she was so optimistic about beating her cancer and going back to work. After I filmed the episode, I went home to visit my mother who was going through chemotherapy at the time, and I brought her the script with my name on it. I think at that moment for her things became real, and I remember her telling my then Wife that we were going to be alright.
"Roro (family nickname) is gonna make it." she said to my wife and son. This moment will always be dear to my heart because I finally saw that my mother believed in my decision to move and really knew I was headed somewhere. On September 12th, 2017 my mother lost her battle with cancer due to complication from pneumonia that she caught from bacteria getting into her system after her colon burst. I got the news while I was in LA that she was slipping. I tried to catch the first flight out, but my dad called me while I was waiting to board to let me know she was gone.
I was devastated because my mother was my hero. She was my best friend. I didn't even get to say goodbye to her. I arrived at the hospital minutes before the funeral home came to get her. I got to grab her hand one last time, and I felt my soul cry out. My episode of Lucifer wasn't due to air until January 31st, 2018. So she just missed seeing me on television. 2018 continued to be a rough year for me after my mothers passing. My wife and I ended up getting divorced, she later moved back home to Washington with my son where most of her family is.
Before she moved away, I ended up moving out of our apartment together. I just couldn't handle the stress and the arguments anymore. I was actually going to sleep in my car until I figured things out. Luckily for me, my mom kept an angel on reserve for me. An old manager of mine from T-Mobile Kacie Anderson had since left T-Mobile and became an amazing entertainment manager. She left that job and turned her entire life around within a year. She let me stay in her guest bedroom in her Condo until I found my own place in Van Nuys. Thank God that I have met some amazing friends here in LA that have been there for me through hard times.
We'd love to hear more about what you do.
I'm a working actor in Los Angeles. It really is a blessing to be in the position I'm in. I think I'm most proud of the fact that I really faced my fears and moved to a huge city to try and do the impossible and its actually working out.
Every time I've stepped out of my comfort zone I've grown to some extent. I plan to keep challenging myself, taking risks, and working hard. I think what sets me apart from others is that I genuinely believe in myself and my talent.
I'm a firm believer that there is room for all of us here in Hollywood. You just have to make the choice to work hard for what you want. I eventually will get into teaching. I hope to be teaching a class once a month in Las Vegas where I learned how to be an actor.
Let's touch on your thoughts about our city – what do you like the most and the least?
I love LA for the culture, the diversity, and the fact that many people come here with hopes of changing their lives. I think it's a beautiful thing to step out of where you are comfortable in search of something more meaningful to you.
One thing I thoroughly enjoy is going to the beach and just taking in the sun and the sounds of the waves crashing against the shore. We have amazing food here in LA as well. I think my only dislikes is how high the cost of living is and also everyone's favorite thing to complain about… TRAFFIC. LA traffic is unlike anything I've ever experienced. But all in all it taught me to be more patient.
One thing about LA Traffic is that it isn't going anywhere as our population continues to grow at a rapid rate. So buckle up and enjoy the ride! I've taken a liking to the valley more so than the city. It's way less congested and for me just a more peaceful place.
Contact Info:
Image Credit:
Getty Images
Getting in touch: VoyageLA is built on recommendations from the community; it's how we uncover hidden gems, so if you know someone who deserves recognition please let us know here.