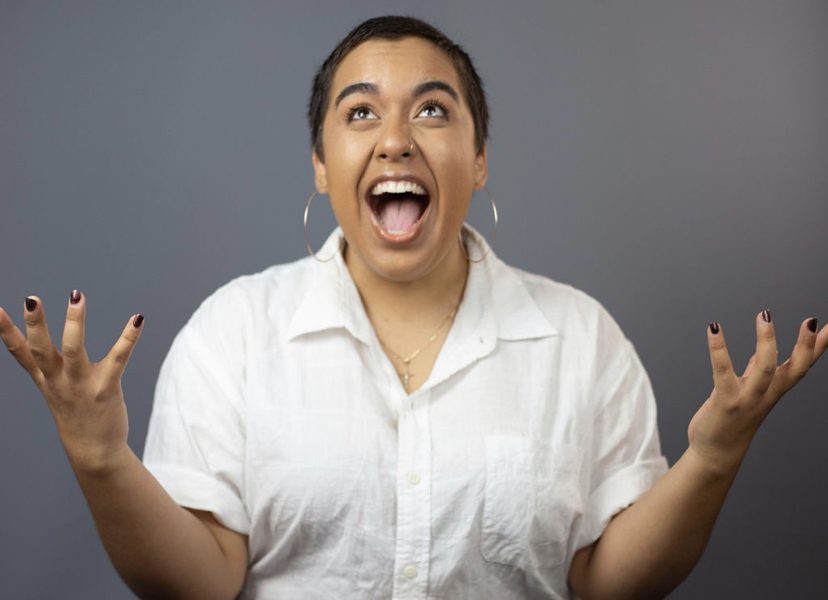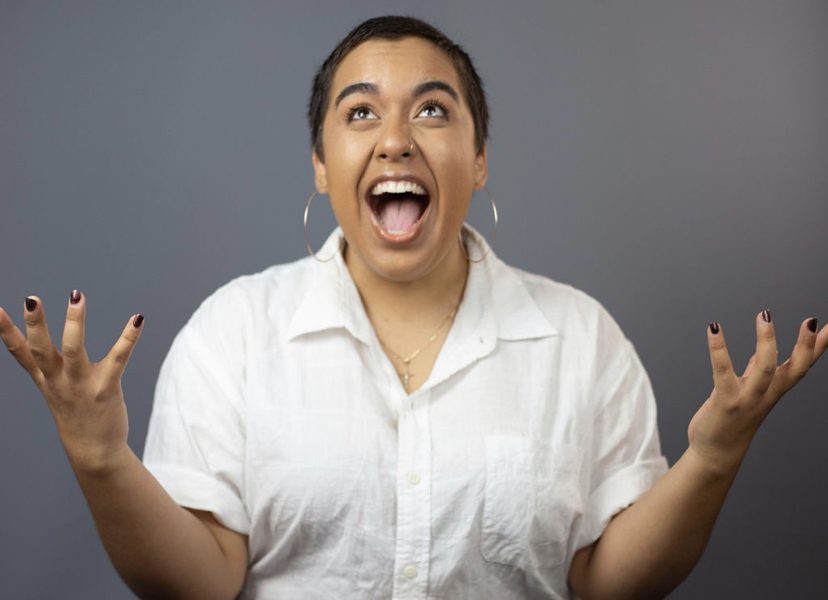 Today we'd like to introduce you to Jasmin 'Jámmin' Guillén.
Every artist has a unique story. Can you briefly walk us through yours?
What we're going to do here is go back, way back to the year 1993. Alongside classics such as Midnight Marauders, Janet and Enter the Wu-Tang (36 Chambers), a Mexirican Chica Loca named Jasmin was born. A young preemie Sagittarius fighting for her right to party, my journey began earlier than expected at Kaiser Permanente Panorama City on November 29, 1993. From the jump, I've been eager to live life, explore my surroundings, curious to see just how much adventure is out there. My love for art was clear as day from my resident shows in mom's living room to my torn up sketchbooks filled with drawings and schemes. Although dance was at the forefront with visual art as its sidekick, the engine of it all was my adoration for music. From cruising with Pops blasting West Coast classics to cleaning with Ma on the weekends with Marc Anthony on repeat, my parents' impeccable taste gave me the range I'm proud of today.
Years passed gifting me with more music, a brother, a sister and discovering just how strong my passion for dance was. Naturally, my mom threw me into dance classes and I was obsessed. At the age of 7, I took the typical ballet/tap/jazz combo classes, but it was Hip Hop with the coolest teacher ever (can't remember her name) that felt the most natural to me. Being the oldest of three came with great fun but also a healthy, heaping side of great responsibility so when it was time for Mom to go back to school, big sister duty was in full effect. Unfortunately, dance classes stopped for me at the age of 10, so I can help out around the house. Of course, being the young passionate Latina, I was the end of the world. However, it turned out to be a big blessing in the end but no spoilers.
Backtracking to age 8, my family made the big move to a place called Palmdale, CA. This is where most of our story takes place, where I spent my childhood, where I learned to drive, where my creative identity, like the phoenix, rose from the ashes time and time again. Living in a small town had its perks: great friends, proximity to all your needs and hours of boredom to fill with creating in every way possible. Luckily my siblings and I were blessed with incredibly gifted parents from my mother's artistic to the eye to my father's sharp ears. We were destined for greatness. We were never bored! Countless hours of drawing, creating plays, filming music videos and comedy sketches on the camcorder, Guillén party of five was Creation Station.
Throughout the light of living a childhood, pre-iPhone came the lows of the creative kid. I was different, I was sensitive, I was curvy and I was brown. Long story short, people didn't "get me," and I didn't understand why. Slowly but surely, the trials and tribulations of my little complicated life were the fuel to my fire. With pride, I can honestly say I never conformed so others would accept me. An honorable statement, but in no way was this path simple, nor was it easy to comprehend. Never the less the love of my family and hunger for more life lead me to be the strong creative I am today. I'd like to believe that little me would think current adult me is, pretty cool.
Time to wrap up this story and bring us here to the present day. After graduating (barely) in 2011, I was a music junkie art major heading to Santa Monica College. With a driver's license and a 160GB silver iPod classic, you couldn't tell me anything. I WAS UNSTOPPABLE. It was this same year that I discovered the unfortunate truth that my unexplainable feelings turned out to be depression and anxiety. While I was relieved to know what was going on in my mind, this discovery leads to better art and more confusion about EVERYTHING. The school was cool, but art became more of a chore, music could only heal so much, what was missing?
In comes the savior to my soul, the peanut butter to my jelly, Movement Lifestyle. I found it, my place of sanctuary, people like me, my new home. 2012 is the year I feel like I was reborn to begin a new journey to my prime self. Without Movement Lifestyle, I wouldn't have met the friends I call my family, I wouldn't have discovered the amazing community of artists that inhabits the streets of LA, most importantly I would not be dancing or Deejaying, or creative directing or teaching right now. I cannot tell my story without the Movement Lifestyle. They are so important to not only me but to my family of friends and coworkers. Movement Lifestyle saved my life.
Now we're here! I'm alive, breathing in love, light and music, breathing out compassion, honesty and creations. My journey is far from over and I still have so much to learn. I plan on staying true to myself and loving as much as possible along the way.
Please tell us about your art.
All in all, I create all the time in a lot of different ways. I encourage everyone to test out mediums they aren't used to, combine them, remix them, test yourself! Putting anyone in a box is super lame and limiting to their artistry. In this chapter of my life, I'm obsessed with creating tones. Through Deejaying, I set the tone of the room via the music I play and the path I take people on. The responsibility of finding music, figuring out how songs fit together, sensing the energy of a space and feeding into said energy versus off of it gives me this inexplicable high. I love it!
Dance has entered and exited my life, so creating dance projects is special in such a different way for me now. Losing it as a child, gaining it as an adult, losing it due to an injury, gaining it due to frustration, it's been quite a journey. Now in 2020, I find myself creating via dance most of the time for others and saving the in the moment freestyles for myself. At first, I was a bit confused and thought I was losing my fire, but now I understand that this is what I'm supposed to do right now. The world needs me in this way, it's beyond me and I'm going to do my best.
Another way I love to create tones is through the visual arts. My dream is to create direct an entire series of videos on my own for no other reason other than to tell my story and express for the love of it. From directing to choreographing to editing to producing the release party, I want to complete this series and know I did it honestly.
The first word that comes to mind when explaining my art is HONESTY. As an empath, I do my best to live a life with strong integrity and an open mind. Growing up, I was constantly misunderstood and ridiculed for being myself. From my pain, I gained a sense of shamelessness, strength and confidence to be the catalyst for kids like me. I create because I have to, I create because it is my release, I create not for myself, but the misunderstood.
What do you think is the biggest challenge facing artists today?
Social media. Sure there are amazing platforms that grant us the freedom to put out work whenever we want. At the same time, our work has become just "work" and no play. There is so much pressure to post frequently, so your work is seen amongst the plethora of people pumping out content that we lose sight of why we create in the first place. Not to mention fighting the urge to compare and contrast everything on the internet that's even close to your field.
I'd love to see people continue to push boundaries. I want artists to release honest work that is valuable to them without worrying about who/how many people will see it. Hopefully, within this year, that'll be the trend.
How or where can people see your work? How can people support your work?
People can see most of my work on Instagram, Youtube, and Soundcloud. The way you support my work is simple: tune in. Whether it be listening to a mix of watching a video I produced, if you like it, let me know! Sometimes someone letting us know "hey, that thing you did affect me in a positive way" is all we need to keep us going. Also hire me for your next event. 😉
Contact Info:

Image Credit:
Costello Captures, Jordan Sotero, Daniel Grey
Suggest a story:VoyageLA is built on recommendations from the community; it's how we uncover hidden gems, so if you or someone you know deserves recognition please let us know here.