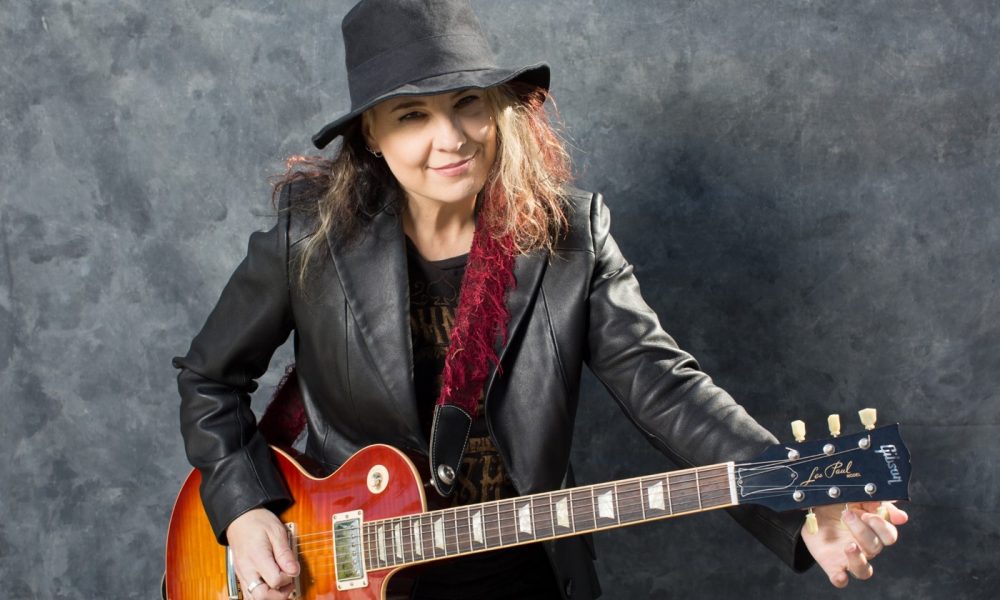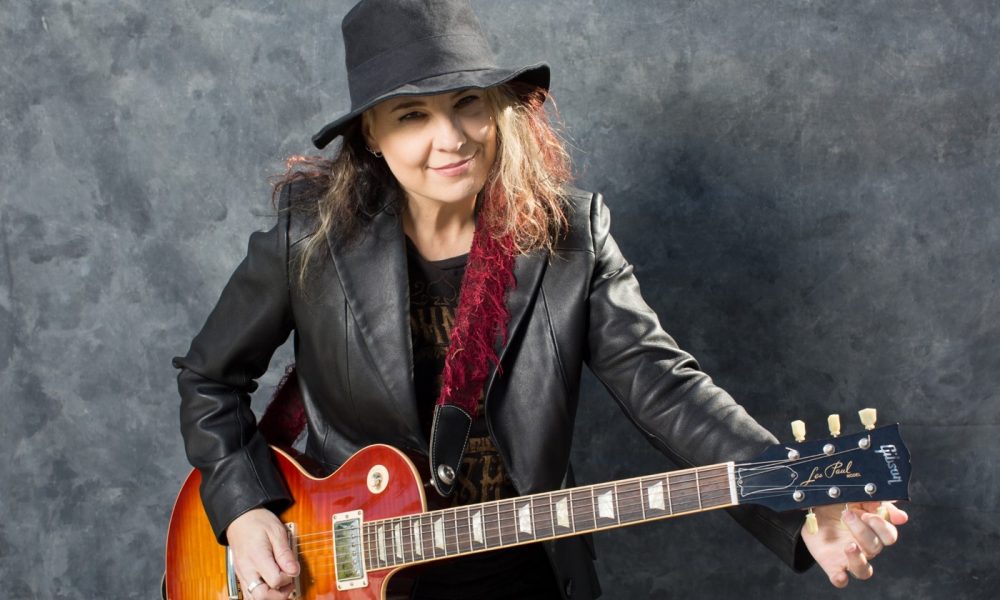 Today we'd like to introduce you to Janet Robin.
Janet can be defined in a single word: musician.
Many people attempt to make music, but few earn that illustrious title. Those in this business reserve that label for the rare individuals who consistently demonstrate a high level of talent, perseverance, taste and sensitivity over a period of time. To these people making music is not simply a pastime; it is a matter of blood and guts. That a serious addiction to making music runs through Robin's veins is made clear from a quick review of her career.
A Southern California native, Robin's musical education began the moment she met her guitar teacher, Randy Rhoads (Quiet Riot, Ozzy Osbourne). Under Rhoads' tutelage, Robin became an ace six-string player and, while still in high school, parlayed this education into a position as the lead guitarist for the all-female rock band Precious Metal. Discovered by Rodney Bingenheimer of the legendary L.A. rock radio station KROQ, Precious Metal was soon signed to Polygram Records. Later moving to Chameleon/Capitol Records, Precious Metal released several albums, wrote with Heart, Poison and Cheap Trick, toured extensively and gained accolades from both fans and critics alike.
Following the demise of Precious Metal, Robin joined Fleetwood Mac guitarist Lindsey Buckingham's band in support of his 1992 solo album, Out of the Cradle (Reprise Records). A consummate pro, working with Buckingham profoundly influenced Robin's guitar playing, singing, and songwriting, as well as her general approach to the music business. This new direction led to Robin's 1998 debut solo album, Open the Door. Released on her own label, Little Sister Records, Buzz Weekly described the CD as "smart, savvy, fuzzy, hooky pop." She has seen songs from this album featured in film and television; most notably on the then popular T.V. show Felicity. Ever the road warrior, she supported the disc by opening for such acts as Heart, Colin Hay, Loudon Wainwright III and the Smithereens, steadily building a wide fan base. Robin has since continued to tour heavily and averages as many as 150 dates per year.
Encouraged by the warm reception of her debut, Robin released three more albums on Little Sister including the acoustic After the Flood which was recorded in Laurel Canyon and features "Beautiful Freak" which has since become a fan favorite and one of Robin's defining songs.
Also among these records is 2007's Days of Summer. Recorded with producers David Bianco (Tom Petty, Teenage Fanclub, Mick Jagger) and Steve Baughman (Eminem, 50 Cent), this acoustic based EP is the work of an artist willing and able to explore the poignant emotional states of adulthood while avoiding the stereotypes brought on by most acoustic singer-songwriters. Working on the album was an experience that greatly affected her style and led Robin to many new and exciting opportunities including multiple tours in Europe.
2012 here in the USA, saw Robin release her album Everything Has Changed that bridges the gap between passionate acoustic music and gutsy rock n' roll. With the help of her dedicated fan base, Robin was able to raise the funds ($20,000) for that studio effort. The loyal support enabled her to team up with producer John Carter Cash (Johnny Cash, June Carter Cash, The Nitty Gritty Dirt Band) at Cash Cabin Studios outside of Nashville. The son of Johnny and June, Carter Cash was a producer on the Johnny Cash biopic Walk The Line and produced several records with his father as well as a Grammy Award winning record for June. Built by Johnny in 1979, this studio is where the country legend recorded much of his later work including his final recording, American V: A Hundred Highways, which was released posthumously and co-produced by Rick Rubin and John Carter.
Robin had previously released "Everything Has Changed," in Europe, with Hypertension Music based in Hamburg, Germany. Coupled with the strength of her growing European following and introduced to the German based label by friend and frequent touring partner Colin Hay (Men At Work), Robin signed a licensing and distribution deal with Hypertension for a Winter 2010 European release of Everything Has Changed. The company also did the booking for Robin throughout Europe and after the initial release in Europe, she secured a January 2010 tour with Midge Ure (Ultravox – co-organizer of Live Aid, Band Aid and Live 8).
Janet enjoyed the experience of working with Cash so much that she returned this 2016 to record her latest studio effort "Take me as I am" again with John Carter Cash as executive producer and Chuck Turner producing and engineering: "We have talked at great length about this project and he understands my desire and vision to record an album that is representative of the energy brought out in my live performances," Robin says of John Carter Cash. "It's just great to work with a producer that lets me be myself, yet brings out the best in my work. There weren't many restraints working with John and the vibe and history at Cash Cabin is overwhelmingly inspiring. John seems to "get me." The official release for "Take me as I am" in the USA will be Oct. 17th, 2016 and the European/UK one will be in January 2017.
She has since had several successful headlining tours in the Czech Republic, Poland, Germany, UK, and France where she plays solo acoustic shows, and with her band, to sold out crowds in clubs (200-400 cap venues) and festivals (1,000's) across Europe. Janet recently finished a 34 date whirlwind summer tour in 5 countries in Europe, culminating with a featured solo performance at the renowned "Blues & Jazz Festival" in Rapperswil-Jona, Switzerland.
In addition to pursuing her solo career both in the U.S. and abroad, few musicians are able to work with the great variety of artists that Robin has been fortunate enough to be around. Besides the aforementioned Lindsey Buckingham, Robin has toured, performed with, recorded, or written songs with Tommy Emmanuel, Peppino D'Agostino, Meredith Brooks, Monty Montgomery, Michelle Shocked, Maia Sharp, Marcy Levy (co-writer with Eric Clapton on "Lay Down Sally"), Ann and Nancy Wilson (Heart), Garrison Starr, Anne McCue and many more. Her most recent side-woman gig was the touring guitarist of Air Supply in 2009. In 2015, She was featured on the bill for the prestigious "All Star Guitar Night" which features some of the top guitar players in the world, during the LA NAMM convention. Touring nearly 150 dates a year with her own project, she has seen her solo career rise to higher and higher levels each year.
Robin has also had songs placed in TV and films such as "One Life to Live," "All my Children," "Felicity," "Free Enterprise," and many more. She has also recently completed the original score for the short film "Traces" directed by Joseph Culp (actor Robert Culp's son) and the film was accepted into the prestigious Palm Springs Short Film Festival and the Hollywood Film Awards, in June 2012. In January of 2015, Janet was also hand-picked to coach and consult actress Jennifer Jason Leigh for 2 months on location and in Los Angeles for a special guitar scene in the Quentin Tarantino film, "The Hateful Eight." The actress was nominated for an Academy Award. And in June/July of 2015, she was also hand picked for the guitar position in the musical "Girlfriend" to rave reviews at The Kirk Douglas Theater in Culver City, California.
Along with Janet's busy solo career, she has started a side project featuring 4 amazing guitar players- "The String Revolution." Combining 4 guitarists each with their own unique contribution to a "band" sound. They have finished their first release and it was mixed by the prestigious Matt Hyde in London who worked previously with famed guitarists Rodrigo y Gabriela. The record was released Oct. 15, 2016, and touring dates to follow.
However, one need not base their judgment on Robin solely on those with whom she has been associated. Only a listen to her albums or a ticket to one of her shows will prove the opening claim to be true. For what underlies the Janet Robin labels of singer, guitarist, songwriter, producer and road warrior is a single word: musician.
We're always bombarded by how great it is to pursue your passion, etc – but we've spoken with enough people to know that it's not always easy. Overall, would you say things have been easy for you?
Being a working musician isn't the easiest of jobs and certainly isn't the most steady. However, that said, if you can manage to do other things within the music business that can help pay your bills then I think you can become successful at being a "full-time" musician. For instance, I teach guitar and have a handful of steady students I can generally count on in between touring and other gigs I might get. I also offer skype to them when I do a tour and also teach on skype to students who can't come to me personally. I offer session services too if someone wants to hire me to record some guitar on their record or demo, and I also offer production, recording, and arrangement help for songwriters. I have a small studio set up and that has actually led me to produce 2 full records in my studio. All of these are paid gigs and still within the music realm. So, even if I'm not touring right at that moment, I'm still playing, or making music and generally I'll have the guitar in my hands almost every day because of it. I also think that being a woman musician is still somewhat of a niche- there are more than when I was coming up, but still not as much as guys… I think young girls should be encouraged to pick up an instrument. It's great to sing, of course, but they should also learn to play an instrument. If you wanna make a living in the music business just know that you might never become a big rock star, but you might reach some of your goals if you work hard enough. Do it for the music, not only for the money or fame, you will last a lot longer.
So, as you know, we're impressed with Janet Robin- Musician – tell our readers more, for example what you're most proud of as a company and what sets you apart from others.
As mentioned earlier, I'm very happy that I can work as a full-time musician. If I can make a living making music, then to me- that's a success. I think when I was younger, I thought about the rock star/fortune/fame thing and I think we all do that when you're younger. I had a taste of some of that… and I was definitely around a lot of it having played with several well-known musicians. I had a bird's eye view through working with them and hanging out with them and I got to see somewhat what their lives were like. Some could handle it great, and some, not so great. Certainly, during the 80's there was a lot of crazy stuff going on and I managed to steer clear from it and try my best to keep clean and healthy and I think it's one of the reasons I'm still making music now. Maybe not a famous musician but I have loyal fans all over the world, I get to travel to pretty cool places, and I still have a love affair with playing the guitar after 46 years.
So, what's next? Any big plans?
I have 2 new cd's that were released in Oct. 2016 – one is my new solo record "Take me as I am" and the other one is my 2nd project The String Revolution, which is a 4 piece all guitar all instrumental band. We released our record, "Stringborn" also in October. My plan for the new year is tour-promote-tour-promote-tour-promote. I really plan on touring as much as I can in the USA as well as Europe. For The String Revolution, we are booking regionally (California area) for now until I can try and get the whole band out in other parts of the US as well as Europe. I would like to look into touring in other parts of the world-Asia, South America, South Africa. There's a lot of places I would love to play my music and I think they might like my style as well… Also, this year marks the first time I will be attending The Grammy's in February. I'm a voting member which I am proud to be.. and attending the ceremony is an honor.
Contact Info:
Image Credit:
Mary Grace Mckernan