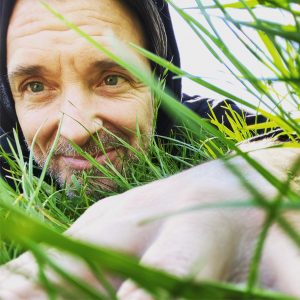 Today we'd like to introduce you to James Carrington.
James, please share your story with us. How did you get to where you are today?
I grew up in the lush green fields of Wiltshire, England 6 miles from the mysterious Stonehenge. At the age of three, my parents put a violin in my hand and my journey began. At five, I began playing piano and when I reached the ripe age of eight, I was awarded a music scholarship to Salisbury Cathedral school.
As a chorister at that time, you were required to rehearse every morning at 7am and perform during evensong to the public, six days a week with two services on a Sunday. After five years of this, I emerged fully steeped in the great British choral tradition and with the ability to sightread which I can honestly say is one of the greatest gifts I've been given. After five further years at Bryanston school on a top music scholarship, I headed to Edinburgh University. That's where the party began and the serious classical music education temporarily dried up!
Learning to DJ and running my own weekly club event with two friends was an amazing way to get an understanding of the burgeoning dance music scene in the UK in the early to mid-nineties. It always amazes me that EDM took so long to take off in the US especially when I was so enamored by such legendary American heavyweights as David Morales, Frankie Knuckles, Todd Terry and Derrick May who were already being paid big sums of money to come to the UK and perform back in 1992! My favorite dj of all time though is and always has been, Sasha. Listening and marveling at the journey he takes the listener on and the seamless way he mixes records together has been a massive inspiration in my life. Around this time, I also discovered BT (Brian Transeau) and his album Ima. That was another transformational moment.
After completing a postgraduate Diploma at LAMDA in London alongside such luminaries as David Oyelowo and Dolly Wells, I began my career as an actor. Appearing in well known British TV shows as Eastenders, The Bill and London's Burning I had high hopes of moving upwards. My dreams were to perform with the Royal Shakespeare Company and even aim for the lofty heights of Hollywood! But a dinner in Battersea in November of 1997 changed all of that.
I remember the dinner so well. I had just appeared in Eastenders and was sitting in Battersea in a boat in a restaurant with one of my best friends and two sisters we were dating at the time. Truly glorious days of youthful confidence and carefreeness. My friend Dominic Trusted turned to me, glass of wine in hand and said "Jimbo why aren't you doing more with your musical gifts? As much as I appreciate my job in the city and the safety and security it brings me I'd give my left arm to be able to play the piano and sing songs like you can..have you ever thought about writing songs professionally?" His words had a profound effect on me the next day after the fog of wine and the intoxication had begun to depart. So I set about tracking down an old friend called Jake Gosling.
In 1990, Jake had co-written a rock musical called "Tommas Harper" with his friend Will Noble. They had won a National award for it and with the prize money and the assistance of the school put on a production of it. They had asked me to play the lead having had me in mind for it while they were writing and it proved to be a great success for the school and them. We had lost touch in the ensuing years and tracking someone down in 1997 was no easy task! I eventually acquired his landline after making some calls to various alumni. He was living at the time with his parents and his father Peter Gosling was a successful composer of music for television and had previously been the keyboardist and songwriter in the prog rock band Renaissance. Together Peter and Jake were running a fantastic studio on their property and Jake kindly invited me down to record the only song I'd ever written when I was 18. I was 24 years old and fairly intimidated by recording studios. But they made me feel so welcome and we made a recording that they handed to me on a black cassette! A month later, I visited my parents and sister in Lawrence, Kansas where my father was a choral professor at Kansas University. My dad suggested I use his choral room as all the students were on winter break and so I ventured in there and slowly began to write using the grand piano and a guitar my dad had procured for me.
I returned to London in January 1998 determined to pursue this newfound venture. But how? Jake being the only guy I knew with a studio and already showing signs of being an excellent songwriter, I began to pursue him relentlessly! He was in a band and unwilling to give that up but he was game for a writing session or two. This was hugely influential in my becoming a songwriter because you learn the best from the best. We started writing and it seemed to gel well. Eventually, the writing became a full-time pursuit and jake quit his band and we signed a management deal with Nick East who had previously managed Mel and Kim to worldwide success. Not long after, we were signed to Three 4 music/Bucks Music by Dave Woolf, Alan Edwards and Sacha Skarbek. They had formed a small publishing company utilizing their individual skills of management, PR and A&R for songwriters. It was an exciting and heady time for us and we found ourselves working with the producer Yak Bondy. We later formed the band Little Giants and became managed by Meredith Cork who had recently had success with artists and producers, notably Garbage, Butch Vig (Nirvana) and Marcella Detroit.
In 2001, Jake decided it was time for him to pursue other interests such as songwriting and producing. A very good decision as it turned out as a few years later he was sent a demo by a young ginger haired lad called Ed Sheeran asking him if he'd be interested in writing and producing with him! The rest is history!
Reeling somewhat from the break up of the band after investing so much time and energy into it, I stepped back from music temporarily and began playing the piano in a bustling South London pub/restaurant called The Bedford in Balham. Christopher Scholey had recently taken the place over and was in the process of transforming it into one of the finest venues in London. He must have seen something in me because not long after kindly giving me the job as the resident piano man there, he invited me to become the entertainment director of The Pocket Pub Company. It proved to be a challenging and extremely rewarding role and he was hugely supportive of my music. I began to write alone which was daunting having had a songwriting partner in Jake for three years. But with the support of Chris, I started to pursue a career as a Singer/Songwriter. We would put on events in all of his venues and the Bedford particularly started to really take shape. In 2002, we were awarded the Evening Standard Pub of the Year and The Music Pub of the UK. It was a phenomenal achievement when I think of the state of the place in 2000, primarily an unwelcoming haunt for drug dealers and heavy drinkers. My favorite memories of that time were performing alongside Skye Edwards from Morcheeba with an amazing string quartet formed by Steve Bentley-Klein and Nick Holland and discovering a singer/songwriter called Tom Baxter, getting him back on his feet, giving him a stage to play on and eventually seeing him sign a deal with a major record and publishing company.
While I was working at The Bedford I went to a party one night in Notting Hill thrown by a phenomenal opera singer and composer I'd known at school called Hal Cazalet. He would organize these parties in his flat and ask all his friends to come and perform. Standing at the back that night, I watched an epic amount of talent get up one after the other and perform poems, songs, jokes, arias, monologues, even dances. Suddenly he called out my name and asked me to sing a song. Terrified but fortified, I sidled up to the makeshift stage and performed my song "lazy day". Afterwards, his brother David cazalet approached me, saying he'd enjoyed my song and enquiring what I was up to. His sister Lara had been one of my closest friends at school and we had been the lead parts in 2 of the musicals that were staged while we were at Bryanston. Not long after and with no experience in the music industry David became my manager and we embarked on an amazing period of time together as he generously invested in my career and gave a lot of his precious time to guiding me and helping me to build a life as a singer/songwriter.
2002 brought some initial success. I landed a song on a commercial for BT. With $18000 as the fee, I was able to leave my job and hopefully pursue my musical ambitions full time. We set about gathering folks to make a record with. I was introduced to and began playing with The Waterboys bassist Gordon Davis and Primal Scream's drummer Darren Moody. This in turn led to an introduction to Chris Tsangarides. Chris was a British Grammy-nominated record producer, sound engineer, and mixer of Greek Cypriot origin. He was best known for his work with many heavy metal bands, including Gary Moore, Thin Lizzy, Judas Priest, Helloween, Anvil, Angra, Anthem, Yngwie Malmsteen, and Tygers of Pan Tang. Tsangarides worked with many pop and alternative artists as well, including Depeche Mode, Tom Jones, Concrete Blonde, and The Tragically Hip. He loved my songs and was keen to produce my debut album. Sessions commenced at his studios in East London. It was a wonderful time. The record moved from stripped-down numbers with just me and a fender Rhodes to full-blown production with tabla, string quartet, backing vocals, electric guitar, drums, bass.
David and I decided to take a gamble. I had been performing regularly for a year or so and had started to raise impressive crowd numbers for an unsigned artist. So we took a huge breath and organized a meeting with Bill Marshall who managed Shepherds Bush Empire, one of London's preeminent venues. He initially thought we were a bunch of jokers. "you want to put on a show in a 2000 seater venue and you're an unknown unsigned artist?" I believe was his opening line after he heard our proposal! Undaunted we said "yes!" and assured him we'd fill his venue. For some reason, he agreed! So night after night Dave and I worked long hours at his office mailing out flyers and cd's using his office supplies to everyone we'd ever met! We unearthed school addresses, sent pleading messages to friends of friends, auntie Joan and her dog until four days before the show Bill Marshall called Dave and said. "I'm ringing to apologize for being initially dismissive. you've already pre-sold 1600 tickets!" I managed to land Gig of the week in one of the big UK broadsheet newspapers, the Independent and on an unforgettable Sunday eve in October 2002, I became the first unsigned artist to headline and sell out that historic venue.
In 2003, I headed for NYC for two weeks to see if I could break the American market. Crashing on friends floors and sofas I ended up staying for almost three months. Having performed at Joe's Pub and The Cutting Room, I managed to get management representation with Louis Levin and Brian Nelson. This led to interest from Andrew Feigenbaum at Atlantic Records and I was asked to perform a showcase in the New York offices in front of Craig Kallman, the president. Although they turned me down, it gave me real hope that I should keep going. I returned to the UK when my visa ran out and found myself appearing in a reality / historical show for Channel 4 in the UK and PBS in the US called Regency House Party. I returned to New York that fall and appeared on NBC in an interview promoting the show.
New York had been an incredible experience and I returned to the UK inspired and brimming with ambition. I began a series of gigs at Bush Hall in London which was rapidly becoming the go to venue for up and coming and established artists in West London. A second concert followed at Shepherds Bush Empire and not long after, as a result of Andrew Feigenbaum, Craig Kallman and Mel Medalie having a meeting in NYC, I signed a publishing and recording deal with Cheeky music and Champion records. Mel had huge success with Robin S, Faithless and Dido and I was excited to see where it would lead. I was sent to LA to perform at MUSEXPO in April 2005. Staying in a hotel on the Sunset Strip it was quite the introduction to Los Angeles and the record industry. A highlight was having my song "Simeon" singled out as his favorite track during the Publishers keynote panel by Dan McCarroll who at the time was at EMI Publishing. I spent August of that year living in Venice, California with my friend Rhona Mitra and began to develop relationships with EMI Publishing as they sub-published me in the US. One of the highlights of that month was being invited to Charlize Theron's 30th birthday party. Arriving at her home on the PCH in my beaten up Honda Civic I'd rented from Rent-A-Wreck the valets ushered me away convinced I couldn't possibly be a guest at such an event!
In November, Tami Lester who worked in the Film and TV department at EMI Publishing took me on a whistle stop tour of her favorite music supervisors. I would turn up, get out of the car, perform a few songs, chat for a minute or two and move onto the next one. I was so fortunate to meet Julia Michaels and Madonna Wade-Reed. Julia worked hard to try and get my song "ache" and have me audition for a role in the movie "August Rush". Madonna loved "ache' and was working on Smallville and One Tree Hill at the time. She told me she would find a place for it.
True to her word she called me in 2006 and told me she had found the perfect place for it at the end of an episode of Smallville with very little dialogue and the whole song playing. What happened next was amazing. The episode aired and my website that had had no more than 3000 hits in four years took 160000 hits in 24 hours. All the fanzines and websites dedicated to Smallville were awash with people trying to track down the song. For one week, I became the number one artist in the world on Acoustic artists on My Space. People started writing to me from all over the states and I was asked to perform in Toronto and Mississippi. Around the same time, I had been introduced to the film composer Klaus Badelt and he expressed an interest in making a record with me. Fresh off his success with Hans Zimmer on Gladiator and scoring the first Pirates of the Caribbean it was an exciting opportunity.
After a crazy three days delayed plane trip from London to Los Angeles via Chicago which included becoming friends and having dinner with Mr T and performing over the intercom to a packed planeload of passengers, I ended up in Santa Monica to begin work on the record with Klaus. His first project he wanted to involve me in was for the Werner Herzog movie Rescue dawn starring Christian Bale. He had had to go out of town and had left me a note telling me to watch the documentary "Little Dieter Needs To Fly" which Werner had made before making the movie. I watched it that night and returned to the studio to listen to Klaus's score for the movie. He had wanted to see if it would inspire me to write a song and sure enough, I went out into his garden and wrote the song "lights" in an hour. Werner loved it and had it appear on the soundtrack to the movie.
Over the next two years, I recorded the album in Los Angeles at Henson studios and Swinghouse studios, Paris and London. Klaus employed the most incredible session players for the record. Abe Laboriel on bass, Michale landau on guitar, Abe Laboriel jnr on drums, Luis Conte on percussion and Tom Coster on Hammond. The album was engineered and mixed by James Guthrie, the Grammy-winning legend whose work with Pink Floyd and Kate Bush is so highly regarded. We recorded a 30 piece string orchestra at Abbey Road in Studio 1.
Around 2008 I was persuaded to start teaching by my then fiance. A decision that was among the best I've ever made for which I am truly grateful to her for. Starting out in that noble profession in the incredible studio of her legendary late father surrounded by his 31 grammy awards was a gift of a lifetime. I found my way slowly and steadily by a process of experimentation. I launched as a teacher of singing, piano, guitar and songwriting. Over the next two years, I built a varied roster of students from five years old to a 60 years old. One of my most fervent memories was teaching a guy who was an accountant at Sony Records. In his late thirties/early 40's he had decided he wanted to sing. Upon arriving he announced, "I cannot sing and I'm fairly convinced you won't be able to teach me how to but I'm willing to try"..I sat there wondering how to respond. If I agreed, I was out of a job. If I disagreed, I had better know what I was doing! We dived in. On one occasion, I remember playing the opening 4 bars of Let It Be on the piano for almost 2 hours while he worked studiously on his pitching. But we got there!
In 2010, we made the move to Los Angeles. With no kids in tow and her apartment easy to rent out, it was a fairly stress-free move. She was determined to do it and very excited. As a film writer/director, it was a great idea to be in the city where so much of the best material is created. I was the opposite. After struggling to make it out there as a musician in the way, I had hoped I was concerned about how to succeed and whether I would be able to build a teaching practice out there like I had begun to in London. But it was decided and with O-1 visas granted to us both, we arrived in September and began this new journey in the heart of West Hollywood.
We fairly quickly found ourselves a wonderful little home in Nichols Canyon and for three years, we lived a blissful life up there with the birds and peace. Waze had yet to direct all the traffic up to Mulholland and in January 2013, we welcomed our twins into the world courtesy of a fantastic OBGY Howie Mandel and the staff at Cedars Sinai. My teaching business had begun to expand mainly due to my wonderful friend Juliette Hohnen, one of the best Real Estate agents on the west coast who literally introduced me to everyone and recommended me to parents and adults all over Los Angeles. Having taught her son jack Hohnen-Weber which has been one of the highlights of my teaching career so far, I began driving all over the city to houses and apartments in a wide variety of places. Incredible opportunities reared their heads. I began to teach at the incredible actor Don Cheadle's household which was so much fun which led to an incredible year and a half teaching at Matt Damon's household. I got to briefly coach Hilary Swank for a movie role and another teaching highlight was helping Conan O'Brien to do his own version of Piano Man by Billy Joel for comedic possibilities.
I continue to perform regularly at the legendary Baked Potato in Studio City courtesy of my great friend Justin Randi who pulled me out of a self-imposed retirement from performing and gave me a monthly residency. I have had the incredible opportunity to write with some of these truly incredible songwriters in Los Angeles. Mateo Laboriel, Paul Freeman, Ian Honeyman, Magnus Fiennes, Jamie Hartman, Phil Bentley, Sacha Skarbek, Blair Mackichan, Willow Robinson, Carly Lind, Jack Hohnen-Weber, Theo Green, Bruce Greenwood, Alexia Barroso, Jesse String, John Trivers, Elizabeth Myers, Jackie Vae, Carmen Vandenberg, Jamie Drake, Sami Grosslight and Julianna Raye.
Teaching has brought me so much joy. I am so grateful to my ex for persuading me that teaching would bring me great rewards and be a fulfilling profession. I even got to say this at a high powered dinner party at Juliette Hohnen house in 2012. "Those who can teach."
Has it been a smooth road?
No. It has been far from smooth. But it's my belief that it shouldn't be smooth. Smooth won't produce the struggle that you need to truly make the best art you are capable of. As much as I would sometimes wonder why it was proving so hard, I realize now that that was just my journey. It was supposed to happen. The lessons I've learned from the mistakes I've made have proved invaluable and set me up for the future. They've made me the man I am today and I feel nothing but blessed and grateful for them. The biggest struggle that stands out to me is perhaps, on occasion, allowing others to have too much power and losing some of mine in the process. By power, I mean the right to own and control what you create. As much as we should control anything. I believe these days that handing over most of the control to a power greater than myself is a much more fruitful, rewarding and peaceful way to live. Maintaining self-belief is hard for everyone. As an artist, it's particularly hard because you have to learn to keep going in the face of sometimes overwhelming odds and it can be a lonely and demoralizing experience. But on the flip side, we are gifted with the ability to create and make art and entertain and help others in the process. What a gift that is!
We'd love to hear more about your work and what you are currently focused on. What else should we know?
I am a bit of a jack of a few trades! At present, my Facebook status, I believe, reads Music teacher, Singer/Songwriter, Composer, Producer of Original Songs for kids, Music App developer and Lyft driver. I literally am bouncing between all of them and am close to launching my website which will have a page dedicated to each part of my working life.
I am only slightly known for my singer/songwriter career as James Carrington. Partly because there are over 100 covers of my song "ache" on YouTube, 350,000 plays of it on Spotify and over 3 million views of songs I have written and performed on YouTube, Instagram, Vimeo and Facebook. I am just about to start recording my new album with producer and singer/songwriter Paul freeman which we hope to complete by the end of September.
The music game I raised money for on Kickstarter I am developing into an app with a company called Nerdpeople (nerdpeople.com) The app will help people learn to read music, I hope, will be a welcome addition to the app stores and help people begin to master a skill I believe to be really important and hugely beneficial in understanding music.
The original songs for kids album I am writing and producing with LA-based Grammy-nominated producer, mixer, engineer and musician Jesse String is getting closer to completion.
And to those who have worked with me or been told about me… my teaching!
I am most proud of trying to achieve in all these different areas. Working hard, trying to stay humble and accepting that what will be will be.
I'm not sure I am that set apart from others but I do believe that my passion and enthusiasm shine through in everything I do and I try to nurture that as much as I can. Trying to make sure my kids are and remain proud of their dad is always an inspiration.
How do you think the industry will change over the next decade?
What a question to try and answer in a time of COVID-19! I literally can't answer that at present because I'm not sure ANYONE KNOWS at the moment! But I do believe that music will always be loved, needed, wanted and important for the healthy survival of the human race and some members of the animal kingdom! I also believe that remote learning is only bound to increase now and my hope is that I can contribute to that in an inspiring and fresh way. I hope to land a job as the head of music at a progressive elementary school in LA and if successful, I will have to come up with ways of keeping kids plugged in and inspired! I want to be part of the "using of screens in a healthy and harmless fashion" movement. Did I just start something?! haha!
Pricing:
Guitar, Piano, Singing and Songwriting lessons: $100 an hour (if I come to your house) / $80 an hour
Songwriting masterclasses: $350
Learning to Read Music App: initial release will be free
Personal bespoke songs: $500 for the song to be written and recorded. $500 to perform it in person
Contact Info:
Suggest a story: VoyageLA is built on recommendations from the community; it's how we uncover hidden gems, so if you or someone you know deserves recognition please let us know here.