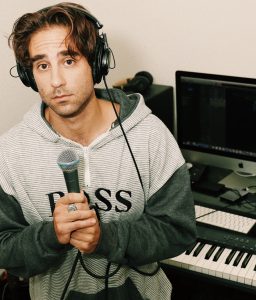 Today we'd like to introduce you to Jake Broido.
Jake, can you briefly walk us through your story – how you started and how you got to where you are today.
It's taken me an infinite amount of tiny steps forward over the last 15 years for me to get where I am with my music career. When you want to pursue your art and your passion there isn't always a clear road map which was entirely true for me during this long journey (which I'm still on by the way). I fell in love with music and the community surrounding bands at an early age and started frequenting shows in Hollywood when I was 14. Iconic venues of a day gone by such as the Knitting Factory & the Roxy served as an important backdrop to my falling in love with music.
These unique venues gave me the chance to see incredibly successful musicians in an intimate setting, catching my heart and brain on fire with inspiration, admiration, and the feeling that I was part of something bigger than myself. My older brother would take me to see bands like Streetlight Manifesto, Blood Brothers, Say Anything, artists who did things the RIGHT way and constantly left it all on the stage. It wasn't long before I learned how to play guitar and started a band of my own, and I haven't looked back since. Starting when I was 15 I began dedicating all of my time to the craft of music and brand building, throwing punk rock shows every weekend in our living room when our dad would let us clear out all the furniture.
Any given Saturday night in the Broido household in the South Bay you could find 150-300 kids rocking out in what can only be described as the final hour of a rock scene that once was. It was then that I learned how to connect with a crowd in the most visceral way and when I gained the confidence that I could be a performer worth seeing. This feeling continues to be my North Star until today and I'm eternally grateful to my father for providing us with such a rare and supportive environment to rock out. At that time I would drive from LA to Riverside every day after high school to record at a place called Love Juice Labs, an absolute staple of the CA indie rock scene. Love Juice Labs was essentially a makeshift recording studio in a guest house in Riverside but they managed to squeeze out an incredible sound working with bands that we actually looked up to. So ya I would drive 3-5 hours any given weekday just to go work on my records and honestly did it with a smile on my face.
Without Love Juice I would have never gotten the hours of experience that are still benefitting me today as an artist in terms of being ahead of the curve. After high school, I ended up moving in with some friends in Westwood and pursuing more knowledge in the music industry. I sort of "gave up" for a while on being an artist as I tried to "get my life together" or whatever. I ended up without a job and completely stuck, texting anyone I could over and over again for a chance to be an intern. I had texted my friend's mom in the music industry about 50 times without a response and then she finally said something like "Fuck off stop texting me like this but my friend Greg Wells might be looking for an intern go bother him". So I did 🙂 And I got the job. Greg Wells is a POWERHOUSE of a producer working out of a one of a kind studio he built in Culver City. I was his personal assistant for two years and got to work with artists like Katy Perry and Adele. By work with I mean drive around and buy meals for them but the experience was absolutely surreal. I got to watch Adele write songs.
Let me repeat that, I got to watch Adele write songs. I saw how she kept the mood light and didn't force things, rather she used the writing process as an honest way to communicate her deeper emotions. I saw Katy Perry work through her personal life through music and was able to share her excitement and joy as she enjoyed an astronomical amount of success. Memories I cherish and never would have gotten to experience had it not been for where I grew up and the lessons I learned from living in LA. Eventually, I moved on from being Greg's assistant and went to college in Arizona. I became inspired to put out records again and I enjoyed local success in Tucson opening for artists like Timeflies and Kendrick Lamar. This is the time I sank my teeth into producing my own records which became possible because of the BOOM in recording technology.
I was in the right place at the right time, a common theme in my musical journey. After performing and putting out records for four years in college it became time to "become an adult" and once again "get my life together" so I looked around for a "real job" in the "music industry". And wouldn't you know I found one! Atlantic Records hired me to be a guitar player on tour for them and off I went going from city to city playing my little heart out, trying to forge a path forward without a real plan. I was so grateful to be playing guitar for a living even though I knew it wasn't a sustainable or viable career and I used the opportunity to soak up as much knowledge as possible about Atlantic Records. It was during this time of discovery and outreach that I met up with an Atlantic Records A&R in New York on a day off. I had NO idea what an A&R was but during an unforgettable lunch in upper Manhattan, I realized that I had the skills to be successful in that role. It was awesome.
The next day I emailed and emailed until I got connected to the A&R department at Warner Music Group (the parent company of Atlantic). And wouldn't you know…. I scored an interview and got the job 🙂 I became an A&R for Charlie Puth, Jason Derulo, & Ceelo among others and my life went from 0-100 real quick. I spent three incredible years at Atlantic Records living out what I can only describe as every musician's dream. I had full run of the Atlantic studios in Hollywood getting to book out multiple sessions a day with some of my musical heroes. I was able to express my self creatively as an A&R by picking the producers & songwriters to work with the artists and helping them create in real-time in some of the nicest music studios money can buy. Having that much success at such a young age was really lucky and I got to learn things at 23 and 24 years old that sometimes people don't learn in the business until their 30s.
Once the A&R job became routine and I started to experience the grave injustices of the music business first hand, I knew it was time to move on and explore my creativity as an artist. I left Atlantic Records and started producing and performing full time as The Truth Experiment. I knew I wanted to build a project that could give kids the experience I had as a youngster, and I was willing to do ANYTHING to make it happen. Since then I've enjoyed so many incredible experiences like hanging out with Justin Timberlake's team in Memphis and on tour, getting to watch my own project grow and find success online, connecting with other up and coming artists and producing records I'm really proud of in the indie hip hop space, and finally coming into my own as a fully matured artist. The Truth Experiment is now a living and breathing entity and I wake up every day so excited to be making music, art, and clothing full time. To say that I've been lucky/fortunate would be an understatement and I will continue to use my gratitude as fuel as I now have my sights set higher than ever before. I'm currently working on the first full-length Truth Experiment album and am proud to be recording at Melrose Sound in East LA.
Has it been a smooth road?
Smooth is a tough word to wrap my head around because pursuing a passion for a living comes with daily roadblocks & challenges, ranging from the professional side of things to what it does to your personal life. That being said what makes it feel "smooth" is the peace of mind knowing that what I'm doing is my passion and I'm following the life path that I was made to follow. I experience the same struggles that every professional artist faces… the uncertainty, taking care of mental health, balancing a personal life, dealing with frustration and creative tension, coming to terms with being patient and learning how to be satisfied with final products, accepting the financial realities of the modern-day music industry… the list goes on and on.
But honestly I wouldn't change it for the world and I get to go to bed every night knowing that I'm not ignoring my passions, heck I'm so lucky to even HAVE a passion. My struggle is nothing in comparison to the struggles of saying a teacher, or a police officer, or a nurse, so it's not something I ever really focus on. My opinion is that if you're making ANY sort of living doing what you love to do than you don't have room to really complain about life. As an artist I have the time and space to look around the world at what's going on and if you do that there is NO WAY to complain about life in the United States.
Can you give our readers some background on your music?
I make music and clothing under the mantra "The Truth Experiment" focusing mostly on Spotify, Instagram, and live shows. I also produce records on the side for other artists and social media influencers. I'm known for my original sound, a combination of alternative rock and hip hop, and a unique live concert experience. I'm proud of staying independent as an artist and releasing my own music / making my own decisions.
I'm extremely proud of having gotten this project off the ground in a meaningful way which honestly seemed downright impossible three years ago. I think what sets me apart from other artists is my background in terms of musical education through my experiences in the industry. I have had exposure to the world's best artists, managers, and business people and I've taken lessons from everyone I've come in contact with. I don't limit myself as a creative person and allow myself the time and focus to make my own content which is a huge advantage I have. Learning how to produce my own music and edit my own videos has been an absolute game-changer.
Let's touch on your thoughts about our city – what do you like the most and least?
There are so many things I love about LA and I couldn't choose just one to be the "best" thing. So here's a list of ten.
Ten things I love about LA:
1. The astronomical amount of intelligent, interesting, creative, talented, and kind people of all races religions and backgrounds all in one place.
2. The food. Too many incredible places to mention. If you know you know. Gracies Pizza might be the best in the entire world.
3. There is a special buzz of energy in LA, a collective consciousness perhaps, and it is something I find I can feed off of in a way I can't in other cities. Chicago has its thing and so does New York and Austin but LA has the energetic inspiration that you can't find anywhere else in my opinion.
4. The beach.
5. The opportunities. There is nowhere else in the world with the level of opportunity you can find in LA if you're interested in the arts and film. Hands down.
6. The comedy scene. LA's community of the world's best comics is still somehow vastly underrated. On any given WEEKNIGHT you can hit the store or laugh factory and see the world's BEST comedians in an intimate setting and even socialize with them. Unbelievable.
7. Melrose fashion. The world's best neighborhood for thrift shopping hands down.
8. Canyon Creek Summer Camp. A one of a kind campus/charity bringing up kids from Watts and South Central.
9. Downtown LA – Still somehow underrated but a unique hub for the world's best fine artists and creators.
10. 1OAK or as I like to call it rap church. Hands down my favorite night club in the world. It's just one big open room where the focus is all about the music and having a great night.
Contact Info:
Suggest a story: VoyageLA is built on recommendations from the community; it's how we uncover hidden gems, so if you or someone you know deserves recognition please let us know here.