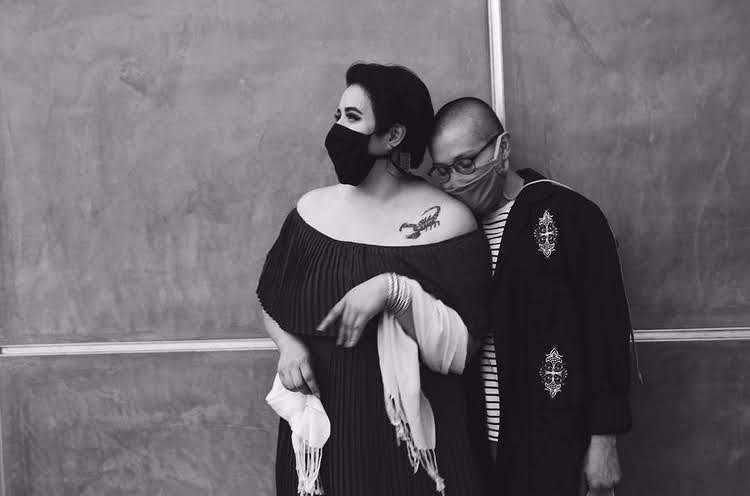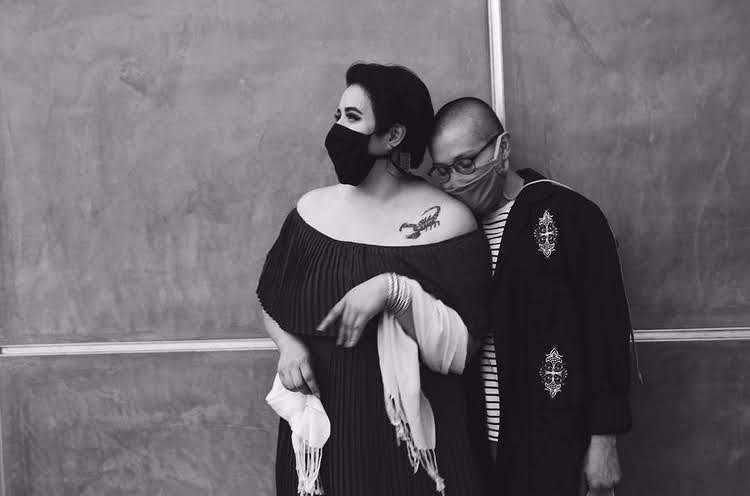 Today we'd like to introduce you to Iris Zamudio and Noemi Hernandez.
Please kick things off for us with some background on the story.
Kalhina Creations is a two-person operation composed of artists Noemi "Mimi" Hernandez (they/them) and Iris Zamudio (they/them). We are Los Angeles based and queer owned/operated. Originally a one-person business, Kalhina Creations, in its inception, was a personal space for Noemi. As an undergraduate student, Noemi turned to crocheting as a form of healing. The craft allowed them to nurture themselves and engage in self-care through an art medium. The hobby serendipitously turned into a means of income, as Noemi began selling items to friends and locals. However, as popularity grew, Mimi realized the business was becoming overwhelming to maintain and chose to allow it to become dormant. Ten years after its beginning, we- Noemi and Iris, met. We became internet friends-now lovers and would spend countless hours FaceTiming.
During those hours, we would talk about social injustices, our visions for the world we want to help build, and what we believe our role in the world is. In these hours, we got to see each other engage in some of our favorite art mediums: embroidery for Mimi and drawing for myself. We began taking interest in each other's mediums and daydreamed about translating the drawings into embroidery pieces. This ultimately leads to our very first class: Noemi sitting across from me, teaching me how to embroider. As we continued to create together, we began challenging each other's art insecurities, including the dormant state of Kalhina Creations. I offered to do marketing and social media management for Noemi, who initially refused the offer. After some encouragement and promise that it would not be a job but a creative outlet, they handed over the IG page with its eight followers. I began drafting ideas and asked Noemi to start pulling out old projects to display. The process of creating a space with Noemi unlocked a longstanding creative block for me. I began creating earrings, embroidery pieces, and paintings. This period of creating and "rebranding" lead to conversations of how we would want to be marketed and what our purpose would be as a space.
As intentional creators, we knew that our purpose was to cultivate a space where QT/BIPOC folks can heal and grow through art. Having worked through many of our own insecurities, we wanted to hold a loving, healing and affirming space where folks can engage in self-reflection, self-love and freely unfold their creativity. With that goal in mind, Kalhina Creations was reborn on New Year's Day 2019. Our first events were dinner parties and stencil making classes- all of which were attended by our friends. Through these events, we learned our compatibility as business partners and creatives. We were able to curate culinary experiences and use our education backgrounds to facilitate new art skills to people. During these first couple of events, we received affirmations of the warm and uplifting space we were creating- we knew we were onto something. Our immediate communities encouraged us to dream, and dream we did. We began crafting items and classes that made our hearts full.
Through the selling of items, our following grew, and with it, our pool of people to invite to new events. We began growing our classes to include universities, organizations, local community spaces and even a national queer conference. In our expansion, we have met many strangers that have since become part of the Kalhina Creations community. This small community is held in softness as we continuously encourage them to attend our events, nurture their creative side, and encourage them to engage with art outside of our workshops. We love using our platform to uplift others through art and to bring awareness to social injustices, often marrying the two, creating events that raise funds for mutual aid groups. As we continue to navigate our space, we hope for growth and envision Kalhina Creations becoming a queer art collective where art and resources will be shared and made accessible.
I'm sure you wouldn't say it's been obstacle free, but so far would you say the journey have been a fairly smooth road?
When Kalhina Creations was relaunched in 2019, our biggest obstacle was geographical location. Noemi was located in Philadelphia while I was in Los Angeles. Our bicoastal status made it difficult to organize events, for it entailed one person doing all the physical labor – a fact neither of us were comfortable with. As partners, we centered capacity and realized single-host events were exhausting and unsustainable. To work around this obstacle, we began planning events around our planned visits. This workaround allowed us to prioritize our own individual mental health while still nurturing our passion project. Through this, we were able to gather our footing and build confidence in our abilities to plan and execute the events we had envisioned. Slowly be began hosting events individually, Noemi taking charge of meal events in Philadelphia, while I began networking with local L.A. spots to host workshops. Thankfully, our bicoastal living ended late 2019 when Noemi relocated to Los Angeles. After allowing ourselves an acclimating period, we begun our workshops again, hosting a total of four before the pandemic hit.
Although we had reserved dates with local spaces, all of our plans were undone as we began navigating what Kalhina Creations would become in a socially distanced world. We had to troubleshoot our typical workshop practices and begun transforming into a virtual space. Being social individuals, this has proven to be the most difficult thing since we've relaunched. We had grown accustomed to setting up in person, providing all supplies and allowing for interpersonal connections to form before our eyes. As hands-on facilitators, we had made a practice out of walking around during our workshops to answer personal questions and revisit instructions previously given to ensure our attendee's success. The pandemic took away the teaching style we had grown to love, but it did not take away our willingness to hold space. As social distancing ordinances went into place, we began hosting trivia nights and material-free classes while we re-worked our workshop style. Now months into the pandemic, we have re-established our workshops and have been successfully engaging our community in monthly events. Our workshops have been averaging 35 attendees per session and have become even more purposeful as we have partnered with local and national mutual aid efforts to donate a portion of each events' proceeds to minoritized communities.
As you know, we're big fans of you and your work. For our readers who might not be as familiar what can you tell them about what you do?
While our workshops vary in art mediums from stenciling to embroidery, what sets us apart from any other art class you can take is our facilitation style. When you participate in our workshops, you are learning more than art. You are gaining positive self-talk, a perspective shift in your ability to create and a community that holds you accountable to your growth. We have been able to cultivate this community through the incorporation of in-depth discussions correlated to the workshop. In the past, these conversations have included: self-care, self-love, death/ancestry, and community care. These conversations can be intimidating however, we lead them with vulnerability and allow ourselves to share openly with our attendees.
At the beginning of every workshop we establish Kalhina Creations as a brave space in which community can be built through radical vulnerability. Within the confines of our time/space together, we do not allow room for discriminatory actions or hateful language and establish this as a firm boundary. We create a space that celebrates our marginalized identities and other identities that we know are minoritized. We understand our ability to speak to certain issues and the power of listening to others with regards to issues which we cannot speak to. We encourage all attendees to engage with each other from a place of love and hold one another accountable as we experience mutual growth. We hold ourselves to standards of gratitude and engage with active listening and vulnerability of self. These community expectations have allowed the QT/BIPOC community we serve to build beautiful relationships outside of our shared time. Outside of our community rules, we take pride in our philosophy: Art is should be accessible. We exist within a mindset of abundance- our ability to share the resources we have. We understand the external oppressive systems that make financial accessibility difficult. As such, we offer sponsorships/ materials to some of our classes for individuals who cannot contribute financially. We also operate on a sliding scale, which centers an attendee's ability to pay within a range that still compensates us for our labor. Furthermore, we include free events into our programming to allow us to cater to all financial needs.
With regards to language access, we do bilingual instruction in Spanish and English and are looking into our community to help us expand into sign language as well. As for the art itself, we draw inspiration from our lived experiences as queer nonbinary Latinx individuals. For Noemi, that includes East Coast references and their matriarchal upbringing, which can be found in the crocheting and embroidery they practice. For myself, it includes my Angelenx experience as well as the imagery I grew up with by splitting my time in Mexico as a child. In our art you'll find cultural and linguistic markers of who we are: from the referencing of Philly colloquialism "jawn" to the presence of Dia de Los Muertos sugar skulls that Iris grew up with. The community building, facilitating styles, QT/BIPOC centering, mindset of abundance and culturally informed art is what sets Kalhina Creations apart. Learning with us is an opportunity to engage deeper with yourself and others in our physical and virtual surroundings.
Who else deserves credit in your story?
Our community deserves the credit. Community is what has allowed us to be where we currently are. Whether it be our old community composed of our friends, colleagues and chosen family, or our new community made up of K.C participants, it is their constant affirmations that feed our purpose. We hold our community near and honor the kaleidoscope of people in its makeup. Without their continual participation in our growth, Kalhina Creations would be dormant. The communal support has been felt in a myriad of ways including: social media promotion, attendance, space lending, financial contributions and check-ins of our mental and physical capacities. We are growing because of the love that surrounds us.
Contact Info:

Image Credits
B. Vega Kerrin Lyons @iamkerrin
Suggest a Story:
 VoyageLA is built on recommendations from the community; it's how we uncover hidden gems, so if you or someone you know deserves recognition please let us know 
here.