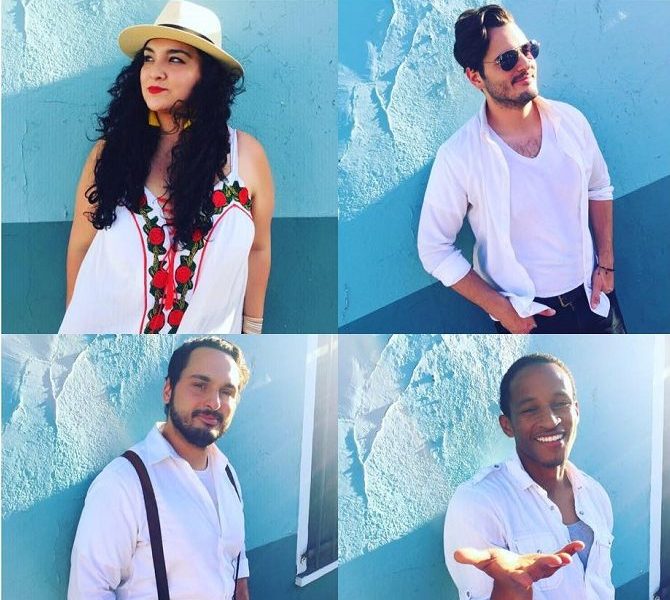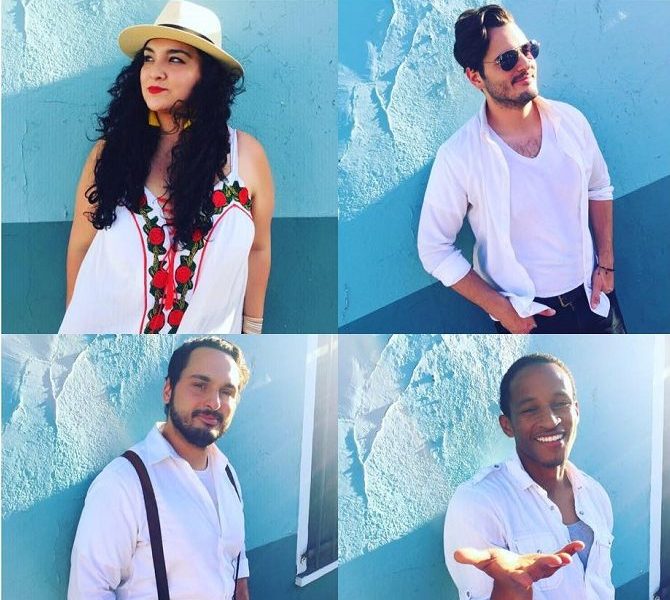 Today we'd like to introduce you to Ilka Rodriguez Cortes.
Thanks for sharing your story with us Ilka. So, let's start at the beginning, and we can move on from there.
My dad tells a story that when I was three yrs old, and he was sitting down strumming on his guitar, I walked up and asked him to accompany me, so I could sing. And he expected twinkle twinkle little star, or some Spanish lullaby and instead I wanted to sing "La Huerfanita," a heartbreaking song of an orphan girl. The chorus lyrics sang "Y Solita Voy y Vengo, Como las Olas del Mar" which meant "and now alone, I come and go, like the waves upon the shore." Imagine, that. That's what I wanted to sing at three yrs old! But I've always been that kid. I've always loved amazing lyrics and a good story.
I grew up singing at family functions, and having my dad accompany me on the guitar. I loved Frank Sinatra and Garth Brooks as much as I loved Jose Alfredo Jimenez and Gloria Trevi. We settled in Durham, NC when I was nine years old, and I didn't leave until I graduated college. I wrote my first song at 12 yrs old. I originally wrote it as a salsa song, called "La Luna." This song was not only filled with melancholy, passion, and longing, but it was also quite sexual. I woke up in the middle of the night, and just started writing it all down on paper, the melody coming out of my mouth as I sang each lyric. I never wrote the lyrics, and then added the melody afterwards, or vice versa. It all flowed out simultaneously.
To this day, it's how I've written every song of mine. After I wrote it, I never shared it with anyone. Frankly, I was embarrassed. I wasn't even allowed to have a boyfriend until I was 17 and here I was writing grown woman lyrics as if I'd already experienced the world inside out. So I continued to write songs in secret. Filling paper napkins, and notebooks every time a song flowed out. Meanwhile, I did the normal everyday things. Went to school, joined choir and theater, and every once in a while I'd sing with a mariachi for local festivals. It was a long hard road until I graduated college.
Mostly hard because I had a few jobs to help make ends meet plus my classes, and my heart just wasn't in it, even though I was good at it. I thrived in my anthropology and communications classes. Which I understand now, it was my love of people and their stories that I was drawn to. It was basically material for my songs. I think I felt trapped by a responsibility I didn't want. But I had promised my parents I'd get my degree. It was their way of making sure I could take care of myself in the future. So I get it. And in all honesty, I thank them for it because it has saved me, while on my music journey here in L.A.; but it was hard. Sometimes, in college, I'd go to these old honky tonk bars by myself to keep the dream alive.
There I was, this frizzy, jet black, curly-haired Mexican girl, walking into a musty, dark bar filled with mostly white southern men and a sprinkling of women. They'd always stare at me, but for whatever reason, I'd walk in there with unwavering confidence, straight to the Karaoke DJ. I'd request "Crazy" by Patsy Cline, and wait for my turn. Not ordering a drink, not looking up, not acknowledging anyone glaring at me. When my turn would come, I'd walk up, grab the mic, close my eyes and sing every lyric filling them with my own sadness. Often times I'd have men hand me anything from fives to twenties requesting more songs when I was done. One man once gave me fifty dollars and said, "You just made my whole life. I haven't had anything touch my heart like that in a long time. I'd forgotten what that was like."
Even though the South is incredibly racist in certain areas, and those bars were often unwelcoming, music always broke down those walls for me. Anywhere I went where I wasn't welcome, music, and singing to people, was my secret weapon. Finally one Christmas my dad and I were watching Sabado Gigante, and a one-hit wonder artist was singing terribly on tv. He said, "Shit! This is music? This is what's out there now?" Then he turned to me and said, "You really want to do this?" I looked at him and said, "Yes, I really do." And then he said the one sentence that set me free. "Then what are you waiting for?" That was it. That was my green light. It gave me the fuel I needed to finish out my last couple of semesters knowing as soon as I finished, I'd be buying my one-way ticket to Los Angeles.
Once here, through my best friend Jane's contacts, I met music producer Chris Rosa, who introduced me to an amazing singer named Rocio Mendoza. She and I clicked immediately, and I began to write Mexican boleros that I knew she could sing just the way I'd intended them to be. And it was through her, and these music sessions that I met Wildog Abers of Ozomatli. Amazingly enough, Ozomatli opened up for Maná and Santana in El Paso, Texas when I was 15 yrs old. I had already been writing songs for a few years and had always struggled with how I could possibly fuse my Mexican culture and roots, with my American influences. I always felt I wasn't American enough, and I wasn't Mexican enough either.
But their band had figured out how to create a tapestry of styles, and rhythms and they created music the way it was meant to be played. As if borders didn't exist. It was everything I knew I wanted to do, and more importantly, everything that I was sure I could do. And so, fast forward, I met Wildog Abers, and it changed my life. Ozomatli was the first band to record a song of mine, on their "Fire Away" album. I hadn't even been in L.A. a year. It was the sign I needed to stay. I remember I stood in that crowd, filled with thousands of people at the Hollywood Bowl all alone. I didn't have anyone that could go with me because my friends had to work.
My entire family was back home in Durham, as well as all my childhood friends. And when my song started, I realized I'd been holding my breath for what seemed like my whole life. I exhaled so big, then I just stood there and cried.
Overall, has it been relatively smooth? If not, what were some of the struggles along the way?
My experience has been anything but smooth. There is a reason why some call it the beautiful struggle. When I first arrived, some of the industry folks I met wanted me to sign my songs over to them and give them 100% authorship and publishing in exchange for placements. Others promised me the world, while others blocked my path. I was too green to understand that not everyone who looks kind, cares, and that not everyone who looks unkind, doesn't.
In this industry there are always close calls, you know? You put your life into each song, and they end up in Artist's or their Management's hands as quickly as they're tossed away. And for the most part, it's nothing personal. Sometimes they love your work, but it isn't a good fit for them. I've had the honor of meeting incredible, and quite gifted artists who I know in my heart will work with me one day, but it hasn't been the right time just yet. And timing is everything. I respect timing and a good fit more than anything. I don't believe in forcing things.
It's the reason why there are songs of mine no one has heard. Because I am waiting for the right person. For the right heart. And yet the in-between times, when the income slows down or doesn't flow consistently from my music, I still have to pay rent, and bills in one of the most expensive cities in this country. So that's where my degree has come in handy. Thanks, Mom and Dad. I am able to juggle like most folks in L.A., what I have to do, in order to do, what I want to do.
But I am nothing if I don't create. I am not honest if I don't write. I am not whole if I don't sing. So I'm still here, giving it my all.
We'd love to hear more about what you do.
I am a singer-songwriter, so I have my own band called The Band ILKA. And I also write songs for other artists. I met my bandmates Anthony and Victor Duran through a mentor I had that worked within Regional Mexican music, named Rene Vargas. They are twin brothers from Riverside, California and are two of the kindest, most talented and naturally gifted people I've ever met. We got together for our first jam session to see if we'd work out as a band, and we haven't given up on each other since. We're going on four years, and they've always given 100% whether we got paid or not.Driving in from Riverside for rehearsals, recordings, and shows. It's wild. But they are my family.
A couple of years ago, we added Drew Love as our percussionist and our sound has fully evolved into something I can proudly say is uniquely Us. We're an acoustic band, consisting of vocals, guitar, bass, and Cajon. We are a fusion of Latin rhythms, blues, soul, country, and folk. We released a self-titled album in 2015 which can be found on iTunes and Spotify but our next album, is currently under creation, and I'm damn excited about what we have in store for Y'all. Because this one is 100% truth.
For others, I write everything from country, blues, and pop, to Latin music genres such as rancheras, banda, boleros, Latin pop, and salsa songs. I don't know if I can speak for everyone, but I like to think I am known for my lyrics. It's been the overall greatest and most positive feedback I've received from people who hear my songs. They appreciate the honesty and the way I can take Snapshots of people's lives and put them into song. I also pride myself in getting to know each artist way beyond the industry everyday networking.
Which I think due to how fast-paced it can be, it can create a lot of quick and sometimes surface level relationships. I like knowing that what I write, the artist connects with from a deep place of self-awareness, and understanding, and similar life experiences. Because when that type of collaboration happens, that's where the magic lies.
One of my favorite moments was watching Victoria "La Mala" Ortiz sing my song "El Perdedor" as a ballad, with just an acoustic guitar player. She was wearing this sparkling white, jumpsuit, and she stood in the center of the stage looking like a vision of power and vulnerability, and then she sang the hell out of every lyric as if I'd written that song specifically for her. That song was written about my own life, and my experience with an abusive relationship I thankfully got out of. I swear to you, when she sang that song, she delivered my redemption.
Any shoutouts? Who else deserves credit in this story – who has played a meaningful role?
This is a tough question because I have been blessed with angels my entire life. Starting with my father Fernando Rodriguez whose musical talents influenced my own. I loved listening to him sing and play the guitar when I was growing up, and he always let me know that I could do anything I wanted. To this day he still has one of my favorite voices of all time.
My mother, Maria Elena is a big part of my success because to this day, is frankly my biggest fan and vocal supporter. She was all about the tough love at times, and I realize she was preparing me for this industry. She made me tough and resilient. My boyfriend, Humberto "The Chori-Man" Raygoza who has always supported my music since the day we met. He understands the need for space to create, the long nights recording, the moods when I have writer's block, the heartbreaks, the triumphs. He never stands in my way.
I am thankful for my bandmates, Anthony, Victor, and Drew. They just get me. They tap into who I am as a writer and as a woman, and they take it to the next level. And while too many to name, my tribe of friends who uplift me and remind me who I am, whenever life knocks the wind out of me.
Industry-wise, I am thankful for Rocio Mendoza, who respected my work when no one knew I existed, and sang the hell out of some of my boleros. I also appreciate Wildog and Ozomatli for giving me my first song placement. He introduced me to Rene Vargas as well, who works in Regional Mexican music, and he was someone who saw something in me the second he heard my songs. He opened a lot of doors for me, and I admired and learned a lot from him while we worked together. Krystina DeLuna of BMI, who along with Delia Orjuela, VP of Latin at BMI have become instrumental in the opportunities I've gotten.
I remember Krystina saying to me, "I'm a lyrics girl, and I love your lyrics. I know all your songs by heart." And when she said that I knew I had signed with the right people, because she got who I was as a songwriter from the moment she heard my songs, and that's key. That's when you know you're home. I also want to thank Victoria "La Mala" Ortiz who is the first female artist to record a song of mine.
In this industry, especially in Regional Mexican music, it can be tough as a woman, to get a song recorded. I think it takes a lot of guts, to record a song that not only was written by a woman in this genre, but by a newbie like myself without Grammys or big names attached to my work. She took a chance on me, and I know she'll keep doing bigger and better things, and we will work together again.
Miguel "Oso" Ramirez of La Santa Cecilia has also become my mentor, my soul brother and just an honest to God friend. The kind that shows up when the fan is easy breezy and when shit hits it too. That's how it's been for me in this beautiful ride. One angel introduces me to the next, and I am forever thankful for their part in my story. I've always loved a good story.
Contact Info:
Email: la.ilka.bohemia@gmail.com
Instagram: Personal IG: _ilkacortes_ Band's IG: TheBand_ILKA

Image Credit:
Marla Montgomery & Victor Duran & Maria Elena Rodriguez
Getting in touch: VoyageLA is built on recommendations from the community; it's how we uncover hidden gems, so if you know someone who deserves recognition please let us know here.