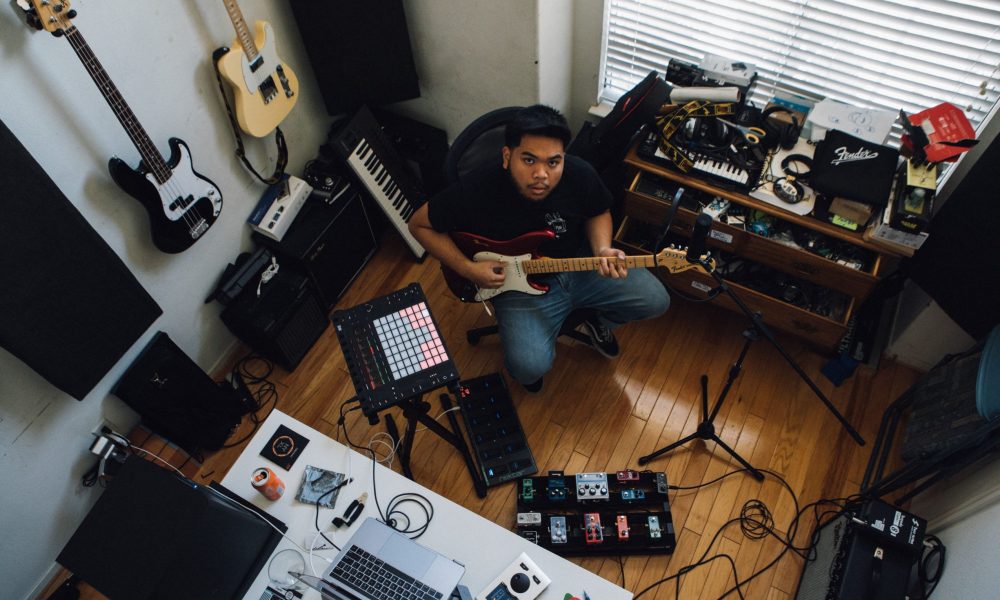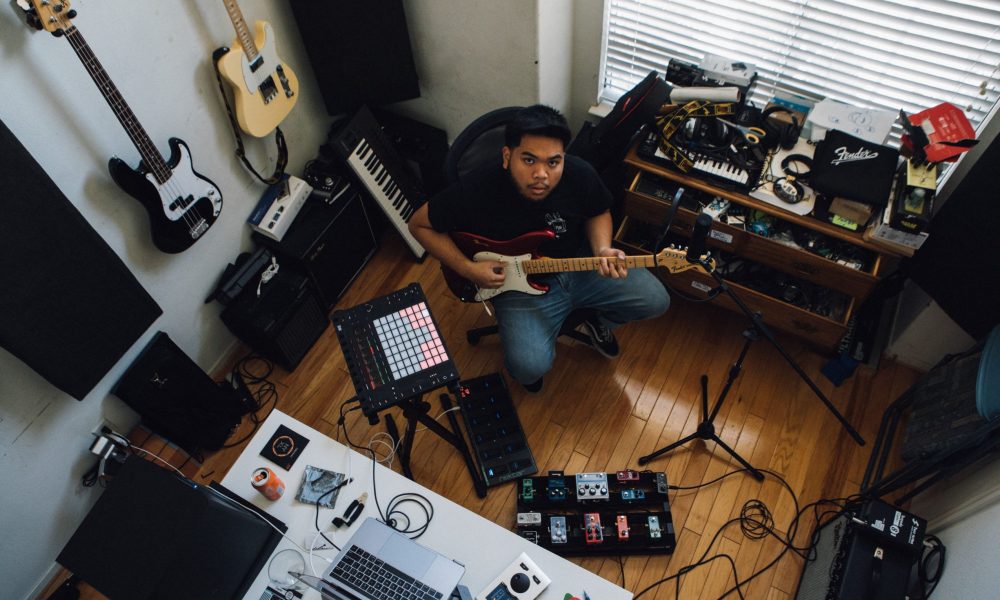 Today we'd like to introduce you to Ian Santillano.
Thanks for sharing your story with us Ian. So, let's start at the beginning and we can move on from there.
I like to start my story as a kid. I have always been intrigued by music. I used to sing along to soft rock radio stations that my parents would play whenever they would drive me or my brother to school or whatever. I didn't know that being able to sing along to songs and hear melodies and sing them back was special. In the 4th grade, I picked up my first instrument. My dad bought me an alto saxophone for the M.U.S.E., a music program that my school had offered. In the 5th or 6th grade, I started playing guitar hero and got really good at it. I was beating through the fire and flames on expert. So I begged my parents for an electric guitar starter pack (it came with everything I needed to get started – an electric guitar, amp, strap, and an instructional DVD).
Eventually, they bought me this Ibanez electric guitar starter pack and I was so happy. I wanted to be a real guitar hero and now I had the chance. I was originally into a ton of rock and metal stuff through guitar hero. But my cousin Mick who was teaching me a little bit of guitar introduced me to John Mayer's "Continuum". I was already starting to get into blues guitar and soloing but John pushed me all the way into a sound that changed my life. I became the biggest John Mayer fan and started learning his songs on guitar. Then I started covering his songs on vocals and guitar. I learned by myself and laid down the foundation for what would eventually become my own sound. Through John Mayer, I got into D'Angelo. "VooDoo", like "Continuum", changed my life. I got into a neo-soul and RnB sound that was unknown to me at the time. The harmony, the melody. The groove. This also became a part of my foundation. Later on, I got into hip hop for the first time through Kendrick Lamar's "To Pimp a Butterfly". I fell in love with this album as well. That led me to go into Robert Glasper and Terrace Martin. Around this time, I was also extending my musical skills my playing drums in my high school jazz program (I learned how to play drums through rock band). My foundation was created through falling in love with artists and falling in love with the artists they fell in love with. It still is like that sometimes.
In college, I studied computer science and engineering as well as a music minor at Santa Clara University. I treated my music minor like a major and studied and practiced really hard. I didn't know how to play jazz on guitar. My foundation was strong but I only could learn so much by myself. So I started taking private lessons. Because I was a music minor, they were offered for free. I started playing in the jazz combo. I began to understand music in a whole new way. My foundation and years of learning on my own was becoming fused with these new technical layers. It was an amazing journey to go through. I went through music theory, musicianship, and jazz improvisation classes and cared about them as much (if not more than) my engineering classes. I was also on the Dean's list for the College of Engineering and graduated magna cum laude in 2018.
When I turned 21 and was still attending Santa Clara University, I started going to a bar in San Jose called 55 South. Every Sunday night there was a neo-soul/hip-hop jam there. I went and befriended every musician in that building for weeks. I sat in and brought my gear to play every Sunday night. This is where I started applying what I was working on in the practice room to a real audience. I was having an amazing time. I was meeting so many new people and learning so much from The Illiance, the house band there. Sitting in eventually became being an on-call substitute for members of the house band who could not make it. This eventually turned into being a freelance as a guitarist in Downtown San Jose for soul/RnB/hip-hop bands.
After college, I was still doing freelance musician work. Some days I'd be playing at churches. Other days I was playing weddings or parties. Eventually, I didn't know what I wanted to do with music. Being just a freelance musician wasn't inspiring me anymore. I wanted to make stuff. I wanted to play for an audience who listened and was not just there for background music. I started to shift my focus from playing for the sake of playing to becoming my own artist. That's how I started really writing and producing my own songs. It's not that I wasn't doing that before or from time to time. It is just that now I was really taking that seriously. I started to believe in myself as not just a musician but as an artist as well. That led to me putting out my own original music and performing my own original music.
This is already a super long answer but there is so much I left out. Namely playing with the "Souled Out Underground". This was truly my start to playing "in a band". This project started out with a lot of people who were in it for different reasons. I learned a lot and had a lot of fun. This band condensed itself into a trio called "IPA", standing for Ian Pablo Angelo. We were a subset of Souled Out who were more serious about music. We wanted to play as much as we could. We played a bunch of hip-hop, soul, jazz and neo-soul stuff. A lot of covers. We started playing around in the Downtown San Jose music scene. After wanting to pursue being an artist and to play my own original music, this band would eventually become "The Housewarmers". We would add a keyboard player (my girlfriend) and a saxophone player. We play my original music. SHOUT OUT TO THEM – Jenny Hughes on keys, Angelo "LASI" Macaraeg on bass, Terry Lewis II on Saxophone, and Pablo Lopez on drums.
Great, so let's dig a little deeper into the story – has it been an easy path overall and if not, what were the challenges you've had to overcome?
Music is and will never be a smooth road. I had a bunch of struggles. I had and continue to have many many many more blessings. But there were definitely struggles. Creatively I am always searching. I am always yearning for what will be my next great idea. This can be very taxing and all-consuming of my time and energy. This takes away from other people in my life. It's hard trying to balance the time and attention for my girlfriend, my mom, my friends, and colleagues with music. Right now, I have a full-time job and although I need money and it is nice to have, my time and energy is even more limited to the things I really want to do. I can fall into weird depressions overseeing other musicians and creatives on social media – though I have been working really hard on that and strengthening my mind in general. I also lost my dad to cancer in 2017. Not having him around is rough sometimes. He inspires me so much though. I take my music more seriously now because of him.
That being said, my struggles aren't so bad. I have so many things I am so lucky to have and things I don't have to worry about that many other creatives do.
We'd love to hear more about your work and what you are currently focused on. What else should we know?
I am a musical artist. I write and produce my own songs. I play live shows with my band "The Housewarmers". I mainly play guitar and sing but I play a bunch of other instruments as well (especially when producing). I have my own music out on Spotify, Apple Music, etc. etc. etc. etc. I am proud of the musical community that I come from. There are so many different music circles I am a part of or am or have been acquainted with. But the strong core community that started with the "Souled Out Underground" and "The Illiance" and just blossomed out from there really make me who I am today. I am unique because there is no one else who is named Ian Santillano and can make the music that I make.
What moment in your career do you look back most fondly on?
I am most proud of my debut project, an EP called "1856". It proved to me that I can (and will) really do this music thing. I am very proud of the people who helped me put this project out. It is a solo project but it took so much from so many other people. Zack, Gabe, Lasi, Astralogik, Jenny, Pablo, Terry, all my friends, all my family, my mom and dad… There are waaaaaay to many people to name and give thanks to for this. What made this EP even crazier than just successfully putting it out (just doing it made me feel like "wow. I am now officially a musical artist.") was that the release show we put on for it was SOLD OUT! It was really a dream come true. Playing my own original music in front of a sold-out crowd. Insane.
Contact Info:
Image Credit:
Zack DeCastro (IG: @zacharyaustinlew), Kayla de Guzman (IG: @yoookayla), Leopoldo Macaya (IG: @jonjonmac).
Suggest a story: VoyageLA is built on recommendations from the community; it's how we uncover hidden gems, so if you or someone you know deserves recognition please let us know here.