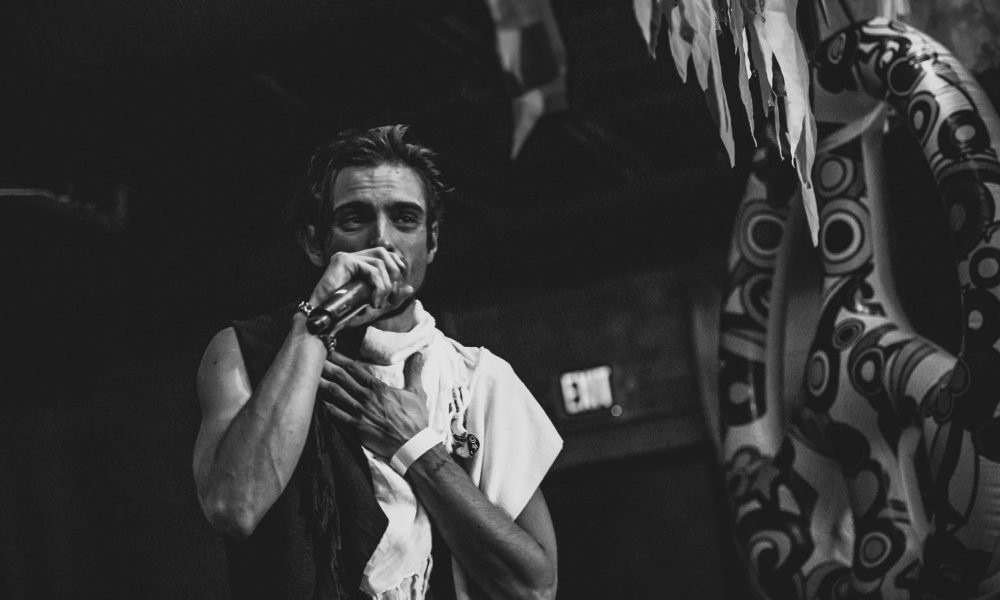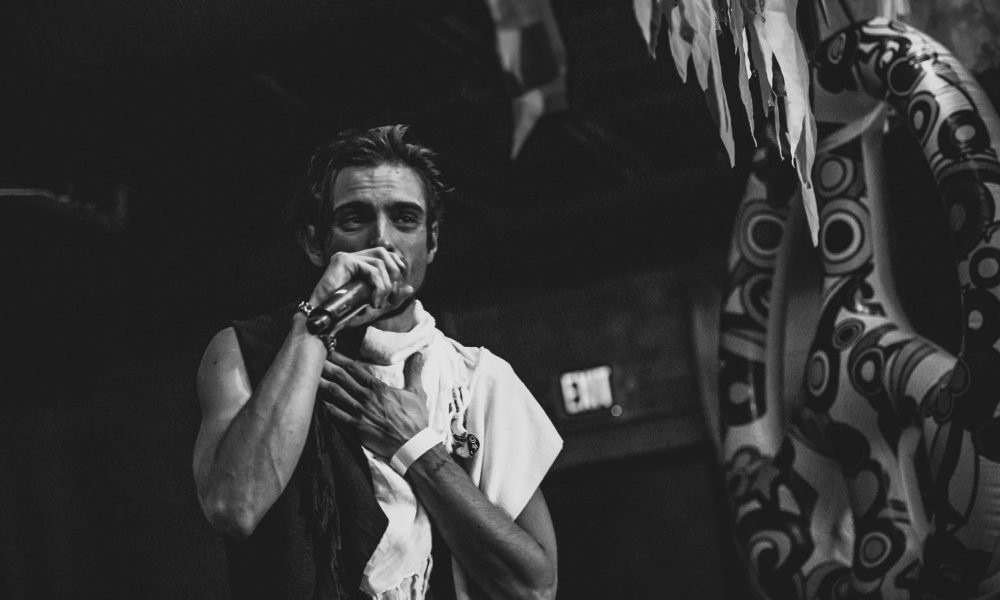 Today we'd like to introduce you to Ian Hicks, of Eko Zu.
Thanks for sharing your story with us Ian. So, let's start at the beginning and we can move on from there.
Appreciate you all for having me!  I grew up in a few different cities around the Midwest (Toronto, Chicago, Detroit, and Burlington WI), listening to rock, some punk, and early forms of electronic music. 
Some of my earliest influences were The Offspring, 65daysofstatic, The Ramones, Aphex Twin, Squarepusher, Linkin Park, and the video game composer for the Final Fantasy series, Nobuo Uematsu.
My earliest memories are watching my dad onstage, playing bass guitar in a punk rock band, from the balcony of a seedy venue.  As far back as I can remember, the pursuit of making music and performing it live has been the driving force of my life.  I couldn't envision myself doing anything else, and never developed a fall-back plan.
Playing guitar in different rock bands throughout middle and high school, writing and performing live original music (and covers) gave me an early taste of the stage, and being part of the catalytic energy to resonate with a crowd.
I remember playing our first show in my friend's backyard, for his birthday party.  He'd made a stage on his parents patio.  We were a three-piece band, still in middle school, with me on guitar and sometimes vocals.  My friends played bass and drums.
We played a song we'd only just started learning, something by The Offspring, whose lead singer Dexter sings in this really high octave.  Most of the time, I couldn't hit those notes.  Regardless, we started the tune, and I looked at my bandmates.
They shook their heads.  Don't do it.  It's not ready.  
I stepped up to the mic, and sang the tune.  And it sounded awful.  Happy birthday, Gary.
The embarrassing nature of that first performance could have scared me away from the stage forever, but I was undeterred.  We continued to practice in attics, in barns, basements, basically anywhere we could make noise (our parents traded off hosting rehearsal spaces– probably we drove them crazy in turns).  The drums were always to my right, so I'm surprised I can still hear out of my right ear, being right next to the crash cymbal.
I remember playing Battle of the Bands in high school, to maybe a hundred people (which felt like an arena to us), and having rocks thrown on us onstage, in the middle of our performance.  Our sound and style didn't fit the mold of what was cool in high school, and we were harassed pretty regularly by the popular kids in the music scene.  
I was somewhat of a closed-off prick as well, partly due to moving around a lot and feeling like the new kid/outsider, that probably contributed to my dissonance with members of the local scene.  In other words an early lesson for me: that the energy you put out, is the energy you get back.
So when I moved to the Bay Area in 2005 to attend college for Sound Arts at Ex'pression College, I was a little shocked to find that there was no single dominating community; the Bay was and is a melting pot of thousands of sub-communities.
I moved to the Bay with two duffel bags, two grand in savings from painting houses in the blistering Detroit heat, into an apartment with a nice girl I'd met on Myspace (she lived near Alameda and found the apartment for us– I told my parents we'd met at the beach during a visit; sorry mom).  
The two grand was supposed to last me a couple months; clearly I didn't do my math, because it was gone in about two weeks, and I took a job at Borders as a cashier, where I would develop a lifelong love for graphic novels, like The Sandman and Watchmen.  
I remember meeting one of my best friends, Jimmy in the college cafeteria.  We had a jukebox loaded with James Brown, a bunch of funk and hit tunes throughout the times.  Jimmy was doing Pop & Lock moves right there, in the middle of the cafeteria, a mini performance.  My first thought was "this m'fucker right here", amused and a little envious (guised as annoyance) by his showmanship.  
It was through attending concerts and raves with Jimmy, and a wide spectrum of friends that I was able to open up and shed the armor I'd built up living in the Midwest. It was a revalation to be part of a music scene that was built around peace, love, unity & respect, without the anger/aggression of a lot of scenes I'd been part of previously.  
I'd been listening to electronic music a bit up to that point, but once I was turned onto electronic music and hip hop, and resonated less with rock and emo music, that my electronic music (produced in Fruity Loops 3, which I'd started in high school) started to take shape.  
I graduated in 2008, and soon after interned on The John Lennon Educational Tour Bus, who brought me back for a second round of internship, then fired me.  A couple months of licking my wounds later, I landed an internship at Namco Bandai, a video game developer. My goal was to follow in the footsteps of my hero, Nobuo Uematsu, in making gripping music for video games.
There was a turning point in my love for making music for video games, where I was composing smooth-jazz for a match-3 mobile game, that this was not what I wanted to be doing.  The corporate office approach wasn't conducive to making music that I resonated with.
It was with some luck that I was laid off around that time, along with over half of our company, as development was shifted to other offices.  Like many turning points in my life, I was forced into uncharted and uncomfortable waters, another sink or swim scenario.
I had already been making the transition into Live Sound, doing sound at venues in SF such as Yoshi's Jazz Club, The Boom Boom Room (funk & blues), Rock It Room, 1015 Folsom, and all sorts of venues.
Fast forward a couple of years to my connecting with PK Sound.  PK is a speaker manufacturer based in Canada, that also does touring production for concerts and festivals, such as EDC, and Lightning in a Bottle. 
PK sent me on one of my first tours, with bass-legends The Glitch Mob, around 2014. This set off a chain of connections and opportunities that led me to doing FOH sound for Bassnectar, Big Wild, The Chainsmokers, and dozens of huge names in Electronic Music and beyond.  This was what really set off my trajectory to where I am now.
I have a lot to thank PK Sound for, they're an amazing company, and look out for the community. Of all the sound companies and speaker manufacturers, they are the most connected with the music community at its roots.  
Throughout all this time, I'd been making music on my own. I had several projects that rose and fell, one being Anoctave, my old alias that I released music for video games, as well as independent releases. It wasn't until I met the girls from Astralogik, Charito and Rowena, that I was inspired to start a new project. Those two girls have so much musicality in them, and a synergetic relationship that is astounding. I really highly recommend checking out Astralogik, their music is beautiful.
The girls and I started Eko Zu around 2018, focusing on the Live House sound. We were a trio, and released about a dozen songs together, played Northern Nights music festival, and many shows between SF and LA. We made some of my favorite tunes together that Eko Zu has released.
Around January of 2019, roughly a year after we had all been living in LA together, the girls wanted to be back with their families and communities in San Francisco.  We were having creative differences, and the pressures of pursuing music as a living in LA was straining our friendship. 
We tried our best to talk our way through difficult conversations, and find a common ground to continue working together. 

I sympathize with the dynamics of creative flow, ties to family and friends, feeling compelled to follow one's heart and being true to oneself. We all felt our collective creativity stagnating, and I'm sure I wasn't always the easiest person to live with. We're still good friends, and I'm cheering them on in pursuing Astralogik and their project with hip hop legend Ruby Ibarra.
I was left reeling for a time after this, unsure of my direction in life and whether I could continue doing music without having a front-woman to produce for. It was only through soul searching and working on myself, that I found the deeper hidden meaning behind Eko Zu, what it stands for, and has the potential to grow into.
Eko Zu translates to "the two of one." This can be read a number of different ways– "the duality of one", "the multiplicity of one", "the ripples one can make", "the division of one".
Our Zu is our animal brain (our lizard brain, or amygdala), aka our fight-or-flight response, our sense of survivalism.  For more on this, check out Seth Godin (legend!!).
Our Eko is our disconnection from ego, our "we" of "I", our connection to a higher sense of empathy and compassion for the world around us.
Though I'm the only official member of Eko Zu, Eko Zu is a collective community of artists, dancers, musicians, and flow arts performers. Nearly every show I play, I feature vocalists that I've been collaborating with, and dancers to share their creative spirit and resonate with the crowd.  Music is meant to be a collective experience, and I love sharing the spotlight with other individuals who are trying to shape a better world through music.
My goal in life is to develop a community and voice around Eko Zu, by bringing like-minded individuals together through the music, and using this voice to reshape our world– specifically, the US education system that is failing us all. 
Implementing a better-conceived and sponsored foreign exchange program into our education system, to get our Youth outside of their comfort zones is one thing my goal is to help set in motion. Through temporarily living in other countries, with other families, the narrow worldview that is rampant within small, closed off communities, will be enabled to expand.
Recently I released a new song on Westwood X, a sub-label of bass legends The Funk Hunters, with an incredibly talented singer Will Champlin, aka KillWill.
Prior to that, I released a collab with Ahee and Lei, "Horizon" which although it was written over a year ago, speaks well to the times we're experiencing.
"The Horizon closes in, as we watch the world go down. We've lost our innocence, and it didn't make a sound. Grab my hand I'll pull you in, you know I'll never let you drown. This world I know we'll miss, but another can be found." (written by Lei)
Lately, I've been working with a new label, Mother Wolf, that shares these same values, and I'm really excited for the new music we'll be sharing soon.  I have a collab coming up with the singer Moonzz, and another in the works with bass legend Kraddy.
Throughout Quarantine, I've been live streaming to stay sane, and help give back by doing every livestream as a benefit for COVID, or most recently, the NAACP. Quarantine Cameo is the weekly (now every other Saturday) event I've been operating with Audrey Lo. To date, we've raised over $5k for various benefits.
If you can, I would love for you to support benefits like the Feeding America benefit for COVID, and the NAACP Legal Defense Fund.
https://www.feedingamerica.org/
Has it been a smooth road?
I've been laid off, fired, or let go from many of the biggest projects I've worked on (or had at the time). Some times were directly my fault, others were outside my control.  I look at all of them as valuable learning experiences that got me where I am today.
What I've learned from this is to bounce back as quickly as possible, and continue toward the goal. Many things happen to us, and being able to shift the internal narrative from "this happened TO me" to "this happened FOR me", has been one of the most empowering and enabling lessons I've come across.
To me – by me – through me – as me (more on this in a podcast from Tim Ferriss).
Can you give our readers some background on your music?
Eko Zu is a music project/collective, a vessel for community built around shared values of equality and personal growth, through the catalyst of our music.
The sound falls in the realm of electronic dance music and elements of rock; from Future Bass to House, Drum & Bass and Pop-style vocals.
We're all in this to build something bigger than we are, to live beyond the span of our lives through the ripples that we make in the art we create.
How do you think the industry will change over the next decade?
I see the authenticity of music making a comeback; I see the slow fade of power from FM radio, which is mostly controlled by a closed organization of self-interested corporations, into the hands of independent playlisters.  
Getting a song on FM radio is like landing a position on a major NFL team.  There are a limited number of seats on the bench (frequencies on the airwaves), and if you don't get one of those main slots, you aren't playing ball.
With the new model of digital streaming, there are infinite teams.  Rather than a handful of gatekeepers, it's on the artist to find and connect with their fans, through a growing number of channels.
I see people gravitating toward musicians and artists who are grounded and connected, not artists who are driven (and worshipped) for their egos.  You're seeing this with artists like Skrillex, The Glitch Mob, Bassnectar, Big Wild, etc;  humble, grounded, compassionate individuals with a wide worldview.
I see tours being less about the 30-bus production powerhouses and more about the experience of the music and connection of people at the event.
I see concerts and festivals as an opportunity for people to have experiences of self-insight, and intuition, drawing us closer to one another and ourselves.
I see a world where artists are as tied with their message, and accountability to their actions in the real world, as they are to the sound of the air they are shaping.
Contact Info:
Image Credit:
Juan Solo Photography, Costello Captures photography, Danilo Lewis photography
Suggest a story: VoyageLA is built on recommendations from the community; it's how we uncover hidden gems, so if you or someone you know deserves recognition please let us know here.