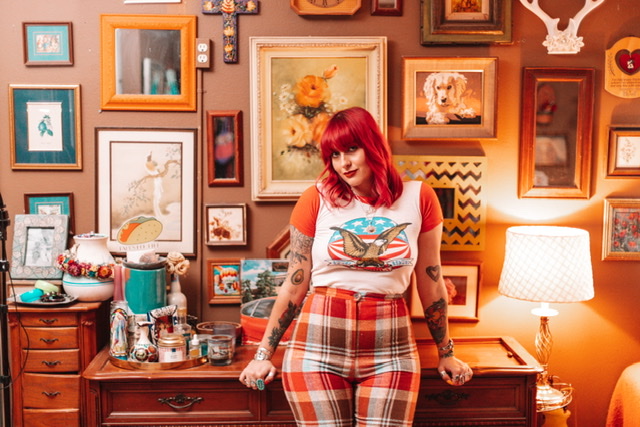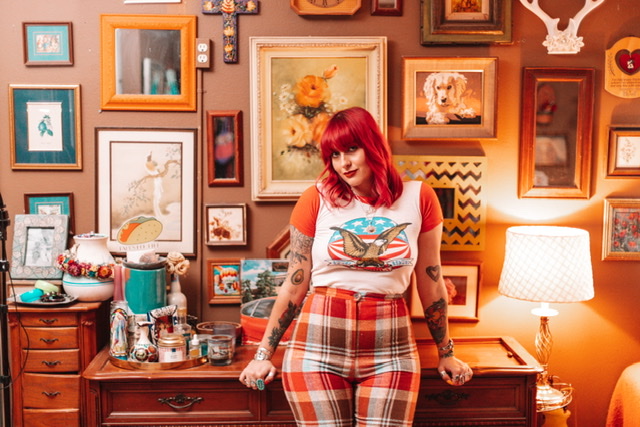 Today we'd like to introduce you to Jackie Vadurro.
Jackie, can you briefly walk us through your story – how you started and how you got to where you are today.
So they say every good triumph story starts with a break up, and my brand was definitely born out of a need to heal from a heartbreak. I had a really bad break up and was in that space of wanting and needing to reinvent myself. He told me I was always wanting to do too much, and that I myself was too much. Growing up, I was always described as 'different' or 'weird' and so I knew there was something unique about me, but I didn't know how to interpret that uniqueness or how it was perceived by others. As a kid and also as a young adult in this past relationship, my thoughts and opinions weren't validated or they were simply dismissed because I was told that I 'felt too much'.
So after that relationship ended, I felt like it was my chance to do all those things and be all those things and not have to worry about someone else's opinion and just live my life. I started my Instagram and YouTube platform, Hit The Road Jackie! I needed an outlet for my found-again creativity and a reason to travel and share my adventures with everyone. I started out slow, just wanting to show what I was up to-whether that be a local LA hike or a road trip through Mexico. Throughout time it started to evolve because through these trips, I started to find myself and figure out what my identity was beyond just being "weird". Around this time, I also started to work as a server in a new restaurant that allowed & encouraged me to wear whatever I wanted, so coming from a Catholic school uniform background, this job really allowed me to explore and discover what my true style really was.
After that, everything leading to the birth of my vintage business happened in kind of a domino effect. I started to find myself through these road trips and this new creative outlet, and then I started a job that gave me the freedom to explore my unique style and learn how to find myself through fashion. I had made a friend at work who introduced me to thrift store shopping, which was perfect for me at the time because these road trips were all I did when I wasn't working and they were draining me of all my income, so even if I wanted to explore fashion, I didn't have any money. So one day my coworker took me to Goodwill on Sunset and it was magical and my life has never been the same since! My love of thrifting and searching for vintage had opened me up to a whole new world of fashion and self-expression, and since I was still traveling a lot, I realized that I had this amazing opportunity to seek out vintage from different communities all over the place! So it was the culmination of all these things that eventually led me to my next and current business venture: Hit the Road Vintage!
Great, so let's dig a little deeper into the story – has it been an easy path overall and if not, what were the challenges you've had to overcome?
I don't think starting any business is a smooth road. That's the thing with a small business: things change like the seasons and you have to be willing to stick it out and ultimately believe in your business and what you're contributing to society, because if you don't believe in what you're doing, you're not gonna have the strength or motivation to keep going.
When I first started selling vintage, I was doing it primarily online, and I hated it! Having no real contact with the people buying my pieces felt like something was missing. What I loved about getting into the vintage world, and specifically traveling to different places to thrift, was all the different people I got to meet and all the amazing stories I got to hear. So I made the leap from selling online to selling at flea markets.
I have sold vintage at the Long Beach Antique Market and the Rosebowl Flea Market for the last two years, and am currently taking a hiatus due to COVID. I really loved getting to be a part of the flea market community, especially connecting with people and seeing repeat customers every month, but working the flea markets is definitely a struggle in and of itself. I had to be up at 3am in order to get to my spot, and this was particularly hard for someone who worked as a server and was used to going to bed at 3am, not waking up then. It was hard to load up and unload all of my inventory, especially when my poor van would break down maybe 50% of the time. Those things were really hard and exhausting in the moment, but when I look back I just laugh at the story. I think that's something important to remember about how starting a small business will never go smoothly: the hard moments will pass and with time, they will probably be funny, or at least a good story.
Please tell us about Hit the Road Vintage.
I named my vintage business Hit the Road Vintage after my travel platform Hit the Road Jackie because I wanted to let people know that my vintage really was coming from all over the place that it really had to travel to get to its new home. I like to tell the story behind the piece, where it came from-I try to make a connection to the past because I think it makes the customer feel a little more excited or even sentimental about the piece. That's exactly what I love about vintage: That every vintage piece has a life to it already, has a story. Some pieces I find are 50-60 years old, and even though you could view it as just an article of clothing, really, it's a piece that's lived a whole life and has a history to it that we don't even know most of the time, and I think the fact that I get to give these pieces a chance at a second story is really beautiful.
Since this business was born out of my own fashion-self discovery, I've always curated my shop in a way that represented who I am and what vintage I know I would feel good in. I only buy pieces that I, myself, would wear. So my rule is, if I will personally wear it, I will put it in my shop. I have a very eclectic style (think Ms. Frizzle meets Elton John meets Dolly Parton meets your weird-aunt Maude who's earrings always match her broach), so I'm never worried about there not being enough variety in my inventory. I also strive to be inclusive in every way I can, from making sure I have an inventory of all sizes to making sure my pricing is affordable and attainable for everyone. One thing you don't see a lot of right now is plus-size vintage, so I'm always trying to find pieces to make everybody happy.
In the last two years, I've been able to meet so many amazing people and reach so many people through social media! I've had the opportunity to use my platform to not only promote sustainability in fashion, but to also to promote my main message-that it doesn't matter what size you are, or whatever latest trend that fast-fashion is telling you to conform to, that you don't have to follow any rules and that you can wear beautiful, sustainable vintage clothing for YOURSELF-to make yourself happy! All of these things, and also this opportunity to share my story on Voyage's platform, makes me so proud of the life I've moved towards every day.
I think what sets me apart is my willingness to be vulnerable when it comes to the struggles of my business, as well as the struggle to just be human and have feelings. It's always been important to me to share my struggle and let people know who the real person is behind the business. I want people to see the ugliness and the self-doubt so they can experience the triumph with me, and also so that other people who are struggling in their life might see my struggle and keep going too. I always say if I could give any advice, it would be this: Don't be intimidated by someone else doing what you want to do-you're unique and there will always be room for everyone. I scared myself out of taking that leap for so many years until I finally asked myself, "Why not me?" So why not you?
Do you look back particularly fondly on any memories from childhood?
Growing up, my dad would take us camping throughout Eastern Sierras. We would play oldies, stare out the window at the views, it was my favorite thing about my childhood. I knew when I was young and out there in the big world that this is what life is all about this is the real deal and what it really means to live. There's a whole big world out there, bigger than me, and I've felt that my whole life. All my good memories start with leaving home, so it makes sense and is almost poetic that I'm now running a business that requires adventure and finding oneself through treasure-hunting.
Contact Info:
Email: hittheroadvtg@gmail.com
Instagram: @hittheroadvtg, @hittheroadjackiee
Suggest a story: VoyageLA is built on recommendations from the community; it's how we uncover hidden gems, so if you or someone you know deserves recognition please let us know here.