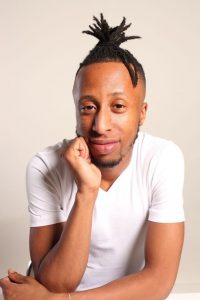 Today we'd like to introduce you to Herby Moore.
Thanks for sharing your story with us Herby. So, let's start at the beginning and we can move on from there.
It is a miracle that I am still standing where I am today. As a black gay man, I believe sharing my story will allow people to live in their truth and feel shameless about their life's journey. Truth of the matter is- my life's journey is what helped me get where I am today and this is only the beginning.
When I was 8 years old, I didn't know what gay or straight was, I just knew that I had an interest in boys and that I saw them as more appealing than girls. You could have also called me a baby feminist because I was really into Xena: Warrior Princess, the pink ranger of Power Rangers and Sailor Moon.
For some reason, I loved watching women fight crime and be a badass doing it. I always wanted to be them but these feelings and emotions were shunned in my religious family growing up. In fact, having these emotions often left me with bruises and bloody lips to bruises remaining in my soul, from the words my family would use towards me.
During this time of discovering my liking to men, I was also molested for about 3 years by an adult heavily involved in the PTA. As a child I didn't know what he was doing- I just knew out of everyone, he was the only one that would listen to the problems I faced in the house and how I was teased for being a "sissy" and how my father would call me out "walking like a punk".
As I grew to be a teenager, it became more of a struggle to hide my identity. I was teased significantly in high school and had little to no respect at home because of my attraction to men. These days drove me into a spiral of suicide and severe depression. I begged my father to buy me baggy clothes and wave caps just so that I could appear "straight" or "hood" so I could blend in. It felt like torture. It wasn't until college that I was able to break free- well at least from what I thought was free.
During my college days- I began to embrace my identity and live a double life with my family. On campus, I was the "loud flamboyant gay boy" and at home, I was the "Christian son that turned away from homosexuality and looked to the Lord for deliverance". This was only for survival because at the time my parents were funding half of my tuition in college. Although it felt so good to finally embrace parts of myself and at twenty-two having my first experience with men- I felt so behind my peers due to hiding this part of me for so long. I was twenty-two with a twelve-year-old dating mindset. With no one to really guide me on this dating life, I was finding myself in terrible circumstances including rape and abuse.
It wasn't until I was twenty-four about to graduate college when the love of my life came down the hall delivering mail at my job. We went on so many dates and I really enjoyed him because he really wanted to know who I was and he actually loved me. This also was around the time my family began to catch on and things turned for the worst. My family dropped my financial aid- and as a result, I almost didn't finish my semester but once I graduated from the university with my boyfriend's help- I was offered a job from the institution coming right out of school.
This was a huge blessing for me, but in my personal life I was in turmoil, my family would call my job and personal cell leaving hateful voicemails and condemning me for my attraction to men and I was near disowned. This resulted in me losing my job and being a family oriented person, this put me in a deep spiral of depression and suicide and confusion, straining the relationship between me and my boyfriend, to the point it became abusive, physically and verbally.
While we were still together and we're working through the cracks of our faulty relationship, I felt it was time to leave the old and begin anew- so I sought to move to Los Angeles, CA. I thought that it would be one of the few places I could go and really be myself without the fear, shame and reputation of being a minister's son. As a result, I began searching for jobs and places to live. It wasn't long before I found a job and was able to move!
When I first moved to Los Angeles, I was in the promise of a new job and a place to stay with only 36 dollars to my name left. Unfortunately, when I arrived the job did not fall through, I ended up being in an abusive home and I ended up living homeless for about a year sleeping in and out of my car. This was a very humbling experience for me, being that I always saw myself as a leader and a person of independency. Being homeless allowed me to look into a lens that I did not endure in my younger years.
At that time the only thing that kept me from taking my life was my boyfriend- he would always check on me and help me in my loneliest nights, and I was helping him through legal trouble- not knowing that we were beginning to become co-dependent on each other. Either way, I knew that once I made it out of this we were going to get married someday.
To keep myself from falling into a deep depression I stopped feeling sorry for myself and began to work at an overnight job by LAX to keep myself sane. The pay wasn't great but it gave me something to do at the time but I was still in a lot of pain and needed to find healing. One night when I was about to sleep off a street near Crenshaw Boulevard, I saw a sign that said "God loves Gay people too"- In the Meantime Men's Group: An organization created by Dr. Jeffrey King to help empower same gender loving men of color to live in their truth and work on self-love.
It's by the grace of God that this organization spearheaded me in the right direction and navigated me from homelessness to wholeness. Thanks to In the Meantime Men's Group I got connected to Pastor Curt who connected me to Damone Thomas and Jace Dawson whom brought me in and helped me get on my feet. As I began attending these sessions I became empowered- so empowered I left my LAX job on faith in the hopes of finding the job that was right for me.
A week after I quit, I received a call from The AMAAD (Arming Minorities Against Addiction and Disease) Institute, based in LA, to come to Washington D.C. for a conference to share my story. It wasn't until we left the conference that I was offered a job in doing outreach for the community. This was the gateway for my calling. I grew so much with the AMAAD Institute and learned how to be proud of my blackness as well as my queerness in this space. Working alongside this organization had put me in spaces that I'd never dreamt of being in, and working with individuals I'd never thought I'd meet like Maxine Waters.
After about a year of working with the AMAAD Institute- I got a call from my boyfriend saying that he was finally moving to LA. I was so excited that he was moving here. I had my job, I had my boyfriend, I had great friends- it seemed that everything was going to be a happy ending… so I thought.
Of early January this year, I remember getting really sick, almost near death and being prescribed antibiotics at the time, in which did not work. I figured it might be just the flu or severe strep so I paid it no mind when I got better. On January 21st, 2018 I was diagnosed with HIV, and three months later my at the time boyfriend shared with me he knew he became infected of last year but just couldn't share the information because he was scared to lose me.
Knowing my background in sexual education and HIV/STI prevention it was understandable to be fearful of disclosing that information to a loved one but it wasn't the virus that hurt me- I was hurt more because he didn't feel that he could come to me about something difficult he was facing.
This was also an eye-opener for me about how hard it is to get into treatment right away when you are newly diagnosed. There are so many obstacles you have to go under before you can even know what medication you will be prescribed. It was so stressful that I switched my job to part-time just so that I was able to get on treatment faster and cheaper than I would work a full-time job.
While I was getting under expedited treatment, in my personal life I was growing depressed, severely drinking, questioning trust in my relationships with people, and having financial trouble due to being part-time. I felt like I was drowning and nothing could hold me up. I became suicidal but somewhere in the back of my mind knew that all of this had a purpose.
Around this similar time in March I got a call from the Los Angeles LGBT Center, that they heard of the work that I was implementing in South LA and were interested in interviewing me for a job to do outreach with their team. I couldn't believe it! The same organization that diagnosed me and got me into care are now offering me a job? I was in complete disbelief. It wasn't until the interview, that I realized that everything that I had endured from my childhood to now – plays a huge role in the career that I want to fulfill. From child abuse, and queerness to HIV stigma- I have not only gone through these traumatic experiences, but I have found my way out of them and have turned them into positive life lessons rather than defeat.
Although me and my ex-boyfriend are not together at this time- I am in high hopes that we grow individually from our past trauma so that one day we can come together as whole people. I currently serve as the Outreach Coordinator for the Los Angeles LGBT Center in PrEP Navigation and HIV/AIDS education, I speak on panels about the intersects of black queerness and HIV individuals face on a daily basis and I am currently working on a YouTube series that invokes positivity and love.
Although there are struggles and somedays I do get down about all that has happened, the other part of me acknowledges that my struggles are the core of my strength and that it serves as a lamp for others to find their way out of the dark. Twenty-eight years of trauma can't go unnoticed or untouched so I do receive therapy and counseling to guide my emotions effectively.
This process has been the utmost rewarding, not because I'm finally where I want to be or think I should be but because I finally found where I am needed, and what I've been put on this earth to do. I always live by this saying "The greatest blessings go with the greatest struggles" – and I continue to live by that phrase until I reach the greatest blessing, the love of my inner and outer self.
Overall, has it been relatively smooth? If not, what were some of the struggles along the way?
As a child from sexual, physical, and mental abuse to sexual assault, physical and verbal abuse as an adult – there have been struggles that I have had so much difficulty with coping as an adult. Seeing the current climate we're in, race, sexuality, and misogyny is rearing its ugly head, and it's difficult to imagine that there are people in this world that want to harm you due to something you cannot control. That being said, being a black gay man, puts me in a constant struggle every day. One group wants to destroy me for my blackness and another group wants to destroy me for my queerness- it puts me in a state go constant anxiety.
In addition to black queerness- I am also part of the POS (HIV+) community. Although education has come a long way, I still am treated differently once someone knows about my status or they don't want to share drinks with me anymore or say things like oh you're dirty or you're a slut. Assuming these things because of my status.
Please tell us about Los Angeles LGBT Center.
Haha, I wear several hats. While I serve as an Outreach Coordinator for the Los Angeles LGBT Center and assist with event planning and educating the Los Angeles area about PrEP, PEP and HIV, I am also a comedian and songwriter for Writing Sessions America LA. This wouldn't make sense of how this all intertwines to the everyday person but for every space, I am a part of, I bring my authentic self to it. My comedy is a way to see the laughter in my experiences, my music is a way to share my truth and trauma with the world, and my advocacy work is a way to connect people to a community that will love them for who they are with no conditions.
I am most proud of working for The Los Angeles LGBT Center. Not only do I get to share my story and encourage people that have faced so many obstacles in their life but I get to go to a job where I am understood, I am loved and people not only look at me as a light for the community but they see me also as the community. My team is like a family to me and I am so grateful to be a part of this monumental organization.
I don't think I am apart from anyone. If anything, once I embraced the fact that everyone is unique and that we all have a story to share to the world, I figured I might as well share mine, and that has been the most rewarding.
Sharing my story has allowed people to feel empowered and feel comfortable sharing their stories. It brings me joy to see someone come out of their shell.
If you had to go back in time and start over, would you have done anything differently?
The only thing I would have done differently would be not to panic so much. Every time I hit a curve in my life – I would panic into a frenzy and fall deep into manic depression. Then a week or months later my situation would clear and would make sense of why I endured that storm in my life. Growth is a blind walk only you can navigate in.
Contact Info:
Getting in touch: VoyageLA is built on recommendations from the community; it's how we uncover hidden gems, so if you know someone who deserves recognition please let us know here.