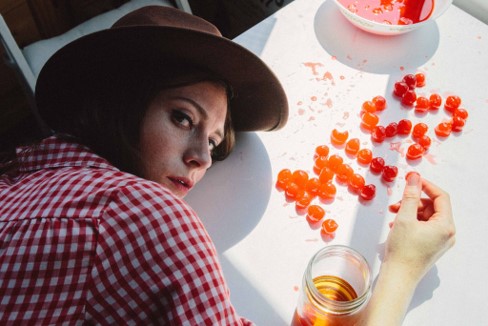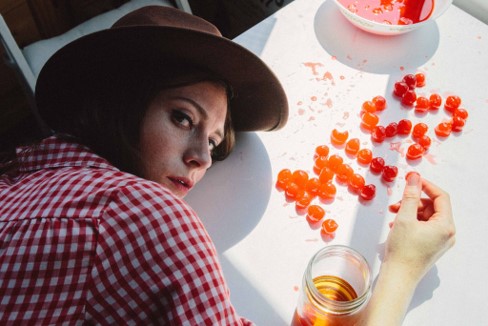 Today we'd like to introduce you to Hayley Johnson.
Every artist has a unique story. Can you briefly walk us through yours?
I've been wanting to do music for as long as I can remember. It sounds cliché to say, but I was pretty darn convinced that the girl groups I was putting together at recess in first grade were really going to "make it." Seriously. I had notebooks dedicated to how we were going to brand ourselves – what our "thing" was going to be. I laminated my lyrics and put them into binders. Come to think of it, I was a lot better at all of those things way back when. Even *thinking* about branding or organizing now gives me a headache.
In any case, I caught the bug early. I stayed up late watching the music video channels and tried to memorize each record label and who belonged to each label. I don't know what I thought THAT was ever going to do. I think, maybe, I'd imagined a room of record executives quizzing me and saying things like, "How do we REALLY know that you want to be on Atlantic Records?? Hmmm?" And then I'd whip out my crazy-cool label knowledge and get a record deal that day. Obviously.
When I wasn't re-imagining bad 90's movie scenarios, I was putting together lyrics I'd written with my dad (my first lead guitar player). I would come up with melodies and lyrics and put them to guitar parts he'd written. We performed at church events, surf competitions and coffee shops. My parents are incredibly supportive, I should add. They supported me in recording my first EP under my old stage name, Hazel. By the time I finished high school, though, I was burnt out (it was all of that laminating, damn it). I went away to college and had no intention of returning to music. I was going to do something "important" and "academic" even though I'd always been a rather "mediocre student" (no quotes necessary, really – I genuinely wasn't great).
By the time my junior year hit, I thought about picking up the guitar for the first time in order to learn covers to play at parties. Like, shameful, college party songs (you guessed it – Sublime, "Wonderwall," etc.). I think I wanted to seem cool to boys if I'm being honest. "Boys like Sublime, so I'll learn Sublime." These are FACTS, people.
Luckily, I got something way better out of learning guitar for the first time: SELF-ESTEEM! This shot my self-worth far enough up to where I never learned a single Sublime song for any boy (woo!). Instead, I learned the old, jazzy songs that I loved, and that translated into writing old-timey folk songs for myself. It was a whole new world! I didn't have to rely on anyone else to make music because I could accompany myself. It wasn't long after that I realized I liked it enough to give the dang thing a real shot in THE CITY OF DREAMS: Los Angeles, CA. I don't know why I'm capitalizing and emphasizing everything, by the way. I think I'm trying to make things interesting for THE READERS. HI READERS.
Long story short, that's my origin story. From wannabe-Spice Girls bands (get it?!) to waiting tables and waiting for my dreams to come true here in LA. I've been here for almost six years, but that's a story for another time…
Has it been a smooth road?
Yes and no. I think a lot of us have the same struggles, really. You move to Los Angeles and think that, by nature of being here, you're owed some amount of success. And then you realize, however long after, that no one owes you squat. You are going to have to play in empty bars, attend uncomfortable open mic nights, stay for everyone's set and do the dang thing. And that is hard. Don't get me wrong, it really is. Balancing a full-time day job with what-you-hope-to-one-day-be-your-day-job is exhausting. It's a lot of lugging around STUFF, and spending money you don't have and doing annoying administrative nonsense that makes you want to throw your computer into Echo Park Lake. You think, "why couldn't I have wanted to be an accountant?!" But even accountants have to do stuff they don't want to do. And that thought keeps me going lately: "Anything I choose is going to come with some amount of headache. And since that's the case, I might as well do exactly what I WANT to do." It's liberating.
So, as you know, we're impressed with The Little Miss – tell our readers more, for example what you're most proud of as an artist and what sets you apart from others.
Firstly, thank you. I'm proud of the bond I share with my band. I'm proud of any show that leaves people feeling lighter. I'm proud of the fact that I'm playing at local venues that I had once only dreamed of playing when I first moved here. I'm proud to share my most vulnerable experiences, with the hope that it's what someone else needs to hear. I'm proud right now, mostly, because I'm finally enjoying myself again. I'd made this thing my job when it should've been about connection to begin with. I feel as though, after all these years, I'm finding myself in my music. I don't know what sets us apart, because I'm so glad to finally feel the warm, fuzzy blanket that is this community.
Let's touch on your thoughts about our city – what do you like the most and least?
 I love the fact that people in Los Angeles don't give a hoot. You could walk down the street in a space helmet and underwear and most people wouldn't bat an eye. There's no judgement (at least on the east side anyway – I can't speak as much to the west). I also almost never leave Echo Park, so maybe I should just stay in my lane here. I love how culturally diverse Los Angeles is. I love how unbelievably vibrant it is. There's such a huge concentration of art, people, beauty and foooood. Mostly, I love that you can be who you are and do what you want – this city lends itself to chasing dreams.
I don't love the fact that this city can also be brutal. It crushes as many dreams as it ignites. It can be difficult to keep from burning out due to hyper-competition and the sheer energy of everything around you. I often have to recommit to living here and doing all of this. But hey, I keep coming back for more. My only other major qualm would be the lack of natural greenery. I wish we had more open spaces and more trees. You can't have it all, eh?
What do you think about conditions for artists today? Has life become easier or harder for artists in recent years? What can cities like ours do to encourage and help art and artists thrive?
Life has always been hard for artists. Life is hard for everybody. Today's age is unique, in that, many more of us have the tools to make music affordably and put it on a platform that the world can see. The art world has not been democratized, but making art, to some degree, has. And that's pretty dang cool. You don't have to save up thousands of dollars to pay a producer anymore. You can record a voice memo and put that jazz up on SoundCloud if you want to. That said, we still treat artists like poo in lots and lots of ways. Artists are constantly expected to give away their art, time and skills for free. There's this mentality of, "Oh, but you like doing this, so why should I have to pay you?"  – as though something you enjoy can't also be something that you are compensated fairly for. And that's just such a messed up and upside-down way of thinking about it. Art is what makes life worth living. Our city, and ones like it, can encourage art and artists by valuing what they do for more than just monetary value. Communities, and the people who live in them, blossom when art is alive and well.
Contact Info:
Image Credit:
Paige Nelson, Lauren Waldvogel
Getting in touch: VoyageLA is built on recommendations from the community; it's how we uncover hidden gems, so if you know someone who deserves recognition please let us know here.