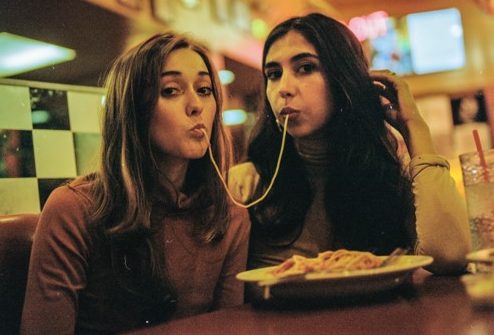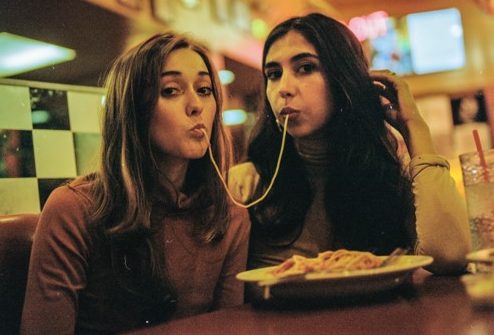 Today we'd like to introduce you to Hannah McMechan and Danya Jimenez.
Danya is originally from Tijuana, but her family moved to Orange County where she spent her adolescent years learning English from the children of "The Real Housewives of OC" and Lizzie McGuire.
Hannah grew up in a town of 5,000 people outside of Yosemite National Park, where the police force consisted of one single cop on a horse.
We romantically found each other at a frat party during our Freshmen year at LMU. Locked eyes across the room, both of us thinking about where we should transfer next semester. Anyway, ever since that night, we've been in what some have labeled a "toxic codependent relationship".
At LMU, we were both majoring in Screenwriting. Chosen purely because we both loved writing but didn't have the discipline to be novelists. For most of college, we wrote separately. Danya was writing (self-described) dark, edgy, life-changing, revolutionary, comedy scripts. Hannah was writing (self-described) Sundance, A24-esque, Oscar-bait, tear-jerking, dramatic scripts.
BUT THEN, we studied abroad together in Budapest, Hungary and spent many a fourteen-hour-train-ride together coming up with funny ideas for shorts that we would never write. BUT THEN, we did. It was a simple half-hour comedy pilot and our first time writing together and we did absolutely NO sight-seeing in the country we had been traveling to (Italy) because all our energy was devoted to writing this thing that we absolutely did not need to write. AKA, it wasn't a homework assignment.
Once we got back to America, we submitted it to a couple of fellowships/competitions and applied for internships. We both happened to get one at CONAN and ended up carpooling to Burbank from Marina Del Rey every single day. We refer to that time period as "The Dark Times". We had no social life and low Serotonin levels for six months before we found out that our pilot from abroad got into the 2017 Black List x Women in Film Episodic TV Lab.
At first, we were totally out of our element. We were these two kids in college, put in a writing program where everyone else was in their thirties and already had representation, experience, and multiple awards for their work. Thank god they took a chance on us because that fellowship started our careers.
Right before our college graduation, we sent about a thousand cold emails to every single assistant/manager/agent whose contact info was available via free IMDbPro trial. We put "Black List Lab Participants" in the subject line and had a fun little tagline and somehow, over the course of a couple of months and a couple of meetings and a couple of people who took a HUGE chance on us and happened to NOT send our email straight to trash, we got repped! (Currently with Verve and Mosaic.)
Since then, we co-wrote/co-directed the 2018 Black List Release Video, wrote five TV pilots, one original feature, and just finished a feature re-write for Sony. Currently, we're working on a sixth pilot, pitching various projects around town, and taking meetings for staffing season. Oh, and we're also substitute teaching on the side.
We're very aware that our trajectory isn't common, and we've been very lucky to have met so many generous people in this industry who bent over backward to help us get to where we are. We're forever grateful to the guys and gals who paved the f**** out of the gravel road we thought we'd be on for years. They gave us arm floaties. They put on training wheels. They… jump-started our car? You get the point.
Has it been a smooth road?
For the most part, it's been smooth in a scary way. We got repped a month after graduating college and have found paid writing work, which we know is rare. Like we said before, we've been very fortunate to have somehow met ONLY nice/angelic industry people thus far? We're currently waiting for the other shoe to drop.
Something we do struggle with is making people feel comfortable with our age. A lot of places don't want to take a risk on writers who are essentially the same age as their kids, which is understandable. Luckily, The Black List and Sony and several others have really gone to bat for us, and their faith in our work is encouraging others to follow suit.
A non-writing struggle we deal with is… substitute teaching. Kids poop their pants, sharpen knives under their desks, leave Hot Cheetos dust everywhere, and wink at you across the classroom. Sometimes more than a wink.
We'd love to hear more about your business.
Our main focus is dark comedy writing for TV, but the project we just did for Sony was a feature-length family dramedy, so we're very open to everything. It's good to choose a specific niche as a writer, but in the beginning, it's beneficial to not count anything out.
We'd say we specialize in heightened, absurd situations, but with very grounded characters and motives. We like satire a lot. We like dialogue that you'd actually hear come out of your friends' mouths. We're becoming known for having scripts that garner the reaction, "I don't know what I just read and I will never buy it but I need to meet them right now", which is a blessing and a curse.
What sets us apart (we hope) is the authenticity of our characters, our perspective, and our age. Luckily, we're breaking into the industry at a time when those three things are valued pretty highly.
Is our city a good place to do what you do?
Our city is the BEST place to be for what we're doing. We'd love to live in New York or London, or… literally anywhere else, but for right now, specifically with television writing (most writers rooms are in LA), we need to be here. If you find success elsewhere, we hate you. And hire us.
Contact Info:
Image Credit:
Daion Chesney, Timothy Vassalo, Griffin Voth, Adam Linsen, Robin Roemer, Morgan Begg
Getting in touch: VoyageLA is built on recommendations from the community; it's how we uncover hidden gems, so if you know someone who deserves recognition please let us know here.