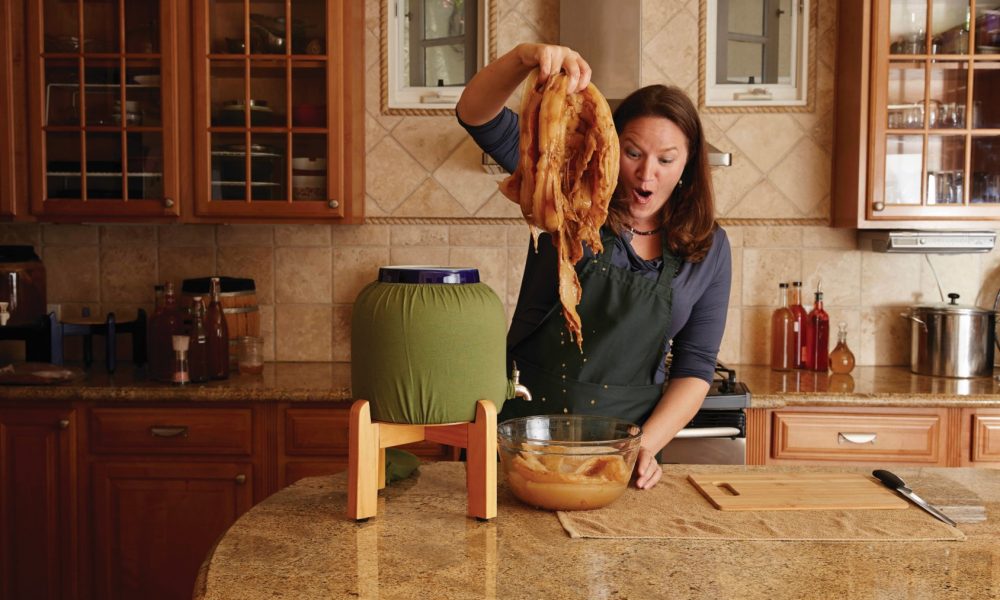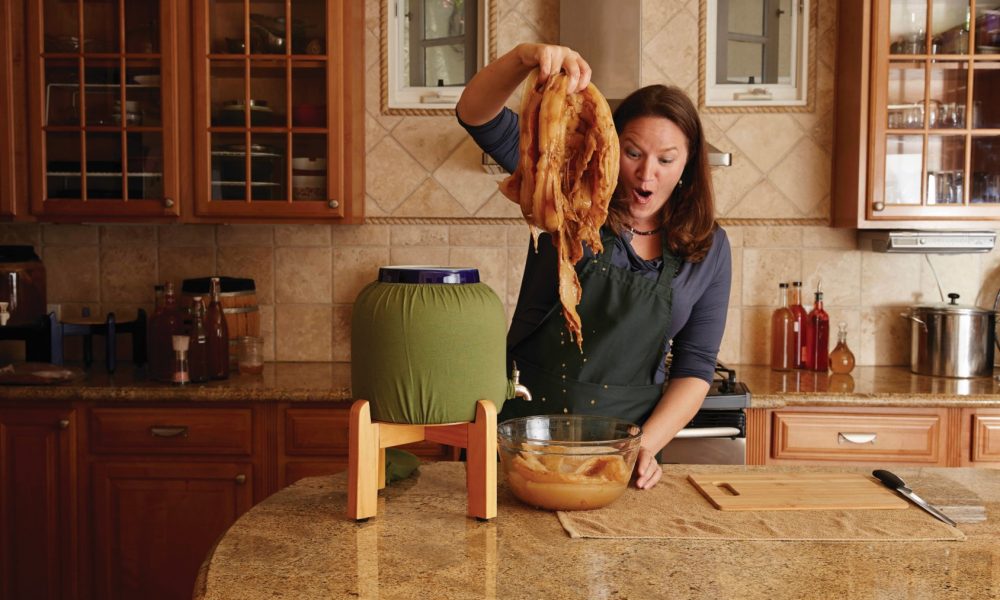 Today we'd like to introduce you to Hannah Crum and Alex LaGory.
Thanks for sharing your story with us Hannah and Alex. So, let's start at the beginning and we can move on from there.
In the early 2000's, I visited a friend from college who had moved to San Francisco. The tour of his apartment included a stop to admire his "Kombucha" which was a bunch of jars with strange blobs floating in them. We didn't even taste his brew because it was still fermenting.
Intrigued by the concept and the funny word, I went looking for some when I got back to LA. Lo and behold, every Whole Food had a giant case of Kombucha. So I bought my first bottle, took a sip & fell in love! My thirst outgrew my budget and having seen someone else's mysterious jars, I decided to dive in, find my own SCOBY and brew up a batch at home.
After a few months, my husband inspired me to take an Artist's Way workshop. During the class, my loves for teaching and Kombucha coalesced into a new workshop I would lead from our little Culver City guesthouse. Et voila, in 2004 "Kombucha Kamp" was born! People would come over to learn how to make it, sample my homebrew, and then I'd send them off with their own SCOBY so they could make booch at home.
As I was teaching people, I wanted to be able to send them to a place on the web for good information about Kombucha. This turned out to be a lot harder than I imagined. Mostly I could only find the same old stories and myths being recycled. Accurate info just wasn't available, even a simple and reliable Kombucha Recipe [https://www.kombuchakamp.com/kombucha-recipe] was hard to locate.
So I started blogging to fill the need. People began reaching out from all over the world to ask for SCOBYs, and eventually, we added PayPal buttons to make that easier.
As Kombucha grew more popular, magazines and other media started reaching out to Kombucha Kamp to learn about the funky brew, and I was dubbed "The Kombucha Mamma". The modern version of Kombucha Kamp was born when my husband Alex, who works in film and writing, made some recipe videos for our YouTube channel and helped me with some re-writing of the blog. We quickly realized that partnered, our complementary skill sets could help us convert this sweet side hustle into a viable business opportunity.
After a few months of endless nights spent learning how to code, we launched our first full website & e-commerce platform. We've been growing organically ever since! We also invent products that make fermentation fun and easy.
While we serve the homebrewer community, we've always enjoyed sampling bottled Kombucha everywhere we travel. We realized early on that a healthy commercial industry would lead to more homebrewers. So in 2014, with 40 member brands, Alex & I founded the industry trade association, Kombucha Brewers International. Today, we are over 300 member companies strong in 30 countries representing over 95% of the bottled Kombucha in the market today!
I serve as President while Alex is Chairman of the Board. As an association, we have helped create international testing standards, spearheaded lobbying efforts, partnered with universities on research, launched education campaigns, and conduct a growing trade show each year that offers the only opportunity for Kombucha professionals from around the world to meet in one place and tackle the issues they face as an industry. KombuchaKon is currently held in Long Beach, CA.
Over the years, Alex and I acquired quite a bit of expertise working both with homebrewers as well as consultants to the commercial industry. We put as much as we could fit into 400 pages in "The Big Book of Kombucha" which was published in 2016.
The award-winning, Amazon bestseller is lovingly referred to as the "Kombucha Bible" by readers, it is a staple resource for homebrewers and commercial producers around the world.
Has it been a smooth road?
Ha! The path has been amazing, but definitely not smooth, including incredible highs and some pretty rough lows. Some lessons can only be learned the hard way, and figuring out how to determine who is truly on your side and who is just paying lip service is a skill that cannot be underestimated. Because we've always been a small family business, each challenge has forced us to find out of the box solutions and opportunities to collaborate.
When it comes to our most acute challenge, that is definitely finding the balance to be both successful work partners and romantic couple. We enjoyed the opportunity to work together prior to Kombucha Kamp and it's always an incredible blessing to get to spend so much time with the person you love. We have learned that healthy boundaries are key to everyone's sanity. 15+ years in, we've gotten pretty good at it, but it always requires effort. It's also important to remind myself that even this far in, we are still in building mode.
And that means continuing to wear many hats, even a few that are not glamorous. I'm so grateful for our employees that run the day-to-day operations of the warehouse and shipping departments, without them, we could never focus on anything else. And we continue to reinvest in the business because there is always more competition coming.
We try to focus on delivering better value and a superior user experience, and let the rest happen naturally.
So let's switch gears a bit and go into the Kombucha Kamp story. Tell us more about the business.
At Kombucha Kamp, we believe our mission of "changing the world, one gut at a time" is best executed through our guiding principle of empowerment through education. Our reputation in the marketplace is for excellent customer service and superior quality products. Working in a niche industry, especially one where education is key to their success, it's vital to retain a close connection to the client.
Alex & I still answer as many phone calls as possible because we know the products and the process of fermentation the best. Helping others understand what will work best for their needs regardless of experience level is our specialty, plus it provides a bit of a thrill to the caller when they realize they are talking to the Kombucha Mamma!
We answer all email inquiries and support thousands of brewers around the world. Word of mouth, our information-packed website, social media channels as well as our book are all key ways in which customers find us. Plus as consultants to the industry, we work with everybody from occasional homebrewer to large national brands in the US and abroad. In fact, dozens of Kombucha brands have started with our website and cultures, that's something we're extremely proud of!
How do you think the industry will change over the next decade?
Kombucha is 21st-century yogurt, and will eventually become a grocery list staple, much as yogurt did start in the 1980's. It is now in the mainstream and market projections predict a $2 billion industry by 2020.
Within the category, a variety of brewing styles and flavors is emerging organically as the market diversifies. This typically means a variety of teas or tisanes as the base, as well as variations in sugar types. How the beverage is processed will have a big effect on flavor.
The most radical of these variations include kombucha/beer or kombucha/kefir hybrids, CBD, superfood flavors and more. Overall, this creativity leads to more choice for the consumer, which is great. But even more, it leads to more people experimenting with homebrew, trying to discover their own perfect recipe. Plus homemade is always fresher and tastier.
As the gut takes a prominent role in our understanding of health, fermented foods will only become more popular. Because Kombucha replaces sodas and other expensive sugary options, expect more people to explore making it at home for a fraction of the cost of store bought.
Contact Info:
Image Credit:
© Matt Armendariz
Getting in touch: VoyageLA is built on recommendations from the community; it's how we uncover hidden gems, so if you know someone who deserves recognition please let us know here.