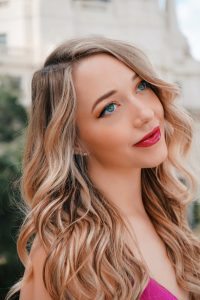 Today we'd like to introduce you to Guinevere Ray.

Guinevere, please share your story with us. How did you get to where you are today?
The summer of 2012 was the moment my life changed for the better. It was the moment I realize I had been awarded a full-ride scholarship to Northern Arizona University for Theatre. I was awarded the scholarship in a two-minute audition I wasn't even supposed to be invited to. To say I was in the right place at the right time was an understatement. I didn't grow up with a silver spoon.
I grew up working for what I believed in and provided for myself at a young age. As much as my parents wanted to support me, they knew all too well how hard it was to follow your dreams in this world. My Dad wasn't even sure why I applied to college because he knew they couldn't afford it. For me, it was never about the money, I had to know I had talent. I had always dreamed of a career acting in movies and television series. I studied in middle school, attended Young Actors Theatre Camp 3 times, went to countless shows and was always helping in after school performances. In high school, I completed a Drama diploma program and attended California State Summer School of the Arts my Junior year. There's many reasons as to why I'm pulled to a career in the arts. The most influential being my spiritual beliefs. I wasn't raised religious, in fact, I had more freedom than most people I know. It's whats made me so determined to follow my heart because I didn't have anything else to follow. I believed that everyone on this planet has a special gift they were meant to give back, and If they didn't follow that, they would be wasting their life. I lived with this fear that I didn't want to waste my life fighting for a passion I didn't believe in. I felt like my superpower was connecting with people. I knew it would be hard, but there have been incredible blessings along the way. I took every tragedy and turned it into a lesson, another reason that makes me humble as a human who can accurately express experiences.
As excited as I was to begin my journey to Flagstaff to begin my career, I was not ready for the tumultuous journey I had awaiting me. Between a nasty divorce, experiencing multiple physical assaults, and struggling to provide for myself financially, my mental health began to decline. I went from not knowing how to cope with my pain to seeking some serious medical attention. I was misdiagnosed and put on the wrong medication. I continued to spiral and went from emotionally distraught to suicidal. I left school in a panic, I was having multiple panic attacks daily and eventually hit my lowest of lows. When I got home, I completely turned myself around. I changed my diet, went off all medications and was completely sober, would walk my dog every day, spend time in nature, practice good hygiene and would work out 2-3 hours a day. I connected with myself and grounded myself and pulled myself out of that dark place. I cried for three months straight, and really took a good hard look at my actions and the adult I wanted to become.
Eventually, I healed myself as much as I could and returned to school. I worked extremely hard to keep myself together, and it worked, almost too much so. I realized upon returning that I wasn't happy. I realized that the people I was once again around were bringing me down and tempting me into my old ways. I realized that no matter how great of an opportunity something maybe if it is detrimental to your health and happiness, it isn't worth it. So I decided to try one last try. I decided to study abroad in Australia, a place I had always wanted to visit. I had no idea how I would even make it there but despite everything, all the hoops and last-minute paperwork. By the next semester, I was on a 16hr flight halfway across the world. Those experiences shaped who I am today. I had my own eat pray love moment and explored the world only to find out I was so ready to be a part of it. I was ready to begin my journey with my acting career. I felt like my studies had taken me to a certain level, but it was real life that was going to teach me the rest. I flew home before I finished due to financial and spiritual reasons.
Eventually, I was able to bring myself to LA. A year into living in San Francisco post-college I broke my ankle, lost my job, had a broken down car and had to move back into my parent's house. I couldn't walk for two months, but I had plenty of time to think. With no savings, I didn't know how, but I made the conscious decision that I needed ten thousand dollars and a reliable car to move to LA. Eight months later, I was upgraded on a commercial that I was hired as a non union background. I ended up making 30 thousand dollars in residuals. It was another once in a lifetime opportunity. I took it as a sign from the universe that with the bad always comes the good. I've been in Los Angeles for just over two years now. In some ways, I feel like I'm so far behind, and haven't made as fast of progress as I had hoped. In another view, every day I am understanding more about myself, my brand, my vision, and my passion as an adult. I realized that this desire to help people tap into their emotions has never gone away. I began to understand that in order to help people believe in your powers, you have to show them. I've been working towards creating my own content, building my own network, and writing my own scripts. I've taken all my experiences and began to picture certain scenes in my mind.
This year, during quarantine I've written 120 pages of my first feature film. This story has taken me over three years to develop. I've done hours of research and self-taught myself how to write a professional script. This project is my passion project. It combines all my tragedies and all my successes into an explorative Psychological thriller. The story is set at the same location at my school. It explores elements of mental illness, guilt and coping mechanisms, rape, and racism. I want to give a voice to the issues we are facing today while also showcasing my emotional range. I wrote myself a role that stretches me to one of the most challenging roles I can imagine. My next step is finding the right team to bring this project to life. After everything I have gone through, I have grounded myself in who I am. I have shared my heart with everyone I come into contact with. I have stood up for myself and continued to become a better ally to the people around me. My script brings up important issues and tells a message that needs to be heard. I'm passionate about not only telling stories that need to be heard but educating people who weren't expecting to learn. Most of us, if we can just choose to listen, will begin to learn so much. I'm continuously opening my ears and opening my heart to connect us to what makes us all human.
We'd love to hear more about your work and what you are currently focused on. What else should we know?
I'm an actress, writer and an artist. I model for fun as a way to develop the characters I imagine in my head. I like to step outside of myself and into another version of myself. Often times when I model, I'm actually not as confident as I may look. I started modeling because I wasn't positive in my own skin but my cousin would capture me in a way that would make myself feel beautiful again. It's a constant battle to learn how to love the skin we are in. That's why I focus on loving everyone around me because I'm really just trying to learn to love myself. I started acting as a child and was always interested in creating art. In my free time, I developed my own sense of style and make art as my hobby. I use collage and graffiti techniques, create my own stencils and play with different spray paint techniques. I feature a musical artist and the lyrics of their songs. I've done pieces featuring Harry Styles, Taylor Swift, Matt Healy, Miley Cyrus, James Hetfield and most recently, I did a piece with Childish Gambino.
I plan to raise money for Black Lives Matter with the sales. I'm also working on a children's book that teaches racism to all ages. I'm proud of the projects I've taken on and the faith I've had in myself throughout this process. I'm opening my ears and opening my heart. I believe in listening as much as speaking up. My feature film script is my baby, and I believe in the message I have to tell. I wanted to create an opportunity for myself and take destiny into my own hands. I wanted to create a role to showcase my range while also uplifting voices of all sorts of colors. I can't change the fact that I am a white woman. That is my identity and who I identify as. No one can change the color of their skin and no one should. To me, every color of the rainbow is beautiful. It wouldn't be a rainbow without every color. We all have something beautiful and unique to teach each other. I believe connecting through our stories. I want to show the world my heart and open everyone's heart to better understanding each other along the way.
Has luck played a meaningful role in your life and business?
Some may call it luck, I call it unshakable faith. I hit rock bottom and it was because at the time I made a huge mistake that was nearly impossible for me to forgive myself. I felt so guilty and like I had compromised everything I stood for. How could I be believable when I wasn't even following my own moral values? I couldn't defend myself when I no longer respected or loved myself. Through months of therapy and self-reflection, my counselor helped me realize something. So what if I made a mistake? Did I learn my lesson? Yes. I realized that no matter if I felt guilty about my past, I could still become who I envisioned in my mind. I would become that person not despite my past but because of it. The mistakes I've made have built me up to be a stronger person. I corrected my behavior and moved on. I've continuously grown through my experiences and can better relate to the world around me. I was born to be an actress and I know that because of what I've seen. Anytime I was really down on my luck and questioning my abilities, a huge blessing comes in to tell me never to lose hope. I have no reason to question my abilities now. Every person I meet is a new opportunity to learn. A new opportunity to connect. I have faith that soon enough the stars will align. All I need is a single, yes.
Pricing:
Customizable Art piece by Celebrity Graffiti $800 20% proceed goes to a charity of choice
Donations to help with the production of my first feature film "Chasing Chance"
Donate to help with start up costs for my Children's book "The Pebble and the Pearl"
Contact Info:
Website: guinevereray.com
Phone: 2092213800
Email: contact@guinevereray.com
Instagram: @stingraayy @guinevereray @celebritygrafitti
Facebook: guinevereray
Image Credit:
The picture of me with the cow girl hat was taken by Spencer Klein and the picture of me in the hat and the green plant coming by my face was taken by Tricia Myers
Suggest a story: VoyageLA is built on recommendations from the community; it's how we uncover hidden gems, so if you or someone you know deserves recognition please let us know here.