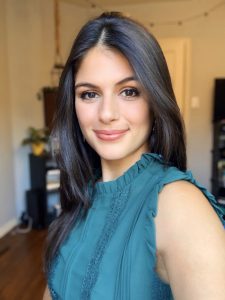 Today we'd like to introduce you to Grecia Salamon.
Thanks for sharing your story with us Grecia. So, let's start at the beginning and we can move on from there.
I've been in the entertainment industry since I was a kid, acting for Telenovelas and commercials from a very young age. But it wasn't until I turned 17 and moved out of the house determined to follow my dreams that my professional along with my spiritual journey started.
As I was studying Advertising and Marketing in college, at my hometown, Caracas – Venezuela, I was also focusing on learning acting. My first job was as an assistant director for theater, and little by little, made my way up to the stage, acting, then producing and even executive producer of multiple theater plays.
I got my college degree and had a lot of theater experience by my late teens, so I decided to move abroad. This was a desire I had for a very long time, but I was waiting for the right moment. My instinct guided me to Los Angeles. It's funny that LA came out of nowhere because I had never thought of moving here, I wanted to do theater in Broadway, but you know, the Universe always knows what it's doing.
I created a very detailed plan for my arrival. I had to study English, prepare myself in college for acting, find my independency, get a job, work on my papers, etc… Good news is that I accomplished all that, but as a lot of artists know, mostly immigrant artists, it wasn't easy.
I learned the language and then went to college after receiving a full scholarship, to later get a degree in Acting for film and television. I wish I had known then that degrees don't do much for you in this town. Although I'm very proud, college was a particular challenging time for me. Also, a very crucial time to develop my strength and my determination. Learned not only acting but also filmmaking and tons of life lessons, which has definitely help me along the way. More knowledge, more opportunities.
Not too long after, I booked my first commercial, this allowed me to understand, once again, why I was here. Loved it, actually met one of my current best friends!… More commercials and more projects manifested: independent films, theater plays, modeling, assistant agent, among others. But wasn't until I auditioned for a TV Talk show (with no hopes), that I had encountered an opportunity that's transformed my life. I said "with no hopes" because it never crossed my mind to be host or anything in that branch of entertainment. However, I ended up booking it.
This was a very transformational time for me, I was between wanting to be only an actress to now hosting a Live daily national tv show. Within the Hispanic community, these shows are very alive, so for a year I worked on developing my skills as a host. I knew that if I wanted to accept the new challenge, I had to step up my game. Haha, I was the only fully inexperienced talent in the show. Inexperience working on this format.
I ended up loving hosting! I was able to find my personality on camera, which pretty much goes hand by hand with my off camera personality, but I didn't know that then. I lived very uncomfortable moments while being LIVE, but I learned from each on of them and tried to continue this path. I have to admit it was very confusing at the beginning. I'm glad I realized early enough that we can be more than one thing, we have different talents that can be put to use in many different ways. So, I allowed myself to keep learning these new skills and see what happened.
In little less than a year, I got hired by SHEIN, a global fashion company that creates a lot of content for social media. They have a very strong digital community and they were looking for someone who can be not only the Hispanic image but also the Live host of their Spanish livestreams. This is a company I have worked with for sometime now and I am very proud of saying that we have grown exponentially. Our livestreams have become very popular, mostly within the Hispanic community in both USA and Mexico. I not only host but also produce a lot of the content and logistics of the show for all their digital platforms.
Not too long after, I got hired by Univision in their LA branch. This is one of the main Hispanic stations in the country and internationally. I host part of their entertainment segments and just pitched my own idea for a tv show, which has been accepted. After recognizing that we don't have limits, I've worked on developing different areas of my career and I now enjoy the process of producing as well. Actually, I have been producing my entire life without even recognizing it.
This year 2020, I got to start one of my dream projects, which is a traveling and adventurous TV Show. Because of the pandemic, we had to stop other travels, but our first one was in Hawaii and I couldn't be happier to do everything I LOVE in just one show: hosting, traveling, extreme sports, nature, adventure, filming!
My career has taken different routes, most of which I wasn't expecting. Sometimes helpful, beautiful, scary, interesting, sometimes sad and disappointing, but always rewarding. I found the practice of Buddhism along the way, it keeps me grounded, thankful, open and positive. I see my challenges in a different way and instead of just worrying, I take action to transform them. I have grown to become a very spiritual person and I owe that to this city and my artistic dreams which have become reality. I'm ready to keep growing as an artist and as a human being. I still have plenty of goals to achieve and many other dreams to work for and manifest, but I try to not forget to have fun and enjoy my process.
Overall, has it been relatively smooth? If not, what were some of the struggles along the way?
It wasn't smooth at all in the beginning. I guess it is never smooth, but we become more experienced and more aware, we get to know ourselves better and that makes the path a little smoother.
But no, my first three years in Los Angeles were hell. Understanding a new culture, getting to grow from being a young adult to an adult, plus many experiences that didn't make it easy like: immigration challenges, working while attending school, homelessness, poverty, unhealthy relationships (including friendships), domestic violence, among other things, probably less intense than the previous mentioned. I'm glad though, that I stayed focused despite the obstacles and I worked on evolving and breaking through these thoughts and patterns. I'm happy to say I have transformed everything around me. So, nothing to worry about!
We'd love to hear more about your work and what you are currently focused on. What else should we know?
Well, I am my own company. That has taken some time to develop and I truly wish I never stop developing this business. I'm proud of the journey and proud of everything I mentioned in the previous questions, but most importantly, I am excited to keep evolving, keep making positive changes, keep developing my skills, keep manifesting my dreams… I'm still hungry for knowledge and adventure; I feel there's more to do for me and for others. I believe in my mission and the message I want to send out. I believe not only in my power but in making others shine as well, and I'm planning to use my platforms to share that…. and I think that's something that sets me apart.
Any shoutouts? Who else deserves credit in this story – who has played a meaningful role?
So many people deserve credit! I wouldn't be standing here if it wasn't for the support of others. I even appreciate the people who have represented a 'bad' role in my life for helping me recognize what I don't want and what I should change.
I could mention some that I appreciate with my heart:
1. Spiritual Mentor: Daisaku Ikeda. He's a Buddhist philosopher, educator, author and pacifist.
2. Career Mentor: Mike Myles. He supports everything that has to do with my career. We develop strategies, talk about pros and cons, I ask him about anything I'm going through basically.
3. My family and friends (who always play a big role with their love and support).
4. Currently, the author Robin Sharma, who is helping me create new and better habits.
5. Many other artists and gurus!
All of them believe in me even when I don't believe in myself. They all provide amazing insight, advice and support. They have seen me fall and succeed multiple times. They are all in one way or another role models for me and they are very inspirational in their own ways.
Contact Info:
Suggest a story: VoyageLA is built on recommendations from the community; it's how we uncover hidden gems, so if you or someone you know deserves recognition please let us know here.