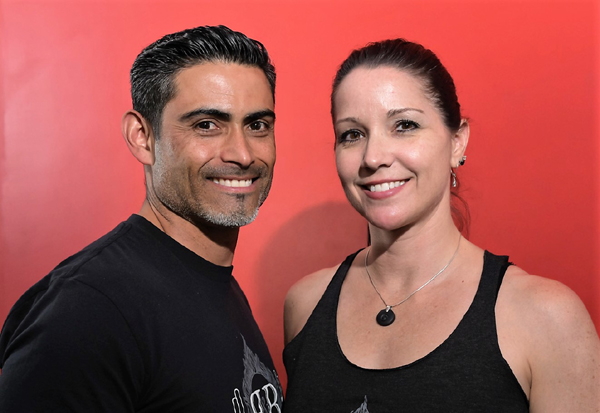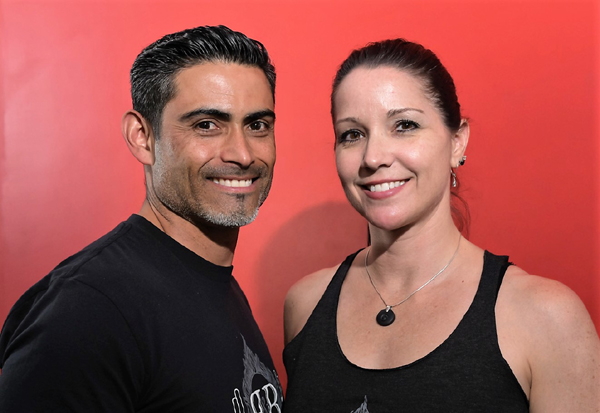 Today we'd like to introduce you to Armando Alarcon & Cat Hannah.  Below you'll find edited excerpts of our interview with Armando & Cat.
Can you briefly walk us through your story – how you started and how you got to where you are today.
We started our journey 10 years ago with a prominent chain of national gyms. It's a great start for any new trainer. For us, it gave us a firsthand education in the harsh truth of how the fitness business really works. We're grateful for that experience because it propelled us to move forward. And to move forward, we knew we had to leave the corporate world and start a new venture. We expected more of ourselves. We wanted to focus on motivating and training people, who in our eyes, were not part of a greater number in a corporation's fiscal plan. Simply put, we were motivated. Motivated to take some risks and build a business based upon our fitness and life philosophies. We started building our client base and worked extremely hard with the goal of having our own facility. When the gym where we trained decided to close, we jumped at the chance to buy it and open our training center. We 2 Can Do Training and Fitness was opened. Continuing with our success in the business, a safe place for all to train and with a lot of help from friends and other we have recently been able to grow to the next stage and open Bars & Burn Fitness. We decided to change format of this gym to reach a wider range of people. B&B Fit is more about group classes and less about the one-on-one training.
Has it been a smooth road?
Ha! Roads always change. Sometimes without warning. There was a point in the beginning that we thought the road was actually ice and we were gliding on it wearing our steel-bladed skates. We found some success in the movie business and were fortunate to build a diverse and prominent client base. So here we are gliding along thinking that we had made it and our training style was far superior than any other training method offered. Our heads got too big and we mistakenly recognized arrogance as being accomplished. It's just too much weight for the ice to support. It shattered and we fell through it getting a cold dose of humility. Our heads had gotten too big and we needed to change. It was this humbled moment that we discovered that there isn't just one road. We needed to build a restored road that would shape and navigate our business based upon the simplicity of why we left the corporate world in the first place. We want to motivate and inspire transformation in whatever aspect our family, friends and clients need in their lives – fitness or otherwise. And truthfully, both of us find that together, the best adventure is when the road isn't paved.
What are your plans for the future?
The future is nothing but exciting! For us…it's all about growth and balance. It's not our goal to "build a brand"…but to create a synergy and haven that our clients can trust. We understand that it's not easy to wake up for a 6 am class or change into workout clothes after a challenged work day. What we love to be a part of and see is our clients sharing similar challenges and encouraging one another. We've developed strength and energy-boosting programs that have our clients red-faced and dripping in sweat. What makes us proud is that every single person that commits to the workout wants to come in the next day and do it all over again. There's laughing, there's even crying. And sometimes, crying turns into laughing and vice versa.  It's this wonderful synergy that reminds us to keep things simple. We believe this is one of the reasons why our clients find our gym and programs a safe haven from the larger big brand names. Do we want to open another gym? Absolutely! But only if we can keep it small, unpretentious, and a fun place among friends where we all work to strengthen and build bodies and minds alike.
Let's dig a little deeper into your story.  What was the hardest time you've had?
We love this question because it makes us laugh every time. And that's the best way to lead into answering your question. We laugh because we both replay a mental slide show of our crazy yet simple days before and after we met. The crazy comes from the mere fact that this is what life is when you start out with goals of working in the entertainment business. Life as a struggling actor and stunt person was exciting and laugh out loud fun, but let's face it… the struggle is when it comes to paying rent, bills, and all else in between. In the midst of crazy, we found each other and became very close friends. As part of life's beautiful ride, we found ourselves caring more for each other than just friends.  So there we were…struggling in the entertainment business but crazy happy together.  Neither of us had anything of any value other than ourselves to bring to the relationship and it made us closer and stronger as a couple.  At the end of the day, we both brought in enough money from stunt jobs, acting, and a colorful array of odd jobs that would help pay for our basic living expenses. We lived paycheck to paycheck and we were okay with that because everyone else we knew shared the same struggle and we figured that was the entertainment way.
Fast forward two years…our relationship grew and so did our mutual need to provide better and more stable surroundings for each other. So we turn to the only other passion that both of us cared about and that was fitness. This is where we truly struggled.  Trainer certifications are not cheap. In most cases, fees start from $500.00 upwards to $1000.00 just to get the basic level certification for personal training.
We had nothing left over after rent, car payments, and everyday expenses. Together we made a plan and worked more jobs, extra hours, and tightened up our budget so that we could save enough money needed for one of us to get certified.
It took a few months, but we did it. We love that we did it together. We knew from the beginning we wanted to work together as a team. It was this early struggle that catapulted us into the fitness world and where we discovered that working together was, and still is, a beautiful complement and balance to our relationship. As with any journey, who you travel with can be more important than your destination.
Do you ever just stop and think WOW – I've made it?
Wow! I think we both see the phrase "MADE IT" like it was spelled out on one of those finish line ribbons at the end of a race. We love crossing banners but feel like it should read "GOOD JOB! MOVE FORWARD."
We love that we've known each other long enough that we're able to point a finger on a map and say, "yup, this is where we struggled to make ends meet in the San Fernando Valley" — and at a further point on the map we can point and say — "this is the place where we were blessed to share an aerial helicopter tour of New Zealand South Island together."
Along the way we have been given gifts in the form of kindness, humility, and gratitude. These gifts are our "wow" moments. It's the family and friends that have supported and celebrated with us every step of the way. Our other "wow" moment is when we can help transform someone's life by simply showing that we believe in them and want to help share in their journey as well. We're still dreaming, we're still working, we'll always be moving forward.
Pricing:
$99 New member special for the 1st month 
Contact Info:
barsandburnfit.com, www.we2cando.com
Check out their work below: