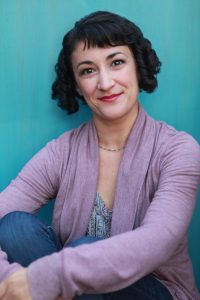 Today we'd like to introduce you to Gina Kegel.
Gina, can you briefly walk us through your story – how you started and how you got to where you are today.
My journey to my role as a healer and coach is the culmination of two paths of dis-ease: fibromyalgia with migraines and my haunted house. Both came to a crisis point about three years ago, forcing me to explore healing options that come from within.
My issues with health began as a child, with Chronic Fatigue Immune Dysfunction Syndrome (CFIDS). The primary symptom was, as the name suggests, unending exhaustion, bursts of childlike energy tempered by the constant need to rest, mysterious sore throats, and general body pain. Migraines began around the same time, causing me to miss school, spending hours alone in the dark.
As often happens, at some point in my late teens or early twenties, my primary symptom shifted from fatigue to unending, body-wide pain as CFIDS morphed into fibromyalgia. As an eighteen-year-old, I visited the chiropractor weekly because many days the back pain was so intense, I couldn't turn my head or lift my arms. Ignoring pain, feeling unwell but living my life anyway was the norm.
For twenty years, I have tried everything: diet changes and eliminations, supplements, fasts, flushes, physical therapy, counseling, chiropractic care, hypnotherapy, and so much more. Some things helped a little, nothing helped enough. My two little boys, three and five at the time, learned to fend for themselves and to take care of Mommy. My husband and boys went on adventures to family festivals, the movies, theme parks and more without me. If I braved a day out with them, I paid for it with a week of debilitation. In the fall of 2017, with my nerve flares and migraines at an all-time high, I filed for disability. It was denied, of course. Around that time, Emotion Code clearings were suggested to me. Even though I had no idea what that meant, I was desperate to try anything.
Finally! It was the one thing that changed everything.
I went from ten migraines every month to one every six weeks. Rather than days at a time, migraines began to last a few hours and decreased in severity. Sleep became the cure, not shots of medications in my leg.
My last migraine was in April of 2019.
Fibromyalgia nerve pain is now diminished from crippling nightmare to minor annoyance. I am no longer forced to crawl into bed for a nap after a quick trip to the store, and the carpet no longer feels like steel wool on my feet. Best of all, I enjoy days out with my family, hiking, going to the beach, the aquarium, and cultural festivals with enough energy when we get home to cook dinner.
As these incredible changes took place, I knew that I had to learn this modality, both to continue my own healing and to provide it for others. In addition to the Emotion Code, I use a wide variety of extrasensory gifts, mediumship, past life reading, and light language in healing and coaching experiences with my clients. This transformative work is easy, effective, and absolutely fascinating. Once you experience the Emotion Code, once you will witness how easy and effective it is, you will begin to heal from physical, emotional and energetic issues that have been holding you back. And most likely, you will send friends and family my way, too.
As with anything, this isn't a miracle cure. I'll be honest – – I haven't solved all my problems. But it has empowered me on a deep and holistic level, to be able to not just survive, but in fact, thrive.
We're always bombarded by how great it is to pursue your passion, etc – but we've spoken with enough people to know that it's not always easy. Overall, would you say things have been easy for you?
The haunted house… well, that's a whole other story. Through that experience, I became awakened to the fact that I, and my two children, are lights. To a disembodied spirit – a person whose body has died but whose spirit has not crossed over – we are beacons of light shining in the darkness. Those spirits seek us out for help and always will. No matter where we live that will always be true, so what are our options? Either dim our light (which does not work) or learn to use and manage our gifts. I chose the latter.
Coming into my own power was one thing, but seeing my children scared to be in their own home, kept awake by flying orbs and chased from rooms by hissing shadows was completely another. Beyond self-preservation and healing, I knew that I had to move forward in my true purpose because they needed me to.
In a more tangible, 3D-world sense, the business-running associated with being a healer in today's environment has been a challenge. It is not enough to be powerful and amazing at what you do if no one knows about it. Marketing is key, and marketing from an authentic, joyful, effective place has been a parallel journey for me. It is still and evolving practice, and likely always will be, as long as Facebook continued to change their algorithms.
We'd love to hear more about your business.
Free to Flourish Energy Healing is a remote healing practice. All of my sessions are done by Zoom, which expands client access to this work worldwide. While most of my clients are across the US, I also have clients in China, Canada, and the UK. On a very basic level, I communicate with the client's subconscious mind to affect the way the atoms of the body vibrate. Everyone has atoms making up the physical and energetic body, which all vibrate. We all have clumps of atoms vibrating in the frequency of emotions that don't support wellbeing: anger from an argument 20 years ago may still be vibrating in your liver. All those things you wish you would have said to your ex may still be trapped in your throat chakra. I can quickly and easily change those vibrations, those frequencies, to the frequency, or the emotion of love, often releasing dozens each session. The result is transformation in physical, emotional and energetic wellbeing.
Beyond the basic work, during sessions, sometimes crossed over loved ones show up, I might vocalize an angel transmission, we might visit past life records, or heal ancestral trauma. Clients are given exercises to continue their healing and self-exploration between sessions. The objective is to jumpstart and supercharge the healing process, not to fix a person's problems for them. My clients are people who are ready to commit to an engaged co-creation for personal transformation.
In my spare time, I'm an Executive Editor with Radiance Multidimensional Media and Senior Columnist at The Los Angeles Tribune with my regular column, The Journey-Centered Life. I also have a best-selling children's book, The One that Makes Me Yawn, available on Amazon and Barnes & Noble.
What were you like growing up?
I have always been a nerd at heart, and I love that about myself.
As a child, I happily spent hours in my imagination, either buried in a book, practicing at the piano or building fairy houses in my mother's garden. I now know that it is my personal connection with Archangel Gabriel which drove my constant desire to write, creating my first book in kindergarten, and writing endless stories and poetry. I think I was in fifth grade when I fell in love with the writing of Shakespeare and other poets and took classical Shakespearian theater training in the summers.
Even as a youngster, I found that I had to conserve my energy and that bumps and bruises seemed to hurt more than they did for others. The combination of those two factors means that I was never drawn to sports.
As a teen, I moved beyond the piano into brass instruments, learning trombone and French horn. I enjoyed the balance of analysis and creativity required by classical music and earned first chair in the school jazz band, marching band, and advanced orchestra in middle and high school. In high school, I even played trombone in a ska band! We played gigs in Los Angeles and Hollywood.
Also, central to my being is leadership and an entrepreneurial spirit. I have always found myself in leadership and expansive roles, whether with my social group, community groups, or in my career. I love to take ideas and expand them, creating structure, flow, and functionality from an initial spark. That essence crosses into all that I do.
Pricing:
A Single Reading and Energy Transformation Session $149
Energy Transformation Coaching, Month-to-Month $499
Contact Info:

Image Credit:
James Rhodimer
Suggest a story: VoyageLA is built on recommendations from the community; it's how we uncover hidden gems, so if you or someone you know deserves recognition please let us know here.