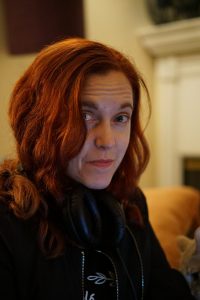 Today we'd like to introduce you to Gilly Moon.
Gilly, let's start with your story. We'd love to hear how you got started and how the journey has been so far.
I am a sound designer and audio engineer. My story starts about eleven years ago. I knew I wanted to pursue sound design, but my broader BFA in Design/Technical Theater didn't give me a deep dive in audio science and technology. so I pursued every opportunity I could to learn. My first professional sound gig was an audio crew internship at Trinity Repertory Company.
I spent nine months there (a full theatrical season) learning about equipment, signal flow, sound consoles, sound installation…Everything theatrical audio engineering. My internship gave me the toolkit to freelance as a technician in larger theaters in Boston, such as the American Repertory Theater and Emerson College, and eventually lead audio departments in a couple of summer stock theaters. I also had the opportunity to be a front of house engineer and A2 (mic tech) for the New York Musical Theater Festival, which is where I developed some great friendships because we were in the trenches together, pulling ridiculously long hours. I got really good at sound consoles and mixing (and the politics that go with it) when I left Boston to work on cruise ships. I did a year with Carnival Cruise Lines as an audio engineer.
However, I knew that my heart was in the creative aspect of sound design. There was a sense of fulfillment and belonging when I expressed myself with sound that I had never felt before. And, I wanted a better quality of life because I was working around the clock doing work as an audio technician, designing for small theaters, and working minimum wage jobs. So I began to consider graduate school, and I applied to California Institute of the Arts. Jon Gottlieb, who heads that program, called me one night for an interview. Years later I realized that he was probably in Scotland doing the Edinburgh Theater Festival, so it must have been very late for him! We had a great conversation and I was accepted almost instantly. He eventually allowed me to defer for a year to do the cruise ship thing. Then, in 2013, I drove cross country to pursue my MFA in Sound Design at California Institute of the Arts.
During my time at CalArts, I honed my already technical capabilities but discovered a few very surprising passions and talents! I do not have a musical background but found that I was able to use that limitation as an advantage.  Interactive technology also hooked me. I studied VR and immersive audio on my own time and eventually developed a Google Cardboard VR experience for my final project. I learned FMOD (audio middleware for games) and Unity. I took themed entertainment classes where I learned how to implement certain tools and technology into interactive experiences. I met my close friend and collaborator, actress and writer Jenapher Zheng, who I develop alternate reality games with.
Since graduating from CalArts, I have been in a lot of leadership roles in audio engineering and sound design. Life decided to surprise me more and I ended up finding a specific niche in immersive horror. One of my teachers form CalArts, Drew Dalzell, owns Diablo Sound and hired me to be a sound editor on Halloween Horror Nights. I eventually worked my way up to designing mazes in 2018. I've also done work for San Diego Comic Con, Creep LA, and a handful of other interactive exhibits. In 2018, myself and my co-designer Stephen Swift won an Ovation award for our work on the immersive theater production written and produced by Rogue Artists' Ensemble. It was a technical and creative feat; one storyline and several scenes of Japanese ghost stories, which took place throughout three floors of a warehouse.
I'm still passionate about games. I've done hackathons and worked on friend's projects, and have made connections in that community. Those experiences have actually informed my not-game projects!
Now I have settled and taken a job as an audio engineer for radio. I continue to be surprised about where life leads me. It's been a trip – I went from struggling technician to sought-after designer, to having a full-time job.
Has it been a smooth road?
It has definitely not been smooth! And looking back, I'm thankful about that; Hardships shape us.
My lifestyle for about five years was very nomadic. I went where the work was. For a long time, I never made enough to live, but I used it as fuel to find the next better thing. I didn't know it then, but it did keep getting better. Anyone who is a female-identifying person in audio will tell you there's a sexism in the industry too. I found my supportive circles since moving to California, but my experiences leading up to that were not so easy. Experiencing sexism on top of the challenges all-new audio folk face — learning to work with others, learning the tech, training your ears, working very long hours — man, that was rough.
I think all that led to a larger mental struggle that ended up shaping me as an artist. I began my graduate school experience thinking I'd become a sound designer for musicals. However, a struggle with depression led me down a very different – and more interesting – path.
My first year at CalArts, I made incredible connections but did not feel like I belonged. I was experiencing a darkness that I have never felt before or since then. During one of my regular insomniatic nights, I went down an internet rabbit hole watching TED Talks on YouTube. There I discovered game developer and researcher Jane McGonigal. In her TED Talk, she discussed the mental health benefits of gaming and how her game SuperBetter helped her find the way out of her own dark place. It took a ton of work, but through implementing her strategies and finding ways to express myself creatively, I became happier and developed mental resilience. I came into the person and artist I am today.
We'd love to hear more about your business.
There are many ways to specialize in audio engineering and sound design. My skillset is really broad. I'm proud to say that I can mix live, design sound systems and also edit in Protools and be very creative! My fascination with gaming and interactive tools not only has gotten me really cool themed entertainment gigs but has taught me how to think outside the box and consider many kinds of ways to tell a story through sound.
What sets me apart (other than my broad skillset) is my drive to constantly improve. I train my ears a few times a week (hearing is a muscle!) and I am always studying up on the technology that is out there and picking the brains of other sound designers.
I'm most proud of my Ovation award, and my work on a Comic Con attraction that I designed sound for in 2019. I'm a huge fan of American Horror Story, and it was an attraction to publicize their "AHS: 1984" season. I got to be creative and build a world for a TV series I love!
Is our city a good place to do what you do?
Los Angeles is a city rich in entertainment. I find that it's awesome not having to be pinned as a sound designer just for theater, or just for film, or just an audio engineer. I've been in positions where my role has changed by the hour! For that, Los Angeles is great.
But there is an amount of privilege you need to succeed. It took me a long time to get where I am. I have lost work before because I couldn't work for what places have offered. Sound design and audio engineering is my job, and I can only do my job if I can take care of myself. Smaller projects are good to build a portfolio, hone your craft, make connections, and try new things, any it's all about finding the balance and setting appropriate boundaries.
Right now, things are indescribably hard with COVID. I think we are all grieving in a way. But I think this is a good time for folks to take care of themselves and reflect. Checking in with ourselves is not something folks in entertainment are often able to do because of the crazy schedule. So now is a good time to evaluate our needs as humans, and for all companies to look at what the industry will look like when everything resumes.
Pricing:
Creative sound design starting at $35/hour (negotiable)
Live Audio Engineering/Mixing starting at $25/hour
Contact Info:

Image Credit:
Julien Elstob took my main photo!
Suggest a story: VoyageLA is built on recommendations from the community; it's how we uncover hidden gems, so if you or someone you know deserves recognition please let us know here.