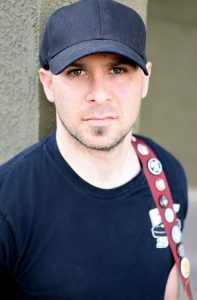 Today we'd like to introduce you to Ian Robbins.
So, before we jump into specific questions, why don't you give us some details about you and your story.
I started to play the guitar when I was 12 years old. I wanted to be in the Beatles (not a very realistic goal, but a goal nonetheless). I was very motivated to improve and even after realizing my goal was not especially likely, I decided to write my own music and start my own band.
I started a band with my friends when I was 13. Our voices hadn't quite made it through puberty yet so our vocals were shall we say, squeaky. We played a lot of Doors covers and called ourselves "The Seeds". We went to a record store one day (record stores still existed at this time) and noticed there was a band from the 60's that already had that name. We kicked around some names and even a few band members and eventually I came up with the name "Get Out". Look, I was 14 at the time. Get Out began the journey of trying to figure out just what genre of band they wanted to be.
At the same time, I was getting interested in jazz. I was in the jazz band at Eagle Rock High School and was growing my appreciation for all styles of music. At age 15, I won a scholarship to a jazz camp (insert band camp jokes here) which featured the jazz faculty of USC. During this time, I roomed with three students from Washington Prep High School. Let's just say they came from a completely different background than myself, but they changed my life forever. From the second they woke up till the minute they went to sleep they spent all of their free time practicing. It hit me hard that this is the level of dedication required to succeed in music. I never looked back and dedicated myself to my musical development. I didn't have a lot of girlfriends in High School so it was easy to find the time.
Up to this point Get Out still had a designated singer that wasn't me because I lacked confidence in my own voice. During one talent show at our school our singer was disqualified because he had already graduated. Our keyboard but converted to bass player Jojo Villanueva looked at me and said "sing it, Ian". So I did. I've been the lead singer of the band ever since. Not necessarily because I thought I was good at it but because as the songwriter it was pretty difficult to get other singers to interpret the music the way I heard it in my head. *Interesting side note- Jojo has gone on to become one of the more successful music directors in Hollywood. Super proud of that guy.
Wrapping up High School, I received a scholarship to study music at USC. I left my band behind for a while thinking I would find some new people to play with in college. I didn't (everyone in music school is really picky about what kind of music they like) and I came back to some of my old friends and formed a line-up that would remain together for about a decade. During this time, we self-produced our debut album entitled "Their Self Titled Debut Album". The title was the only thing good about it. We didn't really know what we were doing and I didn't really sing or write songs very well.
I graduated from USC in 2001 and returned as a TA to get my master's degree. I took some vocal lessons with the great Carmen Bradford and we released our second album "Better Than the Last One". It was better than the last one. I finally figured out the style of music our band played. Skate Punk. A lot of people don't know what that is. My biggest influence in songwriting is Fat Mike of a band called NOFX.
I got my masters in 2003. I recorded with one of my former professors in a jazz band called the Bruce Escovitz Jazz Orchestra. The album got pretty high on the Billboard charts and my playing was featured on radio stations throughout the country. I love playing jazz because it allows me to express myself creatively. And I embrace the challenge.
But my punk band was always my true passion. Get Out released more self-produced albums "Still Not Famous", "Back Despite Popular Demand", an acoustic album "Offending You Gently" and what was supposed to be our final record "Thank You and Goodnight". The band had reached a point where the band members had changed to a point where the musicianship was better, but the chemistry was gone.
I started to work at Musicians Institute in 2012. It was an extremely inspiring job as I got to work with students who had the vigor and passion for music that I had kind of forgot about. The students inspired me to continue to record music and I released several singles, a 19 minute song, and an EP under the name Get Out. I had the help of another MI instructor Jeff Bowders on the drums but played and sang the other parts myself.
In 2015 I was annoyed to discover that other bands named Get Out had seeped into our iTunes and Spotify listings. So I decided to do another full album. I already had the name. "We Were Here First". I wrote a bunch of songs and was planning to do most everything myself again. But I was fortunate to meet a fantastic drummer named Chris Rios. The type of drum beat we use is very difficult and very specific. Even the best drummers I have ever met have a hard time with it. Chris was crushing it. He agreed to play on the album. I had no intention of doing anything other than recording the album, but I started doing some jazz gigs with bassist AJ Polidoro. We started talking and it turned out we liked the same music. AJ joined the band and with the help of a former member GZ on guitar we had a fully functioning band again. I finally had a situation where the musical proficiency was present as was a great chemistry. We released our album in 2019 (yes, it took that long).
Recently GZ has left the band to spend more time doing his own music and supporting his family. RJ Root has taken his place and the chemistry has not suffered one bit. We are working on a new EP and have been playing shows. It's exciting.
Overall, has it been relatively smooth? If not, what were some of the struggles along the way?
It has been anything but a smooth road. One of the hardest things has been finding the right people to play with. Our music is specific and difficult. Finding the right players for the band has been tricky. Also, we're completely self-funded so paying people has been out of the question. The band started with me just getting my friends and teaching them how to play. It worked in the sense that we were having fun and had a good vibe. But I could never get the music to advance to what I really wanted it to sound like. Also, there were some musical disagreements that at times would almost lead to physical fights. I guess that's what happens when you have a bunch of passionate people in the group. At another point in the band, I was fortunate to have professional musicians helping me out. This also leads to disagreements with the dedication to practice and how certain passages should be phrased.
Another struggle we had was in trying to achieve success. There were a lot of people that would tell us a lot of great things that never came true. There were people we would submit our music to that would criticize it or just downright ignore us. The songs I write mean a lot to me and it's always been hurtful to receive a negative response to it.
Also, once a long time back my bass player and I were both going after the same girl at one of the gigs. She chose him and I didn't talk to him for a while after that. I'm over it now.
We'd love to hear more about your work and what you are currently focused on. What else should we know?
My company is a punk rock band. The products we create are music and merchandise. I am proud of all the albums we have produced on our own. Also I think our merchandise is pretty accessible and people seem to like the logos we have created and sell on our T-Shirts and stickers. What sets us apart from others is the ability to never take ourselves too seriously. Our mission is to be entertaining and to make people laugh and have a good time.
Any shoutouts? Who else deserves credit in this story – who has played a meaningful role?
My parents for sure deserve credit. They supported me since the beginning, paid for my lessons, college, and even some of the production costs of some of the albums.
I would also like to thank all the people that have ever played in the band. Even though I did some complaining about you in the other answers, everyone who ever passed through this group is like a brother (or sister) to me. Everyone pushed me to be a better singer/songwriter/leader.
Contact Info:

Image Credit:
Pixeletry, Courtnay Robbins
Suggest a story: VoyageLA is built on recommendations from the community; it's how we uncover hidden gems, so if you or someone you know deserves recognition please let us know here.