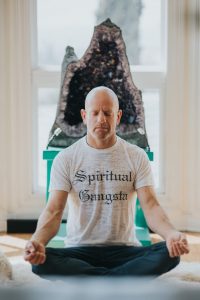 Today we'd like to introduce you to Gahl Sasson.
Thanks for sharing your story with us Gahl. So, let's start at the beginning and we can move on from there.
I was twenty-three when I returned from a journey to India and the Far East. It was time, I thought, to settle down and choose a career path. Reared in an ultra-academic family in Haifa, Israel, I felt pressure to further my education. But what should I study? I could not avoid answering the question, "Who am I?"
I remember the day I finally made my decision. I took a swim in the Mediterranean Sea and stopped by my parent's house on my way home. I looked at the sign on the building where I had lived most of my life. It read "Freud Street 26." I said to myself, "Could it be so obvious?" The next day, I enrolled in the psychology department at Haifa University. Years later, as I deepened my studies in Kabbalah and numerology, I discovered that twenty-six represents the numerological value of the "unpronounceable" name of God associated with the archetypal energy called Wisdom. I realized then that the sign on my parent's house had not only directed me to learn about Freud, but it had also launched me on a path to explore the Wisdom of Kabbalah.
I completed my B.A. and planned to pursue my master's and Ph.D. in clinical psychology. However, in Israel, more individuals yearn to heal than people who require healing. Most years, the university accepts only one in every four hundred or so applicants. The crucial requirement is a recommendation from a senior professor. I thought I had that sewn up. I had excelled in my studies. My grades were the first rate. And I believed that the head of my program believed in me as well. I had been one of eight students specially selected by that professor to participate in an exclusive psychoanalysis workshop. I was sure that my stellar performance in his class had ensured his endorsement and a spot in graduate school. I was wrong.
When I asked for the letter, the professor refused. He told me that my outlook on life and healing deviated markedly from those of mainstream psychologists. Since I had shared my interest in symbolism, synchronicity, and mysticism during his workshop, he argued that my overactive imagination, in conjunction with my bizarre theories about life, death, and spirituality, would constitute "a threat to the system."
"You have too much creativity to be a good clinical psychologist," he told me in what I perceived to be a patronizing voice. I was devastated. I was shocked and humiliated. Most of all, I was furious. Being an Aries, the warrior sign, blood rushed to my head. I saw him suddenly as my archenemy.
My sudden feelings of anger signaled nothing less than a mental declaration of war. And if you had stopped me there and then, I would have told you that this denunciation was the worst thing that I had ever endured.
But then something else happened, as it always does. The universe is more creative then we are. My best friend called and asked me to join him on a surfing trip to Mexico. I was still mourning my recently deceased career, and my initial reaction was, "Are you out of your mind?" But then I had one of these loud thoughts we all sometimes have. A thought that sticks out, like an island rising above sea level. Gahl, my name in Hebrew, means "a wave." I figured that the only way to truly understand waves, and therefore myself, was to learn how to surf. In hindsight, I recognize that I simply followed the course that was inscribed for me when I was born. I did not know it then, but my rising astrological sign is Pisces—the fish. The rising sign is the symbol that shows us our path, our road to self-awareness. I was not summoned to the waters of Mexico by my friend, but by my astrological constitution and my name. My friend—and indeed my nemesis, the professor— were just the messengers.
I was born the year of the Monkey, and like in the Chinese classic, "Monkey Goes to the West," I traveled westward to follow my name. I found myself in Mexico, chasing waves, and learning the art of flowing with life. The mantra I picked up from my surfer friends was, "No fear." It has served me just as well outside the waters as it did in the swelling sea. After a month, my friend had to return to Israel via Guadalajara's international airport. Since I had a few more months to burn before I could reapply to the university, I decided to accompany him to Guadalajara for a couple of days and from there, I made plans to travel to Guatemala to learn Spanish.
On my fifth day in Guadalajara, a stranger about my age approached me as I wandered the streets looking for something to do on my last day in the city. He offered to show me the "real Mexico." My first instinct told me to refuse politely. I had all my money, my passport, and my camera with me. Surely this is a classical case of kidnap the tourist and steals his organs. But a deeper voice inside me told me to surrender. No fear. Surf the waves. We traveled for more than an hour to the other side of town, the part less traveled by. We spent some time together and I got to know his friends. After a few hours of tequila and mescal drinking, he walked me back to the bus station. As we walked, we heard live music blasting from a little house. We wandered inside and found two guys playing their instruments. I saw a wired-up microphone standing unused beside the musicians. I had always dreamed of being a rock singer. On an impulse, I grabbed the mic and sang until my throat ached. After hours of rocking improvisation, I went back to my hostel. It had been one of the most fantastic days of my life. And I still had my wallet and all organs accounted for.
The next morning, as I was packing to leave Mexico for good, the two musicians, accompanied by a team of three translators—each of them apparently understood a different third of the English language—showed up at my room and asked me to join their band. The previous day, they had set up the microphone to hold auditions for a lead singer. And I had been the only one who'd showed up. I told them, thanks, but I was leaving that afternoon for Guatemala. They asked me, why? "To learn Spanish," I said.
The five men looked bemusedly at each other. "Well, we can teach you Spanish," one of them said. Within three weeks, the band and I were performing in clubs all over Guadalajara. I also found myself adopted by a family that provided me with free lodging, meals, transportation, and love. I was humbled by the generosity and open heart of the people. It seemed everywhere I went, I bumped into another lucky synchronicity.
One day as I was taking a run in the park, I saw a group of people dressed all in white. They sat on the ground and chanted some words in a strange language. I inched closer, and I witnessed for the first time in this incarnation yogis practicing yoga. Without waiting for an invitation, I joined them. And from that day forward, I eagerly went to yoga class nearly every day.
After about a month, the yoga teacher asked me to join him on a visit to one of his students who had been ill for a while. I offered to do some Tibetan energetic healing that I had learned a few years back in Tel Aviv. It seemed to invigorate the man, and his grateful wife insisted on giving me a gift. She ushered me into another room, and she asked me two questions that since that day, I have never stopped asking anyone who comes to me for help. Space/time coordinate of one's arrival to this life: when and where were you born. I gave her the information, and for the first time in my life, I witnessed the casting of an astrological chart. She was new to interpreting charts. She constantly turned to her books and read from them. But her comments were stunningly accurate. By that point in my life, I had gone to see five different psychologists, who, after in numerous sessions, could not understand me as well as this novice astrologer. I closed my eyes and whispered to my higher self: "If I am supposed to study this art that feels so familiar, please show me the way."
Less then two weeks later, the guitar player in my band dragged me to some mysterious meeting. I was suspicious. "What do they do? Why do they meet?" He dismissed my queries and said, "Just come." I walked into the meeting and sat in the back, close to the door to ensure an easy escape. The teacher talked in Spanish, which, at that time, I did not understand, but every once in a while, he slipped in a Hebrew word. And then to my amazement, thousands of miles away from Israel, surrounded by Mexicans, the teacher began to write Hebrew letters on the blackboard. I had stumbled upon a group that studied Kabbalah and astrology. The guitarist somehow figured I would like it. He was another messenger.
I joined the esoteric school Circulo Dorado and studied with them for two years. I suppose that the program in Guadalajara served as a substitute for my master's in psychology back in Haifa. I also later found out that the Zohar, the most important book in Kabbalah, was written in Guadalajara, Spain. It was as if my soul longed to study Kabbalah in a place called Guadalajara and led me there. After two years, I decided it is time to move again and since I knew one person from the days in the army in Los Angeles, I packed my gear and traveled to the city of angels. Word spread that I was doing charts and one story led to the other. I started teaching astrology and Kabbalah. My first book, A Wish Can Change your Life, came out and was endorsed by HH the 14th Dalai Lama, then another book on Astrology "Cosmic Navigator." Both were translated to many languages which led me to teach workshops on mythology, kabbalah, astrology and storytelling in Turkey, Bulgaria, UK, France, Singapore, Hong Kong, Russia, Spain, Argentina, Mexico, Israel, Switzerland, Germany, and Lithuania. Since 2018 I publish every year a book on the astrology of the next year and the last one was called "The Astrology of 2020 – The Dawning of a New World."
Overall, has it been relatively smooth? If not, what were some of the struggles along the way?
I believe crisis and challenges are what propel our growth. I just returned from London, where I was teaching with my good friend and bestselling author, Laura Day, a workshop on how crisis and challenges present us with opportunities. I used the symbolism of the Phoenix which rises out of its own ashes and whose tears can heal any disease. I learned the hard way that blocks in our lives are actually the universe's way of helping us climb over them and see things from above.
Please tell us about your work.
I pride myself on making up my own career. I never imagined I would be able to get paid to talk about the very things that in my childhood caused my parents to send me to psychologists. I consider Joseph Campbell, the great mythologists, to be my spiritual father even though I never met him (only once in a dream). He talked about the monomyth, the hero of a thousand faces. I consult people and companies using astrology and mythology around the world. I found that astrology works the same with people from different countries, races, traditions and religions. The monomyth helped me find the story in each client or situation and see how people from all over the world share the same aspirations, challenges and hopes.
I think the astrology I practice is very practical and I try to see people's stories, their inner mythology and help them tap into their inner hero and heroine. I am a true believer in the marriage of free-will and destiny.
Any shoutouts? Who else deserves credit in this story – who has played a meaningful role?
I will always be grateful to the late Starman, David Bowie, who, through his songs and lyrics, opened me to my spirituality. Joseph Campbell helped me piece the puzzle together as well as HH the 14th Dalai Lama. I will always be in gratitude to the magical Mexican people and those who taught me what I have forgotten. And I was lucky enough to have a wonderful family, all teachers and academicians, who taught me the power of the word.
Pricing:
Astrology Chart $200
Past Lifetime Regressions $250
Contact Info:
Image Credit:
Sulliman Abbas, Alex Richardson
Suggest a story:VoyageLA is built on recommendations from the community; it's how we uncover hidden gems, so if you or someone you know deserves recognition please let us know here.