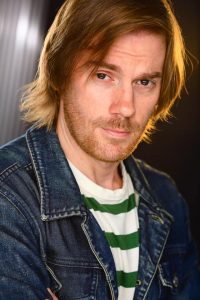 Today we'd like to introduce you to Gabriel Palma.
Gabriel, let's start with your story. We'd love to hear how you got started and how the journey has been so far.
I think being a painter had a lot to do with how my brothers and sisters and I were raised. We grew up with a father who was a very socially radical catholic, who also was a playwright, an actor, and a World War II Veteran. My dad cared a lot about the poor, the outcasts of society, the oppressed, the homeless, but he was also very concerned with Heaven and Hell and everything in between.
Everything my mother touches just becomes more beautiful, she had a much more traditional path in life, but still, I really believe I get my sense of aesthetic from her; whatever glow or beauty may radiate in my work, it comes from her. So I think the contrasting dynamic between my Mom and Dad created this innate need for me, even at a young age, to express myself and to be seen through artistic mediums.
Growing up, it was always evident that I had some talent in the visual arts, but it really wasn't until I was in my early twenties where I began apprenticing various professional artists which gave me a sense of what a career and lifestyle would be like as an artist. I also think that the passing of my dad really gave me a strong need to reconcile life and death, eternity or lack thereof, metaphysical versus earthly, and the only way I could reconcile any of these thoughts, was through painting and through acting. When I would go to the Getty as a young kid, I would only be interested in the impressionist wing. There was something about the Impressionist's that encapsulated all of what I was feeling and all of what I wanted to express. So Impressionism was my jumping off point and I feel like, even in the work I do now, I still recall many of those elements into my current work. I also often use impressionism paintings as a choice approach for my acting work as well. My painting and my acting are one in the same. There is no separation.
Has it been a smooth road?
I only feel like my road has become slightly more smooth now, during the pandemic, believe it or not. My twenties were so tumultuos. I mean, from my dad passing, other hardships with the health of some of my siblings, with me and my own health issues I experienced, and my transition out of the Evangelical Church, it was crazy time. I think now that so much of what I experienced in my twenties was really what gave me that fire in my gut to create and to express. I mean, good lord, I have to stop myself from talking about art when I get going because I'll exert so much I'll have to take a 20-minute cat nap afterwards. I think one major hurdle in my creation of art was my involvement in the Evangelical Church. After my dad passed, I ran to a church to, I think, search for some semblance of my dad there. A lot of the biblical and theological beliefs that I digested sort of became these barriers of self-expression that I wrestled with and could not find any reconciliation with in terms of wanting to be a free artist, I really have to credit my acting coach Eric Morris, and my dear friend's in the studio, Ed Zajac and Mitch Levene, for being beacons of light that really helped me find myself through a lot of all that. It wasn't until I got to Eric Morris' studio, where my real transition began. Funny enough, Eric was a very close friend of my father's, so in turn, I ended up finding more of my dad and myself in Eric Morris' studio.
We'd love to hear more about your work and what you are currently focused on. What else should we know?
I am an artist. To be more specific, I paint on canvas and show/sell my work in galleries, and I do commission work for clients. I am also an actor, so my business is me, my face, and whatever job booking comes from that. What I am most proud of? Hmm, I think I am most proud of where I have brought me and my work to. I am juggling two careers that have no clear path to success and have absolutely no guarantee of financial income. So the fact that I have been able to achieve what I have achieved and be as good as I am at what I do, in of itself is a great deal of success. I don't see anything about me that sets myself apart from others. I just have a heightened sensitivity to myself and my surroundings, and I express them in my own way.
How do you think the industry will change over the next decade?
Well, being in a pandemic has greatly affected the acting industry and the art business on many levels. I mean, hopefully in the next 5-10 years, things will be back to normal. But if things continue along the same path as it has been, I see the foundational energy of the business will have much shifted. Right now, we don't have theatre, we don't have in person auditioning, we don't have large art shows or events for networking. We as artists are people who thrive off of performing and interacting with the community, and right now, that simply is not as much a thing. It might not be a thing for the next year, maybe for the next 20 years, but who knows. I also do know that whatever shifts or transitions are at play, I think artists are relentless when it comes to chasing that high of making that connection with themselves and others. So no matter what, we will keep creating and we will continue to find our venues to do so. Art is a spiritual thing, when a crises arises, the first thing that religious people do is pray. So you can expect the same from artists. What happened when the pandemic hit? Actors were writing and performing skits on video in their houses, musicians were playing virtual live shows from their home spaces, artists went to work and painted. Whether the business is booming or things are paused, artists are gonna continue to do what they do.
Pricing:
Paintings from 8×10-11×14 average from 200-700$
Paintings from 11×14-18×24 average from 700-1500$
Paintings from 18×24 and larger are almost always in the 1000$ and up range
Contact Info:
Suggest a story: VoyageLA is built on recommendations from the community; it's how we uncover hidden gems, so if you or someone you know deserves recognition please let us know here.