Today we'd like to introduce you to Megan Marcus.
Megan, please share your story with us. How did you get to where you are today?
FuelEd's story began when I was training as a therapist at Pepperdine University's Graduate School of Education and Psychology and simultaneously serving as a researcher for the book, The Social Neuroscience of Education by Dr. Louis Cozolino. During this time, I recognized the ways in which all effective education was founded on a caring and consistent relationship with an educator. It soon became evident to me that there were tremendous parallels between a therapeutic setting and the classroom environment, in that both therapists' and teachers' work ride on their ability to build secure relationships. The only problem is that while therapists are trained in a way that prepares them for this hugely relational part of their jobs, teachers are trained as technical instructors with only content expertise. This seemed like a huge disservice to students and teachers alike, and also a massive missed opportunity.
So, in 2011, I pursued a Master's in Education, Policy, & Management from Harvard University to explore whether translating elements of therapists' professional training could fill this gap in educator preparation and better equip educators to address student's academic, social, and emotional needs through the power of relationships. In 2012, FuelEd was incorporated as a non-profit organization with a mission to improve student outcomes by developing the social and emotional competencies of educators. We piloted a 3-day training with 10 teachers at a Houston school called YES Prep Southwest. It was so beneficial, teachers convinced their administration to implement a school-wide, year-long training in 2012-2013. Now, in its fourth year, FuelEd has worked with over 7,000 educators at across the Houston landscape. Our impact has also reached Los Angeles, predominantly through a partnership with Teach for America, Los Angeles.
Overall, has it been relatively smooth? If not, what were some of the struggles along the way?
There have been many highs and lows along the way in building FuelEd.
Early struggles of the organization had to do with building our product and developing a name for ourselves. To build our product, we adapted aspects of therapist preparation for teachers, so there was a lot of translation to do. We wanted to make sure it was applicable to teacher practice and useful immediately, and so there was a lot of testing and iterating.
Later struggles had to do with building the team. As an entrepreneur and founder, much of the early responsibilities of FuelEd fell to me. I did fundraising, sales, curriculum development – the works. But in evolving the organization, it needed to grow beyond the founder and trying to do this resulting in a bit of a revolving door. This made it very difficult for us to advance and was particularly hard on my own emotional wellbeing! Whenever someone left, their job would again fall to me. It definitely felt like two steps forward, one step back.
In retrospect, I believe these growing pains were a byproduct of a being a young organization but also due to some of the traditional organizational management structures and practices we employed, which do not match with the values of the organization or our mission. It was not until we discovered other organizational models such as self-governance (holacracy, sociocracy) and deliberately developmental organizations that we were able to transform our culture and build a team that was strong and sustainable, and philosophically aligned with what we believe at our core about people.
Today, FuelEd's culture has been transformed. As of a year ago, FuelEd began to deconstruct hierarchy in our organization so there are no managers. Instead, we are "self-managed" – meaning that power is distributed throughout the organization, and roles are agile so we can flexibly execute on our mission and maximize our talent. FuelEd also deems itself a "deliberately developmental organization" – meaning our organizational culture prizes people development and encourages all members of the team to bring their whole selves to work every day. After all, we believe you cant take the person out of the professional – this applies to educators in their day-to-day work who aren't given enough training or support to prepare them for the human elements of the job – but it applies to us at FuelEd too. We weave this value into our day-to-day routines and relationships throughout the organization, and feel congruent that our mission in the world matches who we are on the inside now too.
Alright – so let's talk business. Tell us about FuelEd – what should we know?
Decades of research have shown that just one relationship with a consistent and caring adult provides the conditions for optimal learning and development in children. With teachers spending more time with our children than even the best of parents can, our education system is primed to be a delivery system for these powerful teacher-student relationships and ultimately, for some powerful outcomes for all students.
But unfortunately – believe it or not – despite the importance of relationships to student success and educator's work, educator preparation predominantly on a teacher's content knowledge and instructional skills, excluding a critical dimension of educator effectiveness: the ability to build and maintain positive relationships. That is why FuelEd was founded.
Our mission is to fill this gap in educator preparation by equipping educators with the social and emotional skills essential for building relationships in schools. We do so by partnering with K-12 schools to deliver workshops and One-on-One counseling aimed at helping educators grow their emotional intelligence so they can build more secure relationships. FuelEd's counseling support for educators enhances educator self-awareness and insight into their own early relationships. This is a crucial component since studies show that adults differ in their ability to develop secure relationships with children based on their own attachment style – in other words, how they were cared for or nurtured in their early lives. Fortunately, research has found attachment styles remain malleable across the lifespan. When we as adults become aware of how our own early attachment relationships shaped us, we can change our "attachment style" from insecure to secure, empowering us to build secure attachments with others – irrespective of our past. For this reason, it is critical that educator's training focuses on – not just professional – but personal development.
FuelEd's latest innovation is bringing the organization's impact across the country. We are seeking out individual in the education field who are motivated by this mission and wish to bring social-emotional learning for educators into their local communities.  What we will do is equip you with the skills and content needed to lead local "communities of practice with 8-14 educators who will meet weekly with the aim of developing their social-emotional competencies. Educators in your "growth groups" will get custom reports describing students' perceptions of them, which will help them continuously improve their relationship skills.  In time, this strategy will grow exponentially as we implement cascading leadership – whereby experienced growth partners go on to support new growth partners.
This scaling strategy was crystalized when we began to notice the ways certain FuelEd alumni were particularly catalyzed by our mission. Johnny Stoneburner, a leader at Teach for America in Los Angeles, is a great example of this. Like many alum, after attending FuelEd's Leadership Institute, Johnny experienced personal and interpersonal transformation, but unlike most alumni he began initiating system-level changes: redesigning the entire Teach for America, Los Angeles teacher training to be centered on FuelEd-related content and even piloting teacher counseling. If Johnny could have that level of impact and reach after being activated by the FuelEd mission, so can you!
For any Angelenos interested in joining a Growth Group or becoming a Growth Partner, we welcome you to visit us and sign up a teacherofthefuture.fueledschools.org/
Any shoutouts? Who else deserves credit in this story – who has played a meaningful role?
FuelEd and I personally have had a tremendous level of support, mentorship, and cheerleaders who have helped the organization arrive at where it is today:
Dr. Ivor Weiner, my first boss and professor at California State University, Northridge (and also my uncle) who inspired me to believe in my passions and dreams to pursue creating large scale change in education.
Dr. Louis Cozolino, my mentor, second boss, and dear friend whose ideas and vision formed the foundation of The Social Neuroscience of Education and opened my eyes to the need to transform teacher preparation and the power of relationships.
The members of our board of directors, Dr. Pravin Chaturvedi, Lisa Kennedy, and Steve Pike who have been pivotal over the years of building FuelEd, as well as all the members of our advisory board, who are always just a call or an email away.
The special schools and districts who were early adopters of FuelEd (a big thanks to our friends at YES Prep who enabled FuelEd's pilot to become a reality) and all the other schools who continue to invest in FuelEd's training as they see the value and power of teacher-student relationships.
The team members who have built FuelEd along the way – from the early ones who took a risk and joined an innovative, unproven cause to all the members of our current team who make FuelEd into the organization that it is today and who work tirelessly towards our vision of a happier, healthier, more whole world.
My parents who have always believed in me and taught me to be brave and follow my dreams.
Last but certainly not least, my husband Jacob Kamaras, who has been by my side with love, support, and cheering me on each step of the way (we started dating just weeks before my first pitch competition that I won at Harvard!).
Contact Info:
Address:3000 Richmond Ave Ste 340, Houston, TX 77098
Phone:346-204-5451
Email:info@fueledschools.org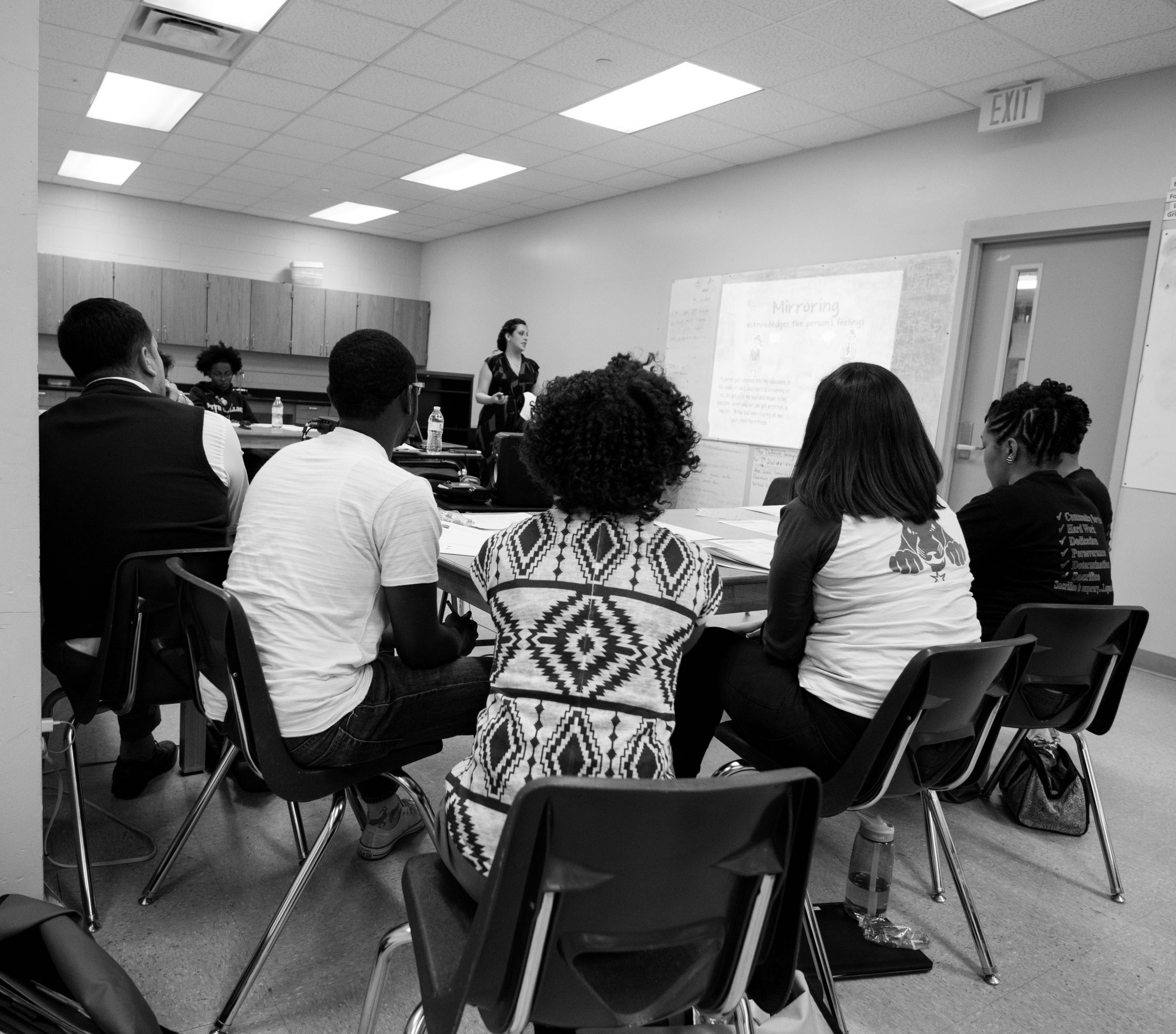 Image Credit:
FuelEd training at Houston ISD and YES Prep (Photo Credit: Trisha Cornwell)
Getting in touch: VoyageLA is built on recommendations from the community; it's how we uncover hidden gems, so if you know someone who deserves recognition please let us know here.