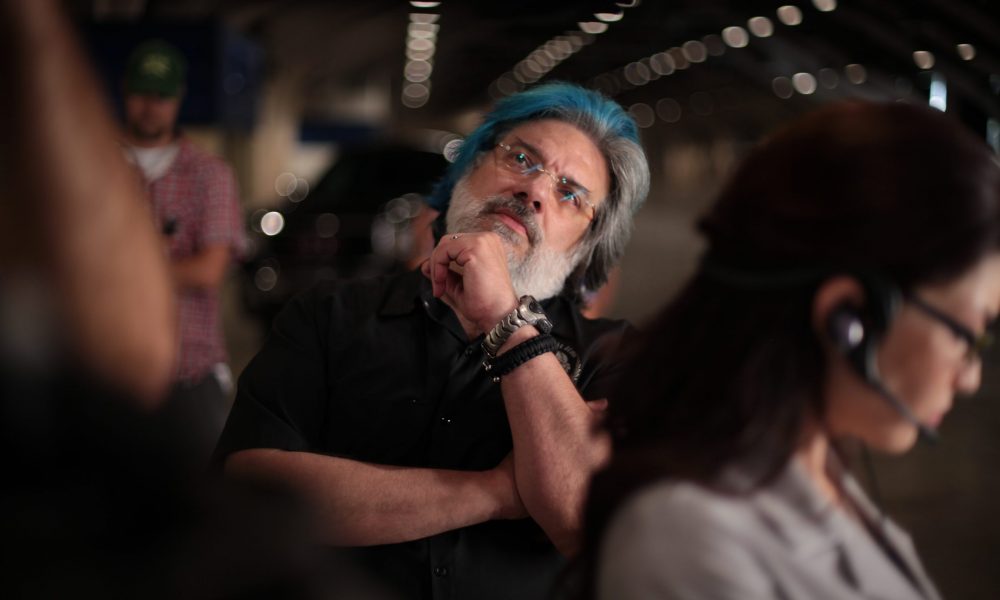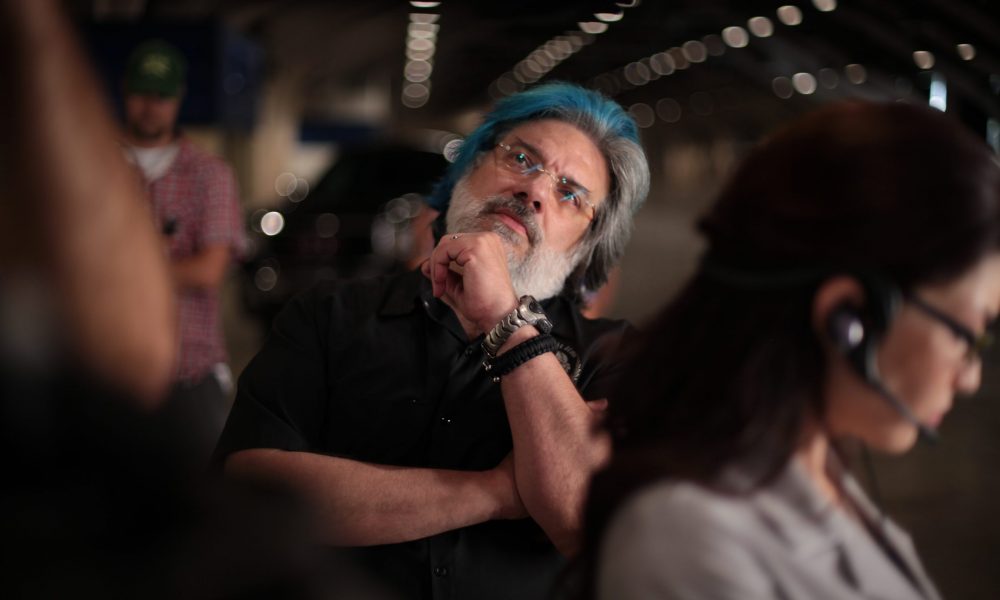 Today we'd like to introduce you to Fred Raimondi.
Fred, let's start with your story. We'd love to hear how you got started and how the journey has been so far.
I was that kid that my parents had no idea what to do with. To them, an artist was a guy that painted a picture. All I wanted to do was take pictures and play guitar. As soon as I could, I got my hands on my dad's 8mm camera (not even super 8) and made as many films as I could afford to. It wasn't many, and I had no idea what I was doing but loved it. I knew NOTHING about it, but I knew I loved it.
I understood animation early and did some stop motion stuff. Neither of my parents went to college (my dad was a firefighter and my mom was the rarest of all creature in 2018 – a stay at home mom) so when it came time for me to go, it was a crapshoot.
Nothing like it is today, where kids go to look at colleges. It was understood that I was going to go to one of the local colleges – a state college that is now a university – Kean College. My first 2 years were pretty uneventful. I was kind of torn because I was an above average musician (guitar player) and was immersing myself in that (I would come home from school and practice for 4-6 hours) and at the same time joined the radio station at my college and started taking photography and filmmaking courses. I was really doing most filmmaking and photography by the seat of my pants, but when I got some formal training, it turned out I really knew a lot more than I knew that I did. It got to the point where I felt like I was doing something wrong, I would ace all of my classes, and thought, "this is too easy". At the time, I didn't realize it but I was already learning an important life lesson.
My dad drove it home to me when we were having a heart to heart talk about my future, and he said to me, "I don't really care what you do for a living. But it should fill these two criteria; one: it has to be legal. (this coming from an Italian guy from NJ who probably had a lot of friends whose jobs didn't fill that criteria). Two: "You had better like it. Because you'll do it every day of your life."
This was a seminal moment for me. I actually broke out in a cold sweat when he told me that. From that day forward, it was simple – "Do what you like".
So, I immersed myself in everything film, video, photography, writing, everything and anything that had to do with filmmaking. I declared my major as STM – Broadcast Journalism – which was the closest to filmmaking and it taught me how to write news, what it meant to be a journalist. Valuable stuff. And at the same time took every TV, Film and radio course that I could.
Right out of college I started working as an editor in New York City, doing mostly small stuff, getting my chops together. One day, I was at work and someone came in for a visit and this gal worked at a TV station in Los Angeles. She told me that they had just opened up an edit room using the very system that I was trained on (it was the state of the art at the time – I made sure I knew it cold) and I got the name of a person I could send a resume to. Well, 3 weeks later, I get a call, they tell me that they loved my resume and wanted a reel. A week later I had a job offer and moved to LA to work at a TV station.
From there, I got a gig at NBC doing vacation relief, and from NBC got recruited by a place called "The Post Group". Now you have to understand that in the world of Post Production in Hollywood, this was the place to be. I thrived there, becoming an editor and then doing visual effects for episodic television. Rich Thorne – my boss at The Post Group – saw more in me than I saw in myself. Before I knew it, I was doing Visual Effects Compositing on, "The Twilight Zone" (1980's reboot), Max Headroom – 20 Minutes into the Future (ABC TV show), and then on the first season of "Star Trek – The Next Generation". It was on "The Twilight Zone" that I met 3-time Academy Award winner Rob Legato. He was a huge influence on me, and in many ways became my mentor.
After Star Trek, I got an offer to partner in my own Post Production/Visual Effects facility and started the company "Planet Blue". It was there that I started working exclusively in commercials. We were a small boutique, but we did a lot of pretty big work there, and while there, got nominated for 2 MTV Video Music Awards.
At the end of 1993, it was announced that Jim Cameron, Scott Ross, and Stan Winston were going to start a company called Digital Domain. One of my clients, Ed Ulbrich told me that he was leaving his position at the ad agency he was at to run the commercial division. I said to him, "Take me with you". He couldn't believe that I would sell my interest in Planet Blue to move to Digital Domain.
To make a long story short, I started at Digital Domain in October 1993 and worked there for 15 years. While there I worked with David Fincher, Alex Proyas, Michael Bay, Mark Pellington, and Gus Van Sant. I quickly became a thought leader in my field, and won 6 Clios, a Grammy, an MTV Video Music award, and had multiple spots inducted into the Permanent Collection of The Museum of Modern Art, in the collection called, "The Art and Science of the American Television Commercial.
I probably created visual effects for something like 300 spots during my tenure there.
In 2008 I decided that if I was going to be a Commercial Director (I had directed a handful of spots at Digital Domain and really loved it) I needed to go out on my own because I could never get the kinds of opportunities I needed to get while still being tied to Digital Domain.
In 2010 I signed as a commercial director with BRW-USA and directed something like 20 spots with them.
At the same time, I was also doing Visual Effects work for a select clientele while trying to make my way as a director. It was a juggle, but I was always busy.
At the end of 2016 I was offered a position on season 2 of the show Stranger Things as Associate Visual Effects Supervisor/Compositor. It was an offer I couldn't refuse. It was one of the biggest shows on TV and it was a long-term booking. I put directing on hold and decided that I'd give this a try. Taking this position was like a breath of fresh air for me and put me back in touch with what I really loved.
Well, fast forward to 2018 and I'm getting ready to start Stranger Things Season 3.
The time between seasons is pretty long, so I'm still doing Directing and Visual Effects work during the hiatus through my own company, The Ministry of Illusion.
I love technology and art. When I can bridge the two it's an amazing thing.
We're always bombarded by how great it is to pursue your passion, etc. – but we've spoken with enough people to know that it's not always easy. Overall, would you say things have been easy for you?
There are always obstacles. You really can't succeed without them. When I mentor kids, I tell them to expect to fail. It's the only way you really learn and grow. Some of the best ideas and advances come from failure. Read "The Wright Brothers" by David McCollough, those guys ONLY figured out how to fly because of failure!
But obstacles, yes.
Here's just one of mine. I never intended to move to LA. I sent out hundreds of resumes early in my career, and I was offered a gig as an editor here in LA when I was 23. My dad said, "Go. You'll never have a chance like this again. You have no ties keeping you here, so do this. This is the time in your life when you CAN do this. Well it wasn't really true that I had no ties, I had a girlfriend and a pretty successful band, both of who I had to break up with, not to mention a large, close Italian family. But I packed my VW and moved to LA. I had never been to LA, nor even 'had a clue what LA was about. Fast forward 3 months, and I got fired from the very job I uprooted my life for. So here I was in LA, no job, no friends, and no prospects. So, I mobilized, got resumes printed and started a campaign. Before long, I got a job doing vacation relief at NBC. So, because of an obstacle, I went from the crappiest TV station in LA (channel 13, our internal alogan was "top of the dial…bottom of the pile") to one of the greatest broadcast networks.
That was the first big one, there were many to follow.
So, let's switch gears a bit and go into the Ministry of Illusion, Inc. story. Tell us more about the business.
Well my whole professional life I've been involved in filmmaking. I've had 4 craft areas within the umbrella of "filmmaker".
My first craft area was Video Editing, which led to my second craft area which was Visual Effects Compositing which led to my third craft area which was Visual Effects Supervision which led to my fourth craft area which was/is Director.
My company, The Ministry of Illusion, Inc. is where I'm able to take all of those craft areas and amalgamate them into a full-service company. We do everything from concept to final delivery of content and Visual Effects. My vast experience in all the areas of production and post production uniquely qualify our company, The Ministry of Illusion for almost any visual content creation project.
Has luck played a meaningful role in your life and business?
Luck is no good unless you have chops. Yes, luck is an important component. I hate to say it, but it's true. But luck is useless unless you have the chops to back it up. You can be in the right place at the right time, but if you don't have the goods luck won't do you any good. But I have to say most of my breaks came that way.
I did make sure that I put myself (physically) in places where I could meet and be around people and facilities that could move me forward.
Sometimes I made my own luck.
The first job I got as an editor in NY was when I was PAing (Production Assistant) on a film and my job (among others) was to take the phone off the hook during a take. (we were shooting in an apartment). Because we were shooting in the living/dining room of an apartment, when we did a take, you either got behind the camera (not a lot of room) or retreated to one of the rooms that wasn't visible to camera. Well, the phone that I had to take off the hook had an extension in one of the bedrooms, so I went there. Luckily, the producer of the film, Marlen Hecht, went there as well, and she was asking me what I wanted to do in film – what my aspirations were. I said that I think post production is going to be a big business, and that I really wanted to be an editor and knew how to set up a small editing studio right down to the engineering. She said, "write me a proposal". So, I did, right down to the equipment we would need. Three months later she called, me and said, "you start work on Monday, they're delivering the equipment" You never know where your breaks are going to come from, so make sure you exploit every opportunity.
Contact Info:
Getting in touch: VoyageLA is built on recommendations from the community; it's how we uncover hidden gems, so if you know someone who deserves recognition please let us know here.