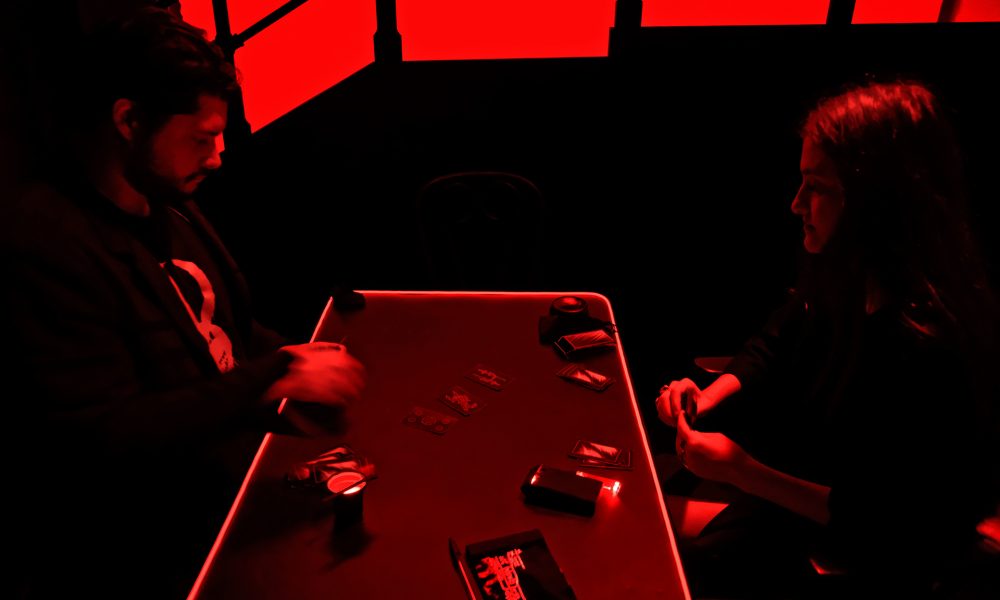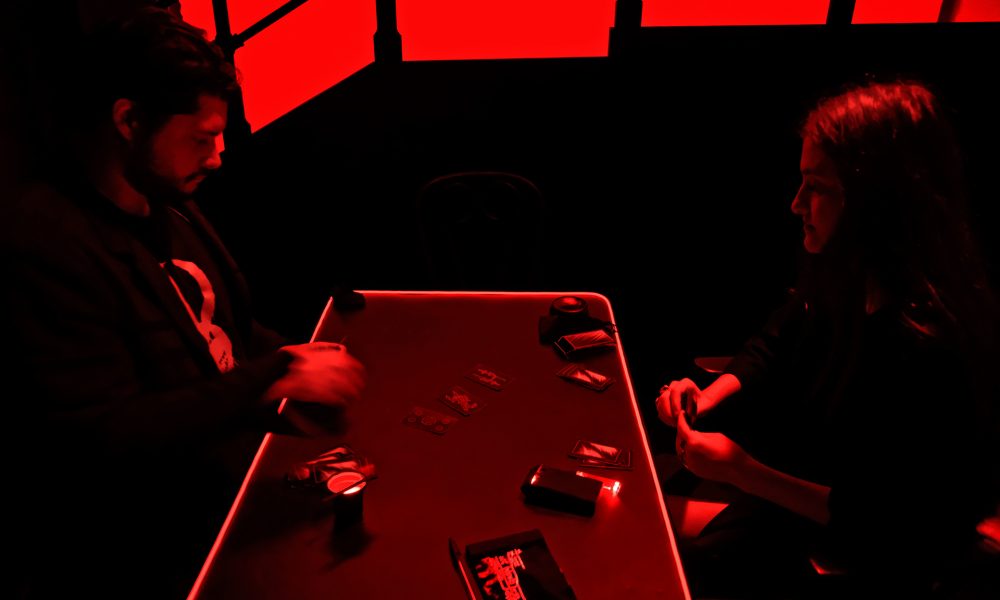 Today we'd like to introduce you to Francesca Bifulco and Alex Schetter.
Every artist has a unique story. Can you briefly walk us through yours?
Francesca: I was born and raised in Paestum, a city in Southern Italy, centered around three majestic Greco-Roman temples surrounded by the remains of columns, painted tombs, architectural reliefs and elegant pottery depicting stark overlapping figures which were all about everyday life and rituals executed with sharp, clean, impactful lines.
My family would run a campground in Paestum, and at the end of every summer, we would all be involved in putting together sets, costumes, and accessories for our "Night of the Greeks" show, a somewhat immersive play held on the beach involving acting, dancing, sound and live participation of the audience. It was a tradition of joining creative forces I would look forward to, and that definitely led me to appreciating performance, theater and movies with a particular interest in set design and special effects make up. These were the two disciplines I studied and worked in during my years in Rome. After six intense years there, I moved back to my hometown and began focusing on painting.
It was 2012 when I left for America and landed in Los Angeles with about ten paintings rolled in an 8-foot long orange PVC pipe. Eventually, I had the chance to show those large canvases at a gallery in Bergamot Station in a show curated by an Italian curator that paired me with a local sound artist, Alex.
That exhibition was definitely the starting point of my art career in LA, but it also brought to life a fundamental collaboration in all subsequent projects, and as a couple.
Alex: I'm originally from Los Angeles, and was always, from a young age, drawn to music and sound. My piano teacher recognized my interest in the technological side of music making almost instantly. As a result, I literally grew up using the recording software the would turn into the leading audio software used today. I studied music business in New Orleans for a few years before realizing I wanted to focus more on the technology and creative side of music and sound and moved back to LA.
I was studying audio production in Los Angeles when I first found my way into the art world. I had created a sound installation as a school project which was shut down by campus security in less than a minute for being too loud. Unsatisfied with this result, I went over to Bergamot Station and started walking into galleries and asking if they had any interest in showing sound work. Luckily, one gallery was willing to look past my naivety and offered me a place in one of their shows. That show happens to feature two painters, one of which was Francesca.
I've worked on a number of installations since, most of which are with Francesca. I've also expanded into digital video projection, lighting, electronic circuitry, and fabrication, mostly out of necessity and curiosity. I also do sound design and repair synthesizers and electronic instruments for Elektron Music Machines.
Please tell us about your art.
Francesca: I started as a painter with large scale backdrop canvases depicting human crowds in urban surroundings. From the start, I was always looking at different ways of experiencing the work on the wall. So, it was pretty natural to collaborate with Alex integrating field recordings and video with the paintings. Over time, I couldn't think of making a piece without sound attached. It was so essential to the storyline of the work. I then switched to painting individuals in social gatherings on wooden panels and experimenting with texture, trying to give my lines a sculptural quality. That led to me adding 3D elements to the compositions with Alex's help, eventually expanding them into mini sets. They were all steps towards a more expansive language, which became the foundation of our installations.
As far as concept goes, especially with our latest projects, I usually go out in the field and immerse myself in communities where there are usually social conflicts to study their cultural rituals, their everyday habits, their point of view. Spending time with the people and in the places, we make art about has become essential to what we do before translating the live experience in multi-sensory site-specific installations. The aim is being able to create something people will feel connected to no matter their direct relationship to it. If you create an experience that stays with somebody, the subject matter will stay with them too.
Alex: An important part of music for me growing up was the artwork that surrounded it. An album, for instance, wasn't just a set of songs, but the album cover and packaging, music videos, concert performance, posters, advertising campaigns, etc. All of it can lend itself to creating a world that gives that album context. I believe the same can be translated to any art form. So, I've always been interested in expanding a concept beyond a single art form in order to enhance its meaning. So, all forms of media have always been an integral part of my creative process, even if it didn't all see the light of day. But, immersive installations seemed a natural way for me to showcase a project as a whole, and Francesca's work and passion for her subjects are constant inspirations. So our work and life together happened pretty organically.
With our art, generally, the concepts have already been developed, mainly through Francesca's painting process. So subject and color palette are set. She also has a number of ideas about the environment those paintings should be in. I'm just expanding on those ideas and building a context around them.
The transition from the outside world into the one we've created is an important aspect of the installation as well. I'm trying to create an environment that insulates people from the world they are walking in from. If they can forget where they are, then they are free to experience the environment and art fully. One of my favorite things someone told us after they saw our most recent work, Forcella Reigns, is that they had to adjust back to the real world once they left.
What do you think is the biggest challenge facing artists today?
Francesca: Especially nowadays, quality is a challenge on its own; it requires care. Making something that looks seamless, especially within the installation field, I feel is very overlooked. For instance, if you can't see the hot spots from a projection, if you can't figure out where the speakers are or don't notice the wires, or don't understand how certain parts of a painting were painted, that because of a lot of research, attention to detail, hard work and time. I think that the hardest part is to keep dedicating time creating a polished (or intentionally unpolished) finished work while realizing that currently, society seems to reward something more and more immediate. We find ourselves living this duality, and it's really hard to find a way to balance the two.
Alex: When it comes to the type of work we're doing together, namely immersive installations, one of the hardest things is figuring out how to make it self sustainable. That is to say, make a living at it. However, that seems pretty self-evident with something that can't be sold and hung on a wall and sits there quietly. Instead, most of the challenges artists face today are all realized in the 24 hours before an opening. That last day is never calm; you're always wondering if this time will be the time you don't make it if you've gotten the word out enough on social media, if the idea will translate:
"…Did we forget to attach this here, or that there and we've got to post a picture and remind people to come on Facebook and Instagram, and we have to go buy a bag of 3/8-inch #8 screws because we ran out last night and did we send the press release out to such-and-such – Is the sound done bouncing? Crap, no. Hopefully, it is by the time I set the lights. I hope someone shows up… I hope the video looks okay, what if we missed something in one of the frames. Is the sound done yet? Do I have a clean shirt I can change into when we open? I don't think we're going to be ready in time. I hope no one shows up. Did anyone see my email? God, I hope someone shows up."
Its all the aspects of what a current artist has to be, all competing for your focus; a lot of conflicting right-brain and left-brain processing needed all at once. I guess the ability to manage that is one of the things that makes for a strong artist, but it doesn't make it any less exhausting.
How or where can people see your work? How can people support your work?
We recently showed our latest multimedia installation called Forcella Reigns: The Men Who Play Cards at North Hollywood's ZJU Theater. https://youtu.be/gGJiudMWsiw.
It has been a longtime project that we built from the ground up, merging sculptural paintings with hybrid stage and light design, integrating shadowbox video projection and 3D environmental sound. We plan on showing it again before taking it to the city that inspired it, Naples.
ZJU, as a black box theater, has been a great space for us to experiment in blending genres and expand our original ideas. They have been incredibly supportive of our work, allowing us to stretch visual art into an almost theatrical presentation and use the space in ways that a normal gallery wouldn't. Beyond our work, their own theater group does some pretty awesome eclectic productions that are definitely worth seeing.
We just moved to a new space in the Lincoln Heights/Brewery area and are in the process of setting up our studio. But, we will be opening it to fellow artists, friends, and the community as soon as we've got things in place, for the most part. We're excited to work on new projects in a new place.
For now, you can check out the work including Forcella Reigns at https://www.francescabifulco.com/forcella-reigns. There you can join the newsletter for updates and stories and visit our online store as well.
Contact Info:
Image Credit:
Photo Credit © Alberto Mesirca
Getting in touch: VoyageLA is built on recommendations from the community; it's how we uncover hidden gems, so if you know someone who deserves recognition please let us know here.