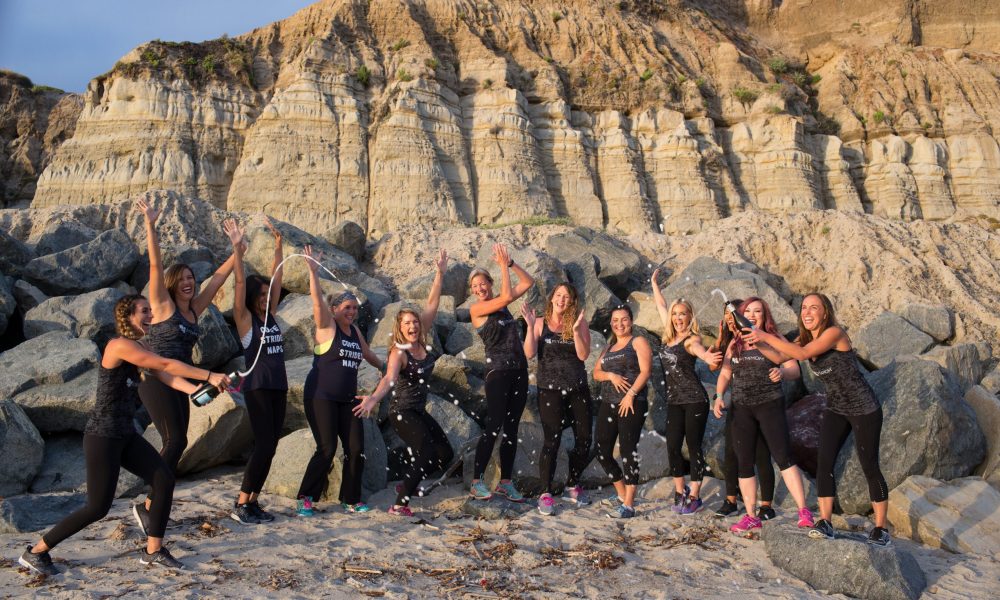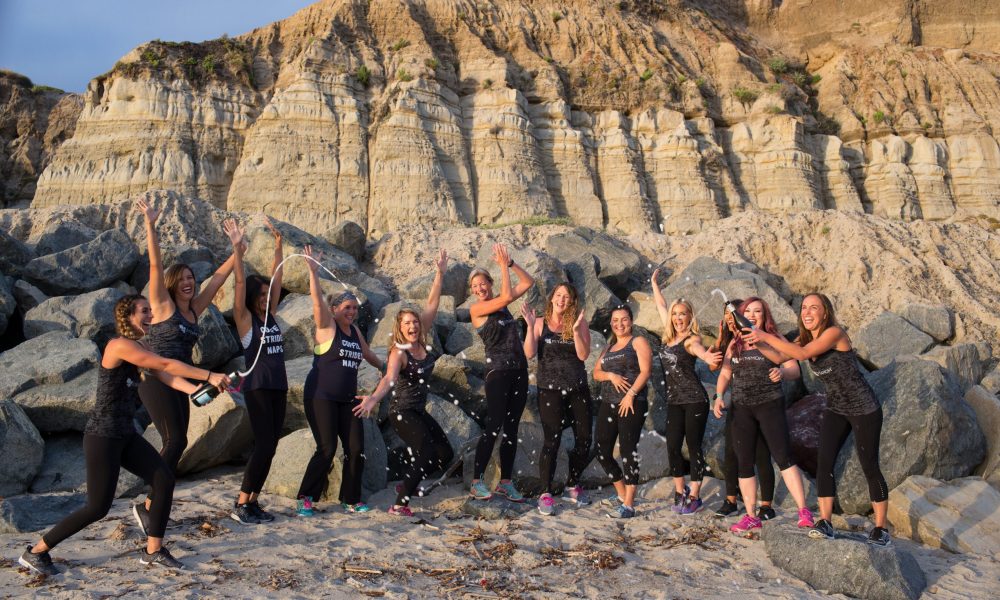 Today we'd like to introduce you to Angie Mills.
Angie, please share your story with us. How did you get to where you are today?
Six years ago, my husband and I moved to California (from Ohio) when I was 3 months pregnant with our first son Tucker. It was extremely hard emotionally to pack up and leave my family behind, especially being pregnant. I was working as a nurse out here during my pregnancy, but the plan was for me to stay at home the first year. With no family or friends around, we didn't have the help to pick up the kids if they got sick when we were at work, and we both had jobs that didn't allow us to leave at any moment in the day. Fast forward to 3 months postpartum, my husband walks in and I obviously looked dissolved, tired, probably in dire need of a shower. He looked at me and asked, "Have you left the house today?" I answered sadly, "No." He asked, "have you showered today?" Almost in tears, I said "no." He said, "Hand me the baby, go shower, put on something nice, I'm taking you dinner and we're finding you some mom friends." I didn't know it then, but I had baby blues. As much as I loved being a new mom, and I loved the fact we were fortunate enough I was able to stay at home and watch him, I was so unbelievably lonely. I was used to working full time surrounded by other walking talking humans. I literally spent 24 hours a day caring for this tiny human, who rarely slept, couldn't talk, feeling like I didn't recognize my newly postpartum body, and couldn't understand why my body wouldn't produce enough milk to nurture my baby. I was feeling so unbelievably isolated, I didn't feel like myself. So, long story long, my husband saw some moms walking with strollers and googled moms with strollers and FIT4MOM came up. He gave me the number, and set me all up. I remember feeling reluctant at first but I'm telling you I showed up and Keira the instructor/owner at the time made me feel like I was home with these mamas. You know when you meet someone so magical the only way to describe them is like a warm hug. That was her. It was magic. The instructors were welcoming, they met me at my starting point, and they just made me feel like I wasn't alone in this journey. After being a member for several years, the opportunity came up to purchase our franchise and so I did. I loved everything FIT4MOM stood for. I loved the community support, the amazing workouts, the friendships, and kiddos. I was eager and excited for the opportunity within a program I loved. At that time, we were FIT4MOM Aliso Viejo/Laguna Niguel. This May, another opportunity came up to purchase FIT4MOM San Clemente, so again I took a leap of faith and did it. This time I had a strong team behind me (but also 3 kids under 4) that I came to and said, " I cannot do this alone. If I do this, I'm going to need help." One of my instructors Lauren had my back and is now our Manager in San Clemente and she's a huge reason we are able to offer classes out there. It was kind of an "If I jump you jump" kind of moment, so I really have appreciated her hustle. We now go by FIT4MOM South OC and our mamas get to have access to any of our class locations! I may be the owner, but our team of instructors, our mamas who show up day in day out, tired, sometimes up all night with newborns, teething toddlers, or even moody teens, they are heartbeat of this operation. We wouldn't be able to do what we love without them.
Has it been a smooth road?
I don't know if there is a business owner out there that would say it's a smooth road. We all have our struggles. I've only gone running to my husband once in the past two years saying maybe I'm not cut out to be a business owner, so given those stats I think it's pretty good.
I've told some of the girls on our team, almost everything I've tried the first time has failed in some way. I'm ok with failure along the way so we can grow. I've also learned that success doesn't always look like a straight line moving up. It's has its pits to get to its peaks. We've grown over the past 2 years in ways that really I didn't imagine. Our whole team should be so proud. We're a mom ran and operated business in Orange County California where there are fitness studios what feels like every street corner. Our location started over 10 years ago and is still around, and growing! It's really amazing when you stop and think about it! Our moms who come to us have so many fitness options here in California, but they choose us and I am always grateful for their time and business. Our Global Fitness Director Farel Hruska said once, "A squat is a squat, a lunge is a lunge. Until you step into a FIT4MOM class." I usually sit on that during my struggles. I think why I started. What it does for moms in our communities. What we're doing at FIT4MOM is so much more than another fitness class. We're helping give mamas the strength for motherhood, and in return, it's given me the same.
We'd love to hear more about your business.
FIT4MOM is dedicated to the Strength In Motherhood™. By providing classes and support for moms in every stage of motherhood.
Through Fit4Baby's prenatal fitness classes, Stroller Strides, Stroller Barre, Body Back, and Our Village, women have the opportunity to have a workout and support that is flexible around motherhood.
FIT4BABY® is designed specifically for moms-to-be. All exercises are carefully selected to prepare your body for the many changes you will experience during pregnancy. You can begin FIT4BABY at any point during pregnancy as the workouts are scientifically- based, purposeful and designed to accommodate your changing body. The 60-minute workout includes cardio, strength, balance, and flexibility training and ends with a relaxing meditation; everything you need during this precious time!
Our most recognizable class format is our stroller based classes Stroller Strides and Stroller Barre. Stroller Strides® is a functional, total-body conditioning workout designed for moms with kids in tow. Each 60-minute workout is comprised of strength training, cardio and core restoration, all while entertaining little ones with songs, activities and fun! Each Stroller Strides instructor is skilled to meet you where you are mentally and physically. You'll leave class feeling connected, successful and energized! No more mama guilt! This class is all about self-care in a supportive and encouraging environment.
Body Back® is a 60-minute, results-based workout designed to help you reach your full physical potential and reconnect to your inner strength. Our high-intensity interval training (HIIT) cycles through cardio, strength, and core work and concludes with a relaxing meditation to help you recharge and head back to your family. Improve your health, fitness, and physical strength while experiencing a personal transformation.
Our Village is here to support, connect. empower, and make a difference.
Our Village supports all moms, in all stages of motherhood, we have Moms Night Out, playgroups, book clubs, family events, charitable events, and so much more. This is what I'm most proud of as a company. It's as simple as seeing a mom stop and fix another moms tire when it comes loose off her stroller, or moms coming together with ideas to help the homeless and make care packages. I could probably write a book on all the amazing things these ladies have done over the years to make their communities a better place to live. But since I have 3 cranky kids in the next room needing my help to get ready for bed I'll spare you.
I always tell our moms, "Your kids see you. They see your hustle." It's hard to remember that when they're babies. But those babies become toddlers. Those toddlers become real big kids who remember seeing you push them around each morning in between the burpees and the pushups and the singing and the toe tickles. They see mom as an athlete, even if she doesn't see it. Moms text me pictures of their kids pretending to play Stroller Strides at home and that makes my heart so happy. I'm not exaggerating when I say our mamas are shaping generations. Our children are viewing fitness as fun. It's life changing.
Is our city a good place to do what you do?
I love our cities and I am very lucky to have their support!
Contact Info:

Image Credit:
Lissarie Photography
Getting in touch: VoyageLA is built on recommendations from the community; it's how we uncover hidden gems, so if you know someone who deserves recognition please let us know here.