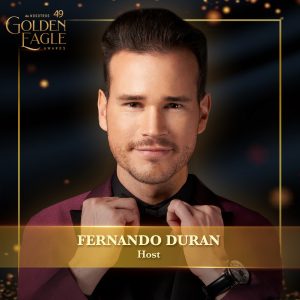 Today we'd like to introduce you to Fernando Duran.
Fernando Duran, born in Queretaro, Mexico, serves as the west coast host, emcee, and voice-over announcer for Universal Studios CityWalk. He is known as Ferrrnando (with 3 Rs). Since joining Universal CityWalk Hollywood 5 Towers Stage as their resident emcee, Duran has hosted showcases, movie premieres, album release parties, Hard Rock Café Battle of the Bands, Salvation Army's Rock the Red Kettle Drive ft. Alessia Cara, World of Dance Live, plus co-hosted many radio and television station special events.
The 5 Towers Stage, delivers live entertainment to CityWalk's international and local audiences. CityWalk Entertainment delivers high-energy and engaging dance parties and showcases up-and-coming artists playing live music whether on the 5 towers stage or busking throughout CityWalk Hollywood.
After graduating from The American Musical and Dramatic Academy, Duran started his career at CBS studios with a few regional and national commercials under his belt. His love for live entertainment, led him to warm-up audiences for live TV-tapings thanks to Justin Healy. His breakout role as the warm-up guy for So You Think You Can Dance sparked a fire to search for the next thing. He was hired as the understudy to the host of Nickelodeon's Slime Time Live aboard Norwegians Cruise Line's cruise ship, EPIC. He came back from Europe to eventually join the ranks of studio tour guide at Universal Studios Hollywood (USH), and since then has warmed-up TV shows for clients like Facebook Watch and Nickelodeon.
Duran's snarky-quirky character reminds people of Jim Carrey and Neil Patrick Harris. Thanks to his co-worker Tommy at USH, Duran auditioned for the role of a lifetime. Since 2016, Duran has portrayed the only Spanish-speaking Grinch at Universal Studios. He impersonates this iconic character for Hispanic-media-outlet interviews to promote the park's yearly Whobilation. In 2018, Duran, as the Grinch, made a special appearance with Alejandra Guzman and Nacho for Telemundo's Un Nuevo Dia Holiday Special.
Duran co-hosted and produced over 30 episodes of Musicash Weekly, a music talk show for Musicash, an online global talent competition in their first season. Musicash Weekly invites new, aspiring, and experienced artists to the studio to perform and chat about their careers in the music industry. In addition to hosting, Duran is also the producer for the platform's podcast, Talents Out Loud, and the brand's spokesperson for the talent competition promotional spots and videos.
Philanthropically, Duran is the host and/or auctioneer for Homeless Health Center Los Angeles, One Children's foundation's Los Angeles in Mexico project, The San Fernando Refugee Children Center, Penny Lane Centers, Nosotros, and the Boy Scouts of America, South Bay Chapter. Duran continues to find opportunities to share his talents with a wide variety of audiences in connection with AGVA, SAG-AFTRA, NOSOTROS, and NATAS.
Fernando can be found on social media as @theferrrnando.
Great, so let's dig a little deeper into the story – has it been an easy path overall and if not, what were the challenges you've had to overcome?
I think the biggest struggle is the internal one. The internal tapes, "do they like me" "I'm not tan enough." "I'm not toned/muscular enough" "Am I straight or gay? Am I annoying? Am I cocky or just confident enough!" "Can I do this? Where should I go! What should I focus on? When I was younger: Is the acne on my skin ever going to clear up? Is this where God wants me?
Once I focused on that last question, I started seeking answers from within. With the help from therapy at the Los Angeles LGBT Center, I embarked on a journey to let go of false truths and be me: LATINX GAY CATHOLIC ME.
What do you do, what do you specialize in, what are you known for, etc. What are you most proud of? What sets you apart from others?
The entrepreneurial spirit has always inspired me to seek opportunities and connect with decision-makers and good people that see my value and are able to offer me opportunities.
After a slew of background acting stints in movies like Neighbors and Piranha 3D, and TV stand-in and photo double/hand double gigs for shows like American Idol, So You Think You Can Dance (thank you, Justin Healy), and 3 seasons on Bones, I found stayed in California and continued to pursue a career in entertainment.
The commercial acting world is something that I really enjoy pursuing, but alas, hasn't offered me the financial stability through consistent jobs, yet. So, I asked myself: What can I do to put food on the table? So I focused on my other passion. Live events! Then I asked myself, Who produces live events? Who can I work with? How can I position myself as a special event host in front of the right event producers? What type of events can I do? How can I market myself as a live voice-over announcer, host, auctioneer, emcee, etc.?
Eventually, I found the answers to these questions and started navigating the industry through trade shows, charity, and networking events, etc. Although, I have been doing this line of work professionally since 2012, there is always room for improvement when it comes to branding and marketing of my services.
Regardless, keeping your goals in check and continually asking the universe for how I could serve this industry is the key to consistently working. As much as it takes my talent to succeed, 99% percent of the things I have done is because people see something in me and extend an opportunity to audition or interview for their projects. I don't always get the job, but what is meant for me is meant for me.
Most recently, I was the host of the 40th Young Artist Awards(YAA) in Hollywood. Thanks to NATAS president Kristen Castillo for giving me the stage as presenter on her chapter's Emmy Award Show in Las Vegas so that the producer of YAA could see me. At first, the Executive Producers of YAA just asked me to present an acting award for them. After a week they offered me the role of host because some big celebrity couldn't do it. Imagine my luck, I had been asking the universe for more of these types of jobs! Thank you to Michele and Andre and Chris A. Thank God also for my most recent gig co-hosting the 49th Golden Eagle Awards produced by Nosotros.Org, the oldest arts advocacy organization in the US that was led by legendary actor, Ricardo Montalban. Thanks to the Nosotros Board for having me!
My goal is to be successful in the entertainment industry anywhere in the world. One day I would love to go to Broadway or do more live theater, be part of a Sitcom as a cast member, host a gameshow or unscripted reality TV show, and teach others how to do what I did.
My business is the people business. I serve the masses, but I work with other business owners selling my product: my charisma, personality and acting/hosting chops.
There have been so many highs this past decade when it comes to work: working for the Nickelodeon at Sea shows on Norwegian Cruise Lines what was then their biggest ship; the Epic, to warming-up TV shows like Do or Dare, and Drop that Seat (thanks Matt Harper for the opportunity), to being the trophy present for the Daytime Emmys for close to seven years (thanks for NATAS' executive director David Michaels, to being the resident emcee at Universal Studio's CityWalk in Hollywood for the last five years (thanks to Stewart I. and the CityWalk Ent. Team). Oh, and who can forget, from 2016-2018, my days as a scare-actor at Halloween Horror Nights at Universal Studios Hollywood! Plus most recently, having organizations like Homeless Health Care Los Angeles, Penny Lane Centers, Boy Scouts of America, Los Angeles en Mexico just to make a few, trust me as their host/ auctioneer to raise money for their cause.
This journey started with a musical I acted in written by Jamal Speakes called Phi'LA the Musical. Thanks to him and his drive we performed one day at AEG's Club Nokia. (It probably has another name now). CBS did a story about his musical and I was introduced to Bill Whitaker of CBS News. In early 2010, I visited Mr. Whitaker and he gave me a tour of his office. I asked if CBS was hiring and within a few weeks, thanks to his recommendation and the opportunity given to me by Karen W., I became a CBS page, temped at the mailroom and the rest is history.
When I am not on stage, I am among the people representing FCA North America at the auto shows all over the US!
There are many ways to be successful. I found my way(s).
Do you look back particularly fondly on any memories from childhood?
My favorite childhood memory is the visits to both of my grandparents' house. Plus, the family vacations where almost 30 of us got together for reunions. I miss that.
Family is important to me. Sometimes, I take that for granted. So, I am getting better at trying to visit home more often and enjoying the people I love.
Familia is everything.
Contact Info:
Suggest a story: VoyageLA is built on recommendations from the community; it's how we uncover hidden gems, so if you or someone you know deserves recognition please let us know here.