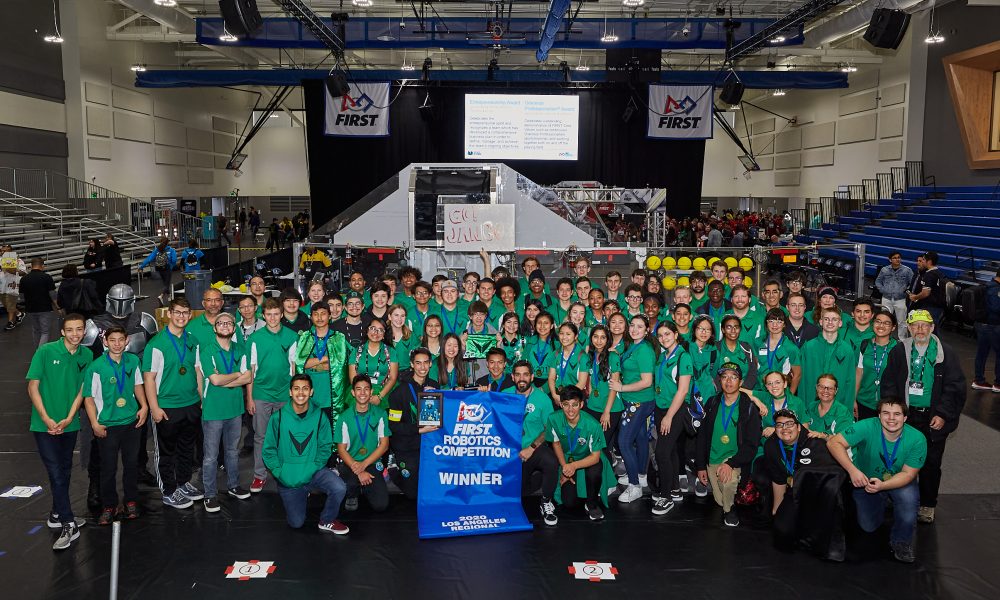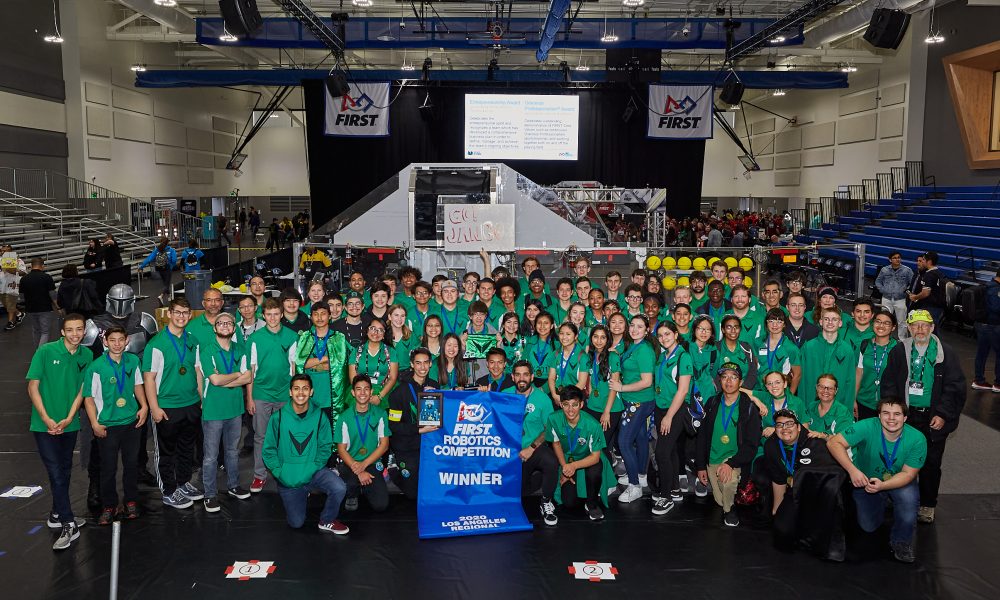 Today we'd like to introduce you to Fazlul Zubair.
So, before we jump into specific questions, why don't you give us some details about you and your story.
Our team began in 2012 with little more than a cramped closet at Da Vinci Science High School. Our first two mentors wanted to provide students with real-world STEAM (Science, Technology, Engineering, Arts, and Mathematics) experiences and managed to recruit ten kids during our rookie year. Over time, the people in our community were able to see how our hard work and dedication allowed us to become the Da Vinci Schools' signature program. Last year, we packed up our bags and moved from our original home into a new, larger campus with our sister schools, Da Vinci Communications and Da Vinci Design. This move allowed us to welcome team members from all three high schools.
I joined FIRST because I saw it as a way to get people excited about engineering and build the next generation of people to eventually allow me to retire. For the 2012 and 2013 seasons, I was a technical mentor on the team. I taught students about systems engineering and the design process while also teaching all technical skills and being the drive coach. As I worked to grow the mentor support on our team, I realized that many mentors could provide technical support, but that the team needed more support on the business and scouting aspects. Around 2014, the students began to separate into directorates focusing on the aspect of the robot or team they desired. I worked with the team leaders to ensure that the groups communicated properly and now we have a robust leadership structure that molds itself each year to the students that are involved.
Has it been a smooth road?
The team has grown so much in its nine years, starting as rookies and securing the world championship in 2019. This has not always been easy. We have always had a few dedicated mentors, but MANY students who wanted to participate. So creating a team where everyone has a chance to be involved is difficult. Sometimes this leads to conflicts with students, other times it leads to conflicts with mentors. We strive to have open communication and discussions with everyone to ensure their voices are heard. We also work to increase the technical competence of our team with new technology, software, and processes.
Please tell us about FRC Team 4201, The Vitruvian Bots.
One of the biggest goals of our team is to spread the opportunities of FIRST robotics through our local communities. In 2017, our family was also excited to help start and mentor the rookie team 6904, The TeraWatts, whose team demographics consist of 100% minorities. Our family has visited them in their hometown, which was an eye-opening experience as we witnessed how fortunate we are. In the city of Watts, 97% of the population are below the poverty line and 95.5% of students qualify for free or reduced lunch. Since only 2.9% of residents in Watts, aged 25 and older, have a 4-year degree, we are sharing our experience and FIRST's message by inspiring disadvantaged students to pursue STEAM careers. We welcomed the TeraWatts into our home, and they were happy to be a part of the FIRST universe. We were proud to see that the TeraWatts placed 5th in the Song Parody competition last year, and they even started their own summer camp this last summer. Regardless of our families come from different backgrounds, we have and will always take care of one another. Our team has truly become a second family for our local teams.
In addition, our family was also excited to organize a showcase of STEAM demonstrations known as the Robotics 360 events. Our goal is to allow kids of different backgrounds to be exposed to STEAM at an early age. Here, we talk about the team, demonstrate our robot, and get the children involved in FLL games in order to get them excited about STEAM. We have organized three Robotics 360 events in just the past year at Cal State Los Angeles, the Obama Preparatory Academy, and the Girls Academic Leadership Academy. Over 500 kids were able to attend these events and this has truly benefited their schools. After being inspired by our family's warmth, these schools are now planning to create a series of FLL teams in the upcoming season and eventually, an FRC team as well! Our Vitruvian family is happy to know that we inspired many young kids to now consider a STEAM career as a real option for them.
We also want to grow young girls' passion and confidence for participating in STEAM fields by collaborating with our local Society of Women Engineers (SWE). Together, we have planned field trips to local aerospace firms, provided weekly SWE mentoring to young girls from 6th to 8th grade, and hosted presentations by professional female engineers. We also house monthly STEAMmineers Day, where we teach young girls, ages 5 through 14, how to use robotic components, set team goals, and practice STEAM-based projects. For over two years, more than 80 girls participate each month and continue coming back to our family because of our nurturing culture. Encouraging STEAM to young girls in our universe is something we love to do.
In our home, we started the Da Vinci Science Robotics Camp in 2014, a summer program led by our own family members. Every year, our campers are excited to attend our robotics camp. They return summer after summer, bringing their friends and enthusiasm, which encourages us to make each year better than the last. Last summer, we welcomed over 200 elementary and middle school campers to create robots for a competition that incorporated the FIRST POWER UP theme into the FLL game our campers were playing. Through interactions with our members, many students were inspired to create their own FLL teams, and maybe one day to join our FRC family. In these past seven years, we have had the pleasure of mentoring fourteen FLL teams and have connected with over 400 local FLL teams through volunteering at FLL qualifying tournaments and the Los Angeles Regional Championships with members of other FRC teams. We even plan on hosting our own FLL tournament at our facility someday as well!
Along with teaching the youth, our family promotes fun and our message of inclusiveness in multiple ways within our local community. At R. H. Dana Middle School in Hawthorne, California, we introduced "The Hackathon", an event promoting STEAM to kids through hands-on projects, guest speakers and engineers from the community. At one of our district's elementary schools, Juan de Anza Elementary, we have attended their Expert Expo annually as one of the STEAM related community organizations that showcases the opportunities awaiting kids when they reach high school. Every year, we present our robot at several community events. You might spot us dunking our principal in the dunk tank with a ball thrown by our robot at our school district's annual Rock Around the Block fundraiser. Here, we try to get the youth in our district informed and excited about our team and FIRST. You may also see us demonstrating our robot to the general public at the Makerbot fair. We are also privileged to showcase our robot at companies who graciously sponsor our teams such as SpaceX and Raytheon. Knowing that our family has successfully shared our message with hundreds of members within our community is very rewarding to each and every one of us.
We also like to help contribute to greater causes in our universe. In 2018, we volunteered at the Los Angeles Regional Food Bank to help create packages of food for low-income families and homeless people. Through this, we created more than 5000 packages with the help of people from all across LA. Our team's contribution to the food bank allowed families in need across the county to be provided with food for a healthy meal. Giving back to the community through outreach like this allows each team member to demonstrate the core values that FIRST has provided us with to help others. Although our message is about inclusiveness, we also choose to help those in our universe that need assistance.
Before any of our family members move out, they develop many skills from their time on the team and become well-rounded in the world of STEAM through the various opportunities our Project Lead the Way certified school has to offer. This includes our concurrent enrollment classes through an El Camino Community College, and amazing summer internships with SpaceX, Boeing, and Northrop Grumman. The industry has also partnered with individual courses in our curriculum such as Boeing, Cal Poly SLO, Aerospace, and Raytheon. Many of our members have participated in various STEAM challenges with these companies such as the Chevron Design Challenge, the Northrop Grumman Innovation Challenge, Raytheon's Engineering Games, and the Herndon Design Challenge. Our family is lucky to have these resources to help each of us grow into our full potential and leave our home with the necessary skills to pursue careers in STEAM.
One exciting mission where we were able to apply the skills we learned at home was to participate in the designing of a prosthetic arm for an amputee in Texas. Members from our team worked together with Raytheon employees and some high school students from Texas to brainstorm and design a mechanical prosthetic using knowledge of the design process our PLTW certified school taught us. We're glad that our close partnership with Raytheon has allowed us to participate in these events so we can collaborate on really cool projects with them! We plan to partner with Raytheon in the future to create a curriculum for our Engineering Design course around supporting those who need prosthetics. This will allow our team and school to increase their engineering knowledge while also supporting veterans and others in an enlarging sphere of influence.
The Vitruvian family is excited by what we've already accomplished in such a short time, and proud of the expansive universe we've created. Our home is a place to learn, a place to grow, and a place where everyone is welcome. Our mission is more than just building robots, it's about building an inclusive, diverse family and giving all students a place to call their own. Because in our home, and in the future we're creating, family is FIRST.
How do you think the industry will change over the next decade?
The industry is certainly moving to automation, online resources, and big-data and AI. We are trying to instill these skills in our students so they are prepared for the future.
Contact Info:
Image Credit:
Matt Beard
Suggest a story: VoyageLA is built on recommendations from the community; it's how we uncover hidden gems, so if you or someone you know deserves recognition please let us know here.