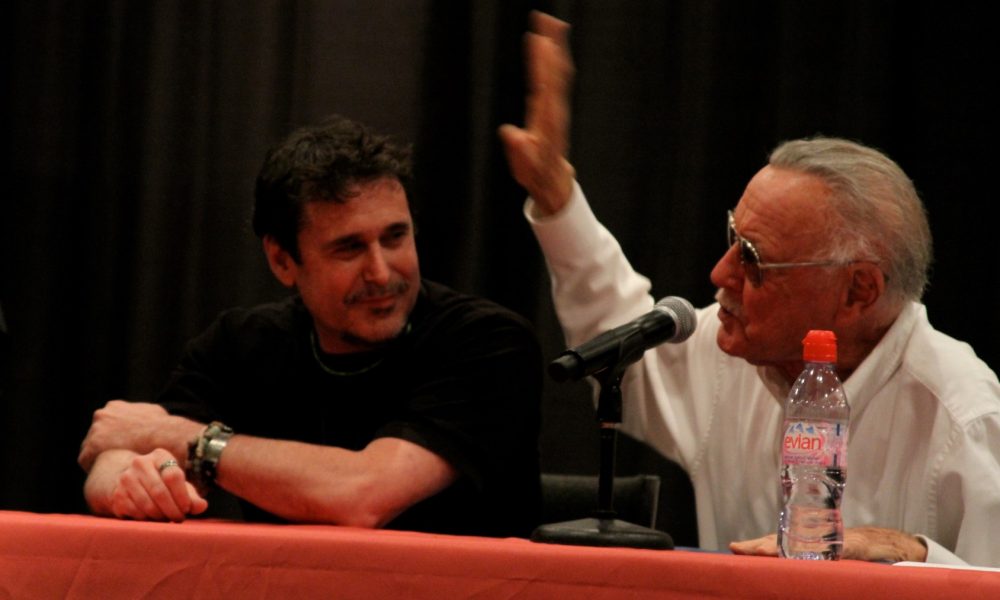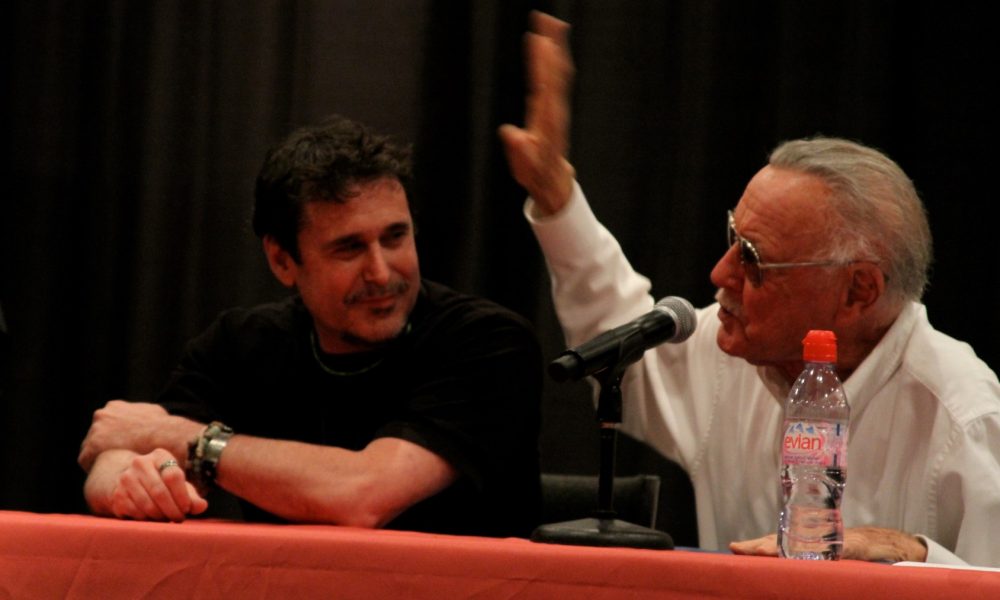 Today we'd like to introduce you to JD Shapiro.
Thanks for sharing your story with us JD. So, let's start at the beginning and we can move on from there.
I grew up with three sisters in a small, one bathroom house so my imagination became my sanctuary. My mom tells me I would take apart pens to see how they worked and undress my sister's Barbie Dolls to see what was underneath. This led me to a passion for storytelling & women. But not necessarily in that order
Shortly after kind of graduating University, I drove to LA with a car loaded with stuff, $900 in cash and a head full of dreams. I had directed music videos and commercials and thought that would get me in the door. It didn't (I later found out MOST people in the entertainment business either had family in it, grew up in LA and/or went to UCLA, USC or AFI)
My father knew a person who knew a person who knew a guy who was one of the main guys at NBC. I met with him at his house in the Hollywood Hill; tennis court, swimming pool. As I sipped ice tea served to me by his assistant he came outside wearing a white suit and white straw hat (Ok I'm not 100% sure about the suit and hat but it seems he did) He told me he read the first 10 pages of my screenplay (I'm thinking, "Holy shit! William Goldman's book was right!) and that it was very campy.
I pointed out the title was "Wrestlers from Outerspace" and it's supposed to be campy. He said, "It's not a good campy." He asked me if I had taken any screenwriting courses, I said no. He started to suggest some… stopped… looked at me and said, "You should get into another business. You'll never make it as a writer." I went home to my small, studio apartment and felt "THIS is the fuel I need! I'll prove him wrong!" I like to think I did.
Since you have to have a rep to get your work seen by anyone at a studio or any producers I made up a name; Bayard Stofield and created, "The Bayard Stofield Managment Company." I submitted scripts (back then you did it on paper, no PDFs. NOT cheap!) I couldn't afford a second phone-line so answered my phone, "Bayard Stofield."
Eventually, I was able to get people to take my scripts. One time an exec from Sony called Bayard and said, "I don't know who the fuck your client is, I don't know who the fuck you are, but I was home sick and had a pile of scripts. I decided to read 10 pages of his script"(Sir William, as I stated, was correct) "I ended up reading the entire script.
Have him call me right away!" Now I've been told my voice is quite distinct and I wasn't smart enough to disguise it (Apparently I sound a lot like Joe Pesci) So when I called him I made my voice deep. When we met I didn't do a great job of Mr. Deep Vpice and he said, "You sound a lot like your manager." So I copped to him being me. Ha laughed, said he liked my writing, asked to see something else and from there he connected me with executives and agents.
The rest is, as they say (who exactly are "they?) is history. But history doesn't really matter to me. It's about the NOW and moving forward. Creating things with a voice, learning and opening up minds as I go along. At least that's what I try to do.
GAMBARU!!!
We're always bombarded by how great it is to pursue your passion, etc – but we've spoken with enough people to know that it's not always easy. Overall, would you say things have been easy for you?
Not smooth at all. If, say, there are three roads in life: Road 1) Sunshine all the way. Birds singing. Great food. Easy walk to the end. Road.
2) You fight everything along the way. Terrible weather. Evil villains. Tough journey and in the end you are battered, bruised and exhausted. I take Road 3. Road 3- there's NO fuckin' road! You have to build it!
And every step is a fight. You get knocked down constantly, think about not getting up but somehow you do. By the end you are so beaten up you want to sleep for a year. But you don't, you go on, and you go back to a new Road 3 and start building again.
GOALLLLLL!!! Sweden!!! ⚽⚽⚽ (I'm watching World Cup as I write this and I have lots of Swedish friends. I'm rooting for Spain. I wanted Iceland to get into the next round but… Oh, I should go back to the questions. Right!) I'm not sure why I take/build Road 3; maybe I like the challenge. Maybe I'm a freakin' idiot.
I can go on and on and on and… of examples of times I've been knocked down. I'm proud to say I get up. But I'd love it if I didn't get knocked down for a while. EVERYONE in the entertainment business goes through this. Everyone. No matter what lever they are at.
The ones who make it are the ones who stay and fight… the ones who build another Road 3.
When I believe in something, and I don't take projects I don't fully believe in, I fight for them and never give up. One example is a project I'm doing with Stan Lee. We co-created a superhero series for the NHL. Due to mismanagement, lying & cheating business partners, some who embezzled money, and other factors it's been 15 years in the making. But– I Ain't. Giving. Up.
So, as you know, we're impressed with What Exit? Ent – tell our readers more, for example what you're most proud of as a company and what sets you apart from others.
My company is mainly me. It set up to do projects I want to write and/or direct and/or produce. So I guess the best way to sum it up is to past my Bio here so you can see what I do and have done (What, there will be a section for my Bio. Oh well!).
JD SHAPIRO is an award-winning writer/director and stand-up comedian. Most of those awards are great. One… not so much.
JD has sold over a dozen screenplays to almost every major Hollywood studio including, Warner Brothers, Disney, New Line, Miramax, Paramount & Twentieth Century Fox.
JD has done rewrites and punch-ups on many stupid scripts, as well as served as Creative Consult on many good movies. Several of his movies went on to become Hollywood blockbusters; his movies earning well over a billion dollars. JD's television deals include Fox, Big Ticket and Spelling Entertainment.  Although JD writes in several genres, Mel Brooks called JD, "One of the greatest comic minds I've ever had the pleasure to work with."
JD and comic book legend Stan Lee have been working together since 2002 creating new comic book series. JD is very proud to be considered Stan's protege. jD just finished his first book, "The Cat in The Hat". He liked it so much he decided to write one of his own. "Think Like a Man: The Only Guide You'll Ever Need" is being published by Austin Macauley Publishers. It will come out sometime late 2018.
JD wrote & directed "Un Viaje", a short movie. It was shot in LA, Malibu, NYC, Madrid, Marbella, Lisbon and Venice, almost entirely on an iPhone. It was accepted into competition at "The Madrid Art Festival, 2017"was it competed against movies with very big budgets. It won "Honorable Mention."
JD wrote the screenplay for the WWII drama, "Four Days in April". Based on the true heroic story of a young Norwegian woman living in Sweden who helps change the course of WWII. It was influenced by "Fyra Dagar I April," the important Swedish novel written by Magnus Alkarp. Out of thousands of scripts, The Swedish Film Institute has select "Four Day's" to fund. Due to their excitement, The Swedish Film Institute just hired JD to write another screenplay based on a different book by Magnus called, "Vredens Dag".
JD is working with horror director Andrew Ewin for the second time. Their first collaboration was "Haunting Grounds" based on a prison turned hostel in Canada. "And The Bell Tolls" deals with the present terror kids face going to school and being faced with an Active Shooter and inner demons. jD is presently in negotiations to write and possibly direct "St. Dismas" the story about a group of young wanna-be gangsters who grew up together as thieves in the 1960's and end up clashing with the big boys. Ted Field's Radar Pictures ("Jumanji") is producing.
JD caught the eye of Sir George Lucas after his directorial debut, "We Married Margo," won the Audience Award for Best Film @ The HBO Comedy Festival. Lucas invited JD to Skywalker Ranch for a free sound mix and great advice. Because the job of God was already taken, JD wrote, directed & starred in "Margo." Besides the HBO Festival Margo won many awards for the movie, the writing and the directing. Several prestigious festivals include Slamdance, NY Film Festival, and The LA Comedy Festival. At the Pi Phan Film Festival JD won for his acting & directing. New Line acquired "Margo" for release. To learn more about "We Married Margo" go to: http://www.videoviews.org/wemarriedmargo.html
JD was the original writer of the infamous "Battlefield Earth." Yep. That movie. His draft got John Travolta attached to play the lead (Johnny Goodbye Tyler). jD left the project due to creative differences with the studio, MGM.
Travolta went on to play the villain (Terl). And the movie went on to win the infamous "Razzie Award." If you'd like to find out how "Battlefield Earth" became a mess read JD's humorous NY Post piece:
www.nypost.com/p/entertainment/movies/penned_the_suckiest_movie_ever_sorry_MdXedZpTMWJmfpw80Xc7aO
To see the speech JD gave at the 2010 Razzie Award for "Battlefield Earth" being named "Worst Movie Of The Decade": www.youtube.com/watch?v=3WyuRr_Z81k
After being asked to leave from some of the finest universities JD wrote, on spec, "Robin Hood: Men In Tights." MIT sold to Mel Brooks & Twentieth Century Fox. jD was heavily involved in the pre-production, producing & casting. He found Dave Chappelle after the actor Mel wanted asking for too much money. JD wrote all the lyrics to the music in MIT.
JD was accepted into HB Studios and studied with legendary acting teacher Uta Hagen, becoming one of her favorite students to yell at (Considered a badge of honor. Supposedly).
JD overcame his fear of public speaking and mixing up sentences due to being Dyslexic and now performs stand-up all across the country and parts of Europe. Due to his film & TV schedule, his availability is limited. He was made a paid regular at The World Famous Comedy Store in Los Angeles in record time (He'd only been doing standup for about 14 months). JD was also made a paid regular at Stand Up NY. Prior to most performances, JD can be seen outside the comedy club pacing and sometimes puke.
JD has had articles published in The NY Post & Written By Magazine. He has given seminars on writing, directing and acting at universities and throughout the United States. JD has been asked to speak at Harvard Business School. JD has judged several film festivals in the United States & Europe. He has been featured on many entertainment shows including, "Entertainment Tonight," "CNN," "Hollywood Buzz," "E-Entertainment," and "Comedy Central." JD is a member of Who's Who in America. He sits on the board of the St. Clair Butterfly Foundation. This wonderful and incredibly worthy organization helps kids get out of bad family situations and gives them a chance at a better life.
CONTACT INFO:
Melissa Morris (Publicist) 248-703-9515
canweschmooze@gmail.com
SOME OF THE SCRIPTS JD SOLD & ADDITIONAL INFORMATION:
The Best Thanksgiving Ever! JD was hired to direct this low-budget indie movie shot in 11 days. He didn't write it and was brought in 10 days before shooting because the director was fired, quit, who knows. JD and the producer/writer/co-star had vastly different views on how to edit the movie. Since JD was hired by him and there was the only budget for one pass of editing, JD gave it up. Although JD is proud of what he was able to accomplish in production he isn't in love with the end result. The movie did go on to win many awards at the See Me Detroit Film Festival, including Best Picture (2017).
Daddy's Girl: A comedy about an overprotective dad who has to learn to let go of his 18 yr old daughter, who has to learn to grow up. Optioned by NewLine (2005).
Working Class Hero: An action/drama about a cop trying to make up for a past mistake. Co-written w/ Jimmy Cummings. Sold it to Gale Anne Hurd (2004).
Salvage: A post-apocalyptic script set up w/ Gear Head Productions. Dan Myrick (The Blair Witch Project) was set to direct and JD was set to play the co-lead (2004).
Super Cops: The true story of two highly decorated Vietnam vets turned Supercops, and how they became the only two LAPD police officers to face the death penalty. Developed w/ Jimmy Cummings for Nittolo Entertainment (2000).
Blast Off! Action story about a group of men who take over the space shuttle. An ex-astronaut needs to overcome his intense fear of flying– or not only is the world in peril but so is his wife, who is the captain of the shuttle. Wrote this on spec and sold to Interscope Films (1997).
Fear: Dark thriller about a man who is looking for the murderer of his wife only to find out it was he. Based on an L. Ron Hubbard Novella and starring John Travolta. Written it for Miramax (1996).
Signed, Sealed & Delivered: Action/comedy about a woman who gets trapped inside a post office when terrorists take it over. She learns she is much more capable than she ever realized. Betty Thomas was attached to direct and Glenn Close interested in playing the lead. It was co-written w/ Aaron William Dozier on spec. Sold to Disney's Touchstone Pictures (1995).
Solo To Mars: Sci-fi about a man who travels into space and, due to the stress and loneliness, befriends a fly trapped onboard. Starring Corbin Bernsen. Written for Paramount (1994).
The Final Frontier: Sci-fi thriller about an astronaut who finds a way to travel to the most uncharted territory not known– death. Written on spec and optioned to Warner Brothers (1991).
Toy Soldiers: This Action/comedy was the first script JD ever sold. It's about a group of kids who have to use their video game skills to save the day when a real life situation arises. Shortly after arriving to LA JD was commissioned to write this by an independent producer whose office was possibly the trunk of his car (1990).
Freakydeak Skylark: JD created, directed and executive produced this animated series for the Internet division of NBC (2007).
Inside/Out: JD developed this TV series w/ Paul Rieser's Nuance Pictures for JD to star in. A drama/comedy about an attorney who loses it, checks into Bellevue and decides it is saner in there then out in the "real" world (2006)
Cupid's Turn: JD developed this script about a man who finds out he is Cupid. He set it up at Disney as a producer (1998).
OTHER INTERESTING FACTS. SORT OF:
Pucked: JD co-starred in this stinker. The good guy is played by Jon Bon Jovi. Cary Elwes and JD are the bad guys (2005).
JD created the character and played it in a SUNKIST PISTACHIO NUT COMMERCIAL. It went on to win Best Commercial in the commercial section of the Cannes Film Festival (2005).
The Strand Venice: JD played a talent agent in this ensemble web series created, directed and executive produced by Dan Myrick (co-creator & co-director of The Blair Witch Project) (2004).
Women in Film Awards: JD was the first ever MC for the first ever awards ceremony, which took place at The Sundance Film Festival in 2001.
JD was in several Independent movies no one has ever heard of and several theatre productions no one really cares about.
JD has been offered three reality TV series and turned all three down. He was, however, on The Osbournes. But not by choice. (The Annoying Neighbour episode. Yeah, that's JD & his friends) They did not know nor give them permission to use them in the episode.
Uber LA Attorney Bert Fields wanted them to sue due to it being a precedent-setting case (use of voice) but they let it go. JD has appeared on many TV & radio shows, including:
E!,
Showtime,
Comedy Central
IFC
Bravo
MTV
PBS
The Mike & Juliet Show
Entertainment Tonight
CNN
Bizz Buzz
Movie Talk
MTV
The Bob & Tom Show
The Joey Reynolds Show on WOR
The wonderful, comical genius of jD Shapiro, writer of Robin Hood: Men in Tights, We Married Margo, and more has his book 
'

Think

 

Like

 

a

 

Man

 – The Only Guide You'll Ever Need'
, being released at all book stores world wide.
'Think Like a Man' is a humorous but relatable and relevant self-help book for women of the modern day.
From what we've already seen, this book is going be a huge hit and the ladies of the offices are already clambering to get hold of a copy. Sold out everywhere.
So, what's next? Any big plans?
I'd like to go into outer space. Live on Mars for a while. And deep, deep, DEEP sea diving and live deep in the ocean. If those don't work out I'm going to ride up and down elevators, fart, and see if anyone says anything.
Contact Info:
Melissa Morris (Publicist)
Website: http://jdshapiro.com
Phone: 248-703-9515
Email:  CanWeSchmooze@gmail.com
Getting in touch: VoyageLA is built on recommendations from the community; it's how we uncover hidden gems, so if you know someone who deserves recognition please let us know here.