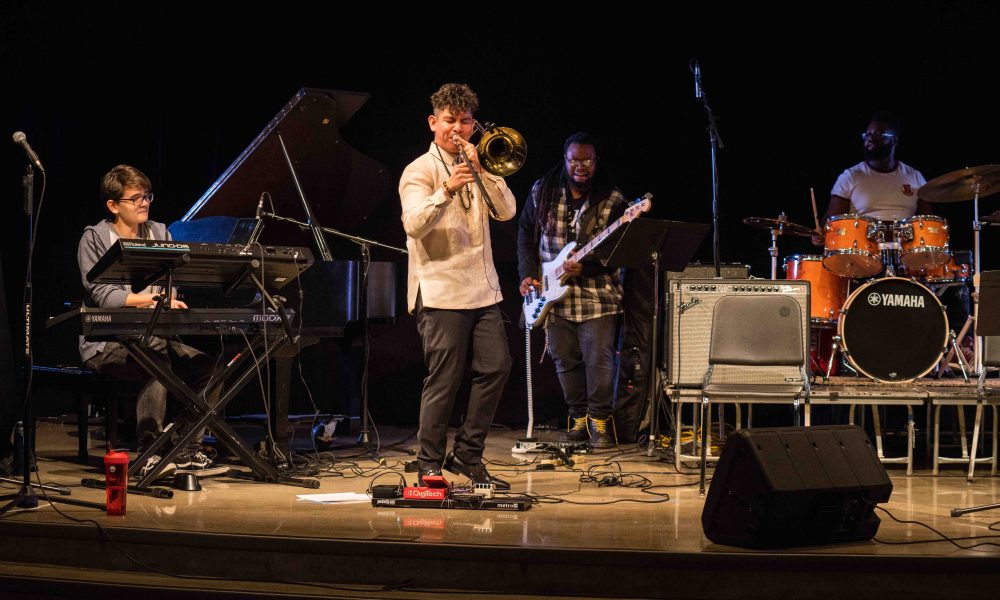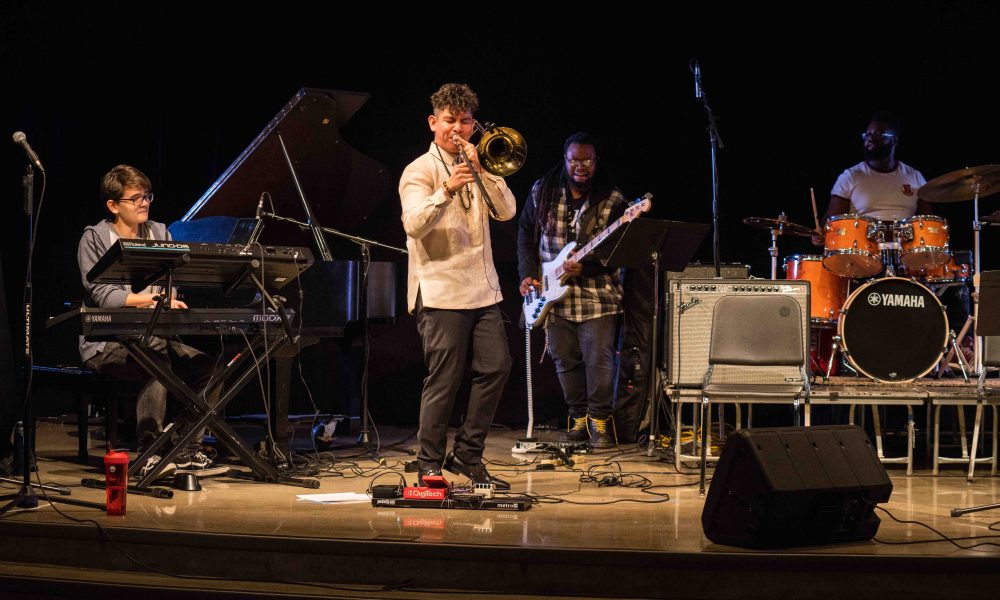 Today we'd like to introduce you to Ethan Santos.
Thanks for sharing your story with us Ethan. So, let's start at the beginning and we can move on from there.
I've always enjoyed playing and listening to music. My dad plays guitar, so when I was young, I was just learning it for fun without any lessons. Thanks to him and my mom, I grew up with a lot of influence from Blues, Classic Rock, Pinoy Rock, R&B and Disco music. Thanks to my older sisters, I was also introduced to a lot of West Coast Hip Hop, Pop, Rap, Alt Rock, Prog Rock, Neo Soul, Nu Metal, etc. In the 5th grade, I joined my school band program and played the euphonium. In middle school, my second elective other than band was an academic tutoring elective that I ended up dropping because I didn't feel I was gaining much from it, so thanks to the peer pressure of some of my friends at the time, I made one of the best decisions of my life and ended up joining Jazz band.
Euphonium has more relevance in marching, concert/symphonic and some orchestral music; when I joined Jazz band in 7th grade, I started learning trombone too because the mouthpiece size is closest to euphonium. My high school/middle school Jazz director, Paul Lucckesi, would put a recording on to start every class. Throughout those six years in his program, I got exposed to so many amazing artists of the art form and developed a love for the music and for the spirit of improvised music.
Throughout the rest of my K-12 education, I ended up joining a lot of other groups and learned how to play other instruments, like bass trombone, piano, bass, marimba, clarinet, saxophone, trumpet, tuba, french horn and flute, mostly playing Classical and Jazz music. I was very fortunate to grow up in a community and music program that allowed me the freedom to play so much music and learn so much. From 8th grade-10th grade, I took private trombone lessons and throughout high school, I joined programs out of school with the Youth Orchestras of Fresno and Milestones Youth Jazz Workshop. I didn't have intent to seek a music career because my parents didn't see it as something sustainable, but my love for playing grew and grew, so I ended up seeking more opportunities outside of school education. When I was 16, I got the opportunity to tour LA and play at the GRAMMYs after party with the GRAMMY Camp – Jazz Session big band on bass trombone, and from that point, my parents understood how serious I was and gave me their support to seek a music career!
Aside from the GRAMMY band, Youth Orchestras of Fresno and Milestones, I also had a lot of education/playing opportunities that furthered my love for music, such as the National YoungArts Foundation, Monterey Next Generation Jazz Orchestra, Vail Jazz All-Stars, Stanford Jazz Institute, California Band Director's Association Honor Band and Jazz band, California Orchestra Director's Association Honor Orchestra, Fresno-Madera County Music Educator's Association Honor band, jazz band and orchestra, Western International Band Clinic and many more, playing trombone, bass trombone and euphonium. Through these opportunities, I've gotten to travel all over the United States as well as Japan. Through these programs, I've also gotten to play/work with many amazing artists in the industry, such as Wynton Marsalis, Ted Nash, Canadian Brass, John Clayton, Wycliffe Gordon, Terri Lyne Carrington, Dick Oatts, Hubert Laws and many more! In 2016, I was very fortunate to receive the Presidential Scholarship from Berklee College of Music, a scholarship given to 7 students which cover tuition and room & board.
At my three years in Boston, I got to step out of the 5th-12th grade Jazz/Classical bubble and ended up playing trombone, bass trombone, bass trumpet and flute for a plethora of different kinds of bands, including Pop, Hip Hop, Salsa, J-pop, K-pop, C-pop, Indie, Rock, R&B, Soul, Neo-Soul, Motown, Gospel, Film Scores and much more. Thanks to my time there, I got the opportunity to translate my craft on trombone to a wide array of musical environments; these musical acts include performing with/alongside the likes of Ralph Peterson (DC Jazz Festival/Scullers Jazz Club), Big Red Machine (Boston Calling), Tia Fuller (Monterey Next Generation Jazz Festival) and The Berklee Silent Film Orchestra (San Francisco Silent Film Festival). My work at the BSFO also involved recording the new soundtrack on an NBCUniversal StudiosPost 4K restoration of the 1928 silent film The Man Who Laughs.
In August 2019, I moved to Los Angeles to pursue my master's degree at University of Southern California and have been playing trombone, bass trombone and flute for the likes of Bob Mintzer, Ricky Peterson, George Stone, Barbara Morrison, Luciana Souza, Flight of Voices, Printz Board, Trevor Wesley, sonofsteve, ILYS, Lucy Clearwater, MONIX, Perta, Elliot Bassick, Elise Go and Shelby 5. In the past year, I've recorded on albums/singles by Shelby 5, Elise Go, Wong Foo Jeng, Peter Chang and Fernando Huergo. I've also made my single debut on Tidal, Spotify, Apple Music, etc. with a quintet cover Marcus Strickland's tune "Alive" and performed with my group, the Ethan Santos Collective, at the 32nd Annual Jazz Festival, Lucy's Lounge and Mid-City Yacht Club. I like to use the word "collective" in tribute to Christian Scott aTunde Adjuah's concept of Stretch Music™.
"It's true that we are attempting to stretch—not replace—Jazz's rhythmic, melodic and harmonic conventions to encompass as many musical forms/languages/cultures as we can. My core belief is that no form of expression is more valid than any other. This belief has compelled me to attempt to create a sound that is genre blind in its acculturation of other musical forms, languages, textures, conventions and processes".
I like to carry this concept to my band, where more specific influence in the music is rooted from Black American Music from Black American culture, such as Blues, Jazz, Gospel, R&B, Soul, Neo-Soul, Hip Hop, etc. plus whatever everyone else is collectively influenced by, hence the word "Collective". A lot of my inspiration for my bands also come from artists such as Art Blakey & the Jazz Messengers, Cleon Edwards & The Hungryjaxx, Alonzo Demetrius and the Ego, John Michael Bradford and the Vibe, and Tomoki Sanders///V I S A G E. As an artist (especially one who plays Black music), I will always pay my respect to my values, which include the acknowledgment of the Black culture/history that has musically influenced me and given me a passion for music, my desire for empathy to understand the words and experiences of everyone I meet/play with, and my roots as a second-generation Filipino-American.
I'm still trying to figure out much more of the Filipino identity because I'm 2nd generation Filipino-American and feel somewhat disconnected from it. I've been trying to honor it by wearing barong tagalogs (Filipino formal shirt) for shows under my name, putting a Baybayin (old pre-Latin alphabet writing script of the Philippines) translation on my single's album art (which also has meaning as a greeting) and joining a Facebook community of Filipino trombonists "which focuses on learning and sharing articles, experiences, talents, skills and views on music particularly modern trombone playing such as jazz, pop, rock, Latin, etc. to build up a well-rounded camaraderie of trombonists", to share my experience and education in the states to trombonists who live in the Philippines. Beyond music, I'm very into rock climbing (before COVID, I went every other day) and a co-founder of Frē Man, a men's skincare brand. Lately, with COVID, my work with music has been recording at my apartment.
Great, so let's dig a little deeper into the story – has it been an easy path overall and if not, what were the challenges you've had to overcome?
Definitely not smooth, but the road has been consistently smoother than it's ever been! I was overweight basically most of my life until I moved to Berklee; that, among other things, have had a lot of major impacts on my body and musical self-esteem that still affect me today. When I was 17 I got a concussion from a longboarding incident that severely impacted my ability to play music, read, listen to music, think and talk for several months. I also had amnesia that made me wake up thinking I was two months back, so it was really rough when I woke up having no idea what was going on or what I didn't remember and could barely function; it was really rough.
A more recent issue is that I have self-esteem issues and a lot of drive for my passions, I have a bad habit of working too hard. On one hand, I want to really improve, but on the other hand, I'm very critical of myself. From when I started rock climbing just about every other day in 2018 until January 2020, I've had multiple tendon tears and sprains that put me out of commission for exercise, which has been unhealthy for my mental health as well. It used to be really easy for me to negatively tie my worth to my progress in music and fitness if the improvement isn't as much as I'm going for. It's just super easy to get into a spiral of unhappy when that happens or I practice for 12 hours straight with one break and then can't play the next few days. I try to acknowledge more that it's a habit that comes from passion for improvement and try to do better the next time. Going to Berklee from 2016-2019 allowed me to be financially independent from my parents because of the scholarship opportunity, so when I moved to LA with a scholarship that isn't full and doesn't pay room & board, the level of financial stress increased majorly.
With that on top of my self-esteem issues, identity issues, trying to meet people at sessions, get work, do homework, hang with friends, climb every other day, practice, pay for my car I needed, see a chiropractor/physical therapist, etc., the stress just built up. I was also going to jam sessions until 1-4am 4 nights a week for a long time, so I basically was just pushing myself really hard up until I had a few breakdowns around Dec-Feb. The road has definitely had some bumps in it, but 2020 has been the smoothest road so far! COVID has been very rough for so many people in so many ways, but one big plus for me personally is I've gotten to use the quarantine time to better my mental health, better understand where my values lie, understand my mistakes, and appreciate the loving people I have around me.
Can you give our readers some background on your music?
I'm not sure I know what I specialize in, but I try my best to be versatile. Growing up, so many educators were telling me that it would be really difficult to make a living as a trombone player, so I was also taught to learn and love many facets of the music, as an artist, sideman, composer and arranger! I can confidently sightread treble, C treble, Bb treble, G treble, F treble, Eb treble, alto, tenor and bass clef, I can improvise and play multiple instruments in different styles and record myself where I live, I can learn lines/chords on the spot by ear and/or harmonize or assign harmonies, I can make mockup song demos for compositions and make organized, legible and detailed scores/charts for those or for horn arranging/writing work and transcriptions. Since I've messed around with playing so many different instruments, I have some solid first-hand ideas of writing for instruments when considering range, timbre, fingerings/slide positions, articulations, blend, intonation, etc. I'm also fairly confident in matching my sound for the music I'm playing, blending with people, using different horns for different sound/style if necessary and using pedals to add more to the music. I only do a few gigs a year under my name, but I think the sound of the people I play with creates a very fun, dancy, open, and creative improv/groove-based space.
In a kind write-up of my collective's performance at Lucy's Lounge earlier this year, Gibson Devens wrote, "The most unusual setup, however, belonged to Mr. Santos himself. Attached to the bell of his Trombone was a wireless mic that transmitted to a receiver on a guitar effect pedal board (including a DigiTech Whammy Pitch Shifter, an MXR Bass Envelope Filter, and a Boss DD-7 Digital Delay) and then into a Marshall combo guitar amplifier. This set up was utilized frequently throughout the set to create a unique horn sound I have never heard before.
The Ethan Santos Collective is bringing a new level of innovation to the world of Jazz and music as a whole. The level of skill and talent exercised by the musicians within the group made for a captivating experience and an incredible night. The music was exhilarating, inviting, and quite fascinating. Mr. Santos and his fellow band members are a testament to what hard work and practice can lead to. It is my firm belief that all of the musicians in this group are pushing the art forward in ways that are unique and necessary."
What moment in your career do you look back most fondly on?
Not sure if I have a proudest moment of my career. I'm just grateful that I get to learn so much about life through music and make plenty of great friends and memories!
Contact Info:

Image Credit:
Tomas Ovalle, Isabella Grossling, Tomas Ovalle, Dave Green, Yej Angela Park, Mandy Reeve
Suggest a story: VoyageLA is built on recommendations from the community; it's how we uncover hidden gems, so if you or someone you know deserves recognition please let us know here.