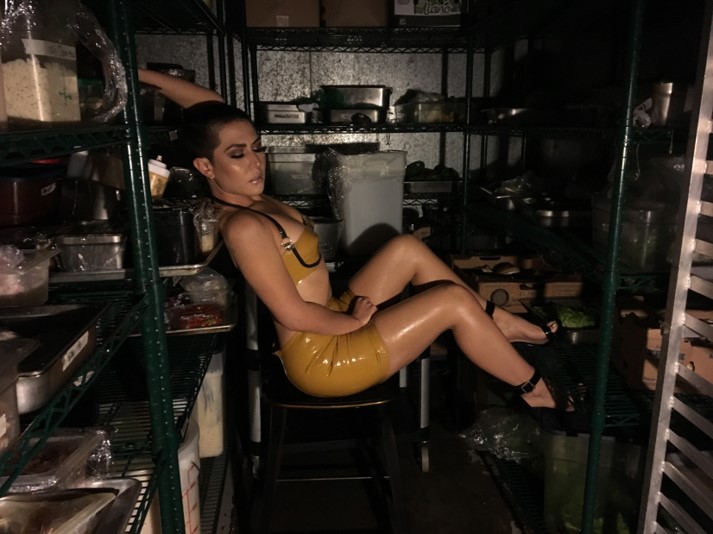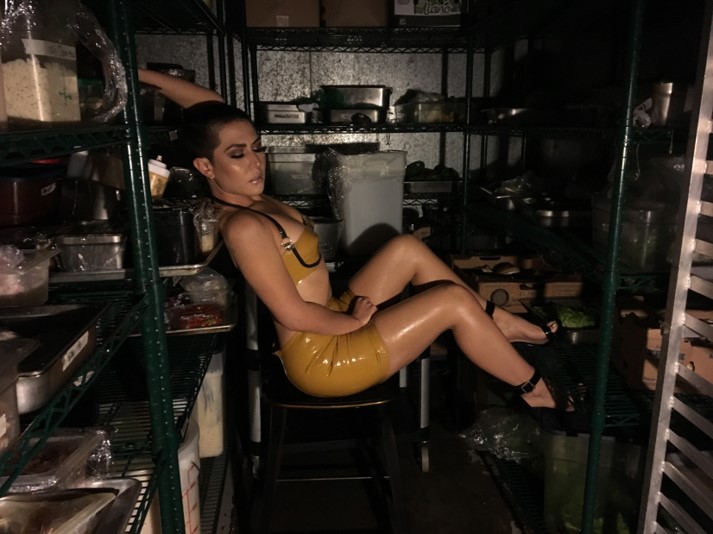 Today we'd like to introduce you to Erinn Acuna.
Thanks for sharing your story with us Erinn. So, let's start at the beginning, and we can move on from there.
As a little girl, I was fortunate to have fresh home-cooked meals. My dad always went fishing & hunting & also grew up working on his foster parent's farm. My mom, a PE major, make sure my sister and I had VERY limited fast food and junk food growing up. Looking back, I am certain food was meant to be a major part of my life.
As a little girl, I always knew I was different. My father always raised my little sister and I to always be ourselves, do and don't do whatever we want, & to not take shit from anyone. (He raised us like boys). Growing up, I was bullied in school. I had a headgear, braces, a bowl cut, & I was chunky.
My mother noticed me very shy & sort of introverted, & decided to enroll me in acting classes in hopes of boosting my confidence & becoming more social… it WORKED! A little too good! Haha! I grew to love and accept ALL attention, good and bad. I got in a ton of fights with jealous females & also began to experience sexually at a young age. I hated school & just wanted to grow up and make money!
My senior year, my college counselor asked me what I wanted to go to college. (Due to fighting, my parents sent me to a private high school, where I had to be enrolled in a college in order to walk in the graduation ceremony) I felt pressured & honestly didn't even want to go to college. I just wanted to figure it out. He asked me "what do you enjoy doing?"
As an 18-year-old, I answered on some dumb shit like " sleep, shop, watch tv, acting, go to the beach, dancing, spending time with my boyfriend… eating." As soon as I mentioned eating, he recommended "culinary school." He said as an aspiring actress, I can meet a ton of people, i.e. producers, actors, agents. Me, not thinking or doing research, & just wanting to graduate said: "okay sure whatever, sign me up." Haha.
I then went on to attend and graduate from Le Cordon Bleu School of Culinary Arts by the age of 19. It was the hardest thing I ever accomplished because I actually applied myself. I did NO research on the restaurant industry & had a rude awakening when I began my internship/1st professional job at Loews Santa Monica Beach Hotel.
I had NO idea about the hours, pressure, sexism, immense stress, or pay. I hated it at first, I mean, who the fuck would like getting yelled at, sexually harassed, verbally abused, burned, cut, & having NO social life at 19 years old. I learned A LOT. The kitchen raised me & turned me into the woman I am today. The restaurant taught me insane work ethic & thick skin.
Seven years later, After working in a few more restaurants in LA, I finally grew the balls to quit. I LOVE & RESPECT all of the chefs, cooks, and wait staff I've ever worked with, but I knew I was always worth more & wanted to be the bitch in the dining room feasting on 5-star 30-course menus & $500 bottles of champagne. I decided to go into private cheffing.
As a private chef, my schedule was a little more open, the Pay was WAY better, but the stress was the same, just in different ways. The kitchen works as a team… vendors, cooks, stewards, & wait staff… as a private chef, you're your own team. I have had the honor of blessing the pallets of some major A-list clients, musicians & NBA players.
Even though I quickly realized that private cheffing isn't for me either, BUT it taught me how to negotiate, working with clients face to face, how to be your own boss & finetuned my time management skills. Eventually, I had to take a risk & major pay cut to pursue my dreams & showcase myself & my craft my way. I got a shitty retail job in the adult industry. (My other passion).
This job would give me the schedule I needed to jumpstart my brand/business, all while learning a new industry. Little did I know that this was exactly the stepping stone I needed. Everything came full circle to me. I created "HEALTH.E.RAID" as my fun way of doing what I love while being 100% authentically ME.
(HEALTH.E.RAID: HEALTH- what I want to promote for people to FEEL GOOD & BE THEIR BEST SELF. "E"- my initial & also a creative way to spell "HEALTHY." & "RAID"- inspired by food network's "chopped.") I get to meet new people who LOVE food, are CONFIDENT, who LOVE themselves, & who are just good positive energy… I get to be CHALLENGED, I get to wear whatever I want & act however I want.
I get to showcase my craft and specialty of creating delicious healthy 5-star food, that is super satisfying with a fraction of the calories. I want people to know that I am Soley trying to teach and help people use their imaginations to eat clean & not go through a drive-through. When you "eat Sexy you feel sexy." (My motto) I grew up bullied & that shit isn't cool.
If I use food as my vessel to get people to feel sexy and confident, they will realize there is NEVER any competition… NEVER a reason to throw shade. I also hope to not just inspire CONFIDENCE but inspire body confidence & sexual confidence. I will be quite frank: FUCK SOCIETY'S STANDARDS & RULES. That shit is why people feel they can't live their truth. It's like a prison.
If I show people it's COOL NOT to CARE, it's COOL to shine on your haters, it's COOL to be super sexy (even with no hair), it's COOL to NOT cook in a chef coat or follow the norm… it's COOL to create your own lane, it's COOL not to JUDGE, it's COOL to share your knowledge and talents & it's COOL to stick up for yourself & inspire change in society. THATS the shit I'm on.
Great, so let's dig a little deeper into the story – has it been an easy path overall and if not, what were the challenges you've had to overcome?
No, not at all. Aside from learning in the restaurant industry, I've learned a ton in life along the way.
In the industry I've experienced:
– getting spit on/at by my chef during a busy Friday night service.
– Having China thrown at me
– Being sexually and verbally harassed by a man old enough to be my father.
– A lot of sexist behavior because I was often the only female in the kitchen.
– Sacrificed time with family and loved ones on holidays or weekend.
Outside of the industry, I've had to deal with being misunderstood & cut off by "friends."
I was so busy ALWAYS working, a lot of "friends" just quit inviting me to things because they figured I was always working… at first, I had a hard time swallowing this. Also, when I first quit the restaurant & went private, my family disagreed with my decision & felt I was "secure" in the restaurant industry.
Til' this day, they don't understand how as an entrepreneur you take MANY risks to not just find your way but to become successful. (None of my immediate family or aunts, uncles & grandparents had their own business). The only blood support I have is my mother and little sister. They really have been there for me.
Alright – so let's talk business. Tell us about HEALTH.E.RAID – what should we know?
HEALTH.E.RAID is my fun way of teaching & inspiring a healthy lifestyle. A HEALTH.E.RAID is when I get to raid the client's kitchen & create a healthy sexy dish using ONLY the ingredients I find in the kitchen. (I film/edit everything myself).
For me, HEALTH.E.RAID is everything I love in life. (Challenge, cooking, my personal fashion style, showcasing my unique personality, inspiring others to eat clean & get creative… & most of all… creating my own lane in the culinary industry). My brand is 100% authentically ME. Everything I've been through, struggled with, overcame, & achieved, is a part of HEALTH.E.RAID.
Growing up bullied & working in a male-dominated industry has had a major impact on my life. I hope that through food, I can inspire others to NEVER pass judgment or make someone feel less than. I believe that mental & emotional health is just as important as physical health. It starts within. For me that means DIET. I believe that when you FEEL good, you focus better & are happier.
There is no competition or room for throwing shade. You can work out seven days a week and still struggle with internal issues because of what you choose to use as fuel to your body. I think that with proper diet, you will be at your best & perform at your best. You will feel better. Confidence is KEY: if you love and cherish yourself & your body, there's no time for negativity.
I specialize in creating healthy and delicious dishes with a fraction of the calories. Food shouldn't be boring EVER. You should have a healthy relationship with food & look forward to it… all while being healthy. ("Healthy substitutions" is what most people call it). My motto is "Eat Sexy Feel Sexy" (I am VERY big on presentation… plus HEALTHY is SEXY!)
Is there a characteristic or quality that you feel is essential to success?
Authenticity for sure. There is only ONE you for a reason… you have your own purpose that you are MEANT to shine from. Embracing all things good and "bad" is really key to finding yourself & your purpose. When your purpose is found, you will thrive!
Contact Info:
Website: www.fuckwitherinn.com
Email: erinnintheraw@gmail.com
Instagram: @erinn.in.the.raw
Twitter: @ErinnTheRawest
Image Credit:
Christiana Cinn, David Zeyas
Getting in touch: VoyageLA is built on recommendations from the community; it's how we uncover hidden gems, so if you know someone who deserves recognition please let us know here.