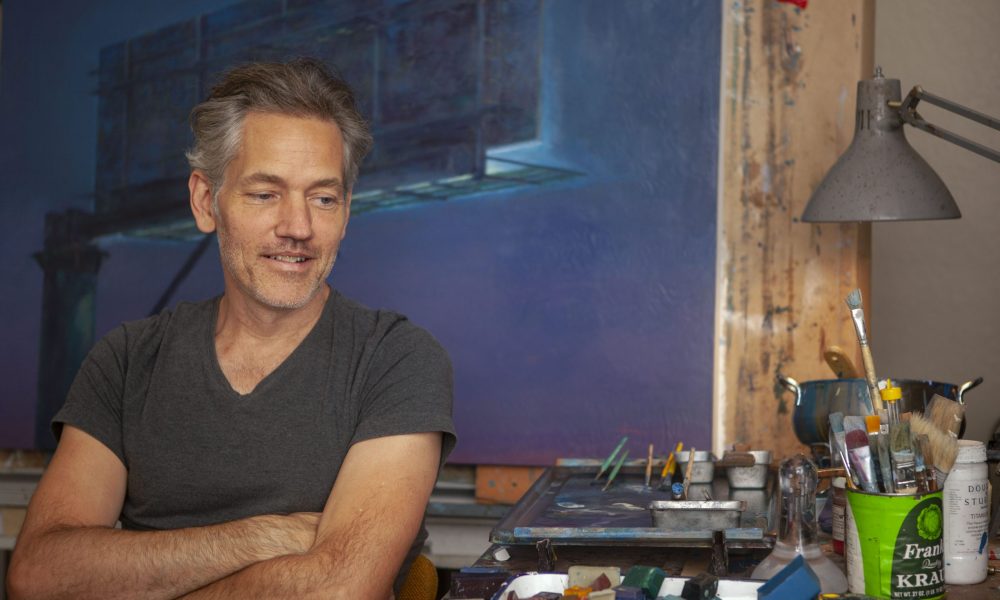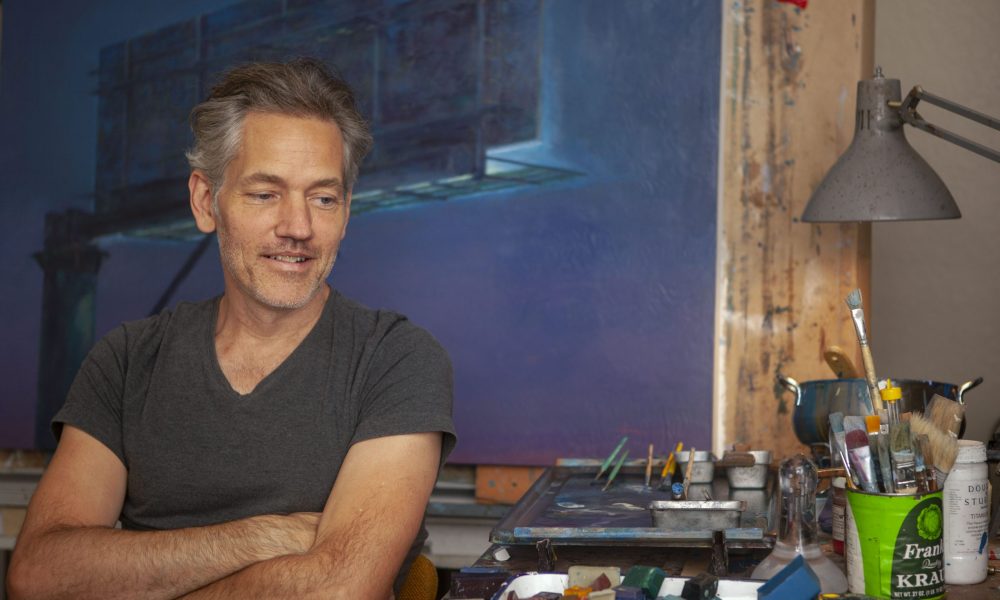 Today we'd like to introduce you to Eric Hesse.
Eric, can you briefly walk us through your story – how you started and how you got to where you are today.
I got started with drawing and painting as a kid, My father was an architect and always supplied me with sketchbooks, pencils, and markers and eventually watercolors. In late high school, I was introduced to the ancient and mysterious medium of encaustic-more on that later. Reluctantly, after a false start as a botany major and bouncing around between colleges, I got a BA in painting from a small college in the Midwest called St Olaf. (No joke.)
I had some immediate success after graduating, garnering galleries in Philadelphia (my hometown) Minnesota, Wisconsin, and New Jersey. I also lived in Paris for a while, and I was actually supporting myself as a painter. In 1999, I was awarded a fellowship from National Foundation for the Advancement in the Arts, which included an apartment and studio in Miami Beach for three summers, followed by a solo show at the Corcoran Gallery in Washington, DC.
I moved to LA in from San Francisco in 2007, and the change of scene inspired me immediately. I lived in a great 1920's apartment in Hollywood from which I could see the Pacific from one window, and downtown LA from the other. From my perch, I painted relentlessly for about seven years, my apartment and its windows, along with the views beyond, as my muse. I wasn't in LA to hustle or make it. I was just here to watch.
After what I perceived as a monoculture in SF, LA provided fascinating contrasts: 3 blocks south of me was more grit and grime than I was comfortable with, three blocks north were pure opulence. The LA-centric work I created during this period led to a connection with Tressa Williams at George Billis Gallery on La CIenega, I've been showing at the gallery since 2011, and just completed my third solo show in the in the space.
Has it been a smooth road?
Um, no. It hasn't been a smooth road at all, and I thank God for that. I mean, if being a painter was easy, why bother? Nothing beautiful, soulful, or meaningful, ever just happen without a lot of hard work, dirt, and frustration. An obstacle-strewn life is pretty much what you sign up for when you decide that you have to make art… right?
Two diametrically opposed ideas must be kept in balance at all times: on one hand, I have to love this work and believe it is absolutely necessary. On the other hand, I need to care not one whit about sales or recognition. My approach and commitment needs to remain the same whether people see my work or not. That isn't always easy, to say the least. It's urgency paired with patience, resolve married to resignation. I pump the gas, I hit the brakes.
Additionally, my paintings explore the figurative realm while not clinging too tightly to verisimilitude. I have classical roots, but I'm working in jazz. With traditional underpinnings, my final paintings always present elements that are slightly disorienting. I want the viewer to walk away with a resonant and edifying experience, and not just a punchline or pinch, but the pinch has to be in there for the experience to be complete.
Getting people to stick around for some back and forth is the hard part. I  think its a wonderful dance, but it makes the traditionalists uncomfortable, and people impatient with what at first resembles old-fashioned figuration instantly bored. There is a type of person that loves my work, and we are slowly finding more and more of them.
Add to this the challenge that our visual experience as a culture is increasingly graphic, flashy, and digital, Calling people out of that optical cacophony to something more contemplative and restful, isn't easy. I am, in effect, confronting noise with silence.
We'd love to hear more about what you do.
Los Angeles is a city known for being loud and proud, a place where people come seeking attention. I've been happy to paint the humble and shy parts of the city, the more intimate parts if you will, that hide in alleys and on the reverse sides of billboards. The presentation isn't everything; these are the substrates on which glamour is built, and they carry on even as the message on the front changes, the movie ends, and the lot empties. Anything imbued with light has intrinsic value, and it's my job to massage some life into dull concrete, sheet metal. Los Angeles has a lot of light and a lot of unsightly architecture.
My material is encaustic, a rare and most ancient of painting media. I manufacture my own in the studio with the simple ingredients of beeswax and powdered pigment. There are encaustic paintings at the Getty Villa, burial masks, that are over 2000 years old that are in nearly perfect shape. There is no drying process with encaustic; it is either molten or solid. It is inert and not susceptible to rot the chemical shenanigans of oil paint. I think it's wonderful to paint the modern transience of the LA architecture with the most ancient durable of materials.
How do you think the industry will change over the next decade?
Where is my industry going? Trends? These are questions to which I pay the least amount of attention. My medium is over 2000 years old. With encaustic, trends happen in centuries.
Pricing:
Prices at range from $1500 from the smallest paintings to $15,000 for the big ones. I recommend the big ones.
Contact Info:
Image Credit:
Steve Ouimet
Getting in touch: SDVoyager is built on recommendations from the community; it's how we uncover hidden gems, so if you know someone who deserves recognition please let us know here.