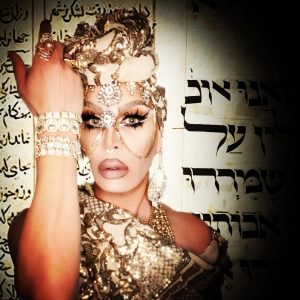 Today we'd like to introduce you to Matthew Nouriel aka The Empress.
Please share your story with us. How did you get to where you are today?
I was born in London, England to Jewish Iranian immigrant parents. Growing up, I always felt more in tune with things considered more feminine, which I never saw as a problem personally, but as I grew, I began to realize that everyone else had a problem with it. I attended an orthodox Jewish school for primary school and never fit in. I was one of just a handful of Mizrahi Jews at the school, and I loved Madonna and Barbie dolls, so I stuck out like a sore thumb and thus endured quite a bit of bullying. In my teenage years my parents split and I moved to Los Angeles with my mother and brother. I felt a new found sense of freedom attending public school and being exposed to a much more diverse population of kids. I still endured some bullying but had also made more friends. It was at around this time that I had discovered RuPaul and drag. I had never seen anything like it and for the first time in my life felt connected to something. At 15 I came out and by the time I was 16 I was doing drag and going to an all ages gay club in Hollywood called Arena.
My coming out had created quite a stir within my Iranian Jewish family and community, and throwing drag into the mix added a lot of fuel to the fire. It was the 90's and there were no other Iranian queer people that I knew of to look up to so I had to navigate it on my own. I was sat down by a family member and told that I needed to get a good education, make something of myself, marry a woman, have children and if I needed to be gay in secret. The whole situation wasn't enough to make me go back into the closet, but it did make me pack up my dreams of being a drag queen. I gave away my heels and wigs and tried very hard never to think about drag again. Fast forward to 2014, I'm pursuing stand-up comedy and acting and some comedian friends and I create a sketch video called "The Real Housewives of the Shahs of Sunset", in which I played a Persian woman. I got in drag and we shot the sketch.
Over the next two years I did some more content revolving around this ridiculous Iranian character I had created, including a web series and live stand top shows. I was able to justify it to myself by telling myself I wasn't a drag queen, but rather an actor and comedian playing a character, but as time went on, I had to admit to myself that I enjoyed what I was doing, and had to be honest with myself about the fact that I didn't only want to do it as a joke, I wanted to be pretty… And that's when The Empress was born.
Has it been a smooth road?
The biggest obstacle for me has been navigating how to live authentically in my gender expression/identity and my sexual orientation within the Iranian Jewish community. It is a very traditional, conservative and tribal culture, and what I do is considered on a par with prostitution and sexual deviancy, so as you can imagine it has not been a smooth road. In Iranian society reputation is paramount, and what I do doesn't really fit into that, so it has become one of my life's missions to change that. When people are that worried about reputation, not only for themselves but for their entire families, it creates a massive amount of guilt and shame, which in turn leads to unhappiness, depression, and a lot of anxiety, all of which contribute to a lack of self-worth. I know because I've experienced all of these things. Constantly being treated like I had some sort of character deficiency for being my authentic self from a very young age had adverse effects which I grapple with to this day. Self-love, self-respect and self-esteem are nurtured in the home. Self-esteem is something I am constantly fighting for within myself. I look at it like this, when you have a low self-esteem you have two options, keep fighting it or die. It's much harder to keep fighting it, but I have to, not just for myself but for anyone else who may relate to what my experience has been. Visibility is so important to me for that very reason. It's why I won't shut up or hide.
The Empress story – what should we know? What do you do best? What sets you apart from other Drag Queens?
What I do now is a range of things, everything from your typical drag show doing lip sync numbers to web series' to comedy shows to a one person show which I'm currently writing, and of course some sickening Instagram content, but what I am most proud of are the times when I get to speak on panels or give speeches about my experiences as a gender non-conforming queer Iranian Jew. I love it because it's in real time and you can feel people's reactions immediately whether its disdain or admiration and I like that. I like when people have a genuine sense of curiosity and want to ask questions about it because it shows a desire for growth and knowledge, and I even like it when people express a dislike for what I do because I get to set an example to anyone who may be in the room that relates to me of how to rise above such ignorance. It's a genuine human exchange and I hope to be able to incorporate that into my show which I'm writing.
How do you think the industry will change over the next decade?
I don't pay attention to trends, I just follow my heart and continue on my journey of self-discovery, self-acceptance., and self-expression.
Contact Info:
Instagram: @theempress_bh
Facebook: TheEmpressBH
Twitter: @TheEmpressBH
Other: TikTok: @theempress_bh
Suggest a story: VoyageLA is built on recommendations from the community; it's how we uncover hidden gems, so if you or someone you know deserves recognition please let us know here.