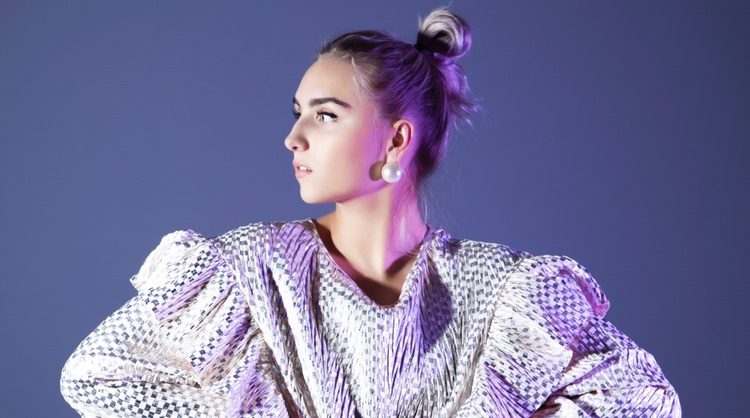 Today we'd like to introduce you to Emilie Rimmer.
Emilie, let's start with your story. We'd love to hear how you got started and how the journey has been so far.
I want to start with where it all started. As far back as I can remember I've always wanted to be an actress. I grew up in Denmark, with my mom, dad and brother. My dad would direct, produce and edit movies starring me, and my older brother Oliver. We would always have so much fun and spend days on the different projects to make them turn out good, and as professional as possible. My brother and I would always put on shows at home. One of our favorite things where circuses.
Every day we would make different shows to show to our family, friends, etc. And we always had a blast. We wanted to own our circus one day, and we would build over own tents at home, where we would perform as clowns, and I would dance, and be a ballerina, and do different gymnastic stunts. When my brother got a little older, he started directing, filming, editing movies as well, and we would always film, different things with our friends. I did Gymnastics for seven years, and I loved going to competitions, getting my hair and makeup done, wearing glittery outfits, and perform in front of a big crowd.
So I guess I just grew up performing, and it has always been my biggest passion! Standing on a stage, or starring in a movie, has always made me feel something special. its a feeling that's impossible to describe, but it is so magical. I always knew I wanted to be an actress in Hollywood. I remember telling my teachers that when I grew up, I was gonna live in Hollywood and work as an actress.
They would laugh at me, and tell me to go to the gymnasium and get a " real " education. I never really enjoyed school. I wasn't the best at math, science, biography, etc. I was more creative and could spend hours writing my stuff, drawing, painting, filming, taking pictures, etc. So when I was 16 I told my parents, that I wasn't going to go to the gymnasium.
In the beginning, they weren't too sure of how good of an idea that was. Because they wanted me to have a plan B, in case it wouldn't work out. So Instead of the gymnasium, I moved to Indiana for a year, as an exchange student. I met so many incredible and inspiring people, that I still talk to, today. I loved living as an " American teenager" And I am so thankful, that I got that opportunity.
While living in Indiana, I was in a lot of the school plays and enjoyed every single second, of being on the big stage. While still living in Indiana I got accepted into my dream school – The American Academy of Dramatic Arts – in Hollywood, California. I couldn't believe that I got accepted, and it was one of the best days of my life. I remember it like it was yesterday. I called my parents and told them, and they were so proud of me.
So after 11 months in Indiana, I came back to Denmark, worked three jobs for half a year, to make as much money as possible, before moving to Los Angeles. I was so excited to start at " AADA " and all my expectations, definitely came through. I made so many incredible friends, I've learned so much from the most talented actors/teachers. I enjoyed every second and was so honored to wake up in Hollywood every morning, performing on stages, filming different things, being surrounded by amazing and talented people, showing my creativity. All my dreams came true, and I was only 17 years old when I started at school.
I graduated in may 2019, and now I work as an actress, model, influencer, photographer and kickboxing trainer. I still live in Hollywood, with my amazing boyfriend, and every single day is a new wonderful and unforgettable adventure. I'm starring in the short movie " Coven " as princess Trinity Mortem, and we will soon start filming the 2nd in the series " Downfall." I also Just shot something for Nickelodeon, and are currently working on a lot of other really interesting projects!
I'm so thankful, that I got to live my dream life at the age of seventeen. Now I am nineteen and things keep going in the right direction. Everyone around me is so supportive, especially my amazing family, who never doubted in, that I would be able to achieve the goals I set.
Has it been a smooth road?
It has not been easy! It's very stressful, and every day is a competition. Everyone I meet on the streets is all actors, singers, models, performers, etc. It's very competitive, but it's also amazing talking to other people in the business and help each other out. It's a bit hard going to a million auditions and get rejected, or never hear anything back. But after 50 audition you get one yes. And when you get that " Yes " it's the best feeling in the world.
Every time I've gotten pushed down, I've got up and kept fighting, no matter what. Even tho it's hard mentally and physically, it's my dream, so I'm never gonna stop fighting for it! I'm celebrating all the " small wins " I get, and I'm staying positive, even in the hard times.
Please tell us about your art.
I'm an actress who's very hard working and dedicated. I'm right now working as an actress, model, influencer, and photographer. I'm writing a book right now, and I'm also trying to start up a photography business with my boyfriend.
Let's touch on your thoughts about our city – what do you like the most and least?
I love Los Angeles! It's so different from back home. Denmark is so small and peaceful, where LA is the complete opposite. Everything is big, stressful and a bit overwhelming. I can spend hours just watching people on the streets walking by. Everyone is SO different, and I love that. LA is filled with people from all over the world, and all types you could ever think of. It's so fascinating and inspiring, to meet someone who's the complete opposite of you.
Another thing I love about LA is how many different beautiful locations there are. If you wanna go to downtown, it's almost like being in New York. If you go to the Getty museum it's like being in Europe, if you go to the beach it's like Italy, and if you go to the dessert it's like a whole other world. I love traveling around and see all the different and beautiful places.
One thing I like and dislike is how busy everything and everyone is. It is nice because it pushes me to always do my best and work my hardest. But sometimes, it feels like getting hit in the head by a door, and it can be very stressful.
Contact Info:
Suggest a story:VoyageLA is built on recommendations from the community; it's how we uncover hidden gems, so if you or someone you know deserves recognition please let us know here